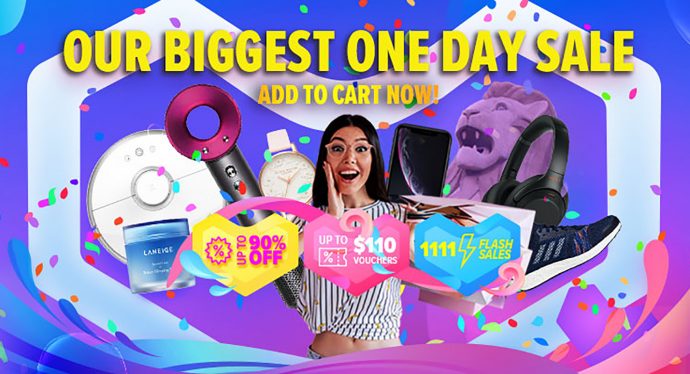 This Sunday you can get yourself a whole load of good deals. Lazada's 11.11 Shopping Festival returns with over to 50 million deals and discounts of up to 90% on over 1 million items in Indonesia, Malaysia, the Philippines, Singapore, Thailand and Vietnam.
This year, there are more than one double the deals compared to last year. Over 400,000 brands and sellers are participating in the shopping festival compared to 140,000 last year.

Lazada will reach out to its customers in the region through  various touch points. There will be Lazada Super Shows in Thailand and Malaysia where celebrities and influencers will participate and satay put fans to the test through games and win prizes such as a VW Beetle or air tickets to Paris.. 1,111 celebrities and influencers will be sharing hour by hour updates of the Shopping Festival through their social media accounts.
Look out for Slash It, Shake It, and Wonderland games for better deals. You can check these out on Lazada's mobile app.  You can start collecting promotion vouchers now through Shake It and Slash It.  Shake It is available at 12pm and 8pm till the 7 November and 12pm, 4pm and 8pm from 8 to 11 November.
Wonderland is a new game. It is an interactive map where you can explore 11.11 deals from various brands as well as win special Lazada or store vouchers. Collect your Wonderland vouchers at 11am and 5pm till 7 November and at 11am, 5pm and 9pm from 8 to 11 November.
Look out for the Must Buy page today to see what deals are for you. You can then add them into your 11.11 cart and purchase them this Sunday. The vouchers from visiting Wonderland will automatically be added to your cart which will applied to your purchase on 11.11.
For 9.9 this year, over 11 million users shopped on the Lazada app within 24 Hours. Some 67 million calories were burnt from users playing the Shake It game. That is equivalent to 84 full marathons. Lazada expects more from 11.11.