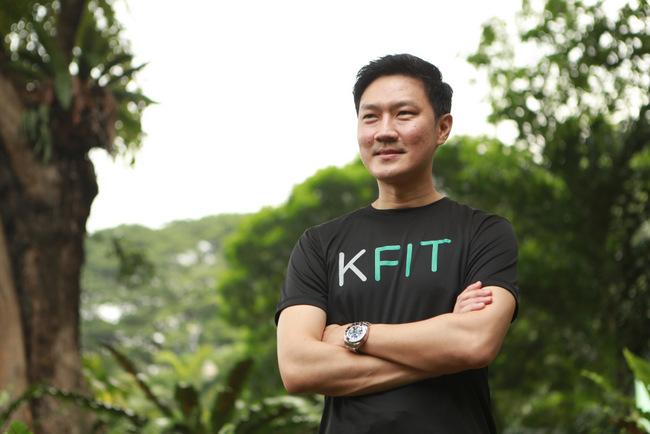 Getting fit is easier said than done. All everyone thinks about is going for a run, and, let's be honest, it's a drag. Well, not with KFIT. Available on the iOS/Android, this fitness app presents itself as an answer; with 400 fitness partners right in Singapore providing anything from the usual Yoga, Zumba to the more adventurous Rock Climbing and Parkour.
To learn more about this revolutionary new face to "gyming", I sat down with Vice President of KFIT, Ng Aik Phong for a quick chat during the launch in Singapore. Despite his busy, busy schedule, he managed to squeeze in a Zumba dance while we learned more about the app, his illustrious sporting past and some tips for budding entrepreneurs.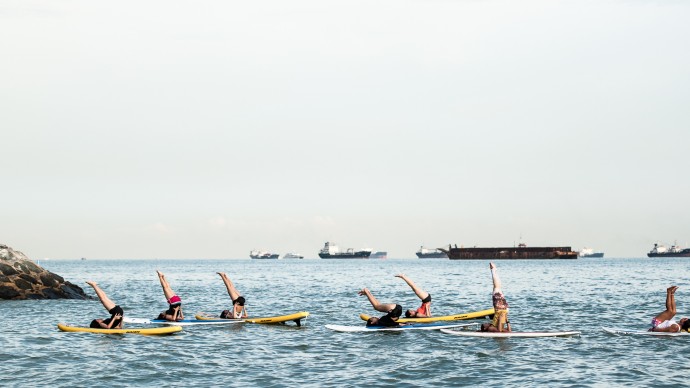 How did the idea for KFIT come about?
Looking at myself and Joel (Founder), there is already a strong sporting blood in us. I used to be a National Fencer while Joel excelled in rock climbing. We have an intrinsic feel for sports, and know very well the benefits it can bring.
Combine this with the fact that not many are exercising regularly. We all want to get fit, but the idea hardly gets put into action. In Asia Pacific, only 1-2% actually have a membership at a gym, fitness center, etc. But, the awareness for getting fit was getting higher and higher, evident by more gyms and studios popping up. We wanted to celebrate this growth and spread the message of wellness and fitness.
Could KFIT be a way for smaller boutique gyms to stand out in the mass of commercial gyms, and connect with new audiences through the app?
Yes, of course. We help our members discover what they love. It can be available from a boutique stand point or from a commercial gym. It speaks more of the discovery process. We want to help the members discover something new out of the 3,000 to 4,000 activities they can tap into.If you just look at Yoga alone; there's already so many different types. There's Vinyasa, Hatha, Flow, Hot and so on. It gives them the chance to try it, and find something they enjoy.
You mentioned earlier that you were a National Fencer! Could we hear more about it?
I represented Singapore in the SEA games in 1994. Then, I won a Bronze for Fencing, Sabre. After which, I coached for Raffles Institution for a two to three years. I was really into it. Even as I working back then, I was coaching part time. Work is stressful. Everyone goes through that. But, that fitness, the regime that I had back then really helped me. It helped me focus, be more productive and be less stressed.
I completely agree with you. Like many, I was unhealthy, and at one point, completely burnt out by my work. I took on an exercise regime, and it actually helped me de-stress and feel more energized throughout the day. There's something about working out that releases that rush of adrenaline.
Exactly! And, we make it so easy. It is in the back of your pocket. Right now, we have over 300 locations in Singapore. Just go in, tap and reserve an activity. This really helps out busy, working individuals like me and you.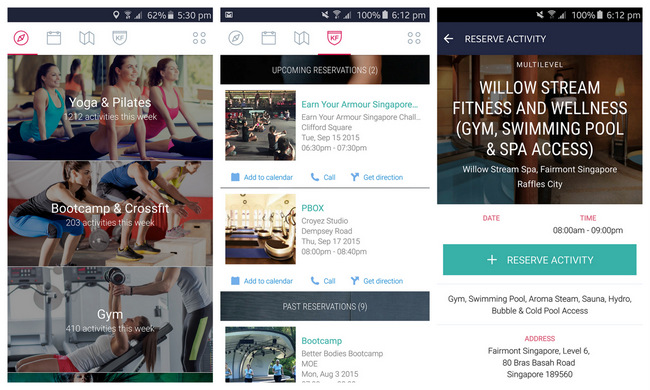 Any fitness goals you have set for yourself right now?
It is more of discovering what I want to focus on. I have tried different things in Singapore, like boot camps and Yoga. I found my foundation, and was quite surprised I actually love Yoga! I am actually an active person. Fencing was all about that speed and aggression, while Yoga was more slow – but I like that. I have discovered that one piece, and want to use KFIT to find out what other activities I might like.
Something to go with Yoga?
Yoga is about stretching, your core and a little bit of cardio. Even though it looks easy, it really gets your heart rate pacing. So, now, I want to find an activity to complement that. A mixture of that and a fun activity, like Wave House or Mega Zip. And, on days when I just want to chill, I can go to Shangri-La for their pool. I am also looking to try out Electro-Magnetic Stimulation (EMS).
On that note, will the app have a recommendation function? Like say, this goes with this and what not.
The next phase of the app is to give recommendations as well as including a social function. Right now, we do have a recommendation function, but we will be making it even better and social. Over in the app, we actually start off with five to six questions on "What's you fit?" Sort of like game, give a couple of scenarios to decide if you into more strength, more Yoga etc.
Were there any challenges in introducing KFIT to the Asian Market? Considering we only have a small percentage of people actively taking part in fitness regularly?
Surprisingly, when we launched in Hong Kong, Malaysia and Singapore, it has been smooth. In fact, fantastic. The take up rate was good, and actually went beyond our expectations. Every week in Singapore, we are facilitating over 2,000 reservations.
That's 2,000 people working out!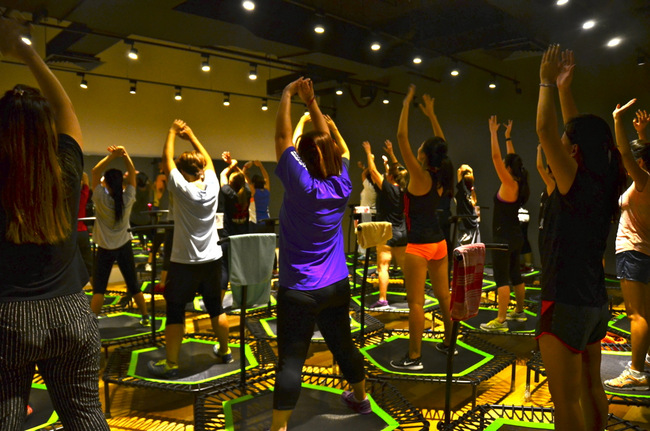 But, let's say for someone like me who already has a gym membership. How would you convince me to sign up for KFIT?
Fitness is not just about that one activity that you do. It is holistic. You can have agility, strength, cardio and, even, relaxation – there are different colours. Even at a gym with a lot of variety, there are still a lot of other activities that you can discover or, re-discover on KFIT. You can maintain your gym membership, and try out new activities. Some of them are fun, some are for chilling – it is not all about sweating it out all the time. There's outdoor activities, like Kayaking as well. Add a little spice to your regime.
You have some pretty big names attached to the app as well?
We are thankful that we already have some core, big names working with us. There's True Fitness, Contours Express, Viva Fit and five star Hotels like Shangri-La, Fairmont and the Sheraton Towers. We have a good combination of premium gyms, premium partners along with boutique ones. Like, Yoga on a Surfboard, Aqua spin (spinning underwater) and Bubble Bump Soccer!
It sounds like a lot more fun than the usual sweating it out – all that pain and all. That's the idea many don't get, including me.
When you have fun, you can get fit too. When it gets tough and people ask you to go back, you get discouraged and say things like, "Don't want lah, Don't want lah."
With this, where its fun and as a team, it becomes a social activity. Two, three, four or five of your friends can go as a group or meet new people, have a laugh while sweating it out. It is not always just about running –  spice it up.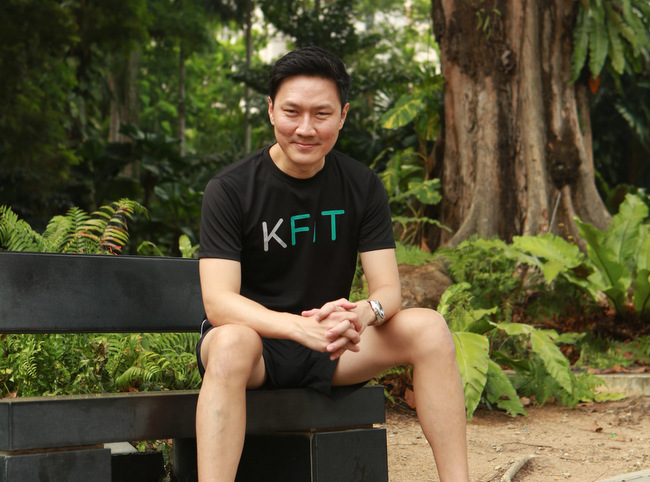 You have two angel investors; founder and CEO of Ticket Monster Inc Daniel Shin and former CEO Groupon Hong Kong Danny Yeung on board. What do you think is the next big step for KFIT? Or, what can we look forward in the near future?
Right now, we are putting a lot of emphasis on the technology. Making our app more social, more fun and a lot more on discovering what we love – expanding on the "What is your fit?". We will really be focusing on the experience for the customer and getting more quality partners for the app. And, with the support from our investors, we can aim to do that faster with quality.
Both you and Joel have been tapping into new markets, establishing yourselves as successful entrepreneurs once again. Are there any tips you can share with those aspiring in the same direction?
When starting up a business, don't do it alone. When wanting to do something big and impactful, don't do it alone. It is going to be tough journey. Go create a good team, hopefully made of people you have worked with before, people can you hit the ground running. Make use of the synergy, the complementary strength. When you piece all that together, the strength of success can be multiplied four, five times.
I would like to thank Aik Phong for taking time out of his busy schedule for a quick chat with me during KFIT's launch. As a new Yogi, I am going to give that Yoga on a Surfboard thing a try!