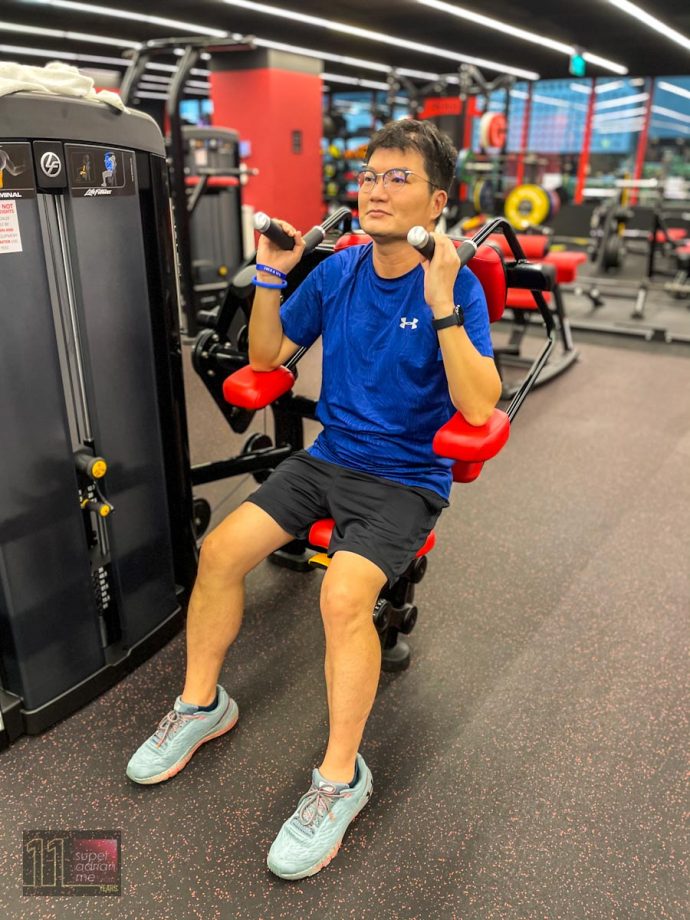 Losing weight and keeping fit is often times difficult. For me, I managed to lose 4kg last year but that was because I caught dengue and after I recovered, I miraculously shed 4kg. However putting weight back on was much easier and faster. Last year I started my journey of getting more active by starting to walk long distances covering distances as much as 32km in one go.
This year I have been trying other various ways by way of trials to find out how I could shed more weight without totally eliminating eating and drinking. Especially with the unpredictable Singapore weather, outdoor walks during the day have become more challenging than ever. Read on to find out some of the activities I participated in my journey towards a healthier body.
Wellaholic Launches WellaShape 360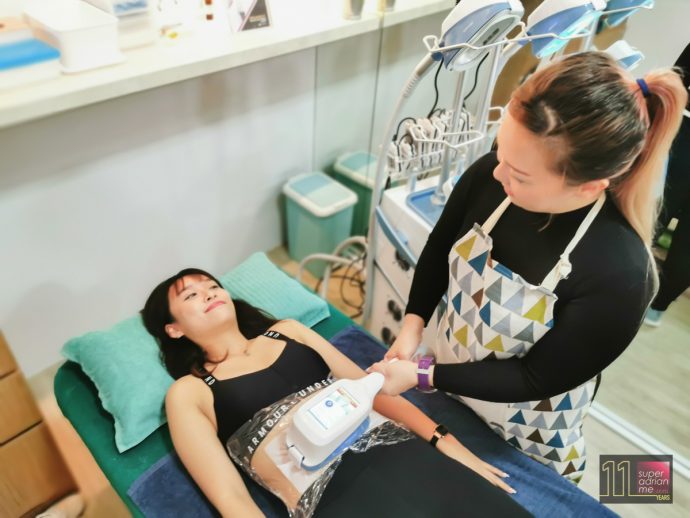 Wellaholic has launched WellaShape 360, a new weight management programme. The programme helps you with weight management and achieve fat loss, with guaranteed results. The 12 week journey follows a customised weight-management plan with active tracking, fat-reduction treatments, robust meal plans and diet supplementation.
I got to try a one-session course. The 2.5 hour session started with a consultation. The therapist explained the different treatments that I was going to experience. Most of the time I was just lying there with contraptions stuck onto me. Obviously, I dozed off. Relax and let it do its work on me. Nothing was invasive. So that means no pain.
The WellaShape 360 treatments are available at Wellaholic's new Slimming Lab at its Lavender outlet. Six of the latest weight loss and fat reduction equipment offer a range of fat removal functions.
| | |
| --- | --- |
| WellaFreeze 360 | Employs low temperatures to freeze and dispose of fat cells in target areas in a painless fashion with no downtime. It is also even more efficient now, fat-freezing up to four target areas at once, as opposed to just two before, within 30 to 40 minutes. |
| Ultrasonic Cavi 360 | An ultrasound fat cavitation treatment that eliminates fat and toxins via the lymphatic and urinary systems. It is most effective for areas where fat tends to accumulate such as the belly, back, hips, and thighs. Delivering low-frequency sound waves that cause the walls of fat cells to vibrate and burst, the Ultrasonic Cavi 360 turns fat cells into free fatty acids that the body is better able to expel. The Ultrasonic Cavi360 works best with WellaFreeze 360 and WellaSculpt 360. |
| WellaSculpt 360 | Destroys fat cells by deep-tissue heating and can reduce up to 29% of fat thickness after four sessions. Because of its effectiveness, customers similarly find it most useful for areas such as the belly, hips, thighs and upper arms where fat is often hardest to lose. |
| Laser Lippo 360 | Fat cells are induced to release its content so bid your "thank you, next" before it is disposed of via the lymphatic system in the form of excretion. When small areas are treated, up to a whopping 80% of localised fat cells can be removed; when large areas are treated, 20-26% of fat cells can be removed. |
You will also get a bottle of OxyBurn Fat Burner, Multivitamins A to Z, and Probiotics Complex. A meal replacement set is provided so you can replace one meal on five days each week. This helps reduce the intake of carbohydrates while ensuring balanced nutrition.
With four hours each week for 12 weeks at S$737 per week, you will receive these treatments and supplements.
4 x WellaFreeze 360 Fat Freeze Treatment
2 x Ultrasonic Cavi 360 Fat Reduction Treatment
2 x WellaSculpt 360 Advanced Radiofrequency Body Sculpting Treatment
8 x Laser Lipo 360 Photomodulation Treatment
5 x Meal replacement
OxyBurn Fat Burner
Multivitamins A to Z
Probiotic Complex
Weight management

Consultation
Measurements including BMI, lean body mass, subcutaneous fat, visceral fat etc.
Tracking
Online weight management journalling
Get A Personal Trainer at TFX Pacific Plaza To Help You Stay Fit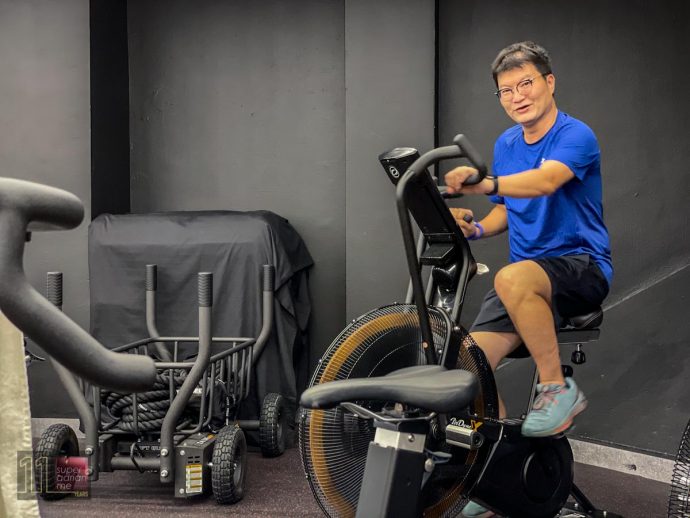 TFX Pacific Plaza by True Fitness offers a gym to work out in and yoga studios. The first floor houses the shower facilities and Yoga studios while the gym is on the upper floor. Come for personal training sessions and take control of your physique.
At just S$128, new members of TFX members enjoy a two session X-Fit programme. A personal trainer conducts a comprehensive Body Fitness Assessment. This helps find out your physique, fitness, diet, lifestyle, needs and goals. Get orientated with the gym equipment and guide you through to help you achieve your fitness goals. Small Group Training Classes are also available in the gym for like-minded members.
I spent about an hour or so with a personal trainer. I was happy to see how spacious and big the gym was. And at 4pm on a Thursday it was not crowded at all. So at least I didn't feel so intimidated by other patrons working out.
If Yoga is your thing, TFX Pacific Plaza has relaunched three new yoga classes in April. Aerial Yoga, Wall Yoga and Yoga Wheel. Each class accommodates between four to 12 people. Previously, I tried Aerial Yoga at a studio at PUB Recreation Club. And it was one of the easier Yoga Classes that I actually enjoy. Reason being the silk hammock secured from the ceiling helps to balance and hold you in place. This gave me more confidence to go "all-the-way" knowing that there was support.
TFX Pacific Plaza has four yoga studios. There is a private room for one-on-one training with certified and experienced yoga masters and pilates instructors. Two specially fitted-out yoga studios allows for temperatures to be turned up. It can be turned up to 38 degrees celsius for hot yoga and 41 degrees for BOHY 90. A massive 1,800 sqft room is used to conduct aerial yoga. Each class lasts 30 minutes and participants burn up to 500 calories.
Important that you pick a work out regime that you enjoy as you keep fit. Staying fit should be fun and enjoyable and not a chore.
Keep Fit with Reformer Pilates at Virgin Active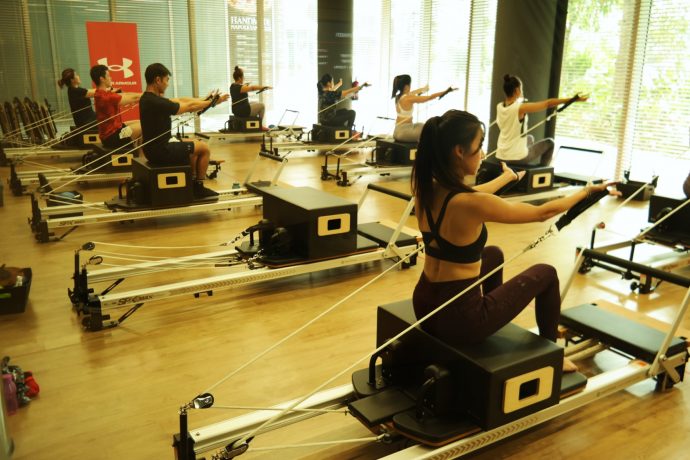 I had my first Reformer Pilates session at Virgin Active in Duo Galleria. All thanks to an Under Armour event I attended in February. For someone who hasn't visited a gym for a while, I wasn't sure what I had gotten myself into. To my surprise, it wasn't as overwhelming as the other high intensity interval training work outs I have seen. Nevertheless, it was helluva work out despite it being only 45 minutes.
Refomer Pilates involves working out with the help of a machine. This machine consists of a sliding carriage rigged with springs, bars and straps. You lie, kneel, stand and sit on this equipment. The work out lets you condition your body and build strength without the complex postures and meditation in Yoga classes.
Virgin Active offers 5 types of Reformer Pilates classes. I am pretty sure we went for the beginner class which burns 350 calories in that 45 minute workout. Thank goodness, it was encouraging. I could see myself attending more Reformer Pilates sessions in the future.
All you need for this work out are a pair of grip socks, towel, and a bottle of water.
Enjoy a Run with the Under Armour Flow
If you are a serious runner, then the recently launched UA FLOW VELOCITI WIND is Under Armour's fastest performance running shoe. The lightweight yet supportive shoe promises the feeling of light, effortless speed. Rubber has been gotten rid. After over 17 rounds of raw material testing, 9 rounds of biomechanics testing, 15 rounds of shoe testing and over 11,000 miles of wear testing over three years, Under Armour is introducing the all-new UA Flow midsole. The men's size 9 is only 241 grammes.
The responsive, grippy and supportive singular-foam compound eliminates the rubber outsole. UA Flow Velocity Wind lets you run with confidence. UA Warp, a groundbreaking super-engineered upper solution, molds perfectly to the human form to unlock performance. It features supporting tapes that act like seatbelts on the foot, placed precisely where our biomechanists found them to be most helpful for a runner. The tapes are in tension when you need them and relax when you don't – eliminating any buckling and pinch points from traditional uppers built with continuous materials.
The men's version comes in red, white and green, while the women's version comes in baby blue, grey and white. The UA Flow Velocity Wind is a Connected Series shoe just like the HOVRs. This allows you to connect your shoe to the UA Mapmyrun App that helps you run better.
Keep Fit like an Olympian with F45 Training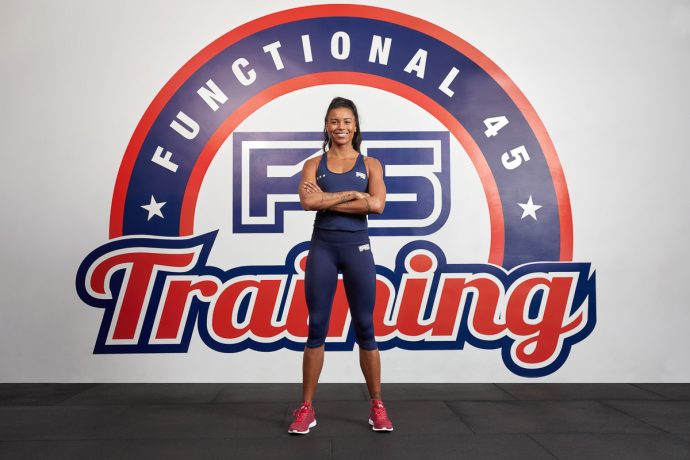 On April Fool's Day, I joined Morgan Mitchell, Australian Olympian sprinter & F45 Training's newest training athlete and Trainers from F45 Jurong CBD virtually on zoom to try my first high intensity interval training and F45's newest cardio workout Redline. Nope, this isn't an April Fool's Joke. I remember the 45-minute workout till this day because it was really intense.
This cardio workout is built on an intense pyramid set structure with escalating work periods and short rest times. It is supposed to leave you feeling leaner, fitter and stronger than ever. The 9-station cardio class combines bodyweight exercises to test your cardio abilities in an ultimate sweat-fest.
But because this body of mine hasn't be conditioned, it left me climbing up and down steps like a crab. Thighs were so sore from the workout that it was painful to sit or stand. This only meant that I am in dire need to exercise more. I didn't even complete the entire work out. I guess conditioning your body and preparing it for what ever workout you go to is equally important.
Morgan Mitchel is the first Olympian to appear on the F45 TV screens. She guides members across Asia and the rest of the world through famous 45-minute workouts. She joins F45 Athlete Cory George to encourage members to come and experience what it's like to train like a champion.