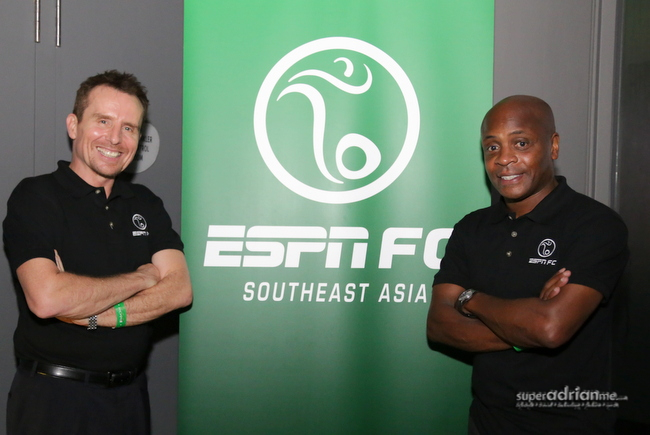 ESPN FC is launching a Southeast Asian edition of ESPNFC.com on 1 October 2014. The local edition of ESPNFC.com is the number one football site in Singapore and Malaysia. ESPN recently launched the first local edition of its signature television show ESPN FC in Indonesia.
The Southeast Asian edition of ESPNFC.com will feature extensive daily news, scores, analysis and video with a combination of focused local content and the best global coverage of the sport. The site has been responsively designed to adapt to computers, smartphones and tablets.
This was launched earlier this month in Singapore to trade partners. Check out photos from the launch below.
ESPNFC – Southeast Asia Edition Content
·      Global Coverage: The site will maintain a central focus on the top international leagues, including the Barclays Premier League and other major European leagues, with a deep roster of the world's top football journalists including Gabriele Marcotti, Michael Cox, Raphael Honigstein, John Brewin, Sid Lowe, Iain Macintosh, Colin Udoh and more.
·      Local Coverage:  A dedicated team of Southeast Asia writers and editors will deliver regional news, information and scores from the following leagues and competitions from the Malaysian Super League, AFC Champions League, Indonesian Super League, Singapore S-League, AFC Cup, AFF Suzuki Cup and Thai Premier League.
·      Blog Network:  The site also features the popular ESPN FC Blog Network with more than 50 blogs including dedicated blogs for every Premier League club and all the top global clubs, as well as transfers, key tournaments, leagues, national teams and more. It also hosts live match day chats via The ESPN FC Boot Room and more.
·      Video:  the site features a host of video content including exclusive interviews, locally produced features, previews and analysis, as well as segments from ESPN's signature global edition of the ESPN FC television show.
Local video segments each week will be hosted by Jason Dasey, Kelly Latimer and Fay Hokulani joined by former Singapore International John Wilkinson providing previews and reviews of Malaysia Super League/Lions XII, Singapore S-League, Asian Champions League/AFC Cup Review, as well as breaking news and updates from the region.
ESPN FC TV video segments featuring a host of expert pundits including former Chelsea and Scotland midfielderCraig Burley, former Newcastle and West Ham goal keeper Shaka Hislop, former Liverpool and Scotland defenderSteve Nichol, former England and Arsenal centre forward Paul Mariner, former USA and MLS star Alexi Lalas and others.
ESPNFC – Southeast Asia Edition Contributors
The local editorial team of ESPNFC.com is led by Senior Editor Jason Dasey. Jason has over 20 years of experience in Asian sports media and recently hosted the 2014 FIFA World Cup and English Premier League for Malaysian broadcaster ASTRO as well as previously hosted ESPN's SportsCentre Asia.
Joining Jason's team is Kelvin Leong, the previous head of communications at the Football Association of Singapore and online and social media editor at Temasek Polytechnic in Singapore. The third person in the team includes Indian-born, Singapore resident Abilash Nalapat who was the former chief sports sub-editor and features writer at The Hindu in india.
The rest of the contributors include:
Zesh Rehman, former Premier League defender (Malaysia)
Steve Kean, former Premier League manager (Brunei

)

Paul Parker, ex-Singapore & Man United defender (Singapore)
Ian Walker, ex-England & Spurs goalkeeper (China)
Matt Acton, ex-A League goalkeeper (Myanmar)
Steve Darby, championship-winning coach (India)
John Wilkinson, ex-Singapore midfielder (Singapore)
R. Sasikumar, ex-Singapore defender (Malaysia)