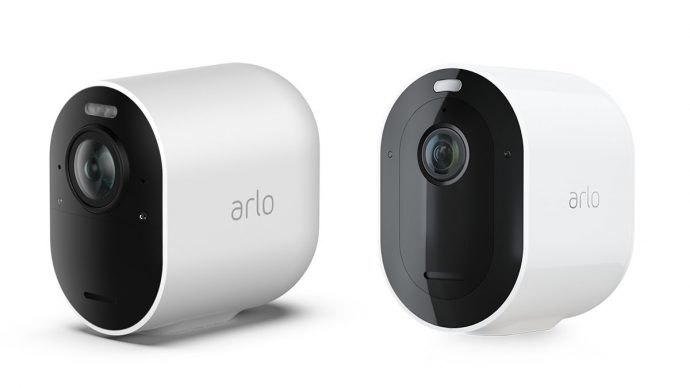 Arlo is one of the best home automation company in the market the offers easy-to-setup wireless home security cameras that helps keep your home safe. The Arlo Ultra and Arlo Pro 3 are the top tier range of products that offers high definition streaming video and equipped with smart detection with intelligent alerts to keep you posted on the happenings in the home while you are away.
So which device is more suitable to your needs? Arlo Ultra in 4K or Arlo Pro 3 in 2K resolution? We have it figured out for you.

Ultra and Pro 3 Specifications
Arlo Ultra
Arlo Pro 3
Video Quality
4K with HDR at 2160p
2K with HDR at 1440p
Image Sensor
8MP 1/2 inch sensor
4MP 1/3 inch sensor
Field Of View
180°
160°
Night Vision
In Colour
In Colour
Motion Detection
Double motion detectors
150-degree horizontal
Single motion detector
130-degree horizontal
Standard Alerts
Motion and Sound
Motion and Sound
Integrated Spotlight
Yes
Yes
2 Way Audio
Yes
yes
Noise Canceling
Dual-microphone array
Noise and wind cancellation
Single microphone
Noise and echo cancellation
IP Rating
IP65
IP65
Siren
Built-in to camera
Built-in to camera
Battery Life
3-6 months
3-6 months
Local Storage
Via microSD Card in Ultra SmartHub
Via USB Drive in SmartHub
Operating Tempreature
-20°C to 60°C
-20°C to 45°C
Weight
331g
316g

Existing Arlo Users?
If you are an existing Arlo user and looking to add new cameras into your current security system, Pro 3 will be a better choice for you as it will work with legacy base stations (compatible with VMB4540, VMB4000, VMB 500, and VMB5000). The Ultra will require a new base station aka Ultra SmartHub(VMB5000) for it to work.

The Price
The Arlo Ultra's 2 camera, 1 base station and 1 year Arlo Smart Premier Plan subscription bundled for an initial setup will cost S$1,199 with additional cameras going at S$499 each. The Arlo Pro 3's 2 camera, 1 base station and 3 months Arlo Smart Premier Plan subscription bundled for an initial setup will cost S$899 with additional cameras going at S$399 each. Both Ultra and Pro 3 also offers different camera bundles for different needs, you may check out their official store on Lazada via this link.

Valued at S$13.99 a month, the Arlo Smart Premier plan is essential if you want to keep 2K resolution video history in the cloud for up to 30 days and smarter customised notifications to your mobile devices. If you considered the extra 9 months of free Smart Premier subscription you get from Arlo Ultra which is worth S$125.91, the price difference between Ultra and Pro 3 is really not as huge now.

Arlo Smart Plans Yay or Nay?
The Arlo Smart Plans is another consideration for buyers because the subscription starts at S$4.99 for one camera system and S$13.99 for up to five cameras. That's quite a hefty budget for 30 days cloud storage and smarter detection. Without a smart plan it's not the end, you will still be able to enjoy the follow:
Remote and local live streaming
Standard push notifications
Auto Zoom and Tracking
Two-way audio
Local Recording via USB (Pro 3) or microSD Card (Ultra)
If you want to keep the 4K quality video on cloud from your Arlo Ultra, you will need to subscribe to the Smart Elite Plan which starts at S$6.99 for one camera system and S$21.99 for up to five cameras.

Verdict
Although Pro 3 get the tick on all the boxes for a great home security camera, the price difference had been greatly narrowed down by the extra free subscription to Smart Plan that comes with the Ultra. So for that small difference in price now, I feel that it is better to get the Ultra as it gives better video quality with the bigger and better sensor and as well as better night vision which is essential for home security cameras.