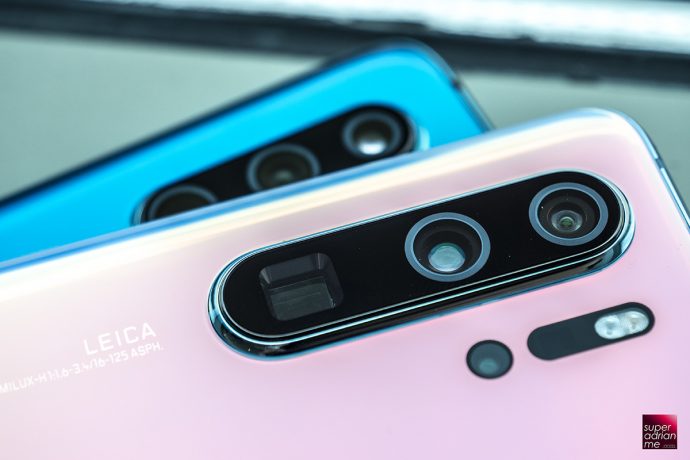 Huawei made a huge impact on its smartphone camera technology with the launch of a triple camera system on P20 Pro last year. Now back in Paris again, Huawei just announced its new P30 series of smartphones – P30 and P30 Pro.
The P30 Pro is pushing the limits of smartphone cameras once again with SuperSpectrum sensor for better low light photography, SuperZoom periscope lens for up to 10x Lossless Hybrid Zoom and Time of Flight camera to get more depth data for a more natural bokehlicious portrait shot.
So with this, the P30 Pro will be Huawei's first smartphone with Leica quad rear camera system. The P30 will only have a Leica Triple camera system.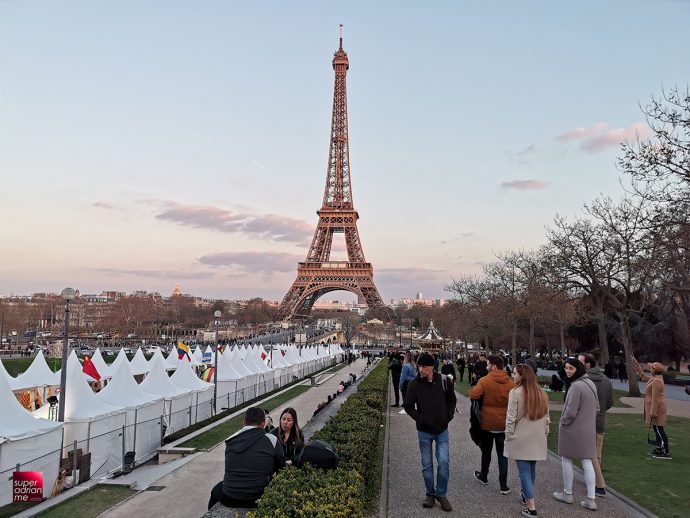 Huawei P30 Pro
Huawei P30

Front camera:
– 32MP @ ƒ2.0 aperture

Rear camera:
Quad Leica lens camera:
– 40MP Wide Angle Lens @ ƒ1.6
– 20MP Ultra Wide Angle Lens @ ƒ2.2
– 8MP Telephoto Lens @ ƒ3.4
– Time of Flight camera
Front camera:
– 32MP @ ƒ2.0 aperture

Rear camera:
Triple Leica lens camera:
– 40MP Wide Angle Lens @ ƒ1.8
– 16MP Ultra Wide Angle Lens @ ƒ2.2
– 8MP Telephoto Lens @ ƒ2.4
Ultra-Wide Angle 0.7x zoom

Wide angle 1x zoom

Telephoto 5x optical zoom

Telephoto 10x hybrid zoom

Telephoto 50x digital zoom
With the new SuperZoom lens that gives the P30 Pro a 5x optical zoom, it is amazing how far we can capture with it and with impressively crisp image quality.
The jaw-dropping moment came when we tried out the new 10x lossless hybrid zoom. The photos were stunning and It's hard to tell that its not an optical zoom shot. As we are using the pre-production units of the P30 Pro, the 50x optical zoom seems a little underwhelming. Maybe that will be fixed or gets better when it is available for sale. But it's still quite fun to play around with that 50x digital zoom.
The 6.1-inch HUAWEI P30 and 6.47-inch HUAWEI P30 Pro come in classic Black and three new gradient finishes—Amber Sunrise, Breathing Crystal and Aurora, created with a new high-yield inkjet process pioneered by Huawei.
When the phone launches in Singapore, the Amber Sunrise will not be available. My favourite colour for this season will be the mesmerising Aurora. Huawei managed to recreate the stunning curvy lights just like the real Aurora and changes as you view it from different angles. LOVE IT!!! See it for yourself in the video above.
Just like it's big brother, the Huawei Mate 20 Pro, the new P30 series will now have In-Screen Fingerprint Sensor on the FHD+ OLED display. The new smartphones will also be using the 7nm Huawei Kirin 980 processor together with graphene film cooling system for the ultimate performance on a smartphone.
The P30 and P30 Pro will both support wireless charging, as well as a the Reverse Wireless Charging like the Mate 20 Pro.
Supporting 40W super charge and long lasting 4,200 mAh battery on the P30 Pro means these devices will go for more than a full day of intense work. The P30 will have a smaller battery capacity at 3,650 mAh.
Device
Storage & RAM
Colours
Price
Availability
Huawei P30 Pro
512GB internal Storage
with 8GB RAM
Aurora
S$1,698
Exclusive to Huawei Flagship store in Lazada

Huawei P30 Pro

256GB internal Storage
with 8GB RAM
Breathing Crystal, Aurora and Black

S$1,398

All Huawei Concept Stores, local carriers, and major electronic stores and retailers


Huawei P30

128GB internal Storage
with 8GB RAM

Breathing Crystal, Aurora and Black

S$998

All Huawei Concept Stores, local carriers, and major electronic stores and retailers
Availability in Singapore
The Huawei P30 and P30 Pro will be available in Singapore from Saturday, 6 April 2019. Launch weekend promotions will be available at VivoCity, Central Court Level 1 – purchase a P30 or P30 Pro and receive a premium gift set worth up to S$470 for each purchase, while stocks last. The gift set will include Huawei Watch GT Active (S$368) and JBL Clip 2 bluetooth speakers (S$99).

Breaking The Limits In Photography
HUAWEI P30 Pro is equipped with a new Leica Quad Camera system, including a 40MP main camera with HUAWEI SuperSpectrum Sensor, a 20MP ultra-wide angle camera, an 8MP telephoto camera, a HUAWEI Time-of-Flight (TOF) Camera, along with a 32MP front camera for a new level of selfies.
The 1/1.7-inch HUAWEI SuperSpectrum Sensor looks at light in a fundamentally new way. The RYYB SuperSpectrum Sensor deviates from the traditional RGGGB Bayer filter by replacing the green pixels with superior yellow pixels, yielding a high maximum ISO rating of 204,800 and 409,600 on the HUAWEI P30 and HUAWEI P30 Pro, respectively. With this fundamental shift in sensor technology, along with the use of larger pixels, Huawei delivers extraordinary photography and videography experiences across a wide range of scenarios and lighting conditions.
A camera that opens up a wider world of possibilities. The f/1.6 wide aperture sensor delivers incredible ultra-wide images that capture more of the world you see. Working together with the large RYYB sensor and Huawei AIS + OIS, the Huawei P30 Pro delivers brighter images in any light. Even at night, handheld shots are captured in detail, while the optically stabilised main and telephoto cameras steady the shot. What this technology means in simple terms is that you get brighter shots in low light situations.
The HUAWEI SuperZoom Lens unlocks a new level of zoom photography in a sleek device design. SuperZoom supports high fidelity magnification up to 5 times optical zoom, 10 times hybrid zoom and 50 times digital zoom, which it achieves through a periscope design. A prism element in the telephoto camera bends light at a right angle to maximise focal length while minimising camera height and without disrupting device design.

A camera that meets your imagination. Unique to the HUAWEI P30 Pro is a HUAWEI Time-of-Flight (TOF) Camera that captures depth-of-field information to deliver precisely accurate image segmentation. Precise distance measurement allows for the simulation of multiple levels of bokeh—from a focused background to a creamy, Leica-style blur—highlighting the subject in any scenario.

AI that helps you bring it all together…into the perfect shot. Huawei AI HDR+ enables the front and rear cameras to combine multiple photos taken in quick succession to optimise overexposed and backlit selfies. Meanwhile, Super Portrait Mode captures even tiny details, down to the hair strands on a subject's face. This mode combines depth information, 4-in-1 pixel binning and proprietary algorithms to produce outstanding images with a defocused background and a highly detailed subject, taking portraits to the next level.