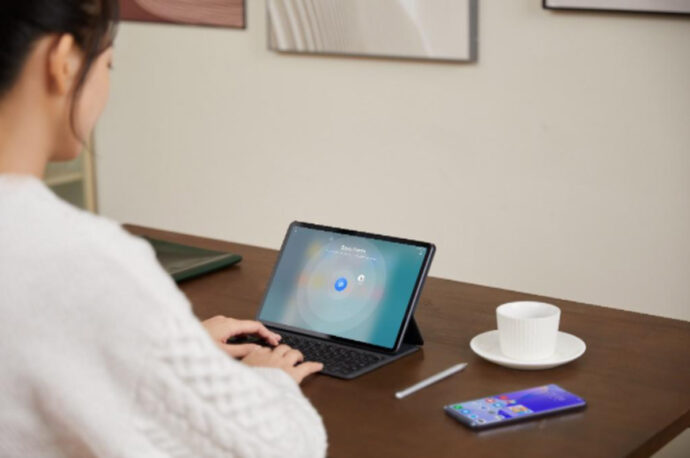 Huawei Consumer Business Group announced the launch of seven smart office products at the HUAWEI Spring 2022 Smart Office Launch last night. They include a flagship laptop, its first all-in-one PC, a new 2-in-1 laptop, its first E-Ink tablet, a new HarmonyOS tablet, its first-ever printer and a new portable speaker.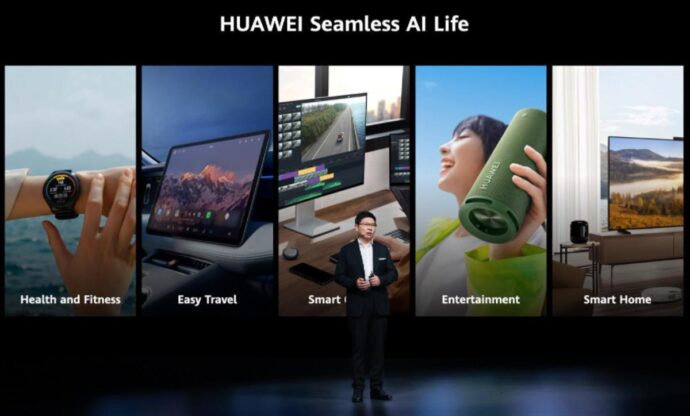 The newly released HUAWEI MateBook X Pro, MateStation X, MateBook E, MatePad Paper and MatePad can all be combined with a Super Device system. Or upgrade certain existing models running PC Manager 12.0.2 or later to the latest version of Huawei PC Manager to experience Super Device features.
Users can create a smart office Super Device System with advanced collaboration and ecosystem capabilities. Drag icons from other Huawei Devices onto their PC.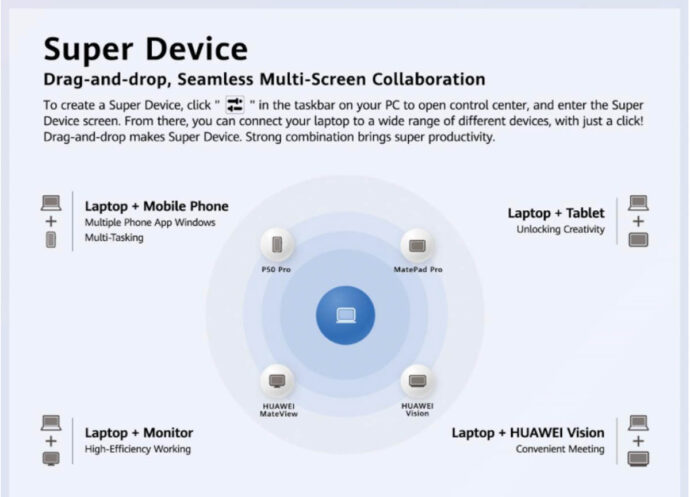 Richard Yu, CEO of Huawei Consumer Business Group recommitted Huawei to their five to 10 year Seamless AI Life strategy aimed at delivering high-end experiences and innovations to global consumers in five major scenarios. These include Health & Fitness, Smart Home, Easy Travel, Smart Office, and Entertainment.
Huawei built the Super Device Concept since 2018 when it pioneered the OneHop feature that allowed file sharing between Huawei phones and PC. In 2020, Huawei released a Multi-screen Collaboration feature that allows a phone to be displayed as a window on a connected tablet or PC. Last year, Huawei PCs, smartphones, tablets and smart screens could form a Super Device for better collaboration. Each device served as a functional module so that their capabilities and resources could be shared when connected.
With yesterday's releases, this powerful feature is now available to PC users as well for smart office purposes. Users can enjoy an efficient video conference after they connect a PC to a smart screen to form a Super Device. They can open up to three windows of a phone on the PC screen after the two devices are connected for multi-tasking. They can enjoy greater productivity with a Super Device formed by a PC and monitor. Or they can unleash their creativity with a Super Device that is made of a PC, tablet and stylus.
The HUAWEI Mobile App Engine allows PC users to tap into the rich variety of content in the AppGallery for fresh experiences. Huawei announced their Mobile App Engine Beta Programme is coming soon and will be accessible by upgrading PC Manager to the latest version. This supports the Intel version of certain HUAWEI laptops in certain areas and may vary across regions.
HUAWEI MateBook X Pro 2022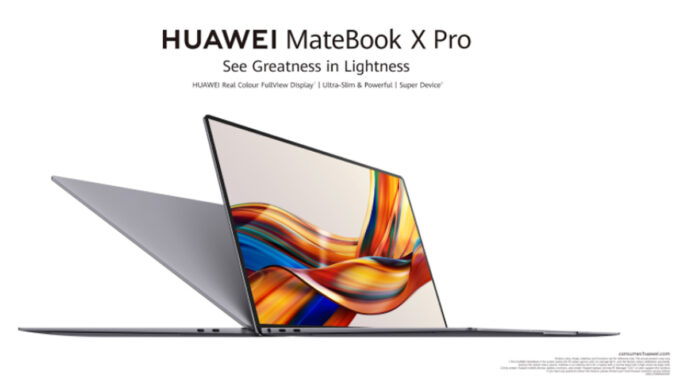 The HUAWEI MateBook X Pro 2022 features the best touch display that Huawei has ever used on a laptop with 14.2-inch Real Colour FullView Display – 3.1K resolution, 92.5% ultra-high screen-to-body ratio, and the mean ∆ E < 1 (typical value) in sRGB and P3 wide colour gamut modes. As Huawei's first product certified by TÜV Rheinland for pro-level dual colour gamut colour accuracy, it delivers more true-to-life colours and it's unique wedge-shaped body weighs as little as 1.38 kg, merging a minimalist aesthetic with a comfortable grip. It comes with a HUAWEI SOUND six-speaker system for a revolutionary immersive spatial sound experience. The Free Touch Gesture feature lets users take screenshots, start screen recording and adjust screen brightness and playback volume by simply swiping the touchpad.
HUAWEI MateStation X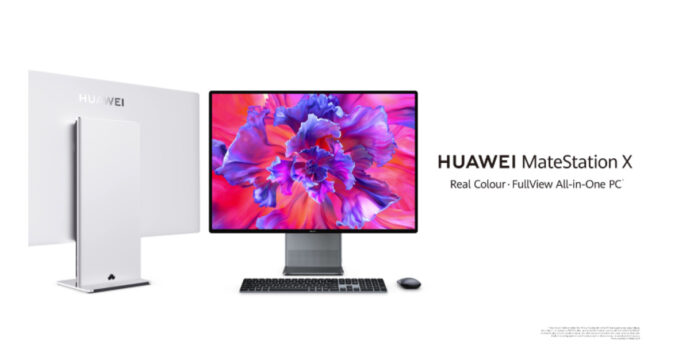 HUAWEI MateStation X is the company's first all-in-one desktop in the MateStation X with a Real Colour FullView display. There are no visible ports on the back. Users can adjust the elevation angle of the screen with a single finger with its unique dynamic hinge design.
Its 4K+ resolution display on a large 28.2-inch screen has a colour accuracy of ΔE ≤ 1. The HUAWEI MateStation X has a narrow bezel design on four sides and a 92% screen-to-view ratio, offering users a borderless view. It also has a non-reflective layer and supports 10-point multi-touch. The HUAWEI MateStation X is suitable for both home and office use.
HUAWEI MatePad paper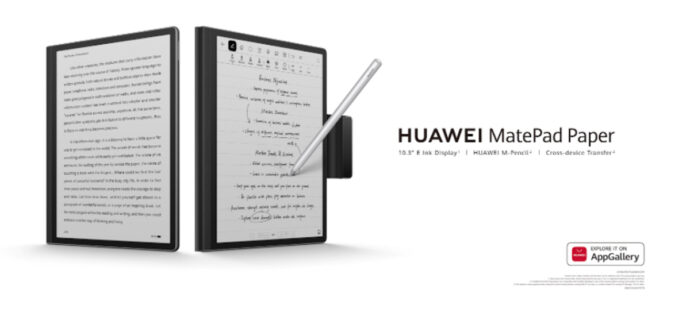 Huawei's first E-Ink tablet unlocks an immersive reading and writing experience. The new line under the HUAWEI MatePad product series is named HUAWEI MatePad Paper. It features a 10.3-inch E-Ink FullView Display with an 86.3% screen-to-body ratio. It is powered by the Huawei E-Ink Display Enhancement algorithm. Use together with a 2nd generation HUAWEI M-Pencil. It supports multiple input methods including handwriting, voice recording, and handwriting-to-text conversion. Other features include the Split-Screen Notes and Annotations.
The E-Ink Tablet is powered by HarmonyOS 2. Cross-device interconnection and free-flow content are made possible so users can transfer content from their phone or PC to the E-Ink tablet. It can work as an external storage drive for PCs, enabling two-way transmission of documents and e-books for greater convenience and productivity.
HUAWEI MatePad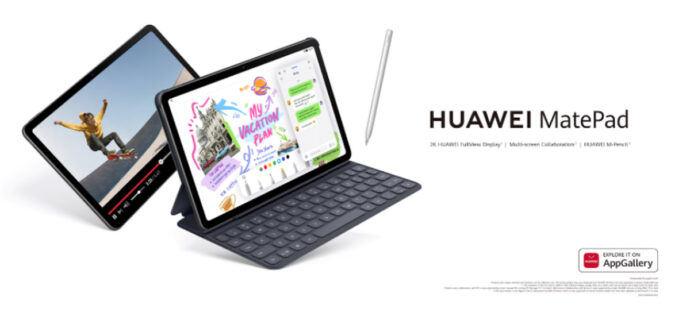 The new 10.4-inch, 2K FullView Display HUAWEI MatePad has an 84% screen-to-body ratio. TÜV Rheinland has certified the display as low-blue-light and flicker-free. It also supports a Natural Colour Display feature, which intelligently adjusts the colour temperature of the screen according to the ambient light, delivering all-round eye protection. Compatible with the 2nd generation HUAWEI M-Pencil, it supports functions such as HUAWEI Free Script, Annotations and Snippets for more convenient note-taking. To create a more efficient and convenient experience for users in landscape mode, the HUAWEI MatePad also features Multi-window and App Multiplier6 functions.
The HUAWEI MatePad powered by HarmonyOS 2 can seamlessly connect to other Huawei devices, including a phone for drag and drop of files, and a PC for efficient work.
HUAWEI PixLab X1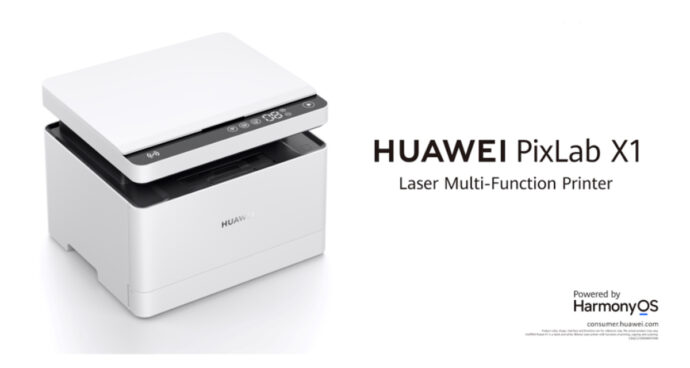 The HUAWEI PixLab X1 is Huawei's first HarmonyOS laser printer. This printer, scanner and copier make it perfect for the home or office. it has functions such as Pop-up Pairing, Tap to Print and Remote Printing. It is also the industry's first printer to feature a toner cartridge drawer design for easy pigment replacement.
HUAWEI Sound Joy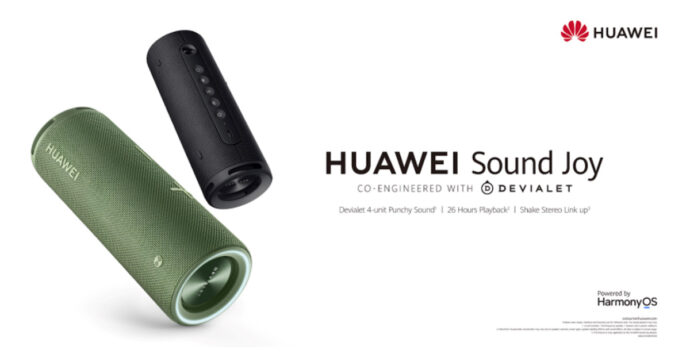 The HUAWEI Sound Joy is the brand's first portable speaker co-engineered with Devialet. Expect stunning sound quality with its four-speaker unit system and an 8800 mAh battery that supports 26 hours of continuous playback on a single charge. It is IP67 water and dust resistant and available in Obsidian Black and Spruce Green.