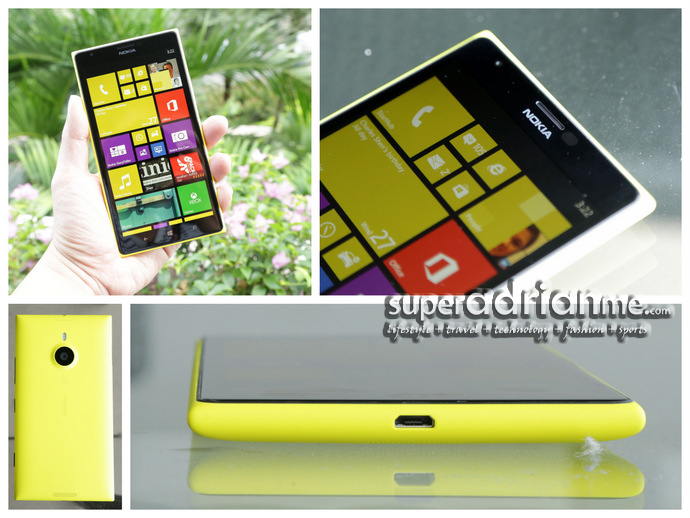 Nokia's first phablet series smartphone, the Nokia Lumia 1520 will be available in Singapore from 14 December 2013. Instead of making everything bigger to fit the 6″ full HD display, the Windows Phone home screen interface is now rearranged with an additional column. The extra column will give more information and accessibility to apps, making the home screen look better.
Lumia 1520 is the first Nokia device to be built with wireless charging and yet the phone is still so slim. You can charge the Nokia Portable Wireless Charging Plate at home or in the office by plugging it into a power source.  After which you can then bring the wireless charging plate out to wirelessly charge up your phone in your bag when on the go.
The Lumia 1520 offers Nokia's latest imaging innovation – a 20MP PureView camera with optical image stabilization (OIS) enabling sharp images even in the dark, as well as oversampling and zooming technology – similar to Nokia's flagship Lumia 1020 which features a 40MP camera. Lumia 1520 is the first device with Nokia Camera that integrates the popular imaging modes – Pro, Smart and video – into one seamless picture-taking experience.
What is Nokia Pro & Smart Camera?
Nokia Pro Camera is aimed at fiddling with every parameter under the sun and offers reframing/zooming, at the expense of a four second start up and a similar shot-to-shot time
Nokia Smart Cam is aimed at taking a fast sequence of (up to) 10 photos  to offer a 'best' shot, plus various special effects, at the expense of absolute quality
For outstanding video experiences, the Nokia Lumia 1520 camera captures full HD video with crystal-clear audio. It also includes Nokia Rich Recording with four microphones, providing directional stereo recording capabilities to capture distortion-free audio from the preferred direction for accurate and clear sound.
Nokia Lumia 1520 will be available on 14 December in Black, White and Yellow at the suggested retail price of S$999 without contract at Nokia Stores and Nokia Solution Partners. SingTel, StarHub and M1 will also be retailing the device with data plans. The Red Lumia 1520 will only be available at a later date, closer to Chinese New Year or Valentine's Day.