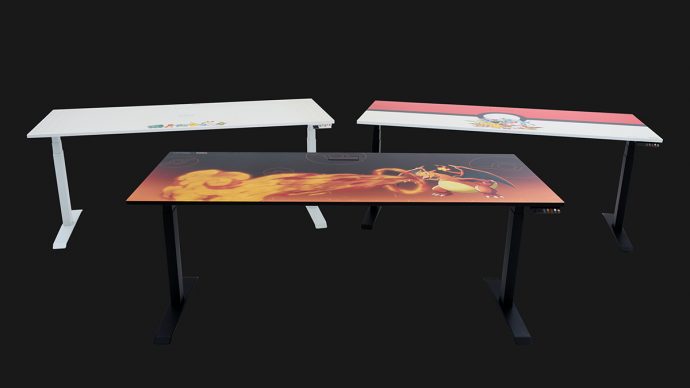 I bet a lot of us have some part of Pokémon memories in our life. And if you are a Pokémon fan, you might like this new premium range of ergonomic desks for your home. Created by home-grown, leading standing desk company Omnidesk, the Pokémon collection offers three statement-making ergonomic desk models to equip aspiring Pokémon trainers.

The Pokémon Designs

Available in three designs, the Pokémon Desks by Omnidesk blends stylish aesthetics with top-of-the-line customisable functionality. Each desk comes with meticulously-crafted designs, from the table-top to its accessories.
The Pokémon Evolution table showcases the iconic Pikachu, as well as the well-loved Eevee and its eight evolutions on a red and white, Poké Ball-inspired table-top design.

Pay homage to everyone's favourite fire-type Pokémon, Charizard, with THe Icon. Shades of vibrant orange and black make this desk an instant centerpiece in any home office or workplace, while the Poké Ball motifs on the black desk legs exude understated luxe with a touch of whimsy.

From The Classic, which features gray tone Poké Ball motifs decorated around the desk. And have Pikachu waving with the starter Pokémon from the Kanto and Galar region.
The designs are UV printed onto the desks and laminated to make sure it's more scratch resistance to your daily work on the desk.

The Desks
Created based on the premium OMNIDESK PRO 2020 electric standing desk series, this range are fully modular and upgradeable electric desk platform that offers infinite possibilities. With choices of accessories, size, shape and finishes, you can create a customised setup and achieve your ideal position, whether you sit or stand. The electric motors allow you to raise or lower the desk to your exact preferences. The adjustable height range is from 60cm to up to 125cm. So it can comfortable fit the standing height of someone who is even 2 meters tall.
OMNIDESK PRO's console features smart memory programmable presets to save up to two favourite profiles. With a highly sensitive anti-collision mechanism and a child-lock feature, switch to your ideal sitting, standing or even bean bag table positions easily at a touch of a button.
Made from the highest grade MDF wood and engineered for the best standing desk experience, the bevelled edges of the desktop allows for maximum comfort when standing or leaning with forearms on the edge of the desk.
The table top size comes in 42″, 60″ and 74″ with price starting from S$950. Each desk comes with a specially designed cable management bar and controller. The price is inclusive of GST, Free flat-pack delivery, and an extended 5 years warranty. Orders placed before 15th December will be delivered before Christmas. Subsequent orders will be shipped after Christmas. You can get it via https://theomnidesk.com/pages/pokemon