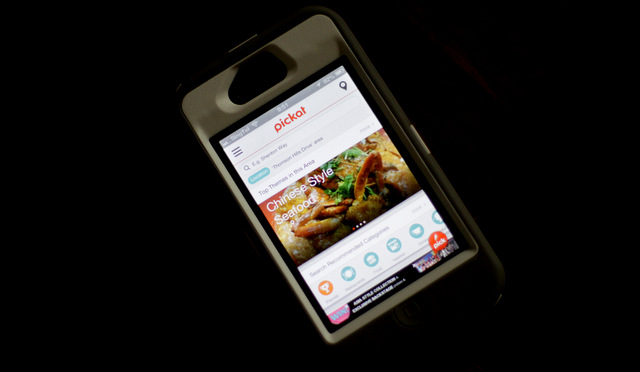 Singapore gets Pickat SG, the latest social location-based mobile application that lets you discover, create and share places of interests with friends and followers of similar interests. Created by South Korea's SK Planet, a subsidiary of SK Telecom,  Singapore is Pickat's second home after a successful launch in South Korea previously.  Available for free on iTunes and Android's Google Play.
Pickat SG currently offers 10 key categories including restaurants, hawker centres, food, drinks, arts & entertainment, fashion, beauty & spa, health & medical, markets & supermarkets and accommodations with more to be added in the future.
HOW TO PICK?
Create or pick a Place of Interest in Singapore (a restaurant, retail store or places of interest) and a theme (something you create on your own or from previously created themes by others) to share information about both a place and the interesting quality of the place.
Here are seven easy steps to help you create your first pick after you have downloaded the app.
Step 1.  Search for your location by keying in the place of interest when you first open the app
Step 2. Click on Search
Step 3. Select the outlet you want to make the pick
Step 4. Click on the Pick icon at the bottom right corner to make a Pick
Step 5. Choose a theme
Step 6. Upload up to a maximum of four photos
Step 7. Write a review
Step 8. Like, share and bookmark for future reference as well as share your experience via Facebook or Twitter.
Here's how we recently picked a place of interest:
Pop Up stores seem to be the trend these days with many popping up here in Singapore.  So I decided to create a theme "Pop Up Stores".  My first pick was the Casio 30th Anniversary Pop-up Store outside ION Orchard which was launched just last Thursday.  So the next time we visit another pop up store we will add new places of interest to this theme.
Pickat lets you upload places of interest within themes so you can easily find the places within that theme in the future.  Comes in really useful especially when you are searching for places to eat such as "To-Die-For Juicy Burgers" or "Perfect For Family Dinner".
FREE ICED COFFEE OR TEA AT YA KUN
One of the features of the Pickat SG app is coupons.  To celebrate the launch of this new app here in Singapore, SK Planet has collaborated with Ya Kun to offer up to 30,000 cups of Ya Kun iced coffee or tea from 20 to 30 June 2013 at 39 Ya Kun outlets when you download the Pickat SG app.
Here's a step-by-step guide on downloading the Ya Kun coupon:
Step 1. From the menu, select "Nearby Coupons"
Step 2. View nearby coupons or search based on your location.
Step 3. Click on the Ya Kun coupon and save the coupon by clicking on the download button.
Step 4. When you are at the Ya Kun outlet, present the coupon in the Pickat app and click on redeem to redeem the coupon.Step 5.  Let the Ya Kun counter staff click on the "Redeemed" button on the app.  The redemption key code should only be completed by the Ya Kun staff.
WIN TICKETS TO ASIA STYLE COLLECTION
Download the app today and get a chance to win a pair of premium tickets (worth S$268 each) to Asia Style Collection where you get to catch 2NE1 and SNSD in person amongst others.
How to WIN:
1. Download Pickat SG App (iOS:  and answer this simple question "Name 1 of our Top Pickers on Pickat SG"
2. Email us your answer and your particulars (Name, Pickat SG ID & Contact) to contests@superadrianme.com3.
3. Share this post on Facebook or Twitter
Terms and Conditions apply:
Giveaway period is from 17 to 20 June 2013 (10am, Singapore Time).
All participants must download Pickat SG to qualify for the chance to win
Each participant shall be entitled to make one (1) entry into the Giveaway only. Multiple entries or incomplete details will be disqualified.
All participants must be a resident of Singapore.
The Prize is neither transferable nor exchangeable and cannot be exchanged for money or money's worth.
SK Planet International reserves the right at any time to amend the terms and conditions at its absolute discretion without prior notice and its decision matters relating to the campaign is final and binding on all participants.