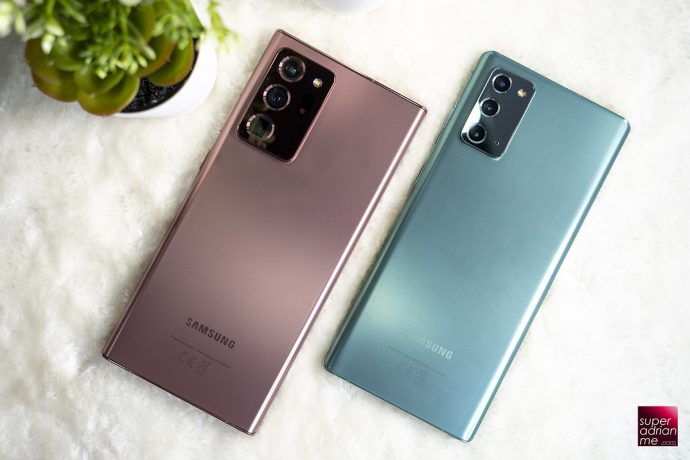 Samsung has just unveiled the new Galaxy Note 20 and Galaxy Note 20 Ultra and a whole range of products including the matching Galaxy Buds LIVE with active Noise Cancelling features to stylishly pair with the new Note 20 in Misty Bronze. The New Samsung Galaxy Tab S7 and S7+ tablets and the Super premium Galaxy Z Fold 2 have also been unveiled.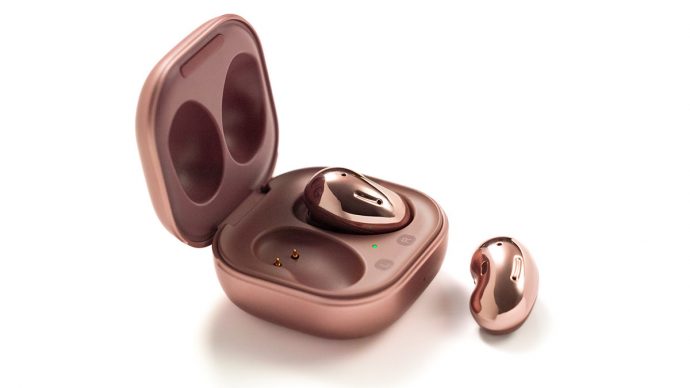 We had a quick look and hands on experience of the Galaxy Note 20 and Galaxy Note 20 Ultra prior to the launch.
Unlike the S20 series launched earlier this year, there are differences between the Note 20 and Note 20 Ultra. This allows you to pick one that suits your needs. The Note 20 Ultra is created for the loyal note user while the Note 20 is suitable for individuals who are new to the Galaxy Note series.
Galaxy Note 20 Series Upgrades and new features
The most powerful Galaxy Note smartphone built by Samsung comes with a new S Pen that has a 40% improvement in latency on the Note 20 or 80% improvement on the Note 20 Ultra compared to its predecessor, the Note 10. Writing is smoother than ever. It feels as if you are writing on a piece of paper with a pen.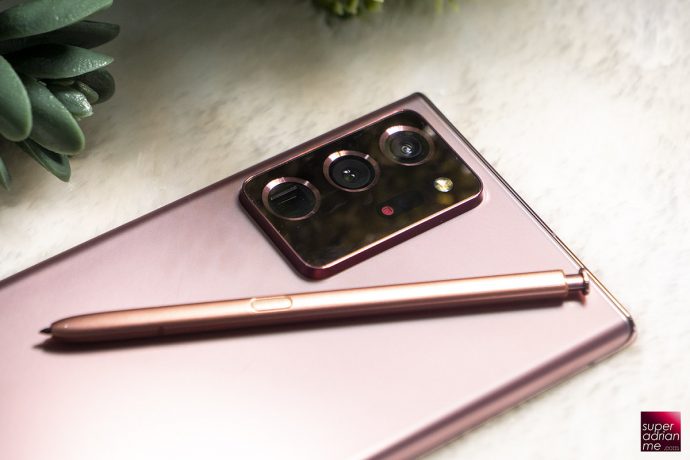 New note taking templates have been added so you can write more efficiently. Get creative with colour choices of background. Samsung notes can be automatically synced to your cloud storage like Samsung Cloud or Microsoft One Drive. So convenient. You can pick up where you left off from your laptop or tablet without any additional file transfers in the process.
You can record audio at seminars or lectures with audio bookmark attached to your notes. With a simple tap on your notes, the audio playback will jump to the time stamp where you made that written note to let you know what the speaker was saying at that moment in time. If only we had this when we were still in school. It would have made referencing and recapping of lectures so much easier.
Scribbling notes and highlighting sections on PDF documents are now possible. You can do this and forward your feedback to others.
For people who do not like to write horizontally, now the new Note 20 series can straighten your text. Not sure if that is useful for me. May not work effectively for all scenarios.
Samsung has added five new Air Gestures for you to navigate the phone with the S Pen without touching the phone. All you need is a simple flick of the wrist with the S Pen in your hand and you can go to home screen, screen grab or access recent apps.
Camera and Photography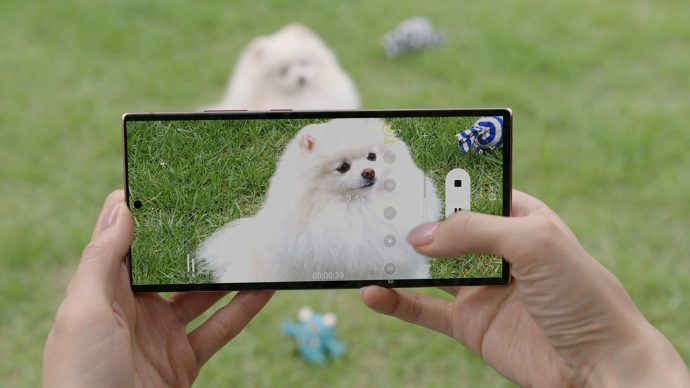 Unlike the Galaxy S20 Series' Quad Camera system, the Note 20 and Note 20 Ultra will come with a Triple camera system. The Note 20 Ultra comes with Laser Auto Focus Sensor for more accurate focusing when using the camera as well as a 12 megapixel Ultra Wide Camera, 108 megapixel Wide main camera and a 12 megapixel telephoto camera with 5 times optical zoom and 50 times Super resolution zoom.
The Note 20 features a 12 megapixel Ultra wide angle, 12 megapixel wide main camera which uses a smaller sensor compared to the Ultra, and a 64 megapixel telephoto camera with 3 x Hybrid Optic Zoom and 30 times Super resolution zoom.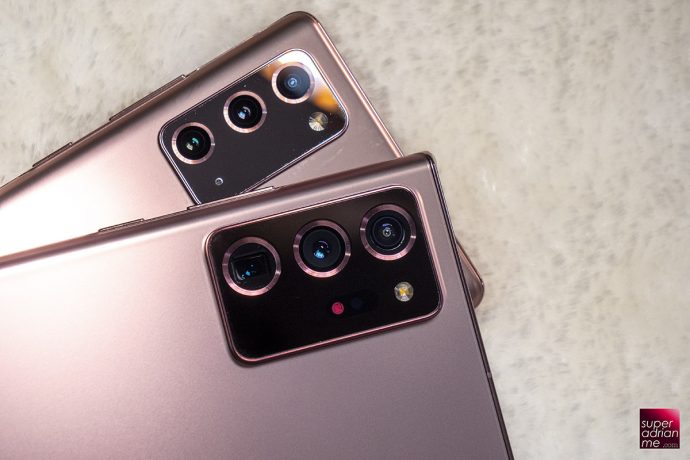 Without direct comparison, I feel that the zooming feature on the Note 20 Ultra has greatly improved in terms of stability and maybe even resolution. This can only be verified after we have a more in-depth hands-on of the two phones.
Similar to the Note 10, the Note 20 is also focused on the cinematic features. So the Note 20 series can now take up to 8K 24fps videos. The improved Pro video mode allows the flexibility of directional Audio Adjustments to focus on the audio you need the most. You can choose from rear, front or omni to get the best sound recording for your videos.
With the new Galaxy Buds LIVE, you can also select the mic input from the ear buds to focus on the presenter's voice and drastically reduce the ambient sound in a crowded place.
Gaming
For gamers, the phone comes with up to 120HZ refresh rate on the Dynamic AMOLED 2x display for buttery smooth visuals for your gameplay. Equipped with the latest 5G and wifi 6 connectivity, AI game booster and the world's slimmest cooling chamber in a smartphone, the Note 20 is built for gamers too.
If you are expecting the Qualcomm SnapDragon chipset, you will not be getting that. The Note 20 series will only be equipped with the Exynos 990 chipset by Samsung. Let's see if the benchmark tests on the Exynos chipset can hold up to SnapDragon.
Difference between Note 20 and Note 20 Ultra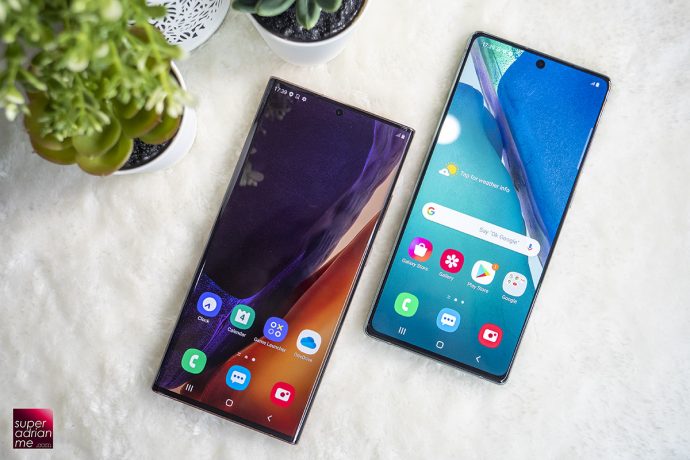 The Note 20 comes with a flat screen display with Full HD resolution. So this flat display will be more suitable for new Samsung users who are not used to Samsung's signature curve display. And for gamers the flat screen will be easier to hold and control when gaming too.
The Note 20 Ultra will have a Quad HD curve display that most Note loyalist will adore and be familiar with. The Ultra also comes with expandable micro SD card slot in the SIM card tray that is not available on the Note 20. Instead the Note 20 comes with a dual SIM card tray.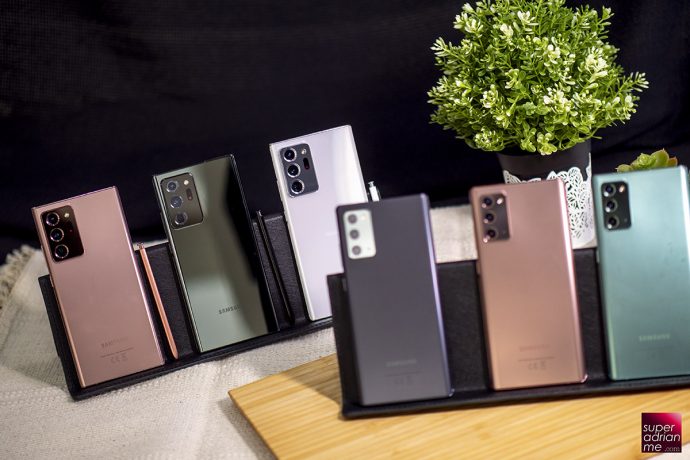 The Note 20 Ultra will be available in three colours, the Misty Black, Misty sWhite and Misty Bronze of which, the white and black have glossy back chassis, which are fingerprint magnets, in our opinion. If you prefer fewer fingerprints, the Bronze in Matt finish will be the better choice here.
The Note 20 will come in Mystic Gray, Mystic Bronze and Mystic Green. I like the misty green as it looks more energetic, compared to the more "Adult" and serious vibes from the rest of the colours options. All the colours in the Note 20 are Matt finish which is a plus point for me.
The Note 20 Ultra will have 12GB RAM, 256GB memory and only available with 5G variant. The Note 20 will have 8GB RAM, 256GB Memory and it will come in 4G or 5G variant depending on your preference. So is it Note 20 or Note 20 Ultra for you?
Pre-Order and Pricing
Pre-order and registration of interest for the Galaxy Note 20 and Note 20 Ultra 5G will commence in Singapore from 6 August 2020 at 10am from Telecommunication operators M1, Singtel and StarHub, Samsung online store and Experience stores, Selected consumer Electronics and IT stores, Samsung Official Store in Lazada and Shopee, Takashimaya Department Store and KrisShop.
The Galaxy Note 20 (4G) and (5G) as well as the Galaxy Note 20 Ultra 5G comes with 256 GB.
Preorders of the Galaxy Note 20 and Note 20 5G will also be entitled to free Galaxy Buds+ (Black) worth S$269. Preorders of the Galaxy Note 20 Ultra 5G will be entitled to a free Galaxy Buds Live (Bronze) worth S$288.
| Model | Screen Size | Built In Memory | Colour | RRP including GST |
| --- | --- | --- | --- | --- |
| Galaxy Note 20 | 6.7″ | 256GB | Mystic Bronze, Mystic Green and Mystic Gray | S$1,398 |
| Galaxy Note 20 5G | 6.7″ | 256GB | Mystic Bronze, Mystic Green and Mystic Gray | S$1,548 |
| Galaxy Note 20 Ultra 5G | 6.9″ | 256GB | Mystic Bronze, Mystic Black and Mystic White | S$1.898 |