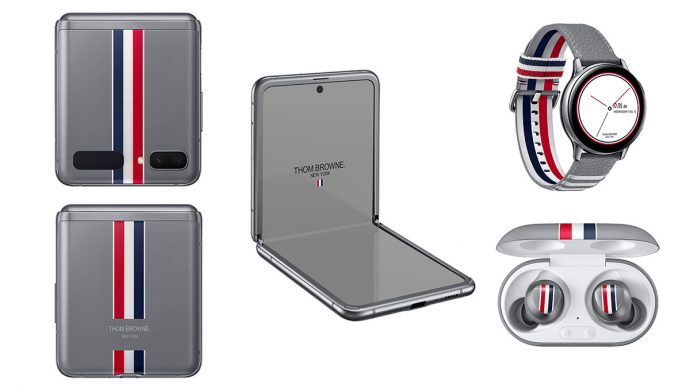 The super duper chic Samsung Galaxy Z Flip Thom Browne Edition is finally coming to store shelves in Singapore this June. No further details were given on the price and where to buy yet. But i guess it's worth the wait as this complete fashionable ensemble of tech gadgets with grey, white, red and blue stripes is the coolest look for 2020.
And not to forget that RM from BTS showed it off on social media and I bet all ARMY (aka BTS Fandom) will be going Gaga to get their hands on this very limited edition Samsung Galaxy Z Flip. The bundle is completed with custom designed Galaxy Buds+ and Galaxy Watch Active2, as well as a Thom Browne designer protective case too. How cool is that?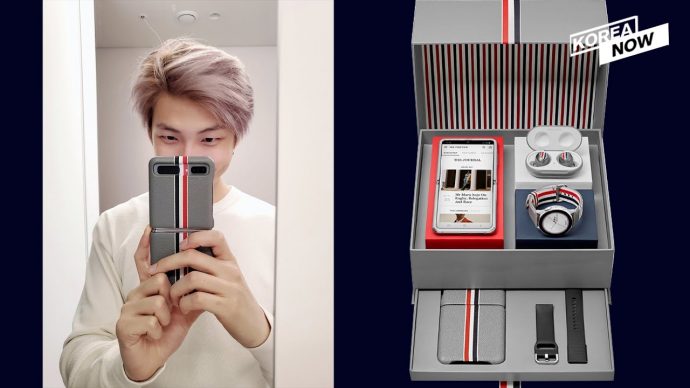 The limited-edition smartphone is the first of its kind to be encased in glass while still having a matte look that is soft to the touch and effortless to hold. When unfolded, the Galaxy Z Flip Thom Browne Edition reveals even more design details inside, including:
Iconic blinds, a reference to the mid-century office aesthetic at the centre of the Thom Browne world, which appear onscreen every time the phone is turned on and off;
Pre-set app icons, labelled in classic text, as well as custom wallpaper which create an elemental Thom Browne uniformity;
Distinctive sound cues including a typewriter for the keyboard, an analogue ringtone, and a shoe tap on a marble floor, that tie the entire experience together.

Galaxy Z Flip in Mirror Gold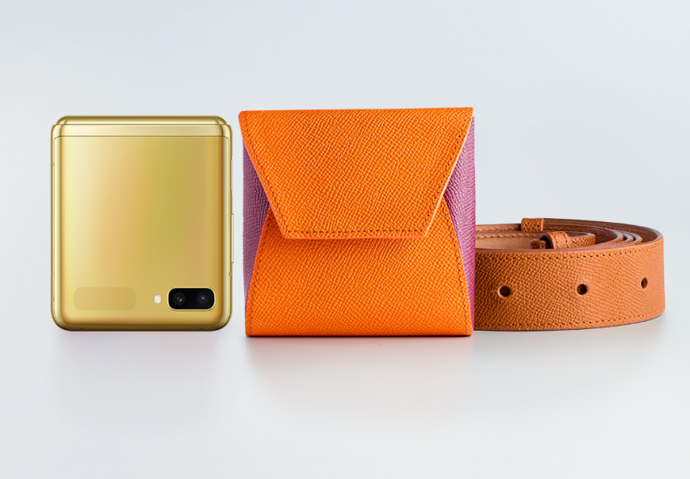 If flipping a smartphone is still not eye-catching enough for you? Why not add some flair to it with a touch of gold? Not just any Gold, but a super reflective and glaring yellow gold chassis called Mirror Gold.
Starting from 2 May, the Galaxy Z Flip in Mirror Gold will be available for online purchase at a recommended retail price of $1,998 on the Samsung Online Store, Singtel Online Shop, M1 Online Shop, major consumer electronics and IT retailers' online shops, and Krisshop Online. The Galaxy Z Flip in Mirror Gold will also be available in stores after circuit breaker measures are lifted.
You will also receive a pair of Galaxy Buds+ worth $268 for every Galaxy Z Flip purchased on the Samsung Online Store or major consumer electronics and IT retailers' online shops, while stocks last.
All Galaxy Z Flip devices come with Galaxy Z Premier Service. This specialised care offering provides customers with the most premium product experience possible.

Style It Up With LINGWU
Samsung has unveiled an exclusive collaboration with LINGWU, a Singapore-based accessories atelier, for the launch of the LINGWU capsule bag. Available in limited quantities, the bespoke creation is a one-of-a-kind fashion accessory for those seeking a unique statement piece to house their stylish foldable.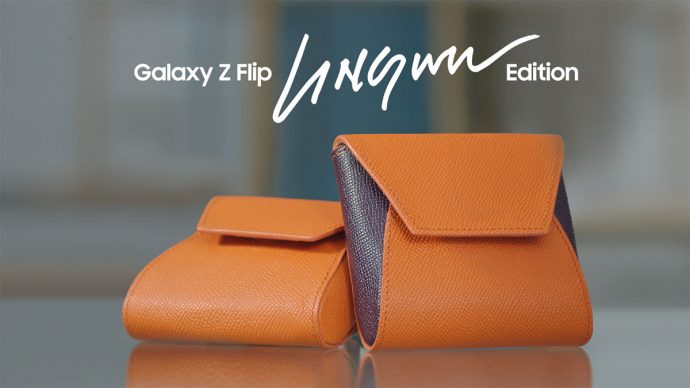 The bag takes the shape of an in-season accessory that is popular among fashionistas – the belt bag – and has been reimagined to fit the profile of the Galaxy Z Flip. Available in two colour options, Orange and Orange/Purple, the capsule bag is crafted from Epsom leather that is commonly used for luxury handbags. Elevated by Asian local craftsmanship, the bright colours and clean lines of the capsule bag appeals to both male and females. The scratch-resistant leather ages well with time to become a truly one-of-a-kind piece. It also sports a magnetic closure, inspired by the Galaxy Z Flip.
The LINGWU capsule bag for Galaxy Z Flip is available at $188 (U.P. $368) with every new Galaxy Z Flip purchase, and is only available on the Samsung Online Store. Only 88 pieces are available for purchase, while stocks last.