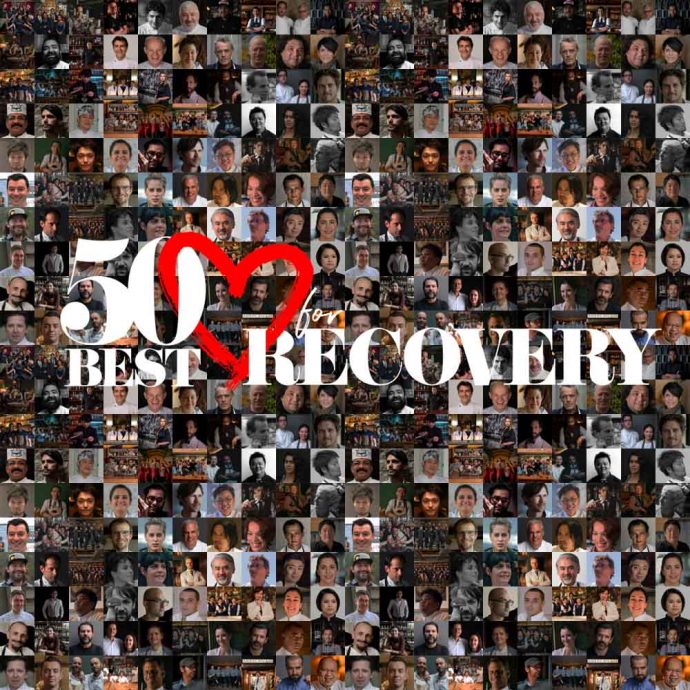 The organisers of The World's 50 Best Restaurants is replacing the annual ranking, awards and related events with 50 Best for Recovery, a three-pronged campaign.
The campaign will support restaurants around the world through a partnership with S. Pellegrino & Acqua Panna through tangible financial relief, as well as create and collate helpful resources for restaurant businesses,
The 50 Best Recovery Fund is backed by founding donor S. Pellegrino & Acqua Panna. It will support a range of non-profit organisations working in different parts of the world to aid the survival and eventual revival of the restaurant sector. Funds will be raised through donations from 50 Best's partners and a range of accessible initiatives where diners can also give back.
50 Best Recovery Hub will also be launched online at theworlds50best.com/recovery. Gather and generate content with advice, information and inspiration for the sector, as well as for food-lovers to play their part in sustaining and rebuilding the restaurant industry.
50 Best will continue to recognise the passion, skill and determination of restaurants, chefs and their teams as they push towards reopening and revitalisation.
A virtual Recovery Summit will be held over several days in September to explore how the restaurant world can thrive again. There will be masterclasses, talks, case studies, interviews and discussion forums.
Fundraising initiatives over the coming weeks will include
50 Best 'Bid for Recovery' Auction in June offers food lovers the opportunity to bid for out-of-this-world gastronomic experiences from the restaurants and chefs featured on the most recent list
Home Comforts, an e-cookbook will offer simple lockdown recipes from the world's best chefs and bartenders. Download this for a small donation when it is published
#50BestRateMyPlate social media contest will be open to foodies around the world. Home cooks will be challenged to prepare dishes inspired by the cookbook, with the best offerings judged by the relevant chefs and posted on 50 Best's social feed.
The World's 50 Best Restaurants 2020 was due to take place in Antwerp, Flanders in June this year. This has been postponed until 2021 as announced by 50 Best in March. The annual list of the world's finest dining destinations will not be released this year in any format. Those restaurants voted onto the 2020 ranking-designate will be fully recognised in 2021, circumstances permitting.