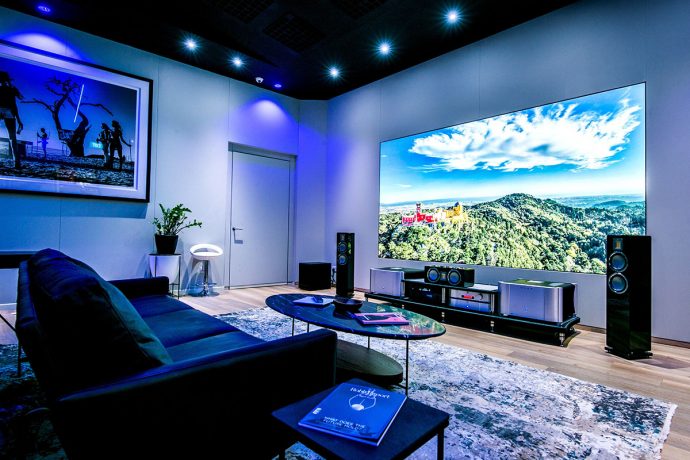 Samsung launches The Wall Luxury large format display in South East Asia. Singapore is the third country to have this S$500,000 highly customisable 146″ 4K LED display installed on location.
The transformational display represents a complete reimagining of display technology thanks to its striking modular form factor, making it highly customisable for your needs.
Designed for luxury residential spaces and refined business environments, The Wall Luxury is configurable to a variety of sizes and ratios from 146″ in 4K to 292″ in 8K. With a depth less than 30mm, the slim displays are combined with customisable décor frames, allowing the screen to blend effortlessly into, and enhance any environment. The aspect ratio of the almost bezel-less display can also be customised based on your liking or to fit a particular wall in a room.
The Wall Luxury never needs to be turned off. When not in use, the Ambient Mode acts as a digital canvas for you to express themselves, whether through displaying paintings, photographs or video art that best suit the mood for the day. Tested to work over 100,000 hours, this display will be able to work for over 11 years non-stop.
Unlike traditional Large-Format Displays that feature crystal layers and backlights, The Wall Luxury employs millions of small, self-emitting LED pixels to create accurate and pure colour representation based on MicroLED technology. Within the display, Quantum Processor Flex, an AI upscaling technology, automatically enhances content to the optimum resolution according to the screen size and ratio.
Whether viewing a classic movie or a sporting event or playing the latest console game, the display's technologies combine with peak brightness of 2,000 nits and 120Hz video refresh rate to deliver a rich visual experience that is second-to-none. It's every gamer's dream to be able to play your favourite game on such a huge display.
The Wall Luxury will be exclusively available at AV Intelligence, Millenia Walk, Singapore. Private viewings are available upon reservation from 1 November 2019.