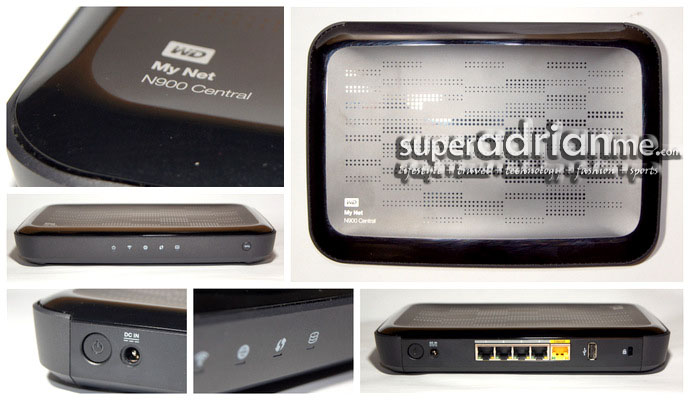 WD My Net N900 Central is the ultimate wireless router that comes with highspeed streaming data up to 450mbps that has smart distribution of bandwidth for multiple users and combines a local storage drive to store & share your files where ever you are. The WD My Net N900 Central is currently available and comes in two storage capacity, 1TB and 2TB retailing at S$329 and S$399 respectively.
Using the fastest dual-band N speed and featuring WD's FasTrack Plus technology, WD My Net N900 Central analyses in real time the network efficiency and allocates a wider bandwidth lane for users with online entertainment, ensuring the best experience when watching a HD video online or playing online games. Users surfing the web or browsing emails will get a lower bandwidth automatically, so the network is always utilised to the max with optimum performance.
Looking for a network drive and a new router? The WD My Net N900 Central with either 1TB or 2TB local storage is also a a personal cloud storage. So all files saved on the wireless router's hard disk drive can be accessed from anywhere, anytime via a web browser on your laptop or WD apps on your smartphones and tablets.
Even with a hard disk drive packed in the router, WD My Net N900 Central is 32mm thick and weighs only 600grams, it is not a big and chucky router that one may imagine. Setting up the new router is made easy with simple step by step guide. You can even setup the router using your smart tablet.
GIVEAWAY
SUPERADRIANME.com is giving away one WD My Net N900 Central with 2TB storage worth S$399 to a lucky reader residing in Singapore. To join, follow the steps below:
Step 1: LIKE us on our Facebook Page (facebook.com/superadrianmedotcom) or FOLLOW us on Twitter (twitter.com/superadrianme)
Step 2: SHARE this post onto your Facebook Wall or Twitter
Step 3: Drop us an EMAIL at contests@superadrianme.com with your NAME and MOBILE NUMBER by 30 April 2013, 6pm (Singapore time)
Winners will be contacted by email. GOOD LUCK.
Related articles