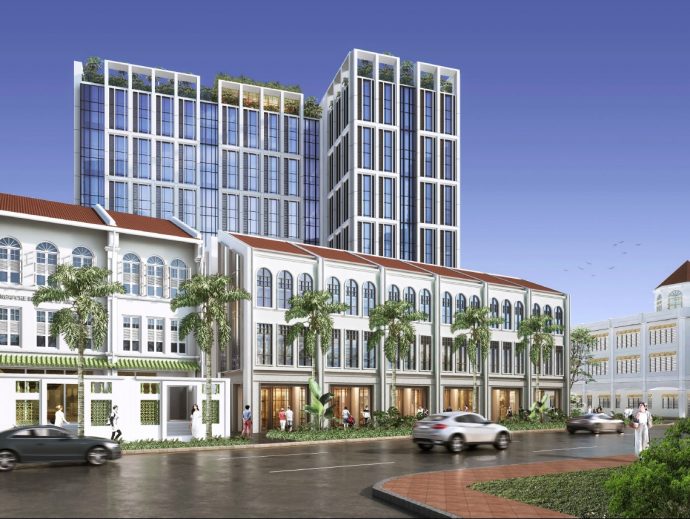 Mondrian Singapore Duxton, Singapore's first Mondrian hotel, will be built in the Duxton Hill neighbourhood and is slated to open early 2023. It joins the 296 guestrooms in Mondrian Seoul Itaewon, Mondrian's fifth property, as the second Mondrian in Asia.
Craig Road Property Holdings, an affiliate of Singapore-headquartered RGE Pte Ltd which manages a group or resource-based manufacturing companies with global operations, is building the 300-guestroom and suite luxury lifestyle hotel that also features a restaurant, a lounge and a rooftop bar that spreads across a lower three-storey building and a new contemporary tower. The shorter building features a terracotta roof and colonial-style window shutters while the new contemporary tower will house the majority of the hotel's guestrooms and a rooftop pool and bar and signature restaurant.
This development collaboration between DP Architects and Studio Carter will combine historic architecture from Singapore's centuries-old shophouses with a new build of modern, contemporary influences.
Accor recently announced its planned venture with Ennismore to create one of the world's largest and fastest growing lifestyle and entertainment operators set to include Mondrian hotels.
Mondrian Singapore will be one of the new Mondrian properties Accor plans to open globally. It will be one of the first to open in early 2023 in the next phase of expansion following Accor's acquisition of sbe's hotel brands. Mondrian Gold Coast is scheduled to open in 2023, Mondrian Shoreditch London in Q2 2021 and Mondrian Bordeaux and Mondrian Cannes in France in 2022.
These are on top of Accor's plans to open seven additional Mondrian globally by 2022 as well as soon-to-be announced properties in the Dominican Republic, Germany, the Maldives, Puerto Rico, Switzerland, Thailand and Vietnam.