Macao Government Tourism Office (MGTO) has launched a promotion campaign with Air Macau to entice visitors to the city. From now til 30 June 2023, enjoy a limited-time 'Buy One Get One Free' offer when you purchase a round-trip ticket to Macao from Air Macau from Singapore, South Korea, Japan, Thailand or Vietnam.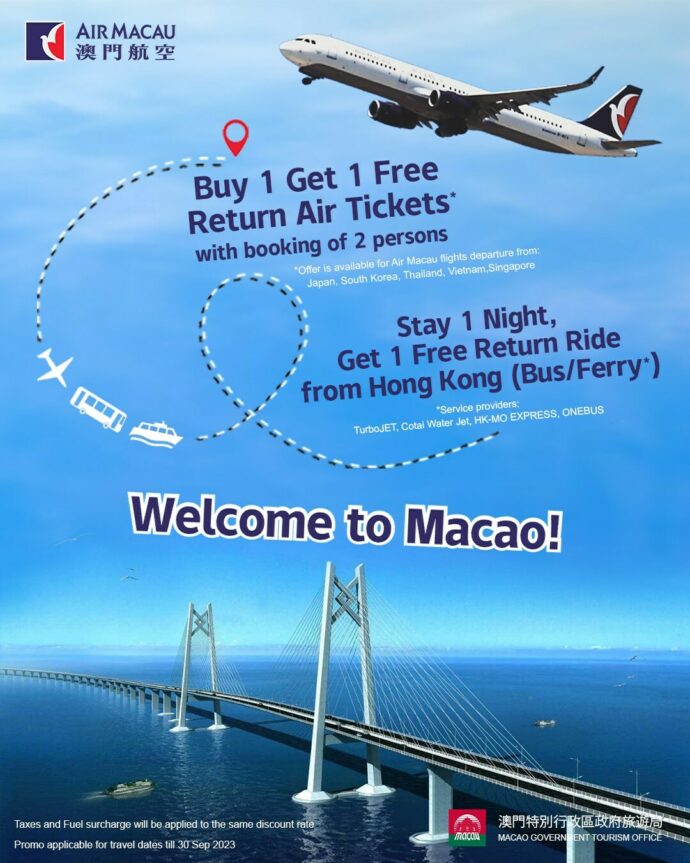 MGTO has recently joined forces with public transport operators to roll out the 'Macao Treat' programme to encourage longer stays by offering free return tickets to tourists who stay overnight in Macao. Hong Kong residents, Taiwanese or international tourists visiting Hong Kong are eligible for this offer from 10 April to 30 June 2023. These include land transport via HK-MO Express, One Bus Hong Kong Macau, Eternal East Cross-Border Coach, and water transport via TurboJet and Cotai Water Jet.
MGTO has also rolled out the 'Experience Macao, Unlimited' campaign with themed events, local arts and cultural scenes. April is themed 'Spring into Arts'. In May, it is 'May there be FUN'. It's 'Tasty June' followed by 'Summer Heat is On' for July and August, 'Autumn Delights' for September, 'Festive October', 'November Formula' and finally 'Dazzling Winter' for December. Visit MGTO website for more info.
Stay at the Galaxy Hotel Macau or the other properties in the area.
Featured image from depositphotos.com.