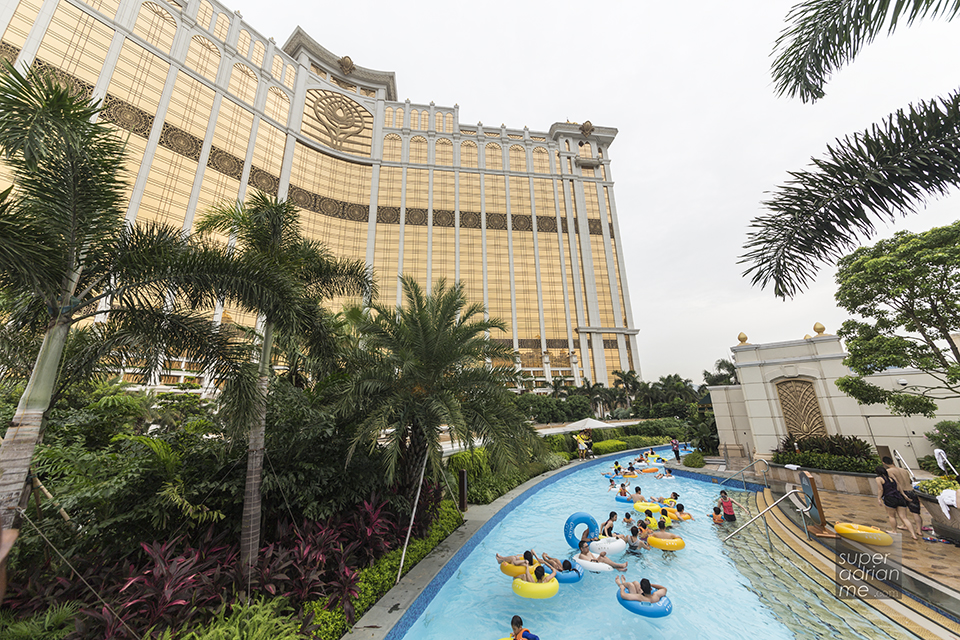 Macau is a haven of hotels, resorts, entertainment, food and of course, not forgetting, Casinos. I was not familiar with Galaxy Entertainment Group until last year when we visited Macau with UnionPay. I stayed at the Galaxy Hotel Macau for a night and was hosted to a tight schedule of activities including a tour round the resort and dining in the Italian restaurant. I did find some time to head over to the Aesop in the mall to get my facewash and have drinks at the bar at The Ritz-Carlton, Macau.
Under the group, it owns properties such as the Galaxy Macau resort, StarWorld Hotel, Broadway Macau as well as operates three City Club casinos at Waldo Casino, President Casino and Rio Casino.
Galaxy Macau resort officially opened Phase 1 on 15 May 2011. Today it has more than 3,770 rooms, suites and villas across six hotels including the Banyan Tree Macau, Hotel Okura Macau, Galaxy Hotel, The Ritz-Carlton Macau, JW Marriott Macau and Broadway Hotel. Banyan Tree Macau has 250 suites and villas, Hotel Okura Macau has 500 rooms including 60 suites and Galaxy Hotel has 1,500 rooms including 150 suites. The JW Marriott Macau is the largest hotel of its brand in Asia with over 1,000 rooms. The Ritz-Carlton Macau is its first all-suite hotel property in the world with over 250 suites. The Broadway Hotel offers 320 rooms designed for families.
The resort has over 120 food and beverage outlets including eight Michelin standard restaurants, a mall, the Promenade featuring over 200 shops, lush oasis gardens covering 52,000 sqm and the world's largest Skytop Wave Pool covering 4,000 sqm and featuring a 350-tonne white sand beach as well as a Skytop Adventure Rapids, the world's longest Skytop aquatic adventure ride at 575 metres. The resort also houses Macau's biggest 10-screen 3D cineplex featuring 10 theatres with up to 1,000 seats. UA Galaxy Cinemas is equipped with 3D technology. Catch a movie while you are here.
Galaxy Entertainment Group has received the highest number of Michelin recognitions in Macau. It received 23 recognitions in The MICHELIN Guide Hong Kong Macau 2017. Feng Wei Ju at StarWorld Hotel was promoted to two Michelin stars and I feel that they deserve that. I had lunch there and was totally blown away.Lai Heen at The Ritz-Carlton Macau gained a one Michelin star for the first time in addition to the 1-Michelin-starred restaurants 81/2 Otto e Mezzo BOMBANA and Terrazza Italian Restaurant at Galaxy Macau. Dragon Portuguese Cuisine and Du Hsiao Yueh at Broadway Macau both received "Recommended Restaurant" recognitions for the first time. Both The Ritz-Carlton Macau and Banyan Tree Macau received the prestigious title of 'Luxury Hotel'.
Galaxy Macau has also won the World Travel Awards for two straight years as "Asia's leading casino resort 2016 at the 23rd Annual World Travel Awards Asia & Australasia Gala Ceremony 2016 last October.
The Grand Lobby at Galaxy Hotel Macau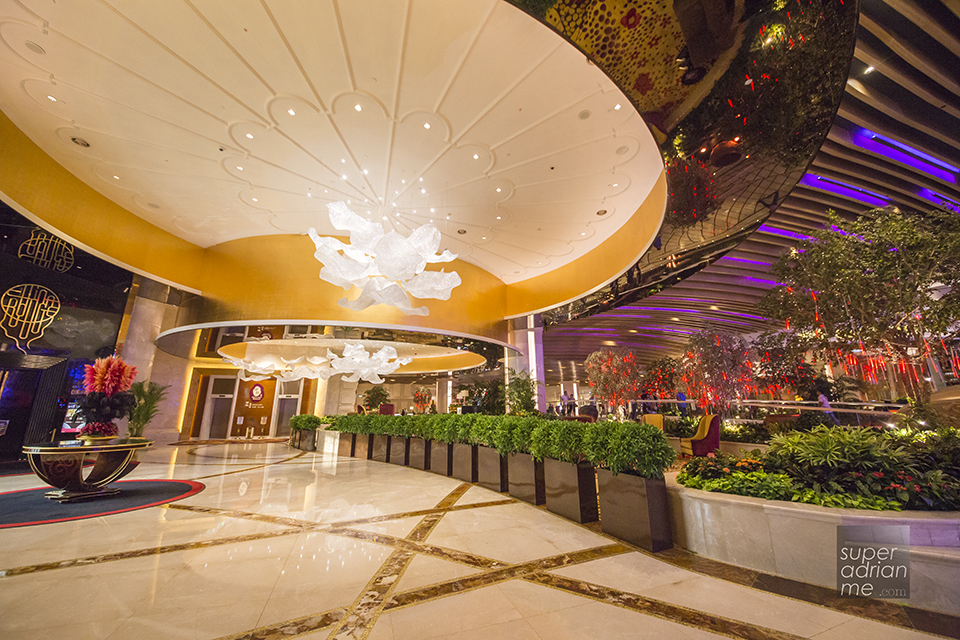 Everything in Macau is extravagant. Step into the Galaxy Entertainment Group's Galaxy Macau hotel and you will be in awe. It is spacious and when groups check in, you still have space to wonder around. High ceilings and dramatic lighting fill up the lobby.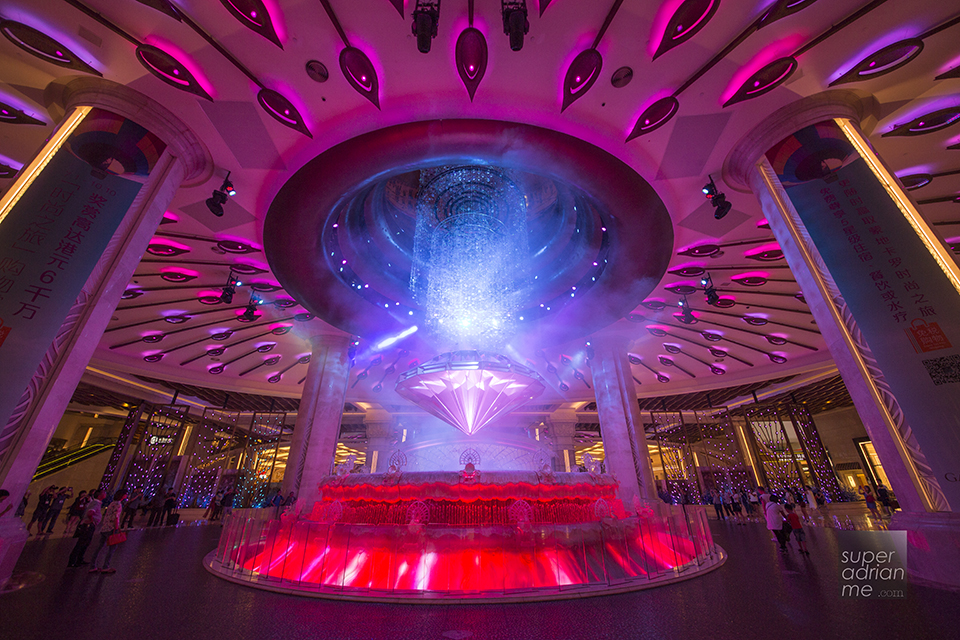 Connected to the lobby is a large water and light show piece that will reveal a larger-than-life diamond shaped crystal. Galaxy Hotel was awarded The Michelin Guide HK Macau 2016 "Top Class Comfort" hotel.
Deluxe Room at Galaxy Hotel Macau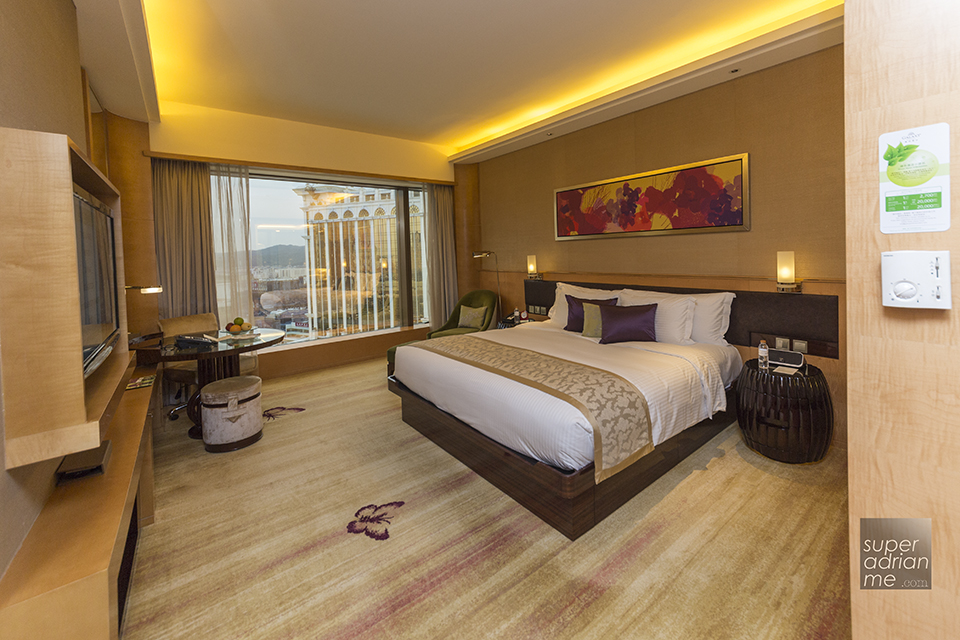 The 35 sqm Deluxe Room at Galaxy Hotel Macau is the lead-in category. It is spacious and very comfortable. My room overlooked the Skytop Wave Pool and the other hotel properties. The room is fully carpeted and features a king bed, work desk, sofa chair and bedside tables equipped with electrical sockets to charge your devices.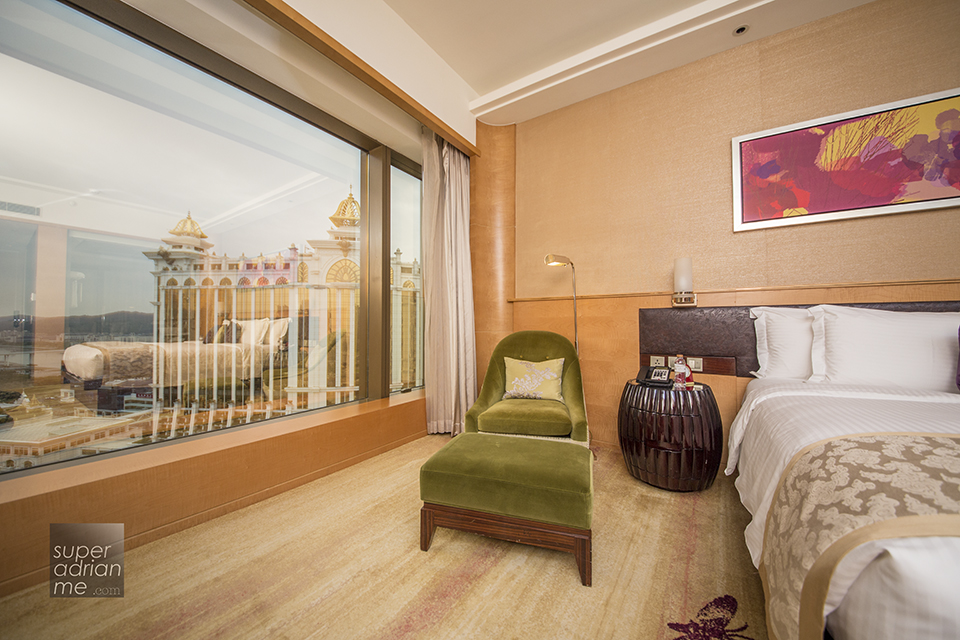 Guests enjoy complimentary Wi-Fi and Mini-Bar that is offered once per room per stay. How thoughtful. While most hotels charge for mini-bar items, Galaxy Hotel has thrown in this for the comfort and convenience of guests staying here.
Besides the Deluxe Room, Galaxy Hotel Macau's other room categories include the 77 sqm Galaxy Suite, 121 sqm Premier Suite, 121 sqm Palace Suite and the 71 sqm Royal Suite. This hotel has a total of 1,500 contemporary design rooms.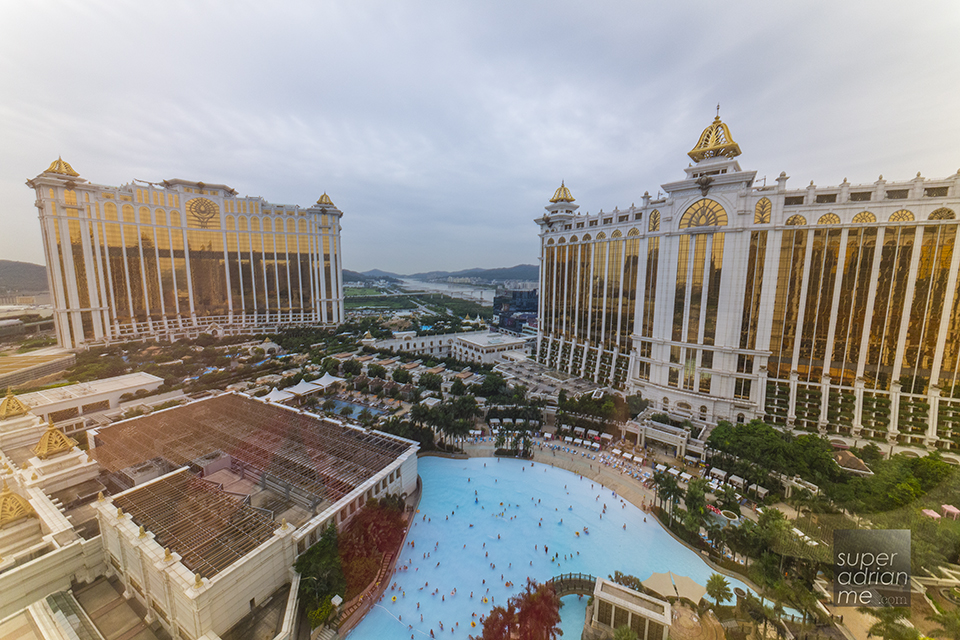 I could sit all day by the window and enjoy the view. Kinda therapeutic looking at the people in the pool, resembling ants scurrying around.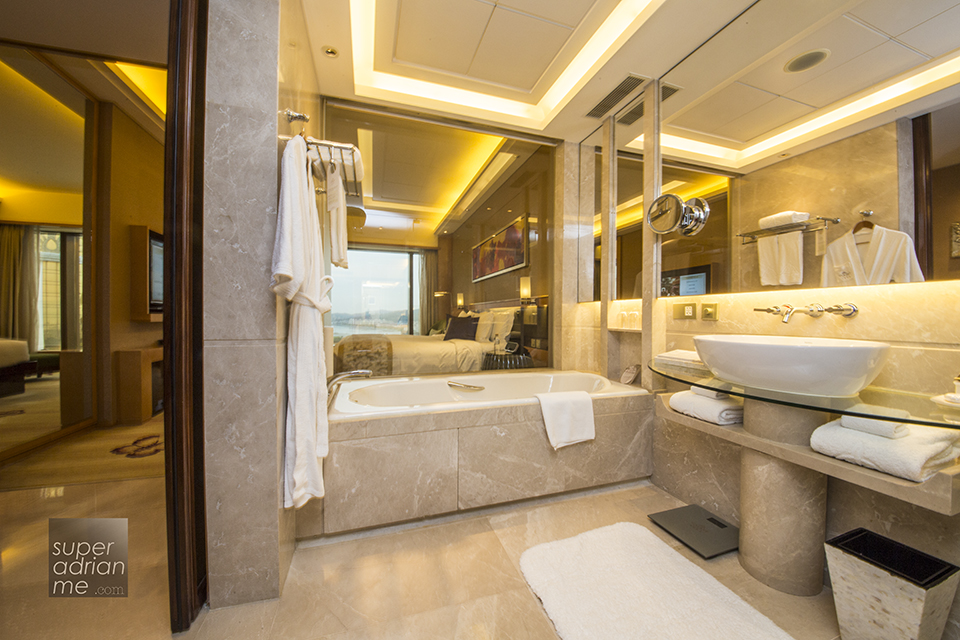 The bathroom is equally spacious featuring a bathtub, separate standing shower, toilet and basin area. Bath salts are also available should you decide to take a relaxing soak in the bathtub.
The Other Galaxy Hotels Connected to Galaxy Hotel Macau
Banyan Tree Macau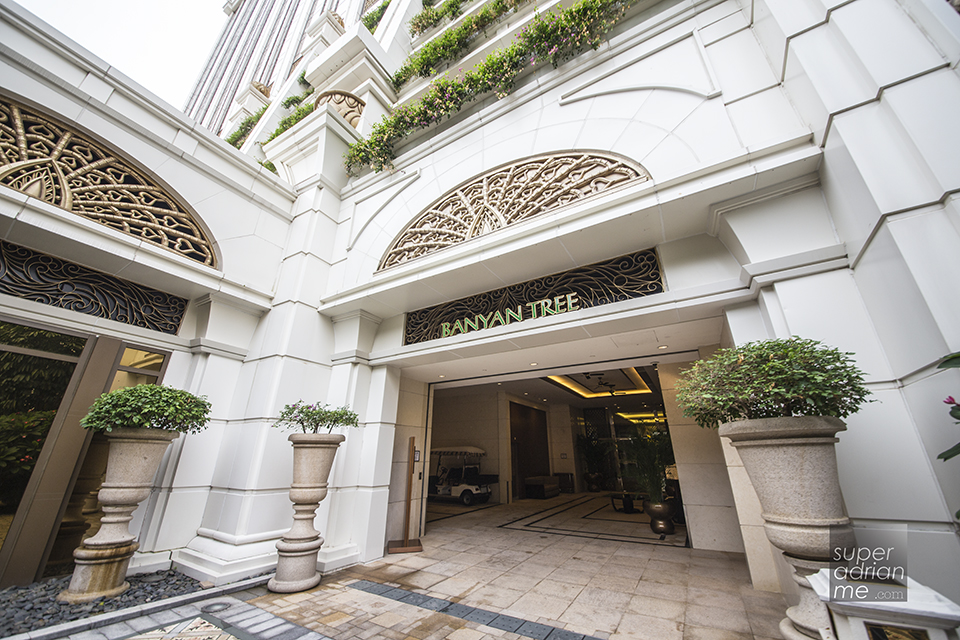 We took a very quick brief tour around the resort to some of the other hotels, most just walking through the lobby for a look. It was some walk as the resort is huge. Banyan Tree was our first stop.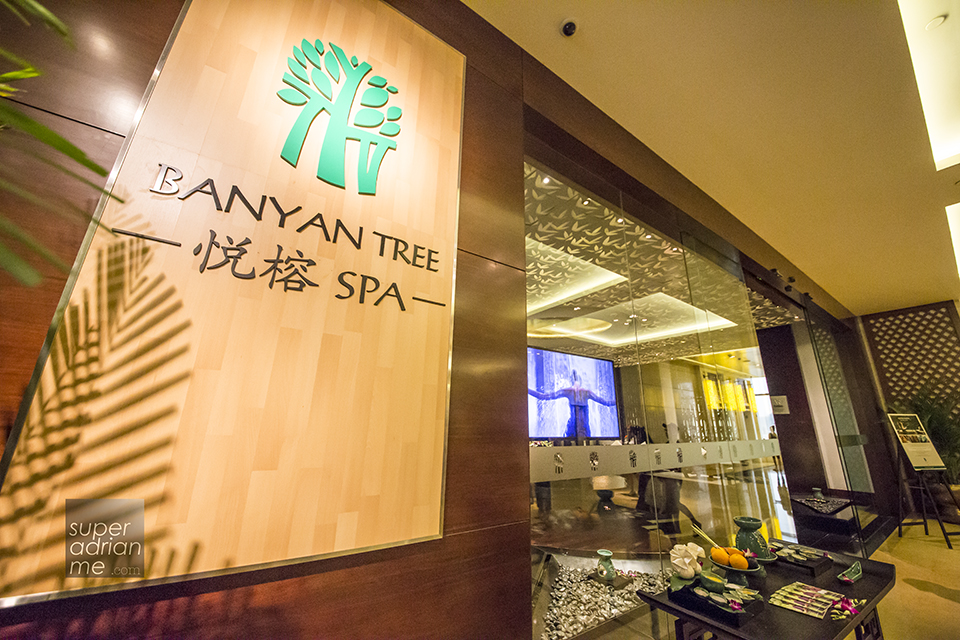 Banyan Tree's well-known spa offers a plethora of treatments here for guests. The spa's welcome lounge is impressively spacious yet welcoming.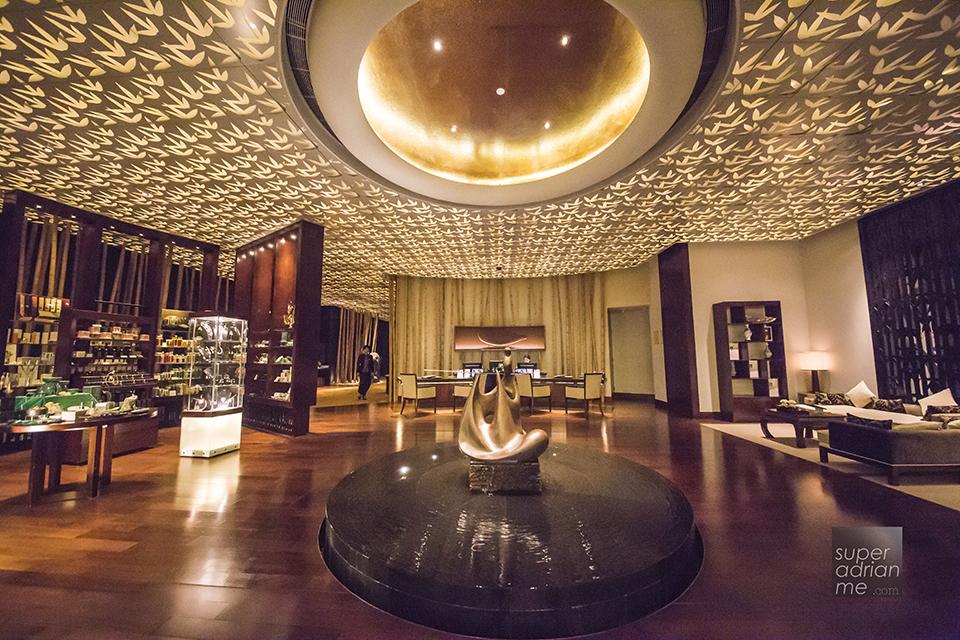 I noticed the bamboo-leaves motif on the ceiling and that was what caught my eye in the spa.
JW Marriott Macau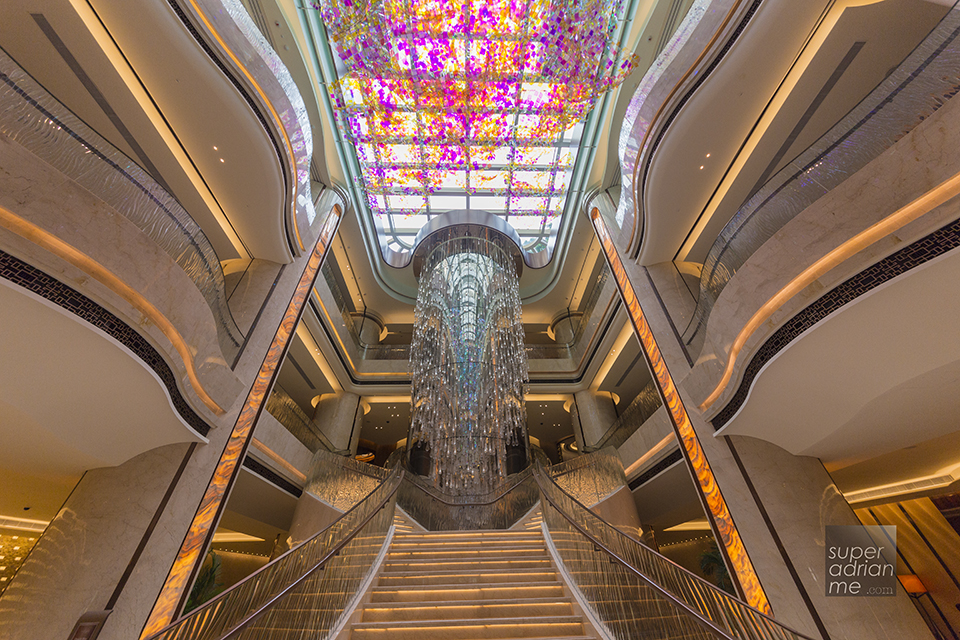 At the JW Marriott Macau, the lobby and its centre steps were the highlights for me. The coloured artwork hanging from the glass ceiling added colour to the orange-yellow lobby.
The Ritz-Carlton Macau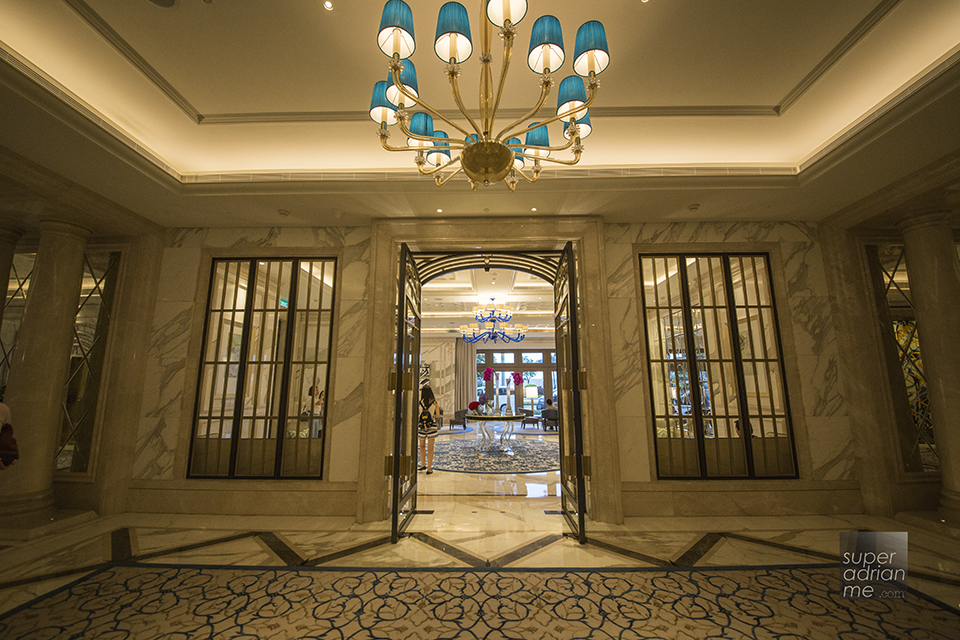 At the Ritz-Carlton Macau, colours were more muted. The elegant marble surroundings with beautiful chandeliers and blue lampshades give one an opulent and rich feel.
The Pool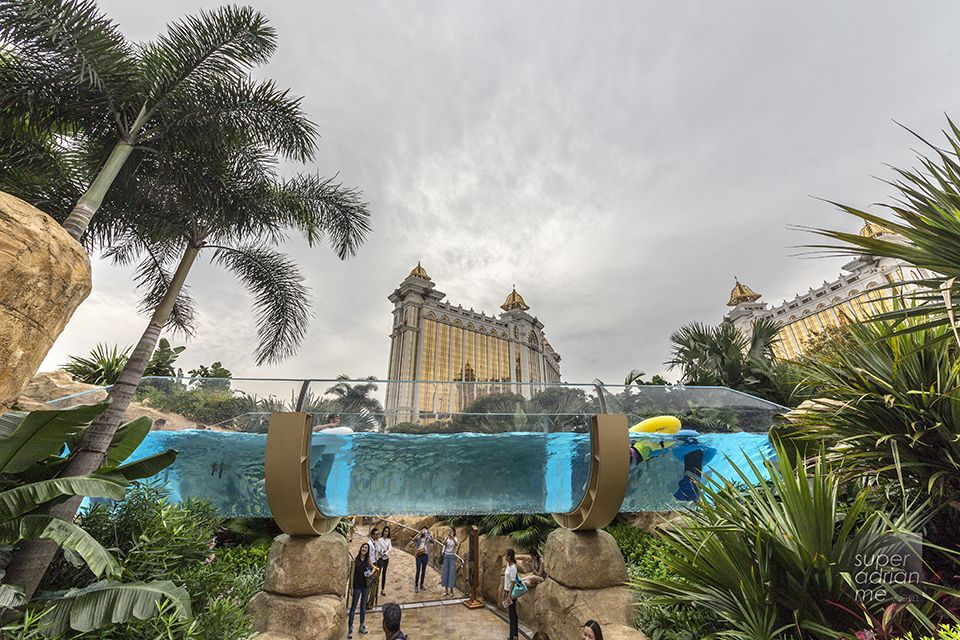 The Skytop Adventure Rapids is impressive. The water-filled glass tunnel transports people on floats around the resort.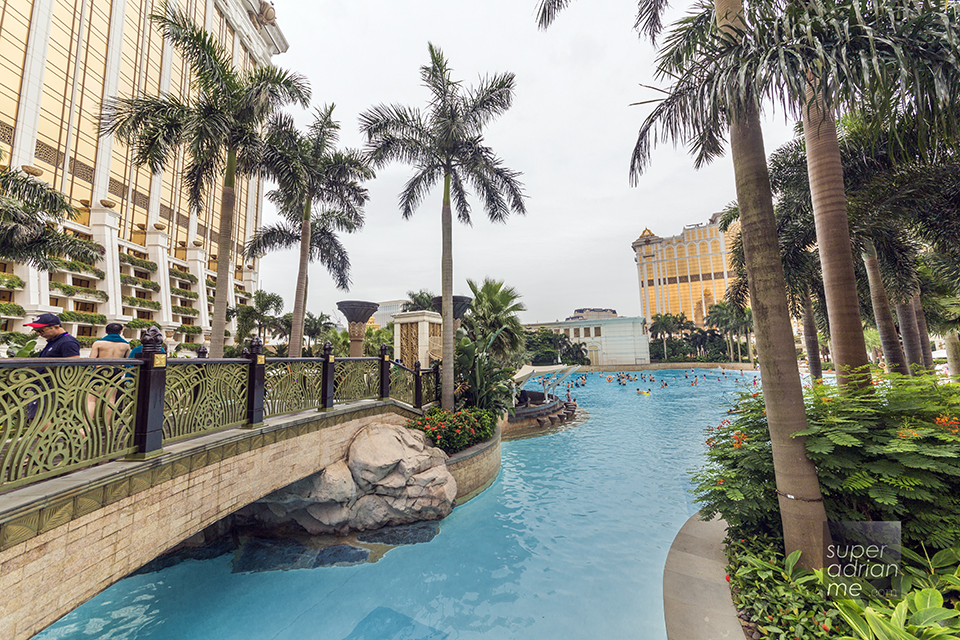 The free form beach like pool breaks away from the usual hotel pools that are most of the time limiting when it comes to swimming laps. The Skytop Wave Pool also gives you a feeling like you are swimming in the sea with artificial waves. Because the pool is so huge, it does not feel crowded even though the resort can accommodate a lot of people.
Dining at Galaxy Hotel Macau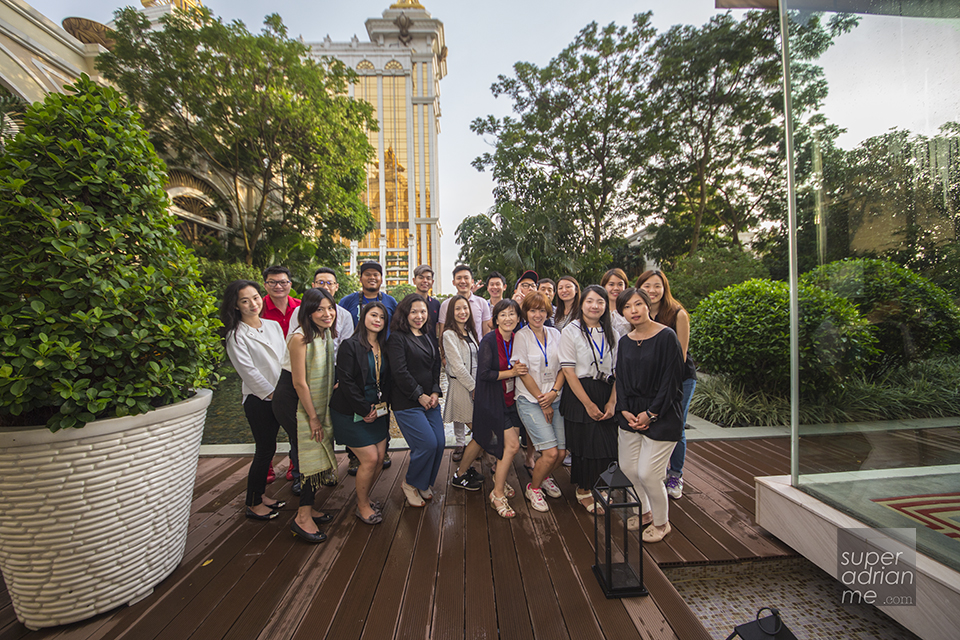 Group dining at the Terrazza Italian Restaurant at Galaxy Hotel Macau was delightful. I had dinner here with friends from South Korea, Thailand, Hong Kong and Singapore as well as the team from Galaxy Entertainment Group.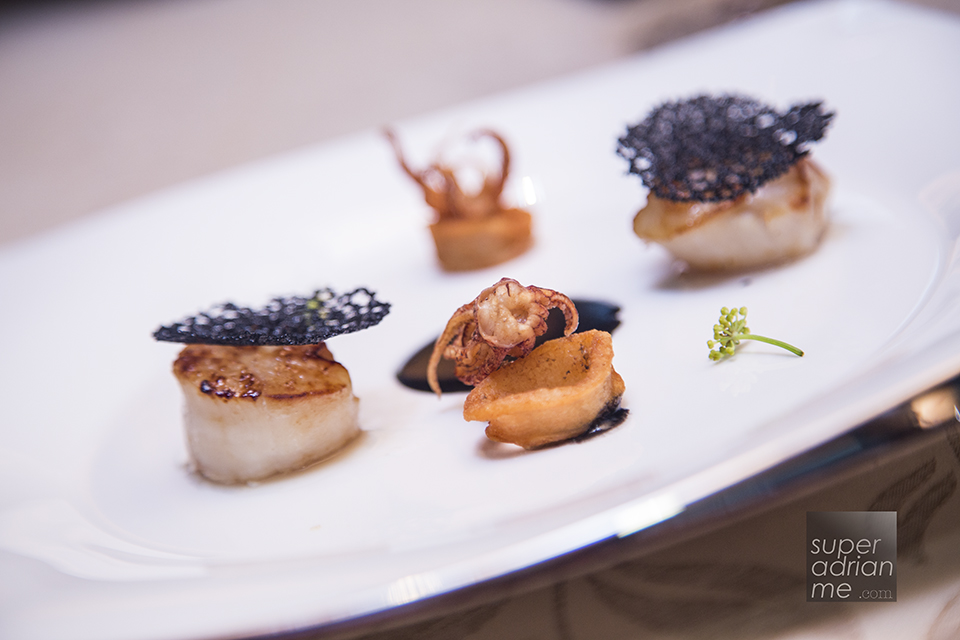 Italian dining was presented beautifully as we enjoyed our meal with wines and laughter in the private room located outside the restaurant in the open al fresco area.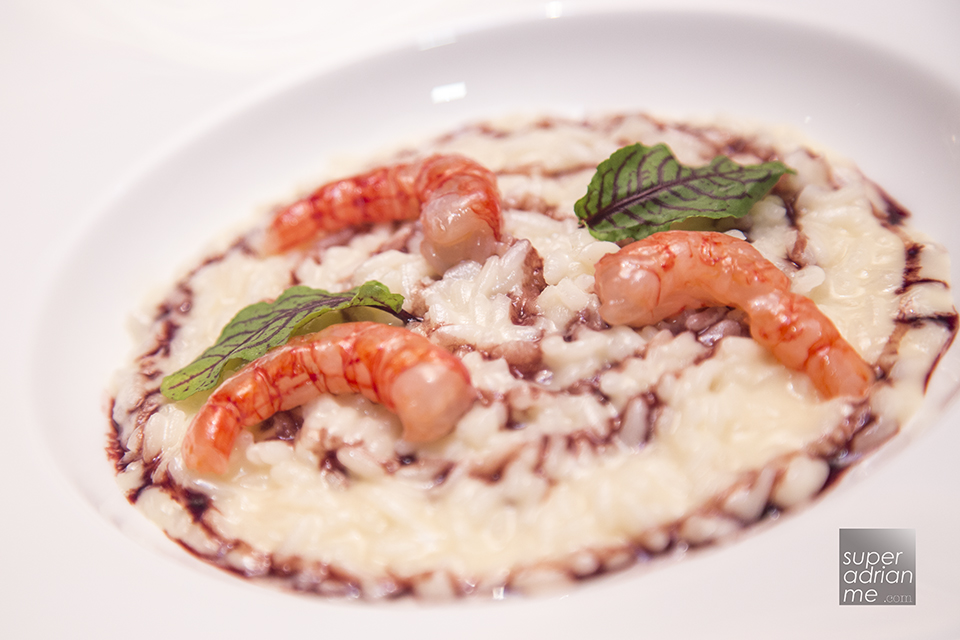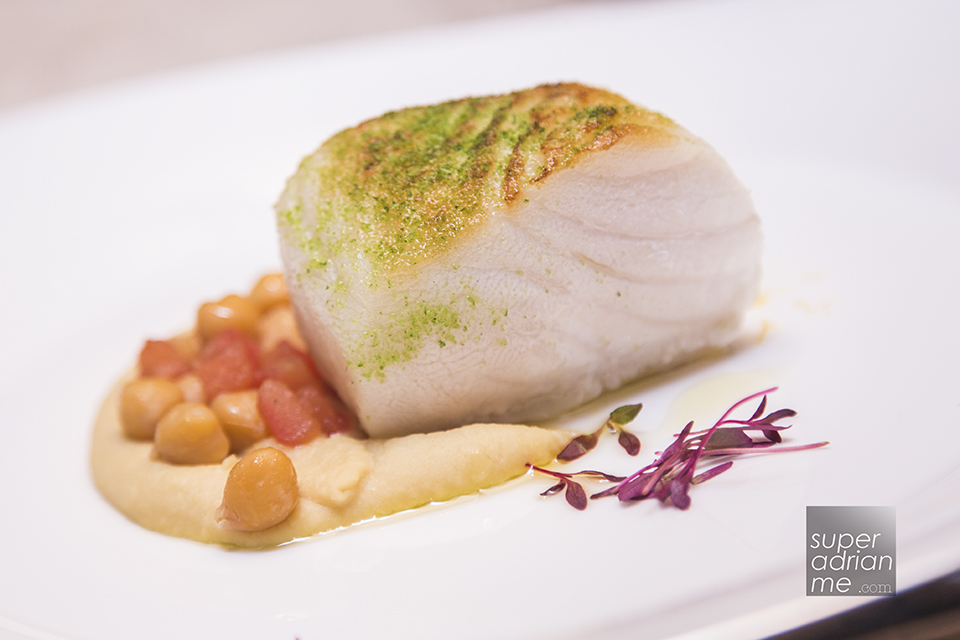 Broadway Food Street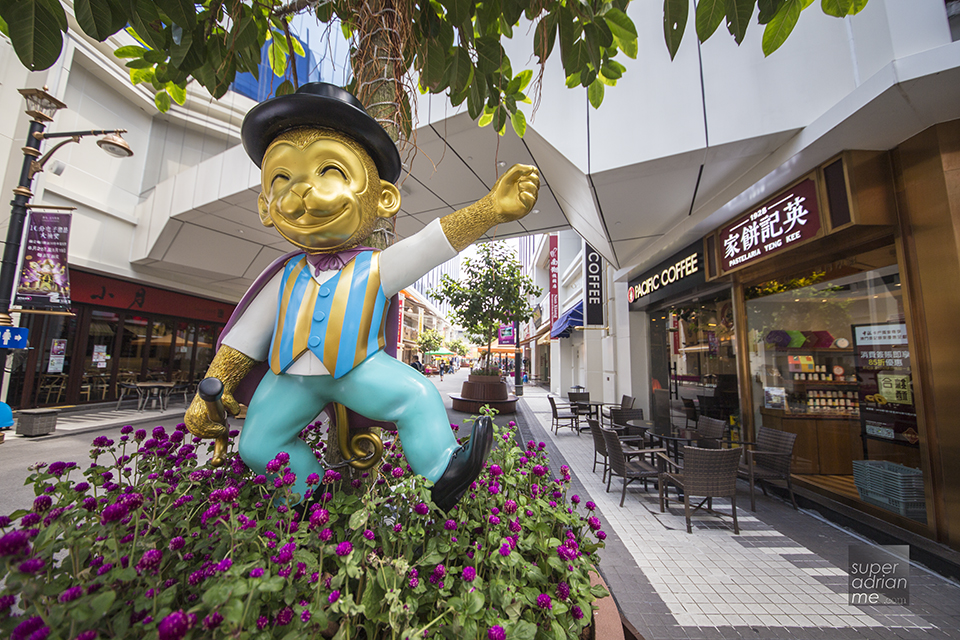 Broadway Food Street offers a variety of over 50 local Macau and 'first-to-Macau' popular Asian food brands and Michelin-star rated restaurants. The variety of food here is good enough to feed you for a few days. You can enjoy a cuppa coffee and enjoy snacks or have a proper meal here with your family and friends.
Enjoy life band performances by up-and-coming bands at Band on the Run mobile stage every night from 7 to 10pm or be entertained with street performances. The Broadway Theatre features world-class musicians and entertainers and can seat close to 3,000 people. Viva La Broadway is showing daily except on Tuesdays at The Broadway Theatre. Tickets are priced from MOP150 up to MOP280.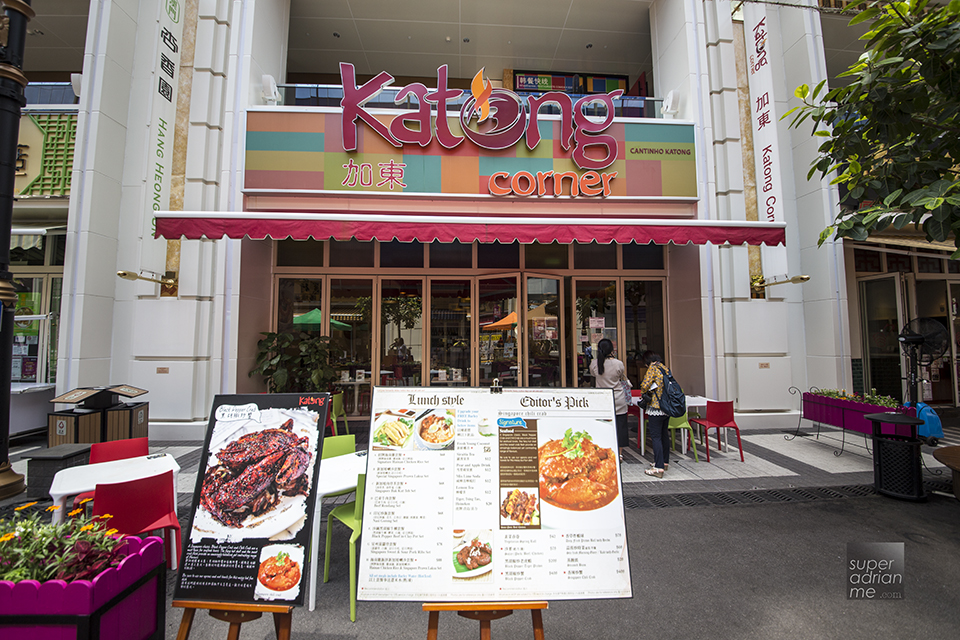 If you already miss food from Singapore, there is Katong Corner that offers Singaporean dishes such as Chicken Rice, Chilli Crab, Laksa and more.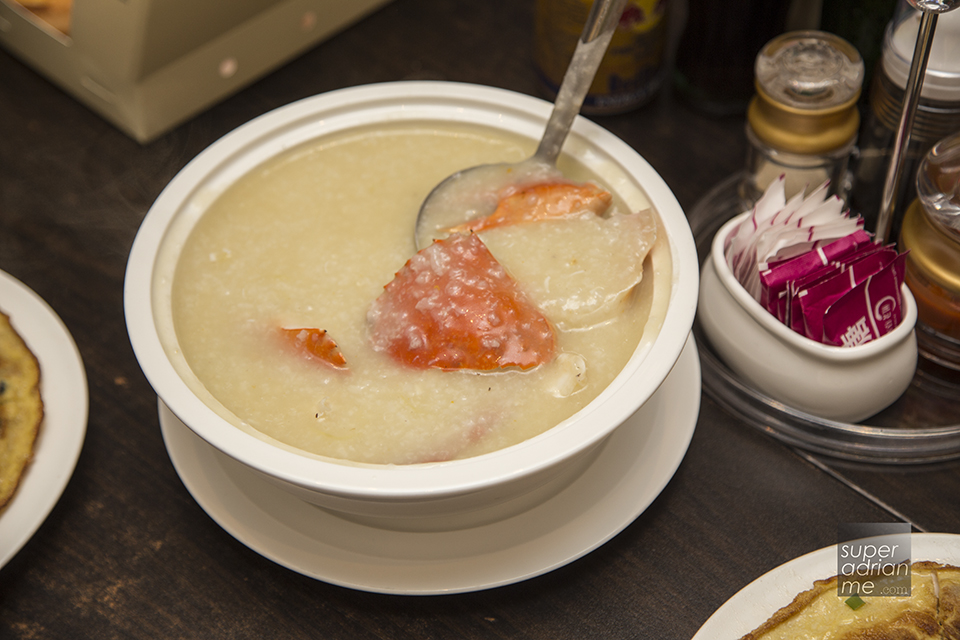 Lunch for me was at Wong Kun Sio Kung. I had the signature crab porridge which was delightful. I love porrdige or anything soupy so this was my most remembered dish here.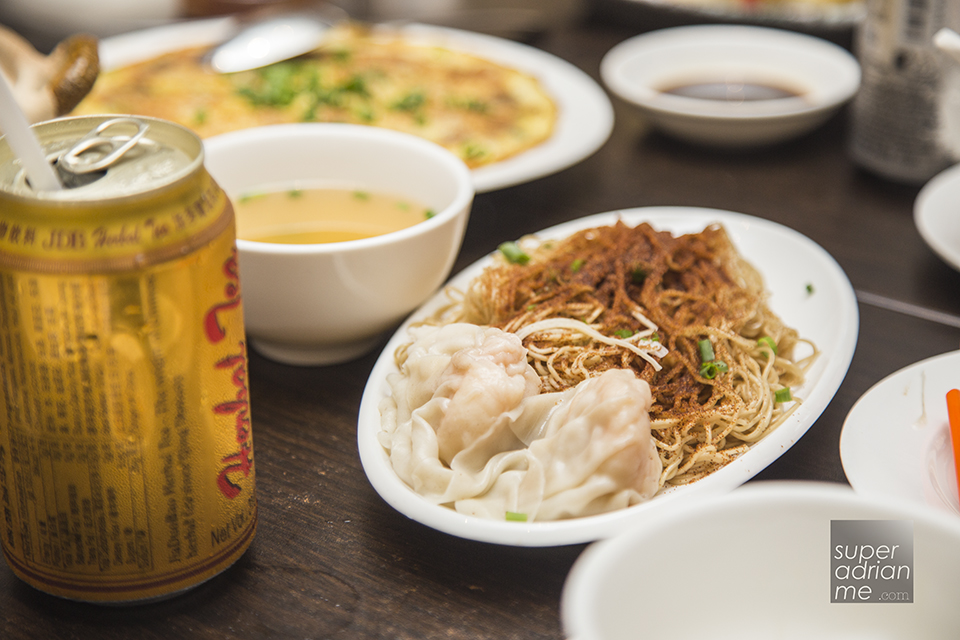 Do not fret if you are not a fan of porridge. Other dishes are served here too. You can also try their famous wonton noodles with thick morsels of meat and prawns in the wontons.
Looks like I have to return again and explore the resort. Perhaps a trip back to Macau may just happen this year. Tigerair is the only airline that flies between Singapore and Macau. It offers daily flights of under four hours between the two cities.