Shanghai-based Commercial Aircraft Corporation of China (COMAC) delivered the world's first C919 aircraft with registration number B-919A to its first launch customer, China Eastern Airlines on 9 December 2022. The C919 is China's first large passenger aircraft. The aircraft is manufactured in accordance with international airworthiness standards, with its own independent intellectual property rights.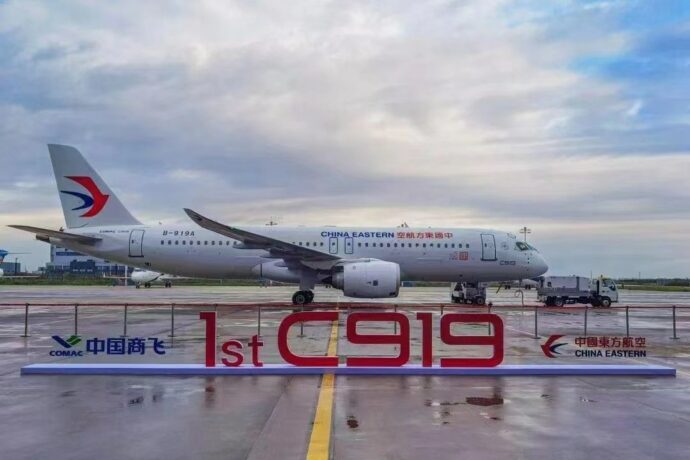 China Eastern Airlines signed a purchase contract for C919 aircraft with COMAC on 1 March 2021. The C919 completed its maiden flight at Shanghai Pudong International Airport on 5 May 2017. The initial five C919 aircraft would be based in Shanghai and fly between Shanghai and Daxing District of Beijing, Guangzhou, Shenzhen, Chengdu, Xiamen, Wuhan and Qingdao.
The C919 sports an advanced aerodynamic design, propulsion system and materials, and lower carbon emission and higher fuel efficiency. The 'World's first C919' Chinese seal pattern is printed in the front of the aircraft. The aircraft features a two-class cabin layout with 164-seats – 8 in business and 156 in economy class. The middle seat in each three-seat row is 1.5 cm wider offering more comfort. The aisle has a height of 2.25 metres. The aircraft also comes with an efficient air filtration system, a passenger-centric lighting system and low noise. There are twenty 12″ drop-down screens that displays 1080p videos.
Three senior CEA pilots flew the maiden flight of the C919 from Shanghai Pudong International Airport to Shanghai Hongqiao International Airport. The aircraft arrived at Shanghai Hongqiao International Airport with a water cannon welcome. It is expected to be put into commercial use in Spring 2023.
China Eastern Airlines has a fleet of nearly 800 aircraft. China Eastern Airlines has built dual-core hubs in two cities and four airports with Shanghai and Beijing as the main bases. It owned a global route network covering 1036 destinations in 170 countries, and carried more than 130 million passengers annually, ranking among the top 10 in the world.