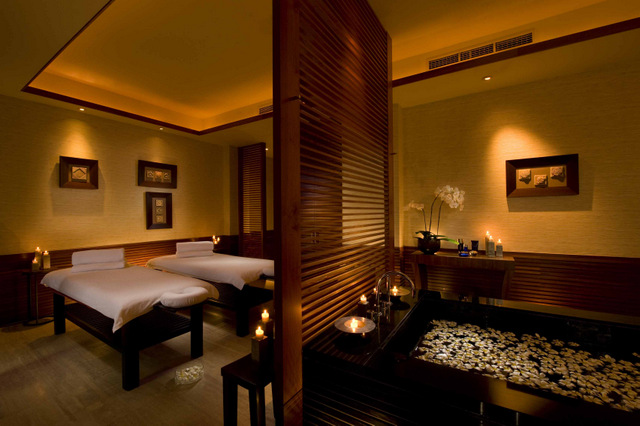 Jiwa Spa at Conrad Bali offers men with a wide range of treatments to create the ultimate male-specific spa experience with its partnership with VitaMan natural skin and hair care products. It has been recognised in this year's AsiaSpa Awards 2013 as Asia's Men's Spa of the Year.
Jiwa Spa has 17-rooms offering innovative spa journeys and personalised wellness programmes to guests in the sanctuary of its own dedicated space in the resort. Balinese traditions have been a source of inspiration behind the spa's new retreat and holistic services. There are indoor and outdoor treatment rooms as well as two pool pavilions, a private 25-metre pool and an organic spa cuisine. It's male treatments range from Luxury and Signature to Express treatments complemented with the use of natural and botanical extracts to enhance effectiveness and instill a sense of harmony and balance.
Male guests at Jiwa Spa can try the 120-minute Renew, Body Scrub and Fresh Ginger Body Mud Wrap that offers a fresh ginger body mud-wrap to relieve muscular tension, a Vichy shower followed by a full-body massage performed by using warm bamboo to increase circulation and relieve sore muscles.
The menu of services for men include Groom and Zoom Express Treatments lasting 30 minutes each for facial, massage, manicure, pedicure or individual upgrades of pressure-point foot massage or relaxing scalp massage. Each of these treatments are priced at IDR400.
VitaMan Signature Treatments last one hour long – Pick a facial or choose between a relaxing or deep-tissue massage. There is also a warm bamboo massage of the legs to remove muscle tension and tightness that comes with deep-cleansing and exfoliation of hard-to-reach areas of the upper back and a relaxing oil massage and body mud-masque. This treatment concludes with a short facial and a final scalp or foot massage. These treatments are priced from IDR900 to IDR1,000.
Luxury Treatments last between 90 and 120 minutes. Enjoy the relaxing magnesium foot-bath pre-treatment ritual. There are three types of treatments in the Luxury Treatment category.  The 90 minute facial offers a restorative and age-control treatment. The 90 minute three part massage uses the warm bamboo to release tight muscles. The 120 minute Body treatment comes with a fresh ginger body mud-wrap, a Vichy shower and an indulgent full-body massage followed by a short facial treatment and ends with a scalp massage. These treatments are priced from IDR1,550 to IDR1,950.
Jiwa Spa also offers treatments for women and children. In 2010, Jiwa Spa was also voted 'Favourite Spa In Indonesia" in the Spa Finder Readers' Choice Award. The nine year old Conrad Bali has also been recognised as Asia's Leading Family Resort by World Travel Awards in October.
Conrad Bali features 353 guests rooms and suites and is located at Jalan Pratama 168, Tanjung Benoa, On the Coast of Nusa Dua, Bali 80363
Photo credit: Conrad Hotels and Resorts