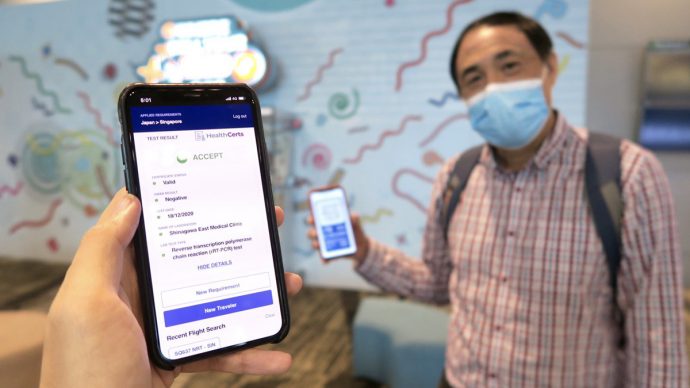 International SOS, the International Chamber of Commerce and AOKpass Pte Ltd have announced the first use of the ICC AOKpass to provide a digitally verifiable Covid-19 health certificate for entrance into Singapore.
ICC AOKpass was co-developed with Singapore-based start-up AOKpass Pte Ltd, and enables governments and border authorities to reopen cross-border travel efficiently and safely.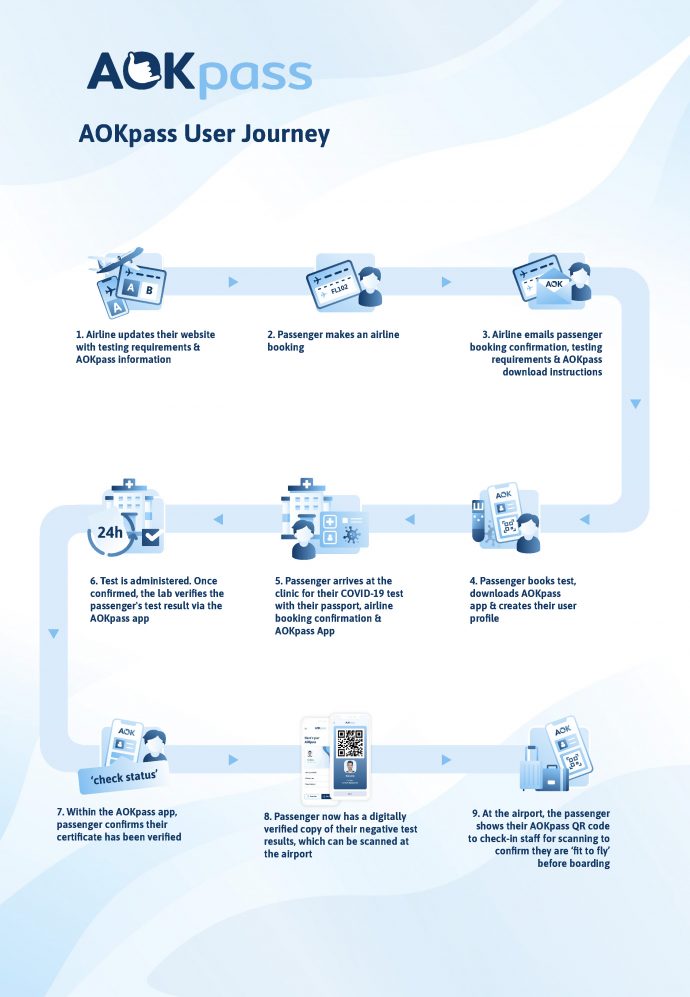 To address privacy concerns, data entered into ICC AOKpass remains decentralised at all times and does not rely on centralised data records or external systems. Hardcopy certificates issued by medical professionals are digitised, authenticated and then made available for efficient verification by employers, authorities or any other third parties with no external transfer of personal information.

Security, transparency and strict privacy preservation are enabled using leading-edge blockchain technology codeveloped by start-up AOKpass. ICC AOKpass is built on the Ethereum public blockchain network, ensuring complete user control over peer-to-peer sharing of COVID-19 medical compliance and personal health information.

In addition, all medical information and health certificates are attested to by certified medical practitioners, preventing fraud, reducing risks of in-flight infections, and rebuilding confidence in international travel.

ICC AOKpass is also adaptable to the specific needs of different companies and countries – evolving to align with ongoing development of COVID-19 serology testing methods and global best practices. The app is being used to facilitate quarantine-free flights between New York City and Rome, through close collaboration with Delta Airlines and Alitalia.

Since mid-December, all travellers have to present their digitally authenticated COVID-19 test results to board quarantine-free flights between Aeroporti di Roma and Hartsfield-Jackson Atlanta International Airport. ICC AOKpass will also eventually allow verification for other immunisation and medical compliance records held by individuals, charting the path towards a safer, quicker, and more secure reopening of cross-border travel and trade.
Singapore Airlines Starts Digital Health Verification Trials
Singapore Airlines has started trials on a new digital health verification process, the first in the world to be based on the International Air Transport Association's Travel Pass framework. Customers can securely store and present information related to Covid-19 tests and their vaccination status in the future.
From 23 December 2020, customers travelling on Singapore Airlines operated flights from Jakarta or Kuala Lumpur to Singapore will be able to access this service. It could be extended to other cities in the SIA route network, if the trial is successful.
Customers who take Covid-19 tests at selected clinics in Jakarta and Kuala Lumpur would be given either a digital or paper health certificate with a QR code in their ICC AOKpass app.
IATA's Timatic registry, a part of the modular Travel Pass solution, will provide the back-end information on the Covid-19 testing and entry requirements.
From around mid-2021, the entire process will be integrated into the SingaporeAir mobile app.
At the airport, check-in staff as well as Singapore's immigration authority would be able to verify the authenticity of these certificates via a secure mobile app.
Use the dedicated immigration counters to swiftly verify your health credentials by scanning the given QR code in the ICC AOKpass app. This facilitates faster immigration checkpoint clearance for travellers, enables more hassle-free travel, and reduces risks of crowds at the airport.
In Singapore, Parkway Shenton offers outbound travellers from Singapore digital Covid-19 results that is verifiable through the Accredify Digital Health Passport app. In Hong Kong, Gleneagles Hospital Hong Kong Clinical Laboratory has also partnered with Accredify.
Parkway Shenton has been at the forefront of Singapore's fight against COVID-19, from border screening to providing end-to-end service, from swabbing and testing to resulting, for dormitories and Swab and Send Home (SASH) clinics. Through this partnership, together with our ParkwayHealth Laboratory, we continue to contribute to Singapore's COVID-19 efforts by not only lending travellers added convenience, but also offering those who do their pre-departure tests with Parkway Shenton a greater level of confidence and assurance in the veracity of their COVID-19 test results.

Edmund Kwok, CEO of Parkway Shenton
In Malaysia, BP Healthcare clinics offer this service.