5 December 2012, Singapore – Emirates has added Singapore on its Airbus A380 destination list from 1 December 2012 surpassing 20 destinations.  The addition of A380 services has increased Emirates' total capacity across four daily services from Dubai to Singapore to 1,659 seats daily.  Emirates A380 service departs Dubai at 3.25am and arrives in Changi International Airport at 2.20pm while the return flight departs at 9.35pm arriving in Dubai at 1am the next day.
A quick chat with Mr. Nick Rees, Emirates' Manager  for Singapore and Brunei revealed that the flight from Dubai to Singapore on 3 December was about 20% full while the Singapore – Dubai sector was close to 100% filled.   During the special aircraft preview event of Emirates' A6-EDF Airbus A380 aircraft at Singapore Changi Airport, media and guests got a tour of the aircraft and cockpit.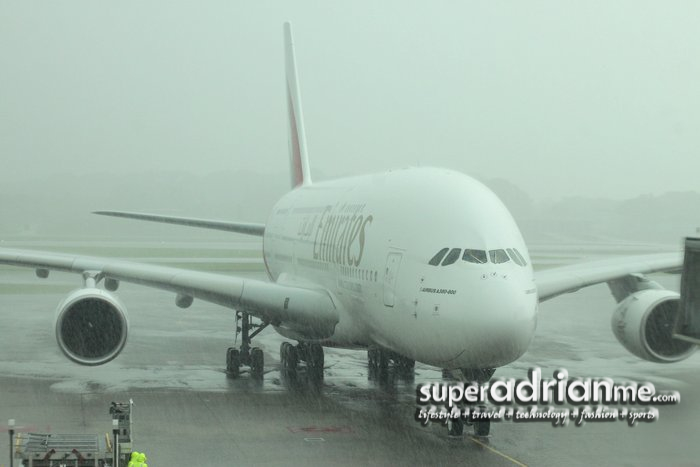 Emirates has a fleet of 27 Airbus A380 aircraft with another four to be delivered up to the end of this year. Emirates has operated the Airbus A380 for four years flying over 11.5 million passengers covering 169 million kilometres to Amsterdam, Auckland, Bangkok, Beijing, Hong Kong, Jeddah, Kuala Lumpur, London Heathrow, Manchester, Melbourne, Moscow, Munich, New York, Paris, Rome, Seoul, Shanghai, Sydney, Toronto and Tokyo.
Emirates will also operate daily services between London Heathrow and Dubai with an A380 from 10 December.  New York and Paris will each receive their second daily A380 service from the beginning of next year.
Emirates First and Business class passengers get to enjoy, relax and even do business in the onboard lounge at the back of the upper deck. First Class passengers can refresh in one of the two Shower Spas onboard, a first in the aviation industry.
There are 14 flat-bed First Class Private Suites, 76 Business Class fully -flat seats and 427 Economy Class seats.  Seats in First and Business class are always next to an aisle while Economy class has a 3-4-3 seats configuration.
The airline currently operates 42 flights a week out of Singapore including 28 to Dubai (21 non-stop, seven via Colombo), and seven flights each to Brisbane and Melbourne.