5 October 2012, Singapore – Emirates, the world's largest Airbus A380 operator carrying over 10 million passengers flying more than 150 million kilometres since August 2008, partners OnAir to be the first to offer inflight mobile phone service on board its A380 aircraft.   This service is in addition to the OnAir WiFi service already available onboard recently launched last month.
You can now make or receive phone calls and text messages just as you would on the ground using EDGE or GPRS connections through your mobile service provider.  The service is currently available on two of the airline's A380 and are being retro-fitted to the rest of its fleet and future A380 deliveries.  You may check if this service is available on your flight before you fly here.
The airline constantly innovates with the latest inflight innovations and connectivity for the benefit of its passengers including:
First to equip its entire Airbus fleet with in-flight phones in 1993
First to equip its entire Airbus fleet with in-flight fax machine in 1994
First to offer live BBC text news headlines on its aircraft in 2003
Personal in-seat email and SMS installed in all classes throughout the fleet in 2006
First to offer onboard mobile telephone service in collaboration in 2008
Launched Wi-Fi internet access on A380 with OnAir in 2011
Emirates' A380 operations is supported by over 3,000 cabin crew and its Dubai hub at Dubai International Airport will open the world's first dedicated A380 terminal early next year.  The airline operates its A380s from its Dubai hub to Amsterdam, Auckland, Bangkok, Beijing, Hong Kong, Jeddah, Johannesburg, Kuala Lumpur, London Heathrow, Manchester, Munich, New York JFK, Paris, Rome, Seoul, Shanghai, Sydney, Toronto, Tokyo.  It recently launched its A380 service to Melbourne on 1 October and will introduce A380 service to Singapore and Moscow from 1 December.
From 1 December 2012, Emirates will deploy a permanent Airbus A380 service on its Dubai-Singapore route  on EK 354 and EK355.   Emirates A380 has a three-class configuration offering 14 private First Class Suites, 76 lie-flat beds in Business Class and 427 Economy Class seats.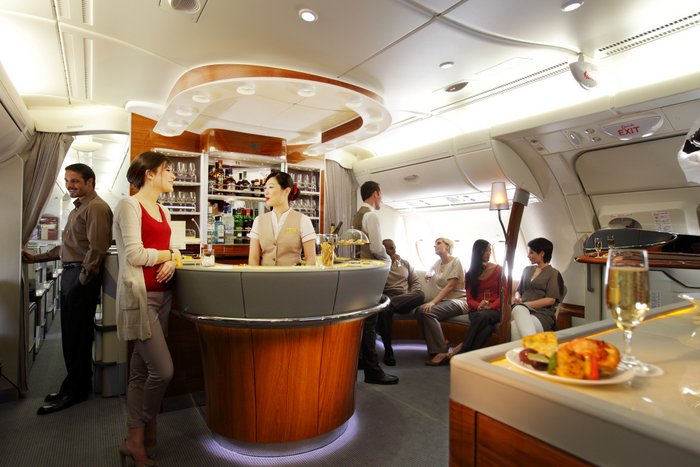 Passengers across all cabins are offered over 1,400 channels on Emirate's Digital Widescreen inflight entertainment system ice.  First and Business Class passengers enjoy a relaxing moment on the airline's onboard lounge, while Shower Spas are offered onboard for First Class passengers.
EK 354 departs Dubai at 3.25am and arrives in Singapore at 2.20pm.  EK 355 departs Singapore at 9.35pm and arrives in Dubai at 1am.
Related articles