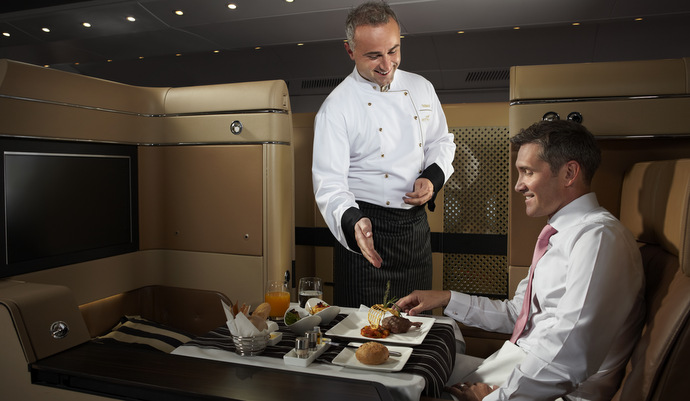 Etihad Airways flights between Singapore and Abu Dhabi will offer First Class cabins from 1 June 2015. The airline's current flights from Abu Dhabi fly to Brisbane via Singapore. From 1 June 2015, Brisbane will be delinked with direct flights between Singapore and Abu Dhabi and vice versa.
Flights to and from Singapore will no longer share capacity with Australia, providing more seats to travellers between Singapore and Abu Dhabi.
Etihad Airways will operate the Airbus A330-300 instead of the current A330-200with eight First Class seats, 32 Business Class seats and 191 Economy class seats. Currently, the airline operates the Airbus A330-200 with 22 seats in Business Class and 240 in Economy Class.
In First Class, customers travel in the comfort of private suites with full flat beds upholstered with Poltrona Frau leather. Inflight chefs would prepare the meals on board.
Etihad Airways flew its first flight to Singapore on 28 September 2007 with thrice weekly flights. On 1 February 2013, frequency of the flights between Singapore and Abu Dhabi increased to daily flights.