For a limited nine flights only, EVA Air Hello Kitty plane will be flying between Singapore and Taipei in December 2014.
EVA Air is the only airline in the world to have this series of Sanrio approved Hello Kitty flights which now only cater for flights from Taipei to Los Angeles, Seoul, Hong Kong, Shanghai, Tokyo, Sapporo, Fukuoka and Guam.
Launched in 2005, EVA Air's Hello Kitty flights between Singapore and Taipei are operated on the Airbus A330-200 aircraft featuring 24 Premium Laurel seats (2-2-2 configuration and non flat bed seats) and 228 Economy seats. In 2011, the airline introduced a second generation Hello Kitty jets and today there are six variants of the Hello Kitty Jets including the EVA Hello Kitty Magic, Apple, Global, Happy Music, Speed Puff and Hand-in-Hand jets.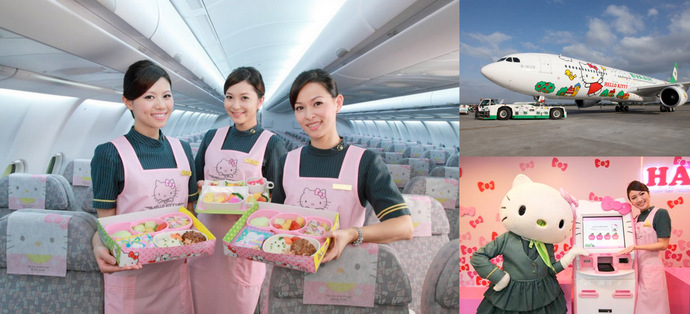 The check-in kiosk to boarding passes, in-flight meals to toiletries and toilet paper, crew uniform to aircraft fuselage have all been Hello Kitty~fied by EVA Air and Sanrio to create the ultimate and one of a kind flying experience for Hello Kitty fans. There are over 100 in-flight service items featuring the famous cat.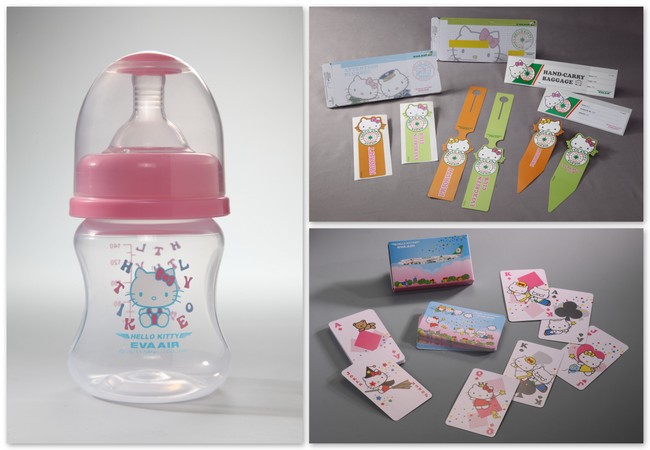 You can also purchase exclusive limited-edition Hello Kitty duty-free items on-board.
For this December only, EVA Air has made a special arrangement to let Hello Kitty fans residing in Singapore enjoy this "over-the-top" Hello Kitty flying experience. The bookings of the nine chartered flights will not be directly via EVA Air, but only through tour agencies. Dynasty Travel, Chan Brothers, CS Travel, CTC Travel, New Shan Travel and Green Holidays are the official tour agencies that will offering Hello Kitty themed tour packages specially catered to flight. The departure dates will be 4, 5, 6, 11, 12, 13, 18, 19 & 20 December 2014.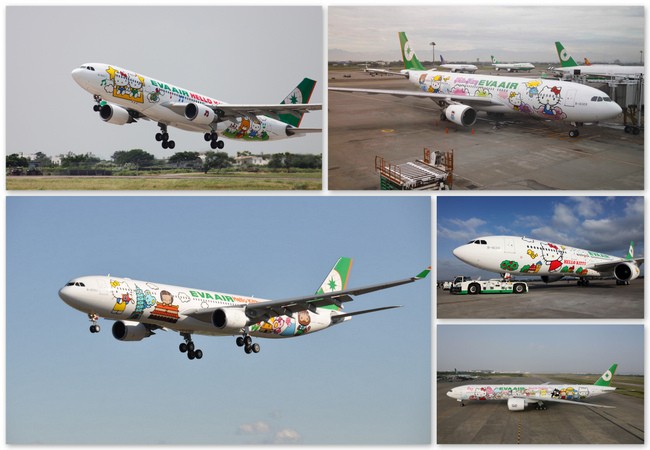 Flights out of Singapore are expected to be red eye flights and return flights from Taipei will leave in the evening. More details will be released at the airline at a later date. Check out our guide to what free "souvenirs" you can take from a Hello Kitty Jet here.
Here's a sneak peek of what to expect when boarding the EVA Air Hello Kitty Jet from Tao Yuan International Airport Terminal 2: