EVA Air Hello Kitty Jet "Shining Star" now fly travellers four times a week between Singapore and Taipei on Wednesdays, Fridays, Sundays and from July 2015 on Tuesdays as well, via flight number BR216 (SIN-TPE) and BR215 (TPE-SIN).
If you are a Hello Kitty fan, you should not miss out on the additional free "souvenirs" that you can collect during your dream flight.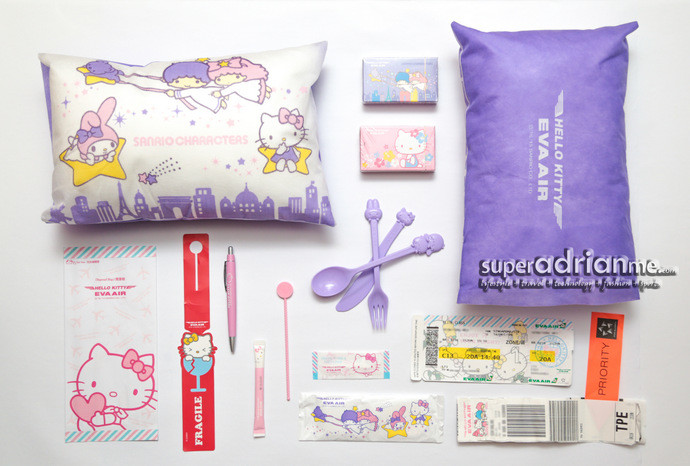 We flew on the inaugural commercial service on EVA Air's Elite Class (Premium Economy) which comes with a 38 inch pitch, 19.5 inch wide cosy seating space offering ample leg room, a large 11″ LCD touch screen in-flight entertainment display, as well as in-flight amenities like USB and 110V AC electrical outlet for charging mobile devices and laptops.
The meals on Elite Class will also be a notch up from Economy Class and are served on chinaware. Elite Class also gets its own check-in counter so you don't have to join the long queues for Economy Class.
Check-In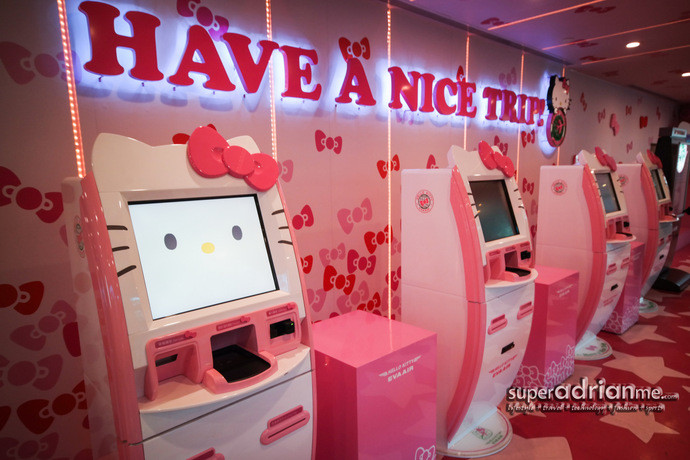 Only in Taiwan Taoyuan International Airport Terminal 2 will you find the super duper kawaii Hello Kitty Self Check-In Kiosk, which is a photo spot for many visitors at the airport. In Singapore Changi Airport Terminal 1, there are no such kiosk. But Hello Kitty standees and the counters are beautified with Hello Kitty plushies and banners will also get the fans excited before check-in. Boarding passes, luggage tags and fragile tags will be Hello Kitty Jet themed too.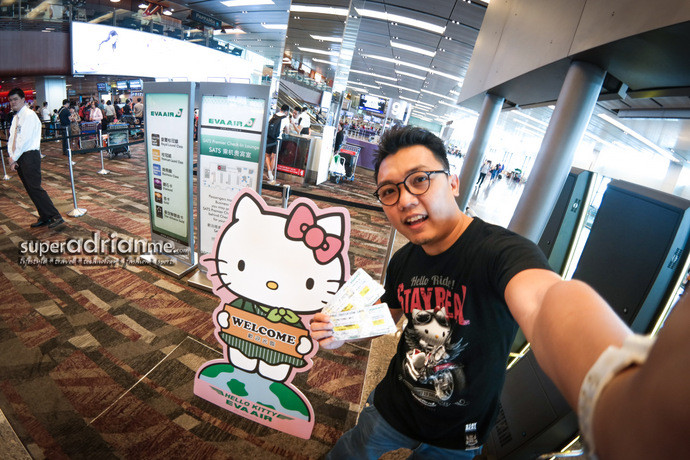 *SOUVENIRS CHECKLIST: Remember to keep the boarding passes.Carefully remove the luggage tags and fragile tags when you arrived in Taipei for your collection.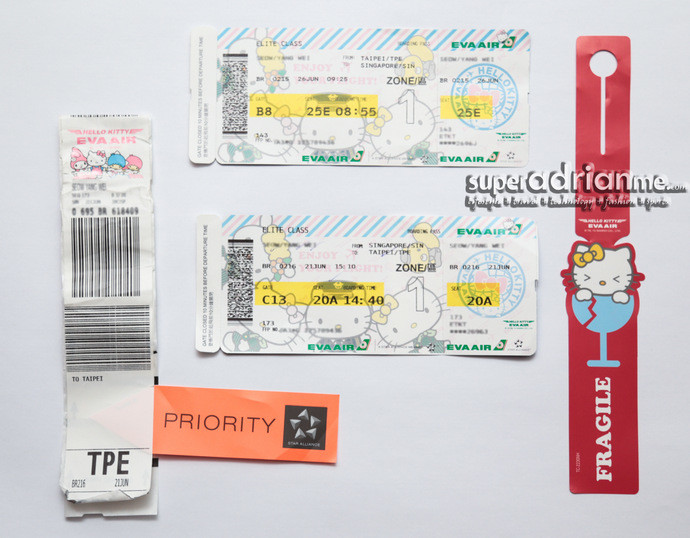 Departure & Boarding Zone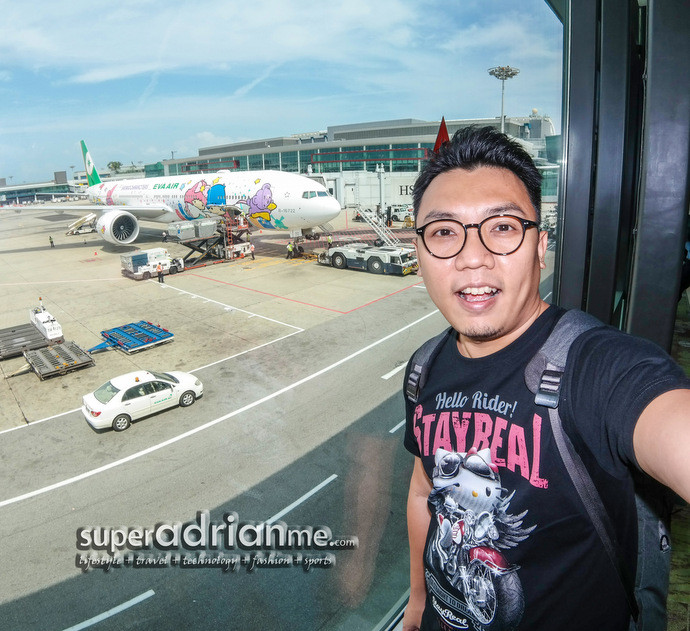 In Singapore Changi Airport, this is the best time to take a selfie with the plane, as the huge windows at the boarding gates give you a full view on one side of the aircraft. In Taoyuan Airport, we were unable to take a good shot when our boarding gates were located at B8, because the windows are small and half the aircraft was blocked by the passageway to the plane.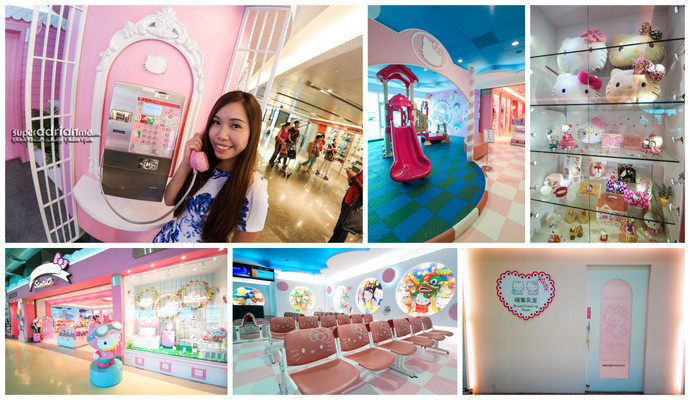 Taoyuan International Airport Terminal 2's departure area to the boarding gate offers lots of Hello Kitty themed photo spots to satisfy your selfies needs. For example, Hello Kitty phone booth, Hello Kitty souvenir shop, Hello Kitty playground, Hello Kitty boarding gate and even a Hello Kitty BREAST FEEDING ROOM!!! All these can be found if you walk towards the C Gates section. Maybe because C is for CAT…
The Flight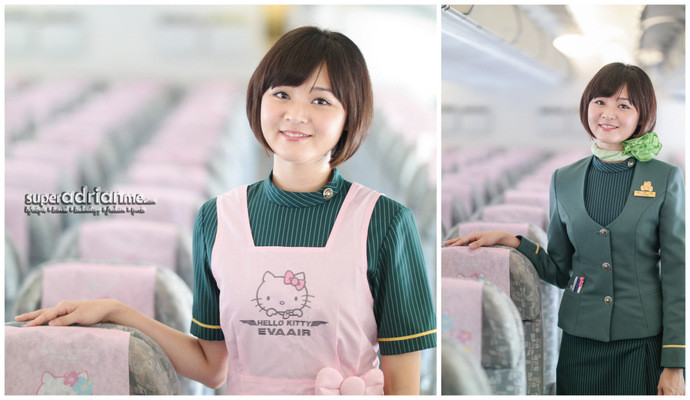 From the moment you are greeted by the flight attendant at the entrance into the plane, take notice of the Hello Kitty name badges. And as you walk to your seats, more things become "Hello Kitty~fied". The pillows, barf bags, safety instructions cards and even the inflight entertainment welcome screen had the cute cat & friends imprinted on them. And all these prints are customised to the livery of the plane. So for Shining Star livery, you will see Hello Kitty, KiKi & Lala from Little Twinstar and Melody appearing throughout the plane's service items.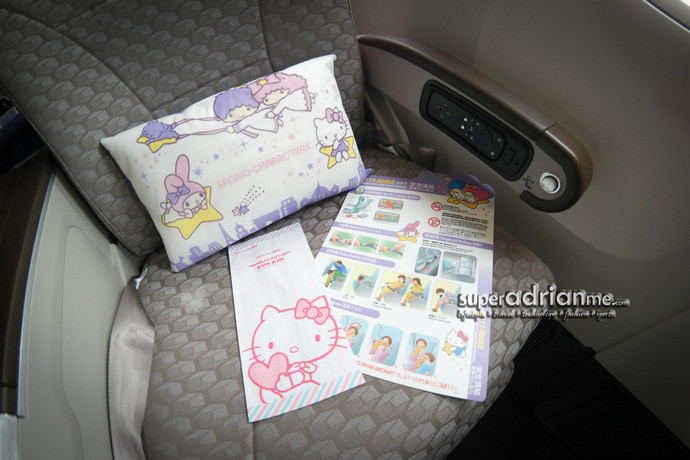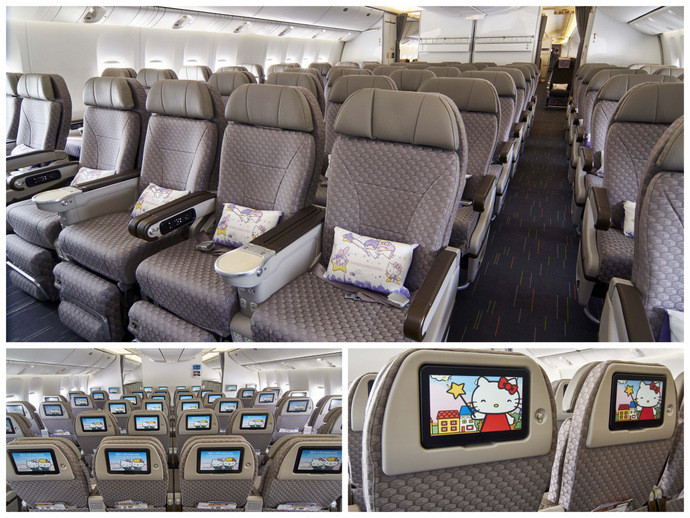 If you are an eager beaver and want to share your excitement as you are flying at over 30,000 feet high, the Shining Star Hello Kitty Jet is configured with on demand inflight WiFi service which costs US$11.95 for 1 hour, US$16.95 for 3 hours and US$21.95 for 24 hours. For flights between Singapore and Taipei, the 3 hour hotspot service will be enough for you to document your journey on social media in my opinion.
*SOUVENIRS CHECKLIST: You can request for Hello Kitty Poker Cards and Hello Kitty Pens from the friendly flight attendants. You may also shamelessly ask if you could remove the Hello Kitty Barf Bag and Shining Star Pillow from the plane as you exit your flight.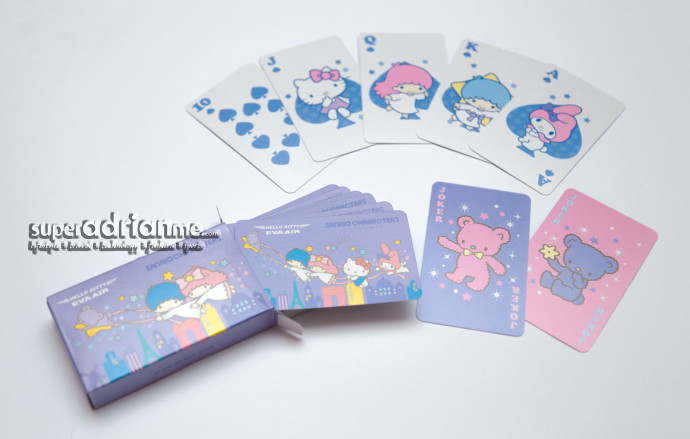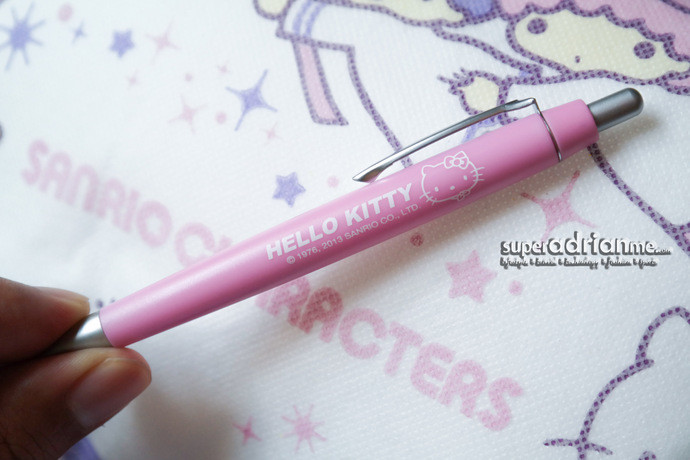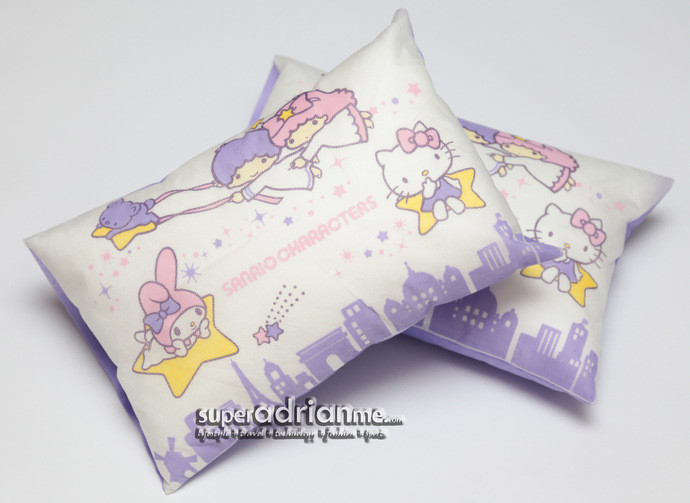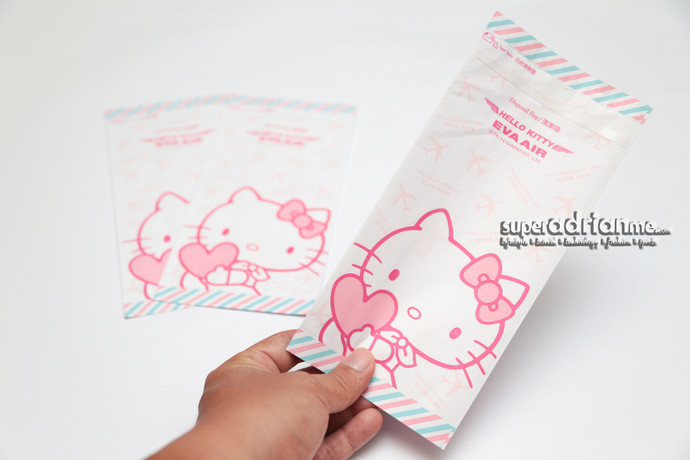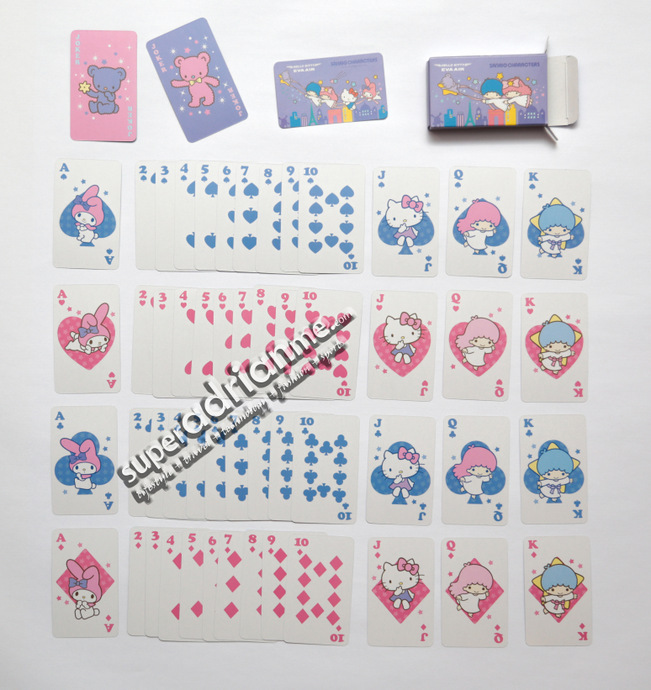 Snacks & Meals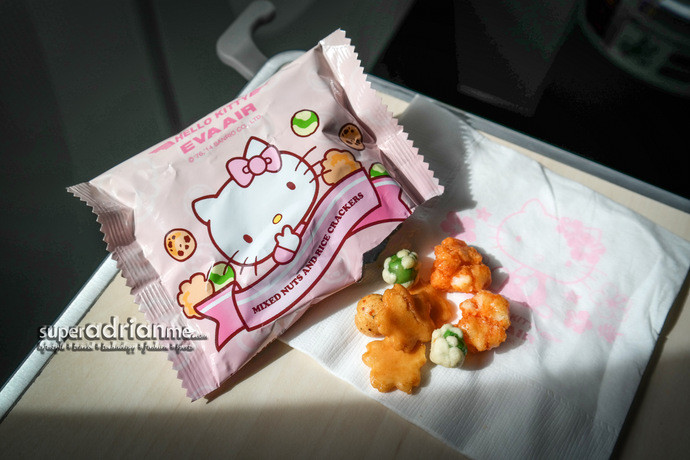 These appetising rice cracker snacks from EVA Air now come with Hello Kitty packaging on this flight. The meals are filling and memorable in Elite Class, but the only let down was they were not as Hello Kitty~fied for its plating when you compared it to the press images.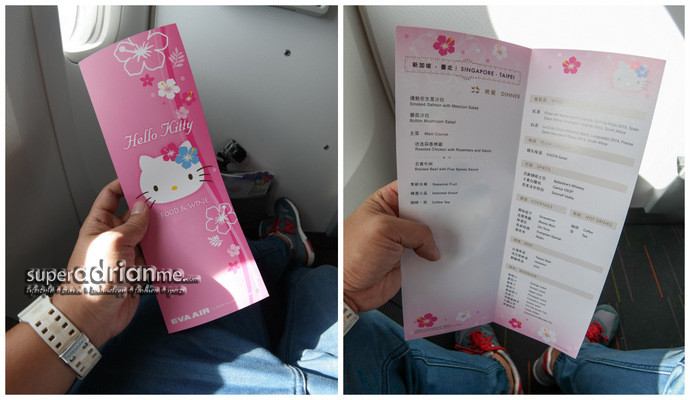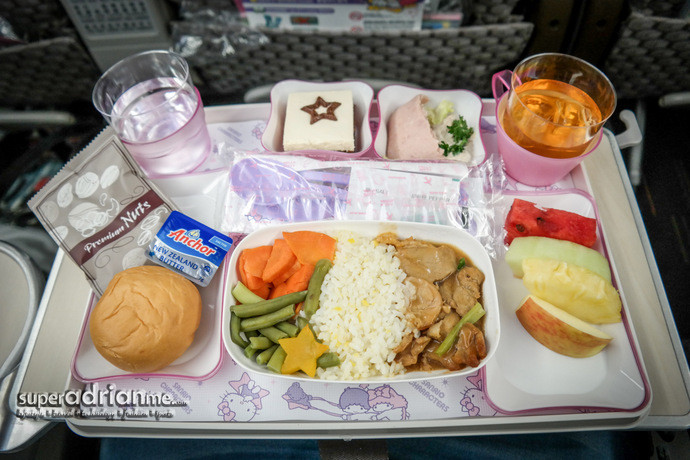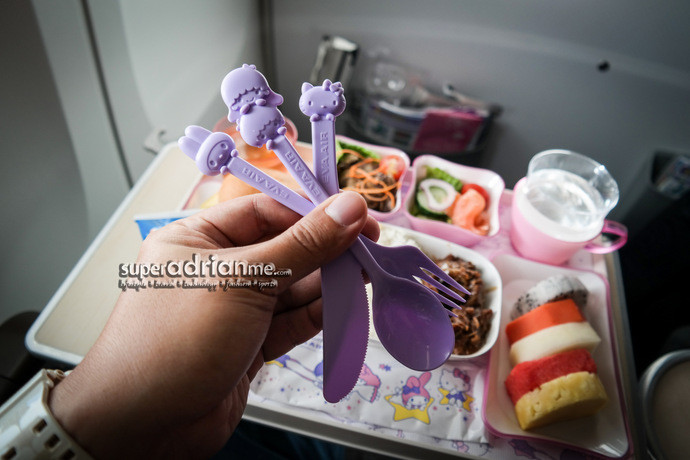 It was fun to be forced to use the kiddy cutlery for meals. Can you imagine a hunky adult eating with those forks and spoons? CUTE!!!!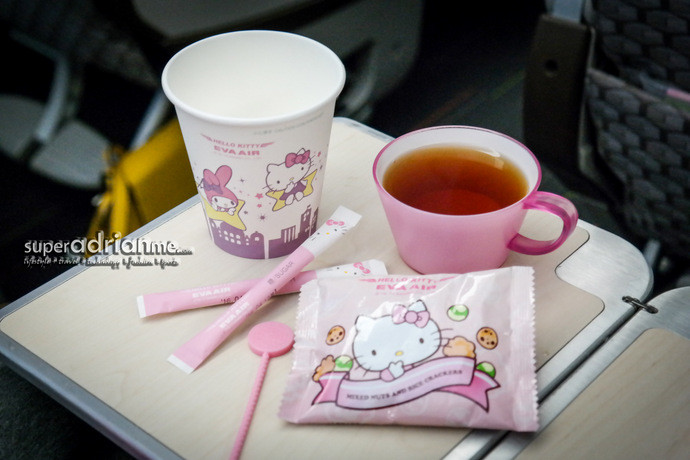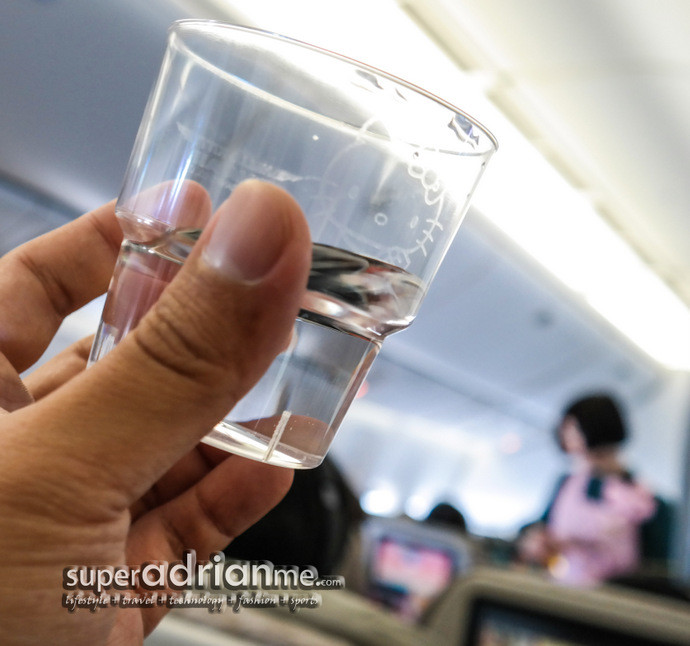 *SOUVENIRS CHECKLIST: Here are the items that you can collect during your meal time. Hello Kitty cutlery, stirrer, sugar stick, toothpick and wet napkin.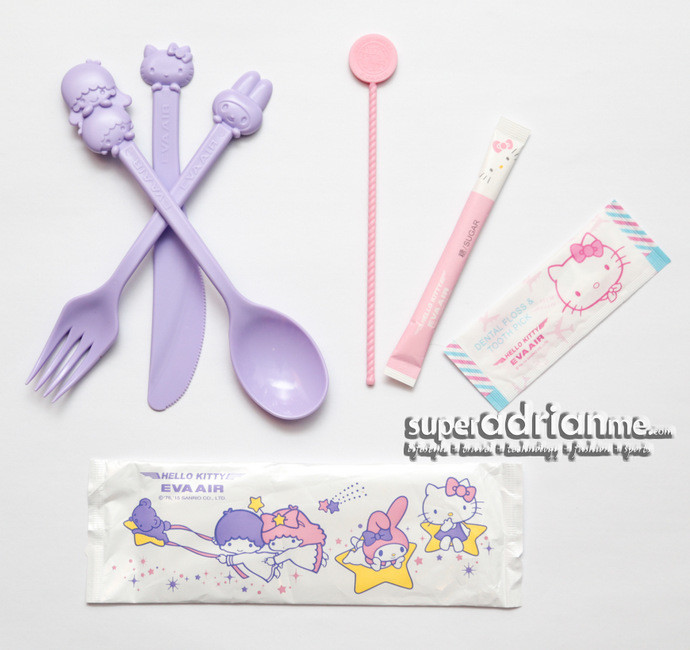 For Kids Only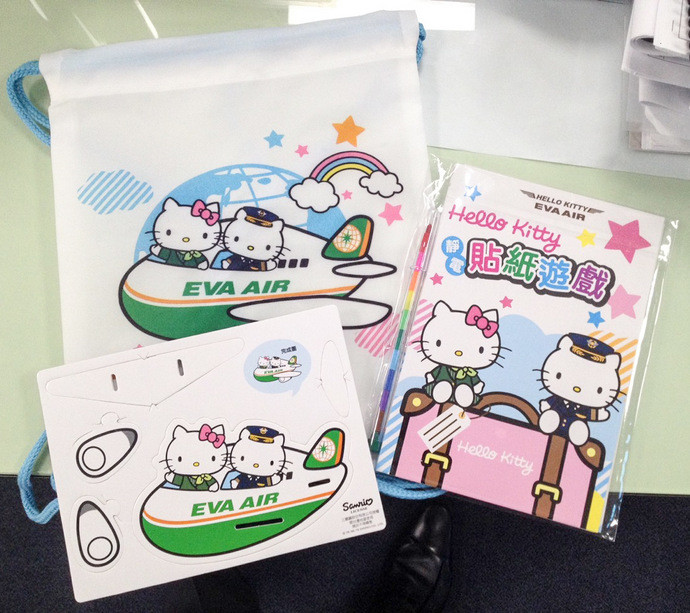 If you are travelling with kids, on the outbound flight from Taipei to Singapore (BR215) here is a good news for you. Starting from today 1 July 2015, EVA Air will issue a limited quantity of Hello Kitty Kids Toy Bag on this flight to kids onboard. The bag will consist of a 3D Hello Kitty Jet model kit and a Hello Kitty Jet sticker colouring book.
Verdict
The EVA Air Hello Kitty Jet Shining Star is definitely a dream come true for Hello Kitty fans here in Singapore. Even if you are not a fan of this adorable feline, taking away all the kitty factors EVA Air is still one of the top Asian full service airline to fly with.
Their Elite Class (Premium Economy) is extremely comfortable, with ample leg room and shoulder space. My four hour flight to & from Taipei was a well rested one, even without reclining my seat.
From now till 31 August 2015, EVA Air is having promotion on its Elite Class seats between Singapore & Taipei at S$500 for round trip. But fares are not inclusive of relevant taxes and fuel charges. So the total fare with taxes & charges will be about S$800plus. Check here for more details.