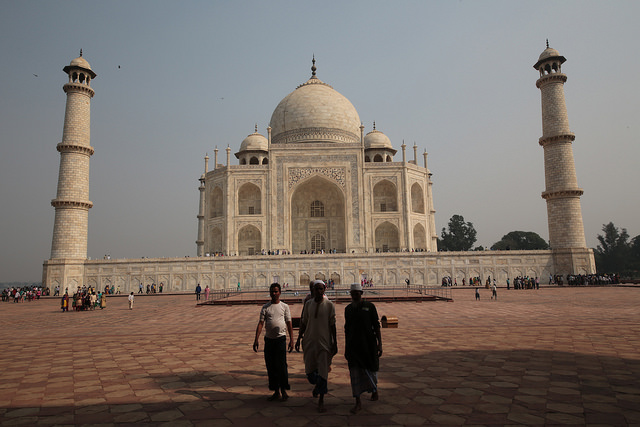 A visit to New Delhi in India is not complete without a visit to the magnificent Taj Mahal which is one of the seven wonders of the world and a UNESCO World Heritage Site since 1983.
The white marble mausoleum was built by the fifth Muslim Mogul emperor, Shah Jahan where the body of his third wife, Mumtaz Mahal who was a Persian Princess still remains. It has become the landmark of Agra in Uttar Pradesh, India joining Agra Fort where the Shah was placed on house arrest by his own son. Today the mausoleum also houses the remains of Shah Jahan.
Visitors from within India, as well as foreigners, flock to this monumental landmark daily to have a glimpse of this architectural beauty. We understand from Wikipedia that construction began around 1632 and was completed in about 22 years in 1653. Some 20,000 artisans and craftsmen worked on the construction.
There are two side entrances for foreigners who can purchase a fast track ticket to skip the long queues into the burial ground. Locals enter from the main entrance as they pay a lower entrance fee.
It was my first visit to India in November last year, and our friends at Insight Vacations provided us with a very experienced local guide who has been in this business for many years. Knowledgeable of the history of the Taj Mahal, she explained to us how the Taj Mahal was built and how to skip the queues the locals used. Insight Vacations offers escorted tours to India.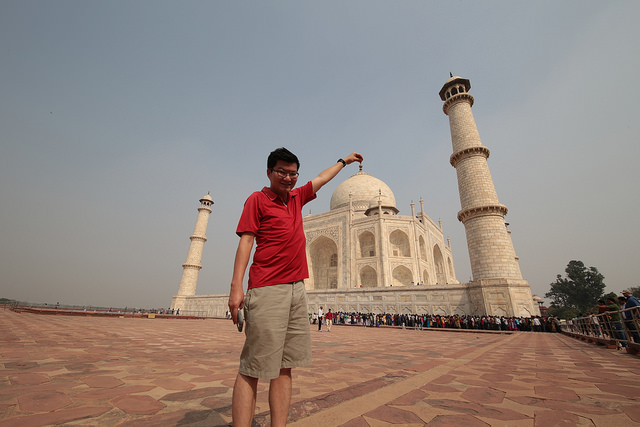 Upon entering the grounds, take time to admire the white palace and the mosque and harem that flanks it. Expect many visitors to take photos as they pose as if they are holding the Taj Mahal from its roof tip.
Take your time to walk around the garden and admire the flowerbeds. It can also get rather hot depending on the timing you are at the Taj Mahal. So you may want to bring along a foldable hand fan and some wet wipes. Try not to carry too many things as you have to undergo a security scan, and all bags are manually checked before you are allowed entry into the grounds.
Check out the photos we took.