Korean Air introduces the first ever Airbus A380 service between Seoul and Atlanta on KE36 departing Atlanta Hartsfield at 1.10pm on 1 September 2013.  The ten times a week flight will operate on Wednesday, Friday and Sunday and will increase to daily services in October.
"Our A380 flight is a game changer for the region," says Korean Air's Americas Marketing V.P., John Jackson.  "We now offer service to Asia from Atlanta that no one else can meet.  Our aircraft is roomier, quieter and more comfortable than any other serving the Southeast.  Our traffic between Atlanta and Seoul has been growing at 10 percent per year and it makes good sense to invest in markets that are showing long term growth."
The Airbus A380 can accommodate 407 with 12 in Kosmo First Class suites, 94 in Prestige Class on the upper level and 301 in Economy Class on the first level.
Duty Free Shopping On Board Korean Air A380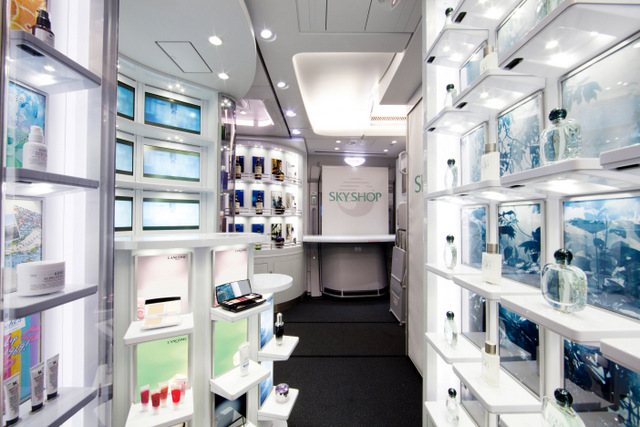 Shop for cosmetics, perfumes, liquor and accessories till you drop in the Duty Free Showcase at the base of the spiral staircase leading up to Prestige Class. Get shopping advice from a dedicated cabin crew member.
Beverage Bars
Korean Air's A380 features three bars.  The rear of the upper level features a new lounge, Celestial Bar, offering a mix of Asian aesthetics and functionality as well as a hosted bar serving signature cocktails. There are also self-serve bars in First Class and at the front of Prestige Class.
First and Business Class DAVI Amenity Kits
First and Business class passengers get to enjoy DAVI products in the amenity kits.  DAVI is a skincare branch of Mondavi wine family.  These upscale cosmetics are made of grape and wine extracts from California's Napa Valley, as well as extracts from green tea, raspberries, blackcurrants, rosemary, olives and others.  They offer anti-aging effects when combined, and can recover skin vitality and light.
First Class passengers will receive a five-product kit while business class kits will feature three DAVI products including the Le Grand Cru face cream, Cooling Eye Gel and Lip Balm. Different kits are offered for departure and arrival flights so that passengers get to experience a wider range of products.
First and Business class passengers on flights eight hours or more will receive the amenity kits which were first launched in April 2011.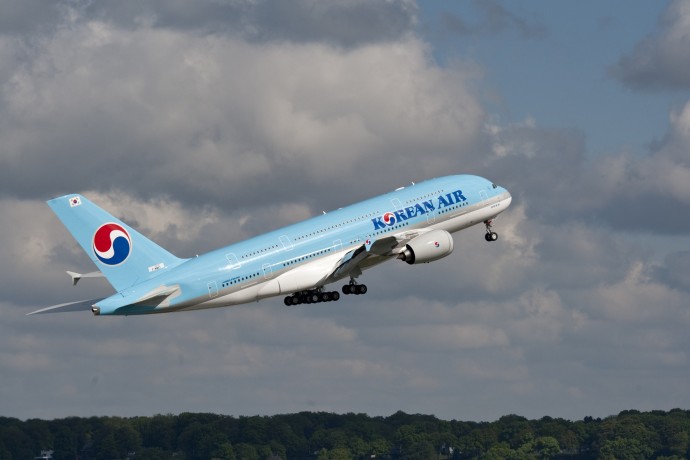 Korean Air's fleet of A380s currently fly to Los Angeles and New York in the United States, as well as to Hong Kong, China and Frankfurt, Germany