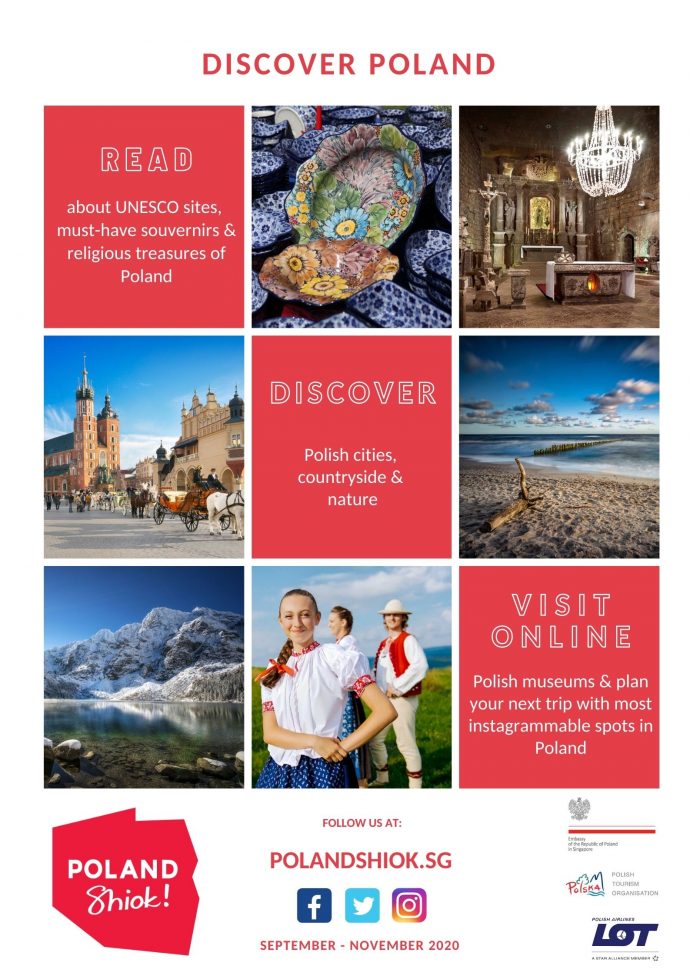 The 4th edition of PolandSHIOK – the Polish Festival in Singapore is happening from September to November 2020. An array of mostly digital but also offline events and attractions have been organised to bring Poland closer to Singapore.
Components of PolandSHIOK 2020 include art and culture i.e. film festival, virtual events and exhibitions presenting famous Polish composers Fryderyk Chopin and Krzysztof Penderecki and Pope John Paul II; education as a part of the Study in Europe digital fair; and presentation of Polish award-winning video games industry which coincides with the global launch of Cyberpunk 2077 game in November 2020.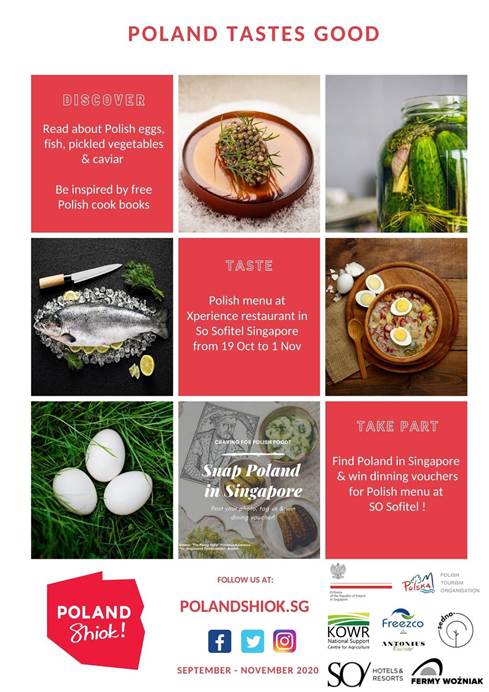 Try authentic Polish regional cuisine at Xperience restaurant at So Sofitel Singapore from 19 October to 1 November 2020. A range of authentic Polish produce sourced from the Pomerania and Malapolska regions such as Polish pickles, eggs, the new "black gold" Antonius caivar from the crystal-clear Polish rivers, and Atlantic Salmon smoked in Poland will be showcased in a 3 or 4-course set menu. Watch SO Singapore's culinary maestro Hong Dingzhao prepare your meal in his virtual cooking shows that can be screened while you dine. His regional menus are priced at S$58++ for 3 courses and S$78++ for 4 courses.
On 24 and 31 October 2020, Xperience Restaurant's "Mother of all Brunches" will offer their brunch towers with a Polish twist featuring three-tiers of platters loaded with brunch delights and exclusively showcasing a range of Polish produce. Starts from S$88++ for two to three people.
Take a virtual trip by visiting the festival digital platform PolandSHIOK to Poland through eight selected categories: Discover Polish Countryside, Polish Cities, Nature Experience in Poland, UNESCO sites, Museums, 5 Religious Treasures of Poland, Polish Must-have Souvenirs and last but not least The Most Instagrammable Spots in Poland.
Take part in the "Snap Poland in Singapore" photo competition which ends on 19 October 2020. Snap a photo of yourself with an element of Polish culture or heritage found in Singapore and post on Facebook or Instagram. The best three photos will be picked and S$60 dining vouchers for use at Xperience restaurant at SO Sofitel Singapore will be given away. The next five lucky contestants will receive S$30 dining vouchers. All voucher-holders and participants who tag PolandSHIOK and SO Sofitel Singapore on their photos in Facebook or Instagram will be entitled to 10% discount off their total bill for the Polish menu at Xperience Restaurant.