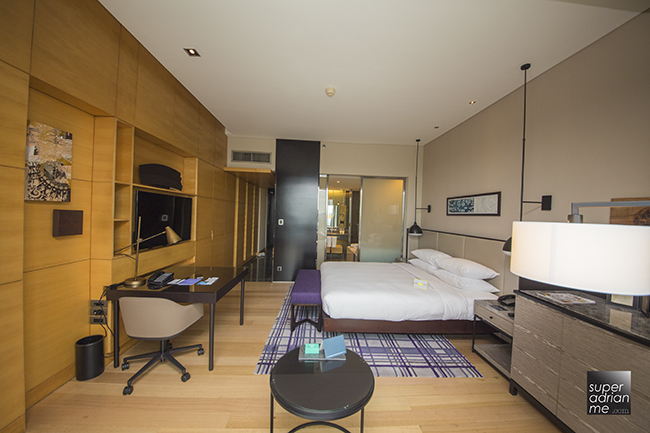 The Hilton Kuala Lumpur has been around for many years and I have never stepped into this city hotel until I decided to stay for a night on 3 September 2016. This was after spending a night in a one bedroom suite at the newly renovated Ritz-Carlton Kuala Lumpur.
What I saw impressed me. The grand and spacious lobby with its high ceiling. The attentive staff.  The selection of food and beverage outlets. Guests constantly checking into and out of the hotel.  This hotel was buzzing with a lot of activity.
The Hilton Kuala Lumpur features 499 rooms and 32 suites. All rooms feature a large LED HD TV, an LCD screen in the bathroom, device charging station, wireless all-in-one speaker and the signature Hilton Serenity Bed. Suite rooms are also equipped with a Nespresso coffee machine.
The Executive King Deluxe Bedroom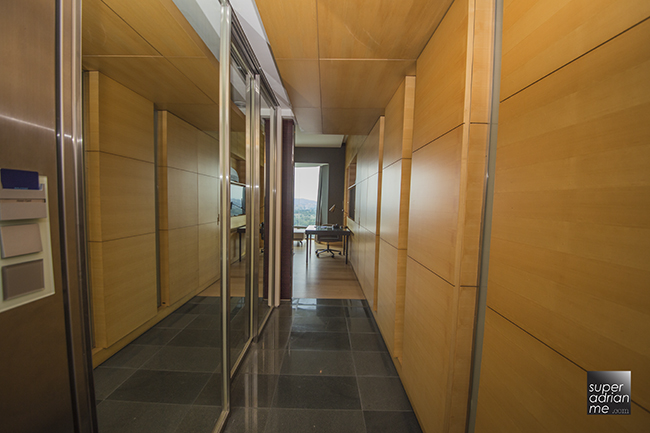 You can either book yourself into an Executive Room and enjoy the benefits of lounge access. Or if you are a Hilton Honors Gold member like me, you'll get upgraded at check-in if there are rooms available. I booked the King Deluxe room during one of Hilton's many HHonors member sales which made it very affordable to stay at this hotel.
Enter the 38sqm bedroom and you'll walk through a pathway with mirrors on one side which hide the cupboards and bathroom and a light wooden wall on the other side.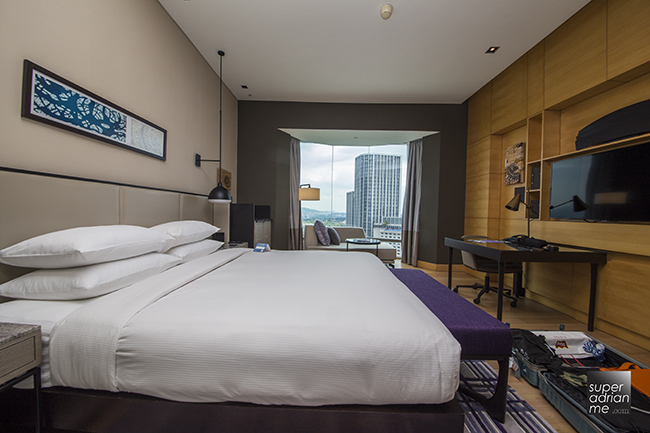 Enter the room area which is spacious. I deliberately took a shot of the room above with my luggage sprawled open on the floor. This luggage is the largest that can be checked in with most airlines. There is still walking space after leaving it open. The queen bed sits between the small living area and the bathroom.
The bed and cushions are so comfortable. I remembered sleeping like a baby and not wanting to wake up to head to the airport the next day.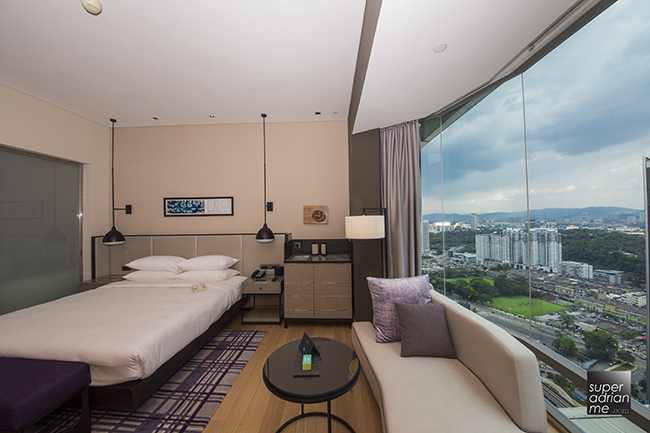 There is a day bed with a floor to ceiling glass which offers a panoramic view of KL Sentral as well as Aloft Kuala Lumpur Sentral on the other end. I was impressed with the space here. It may not be the one-bedroom suite at The Ritz-Carlton Kuala Lumpur, but it was still a very comfortable decent size for one.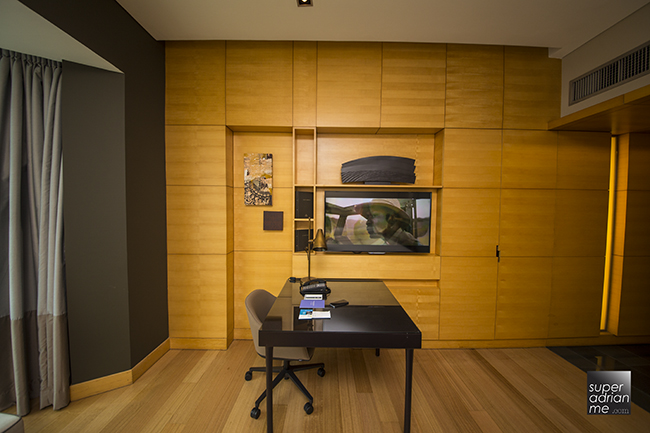 The work desk is located between the bed and the built in television. This room space has been very cleverly designed.
The Bathroom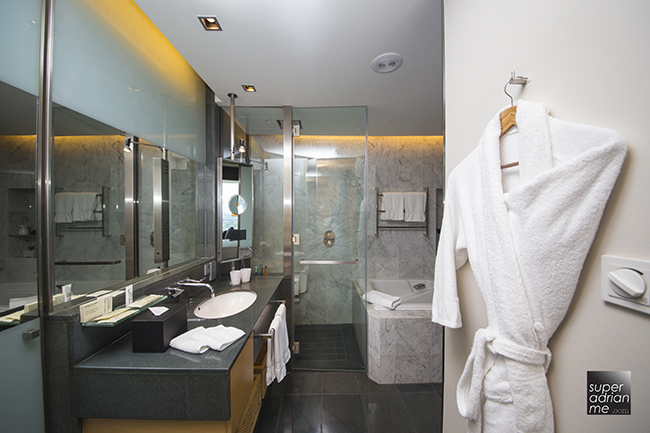 The bathroom is unique, in my opinion. I like how the bathtub and separate shower are connected. You can step out of the bathtub into the shower area which is glassed up so water does not splash into the basin area.
Soaking in a bath here is rather tempting. Bring your own bath oils if you want to fully pamper yourself.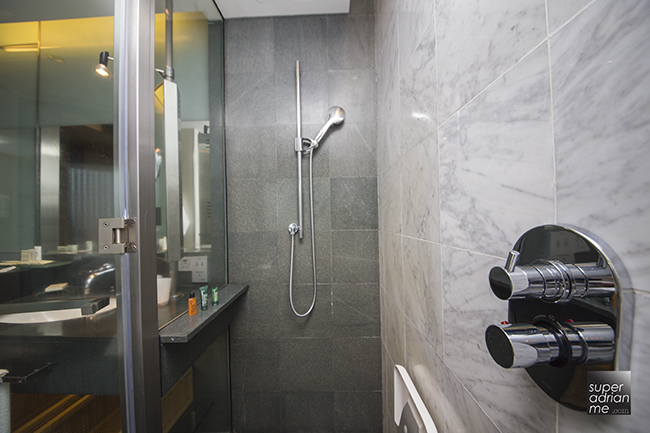 A seat attached to the wall is another small detail in the shower the owners of this hotel did not forget. Something this simple has often times been left out in many luxury hotels. I may not use the seat often, but it is a good-to-have when I wish to scrub my feet and massage it after a long day of excessive walking.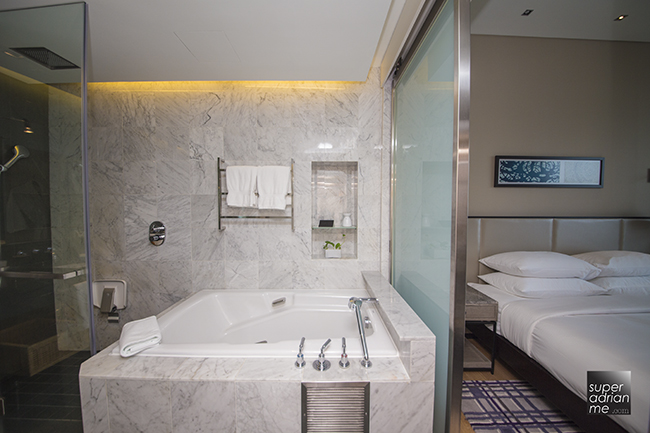 You can slide the door close if you want some privacy in the bathroom. Took me a while to realise this though. I thought this would have been one of those exhibitionist hotel rooms where there is no privacy in the room.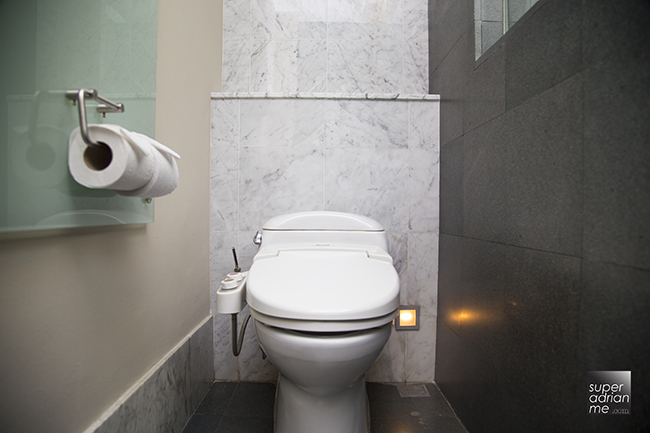 Not a very common sight in Malaysia is an automated bidet. The toilet comes with a bidet. That's another thoughtful feature for hotel guests.
The Hilton Toiletries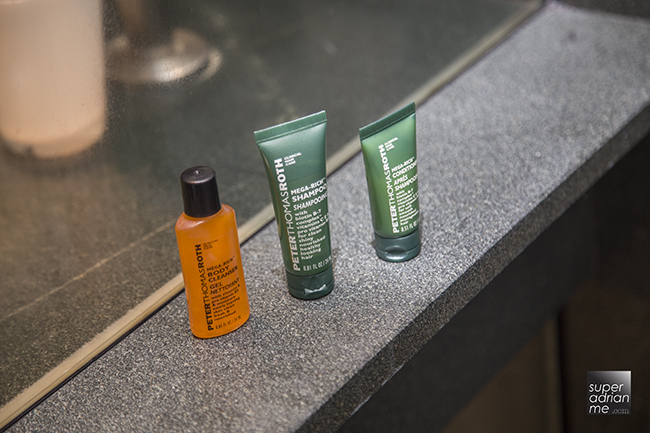 Hilton Hotels and Resorts around the world provide the standard Peter Thomas Roth Body Cleanser, Shampoo, Conditioner and body lotion. This is one of my favourite brands of toiletries.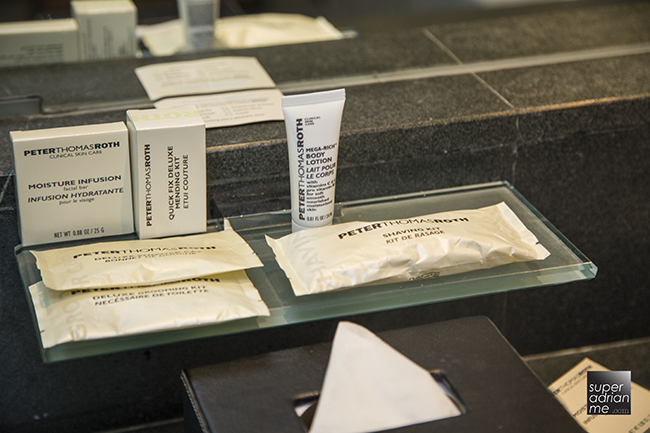 Most of the amenities provided are sealed for hygiene reasons. Whilst most of the amenities provided in the room are sufficient, additional items can be requested by picking up the phone.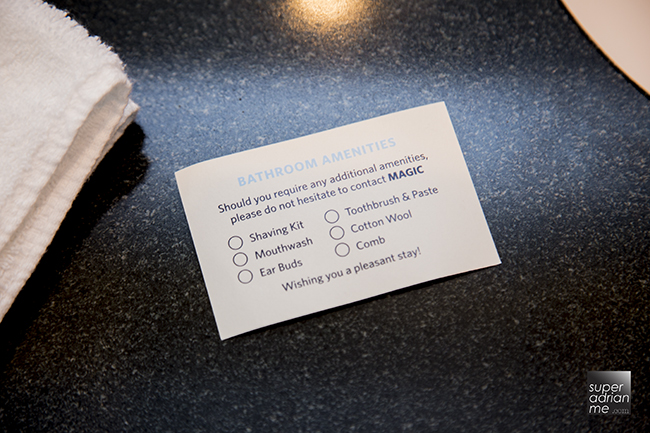 I usually bring my own toothbrush and toothpaste whenever I travel so I do not have to contribute to the carbon footprint. But if you forget yours, complimentary disposable toothbrush with toothpaste is provided. Other complimentary items include a shaving kit, mouthwash, ear buds, cotton wool and comb.
Welcome Note and Welcome Gift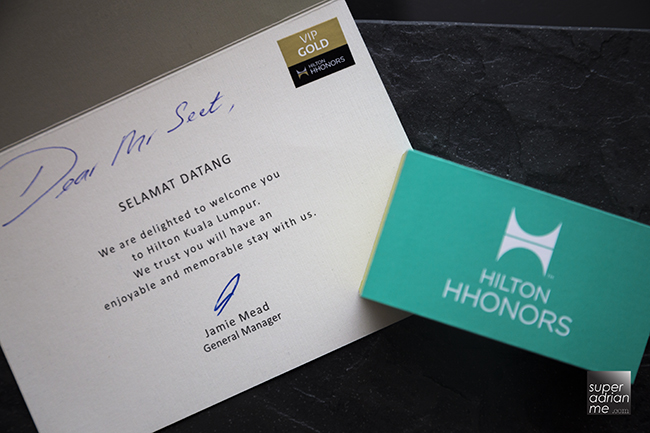 During my stay, I got a note and a box of pralines in a Hilton HHonors box that seems to be customised for Hilton Kuala Lumpur. The Hilton Kuala Lumpur has an amazing executive lounge on level 33 that was spacious with amazing views. I had afternoon tea and breakfast at the executive lounge and liked the attentive service. Personally. I prefer to have my breakfast at the executive lounge just because it is less crowded. I could forego the variety from a buffet spread at the buffet restaurant for a more private and less crowded environment.
Other facilities in the hotel include a 120-metre shared free-form terrace pool with the Le Meridien Kuala Lumpur. There is also a water slide. Both hotels have their own poolside bar and you can choose to have a drink at any and have your drink charged to your room. How convenient. I've to return and stay a little longer the next time and fully enjoy the facilities.
Hilton Kuala Lumpur
, 3, Jalan Stesen Sentral 5, Kuala Lumpur Sentral, 50470 Kuala Lumpur, Wilayah Persekutuan Kuala Lumpur, Malaysia