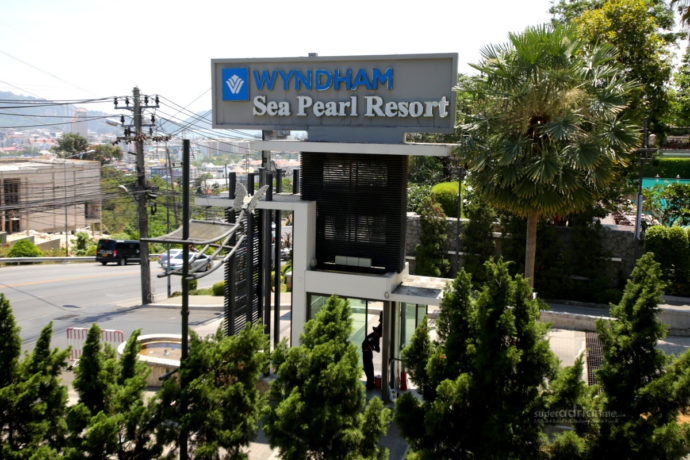 If you are looking for a sanctuary for complete relaxation away from the busy crowds, the Wyndham Sea Pearl Resort Phuket may just be the place to stay in when you next visit Phuket. And you have to check out Carissa Spa which offers amazing treatments to help you ease into your vacation.
Phuket is less than two hours away from Singapore. With affordable fares on Tigerair between Changi Airport Terminal 2 and Phuket International Airport, no wonder many Singaporeans visit Phuket. Furthermore, Tigerair offers delicious soya sauce chicken rice and the budget airline's popular nasi lemak with chicken meal onboard, making the short flight an even more pleasurable experience.
The hotel was constructed in 2011 and rebranded in June 2014 under a mixed-use management agreement with Wyndham Hotel Group. The Wyndham brand was launched in to South East Asia in June 2015 with the official opening of the Wyndham Sea Pearl Resort Phuket. Wyndham also opened its Southeast Asian office in Singapore in line with the group's plans to open more Wyndham managed properties in the region.
The newly built Wyndham Tamansari Jivva Bali is set to open in Klungkung, Bali around August/September 2016 while the Wyndham Legend Halong Bay, Vietnam will open in June 2016.
The resort is located on a hill which is just around 15 minutes away from the lively Patong by car.
The entire resort sits on a huge plot of land. Getting around the resort takes a leisurely walk or the occasional buggy service.
What impressed me was the many pools around the hotel. there was always one sandwiched between two blocks of hotel rooms making it convenient for guests trying to cool down from the hot weather.
Sounds of water splashing and families having fun in the pool remind you that you are on a vacation.
Wine and Dine
The resort offers four distinctive dining outlets.  Mook Talay Restaurant serves local Thai flavours and international selections. Daily buffet breakfast and all-day dining is available at this outlet which is located at level two of the main building where all guests check in at.
Enjoy seafood buffet at Blue Waters Seafood Restaurant. Dine amongst surrounding pools and amazing sea views. Chefs bbq fresh seafood at the live cooking stations and a spread of other dishes are available.
Alfafa Pool Bar lets you enjoy a cocktail or two while Alfa Club and Lounge is the place to go to enjoy sunsets, enjoy the music or have a tipple or two.
Wyndham Sea Pearl Resort Phuket Rooms
I stayed at Room N201 which was along the same up sloping road leading from the main entrance to the hotel lobby. Located on the second level, my Deluxe Jacuzzi Room faced the other block of rooms separated by a pool.
All Deluxe Jacuzzi Rooms come with a personal jacuzzi in the private balcony. These jacuzzis are not very well concealed from the other rooms except for the palm trees which may or may not even give you much cover for privacy. Skinny dip at your own risk and try not to disturb the serene environment.
The room below mine was a Deluxe Pool Access room which is convenient if you enjoy the proximity of your room to soaking in the pool.
The bathroom meets the demands of most travellers. Shower Gel, Shampoo, Hair Conditioner and a Body Lotion is provided leaving you smelling refreshed yet fruity. A rain shower with strong water pressure is all I ask for and this was exactly what I got everything I got a shower.
And if you forget your essentials, toothbrush with toothpaste, shaver, cotton buds and other amenities are also provided.
The Suites
The suites here are impressively spacious. They feature bathtubs, comfortable beds, a lot of space and even private pools in some of the suite categories. The suite offering here include:
Deluxe Suite one-bedroom
Deluxe Suite two-bedroom
Deluxe Suite Pool Access one-bedroom
Deluxe Suite Pool Access two-bedroom
Deluxe Suite Private Pool
Carissa Pool Villas
Some of the suites offer spectacular views of the town. And air conditioning in these suites may just be the reason for keeping you in away from the hot climate.
Sunset at Wyndham Sea Pearl Resort Phuket
So we were having our evening cocktails at the Alfa Club & Restaurant where we chanced upon an amazingly picturesque sunset. Alfresco as well as indoor seating is available here. You get the best views outdoors.
Sip that glass of Pina Colada, enjoy the views and head down to Blue Waters Seafood Restaurant just in time for dinner. After dinner, you could head over to Patong Beach to enjoy the night scene there before turning in for the night.
The two night stay was hosted by Wyndham Sea Pearl Resort Phuket.