Singapore Airlines introduces complimentary unlimited in-flight wi-fi to all business class customers and PPS Club members. Previously Business Class customers and PPS Club members enjoyed 100 MB worth of complimentary in-flight Wi-Fi.
The Star Alliance member airline has been offering KrisFlyer members in Premium Economy and Economy three-hour and two-hour surf plans for free, respectively. Suites and First Class customers also enjoy complimentary unlimited Wi-Fi.
New attractive and simplified Wi-Fi price plans have been introduced ranging from US$3.99 for one hour, US$8.99 for three hours and US$15.99 for the entire flight.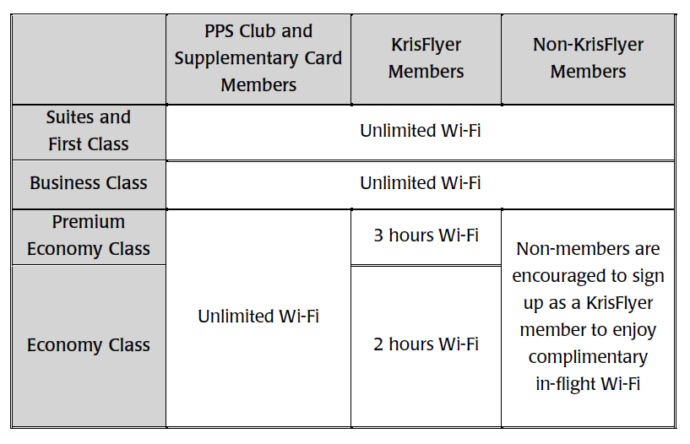 "Staying connected, even at 35,000 feet in the air, has become an essential aspect of the travel experience. With our enhanced Wi-Fi offerings, SIA's customers can stay in touch with their loved ones, post photos and videos on their social media channels, or keep updated on the latest news. These changes are in response to customer feedback, and part of SIA's continuous investment to elevate the travel experience and maintain our leadership position."

Mr Yeoh Phee Teik, Senior Vice President Customer Experience, Singapore Airlines
Singapore Airlines also recently launched its new "World Class" branding campaign earlier this week. Read about that here.
SIA also ranked 31 in 2023 up one spot from number 32 last year in Fortune magazine's prestigious list of the 50 most admired companies in the world. The Top 50 list was based on a survey of around 4,000 executives, directors, and analysts globally across a range of industries, who were asked to rank the companies they admired most in any industry. SIA received high ratings in the following categories: Innovation, Quality of Products/Services, People Management, Financial Soundness, Social Responsibility, and Long-term Investment.