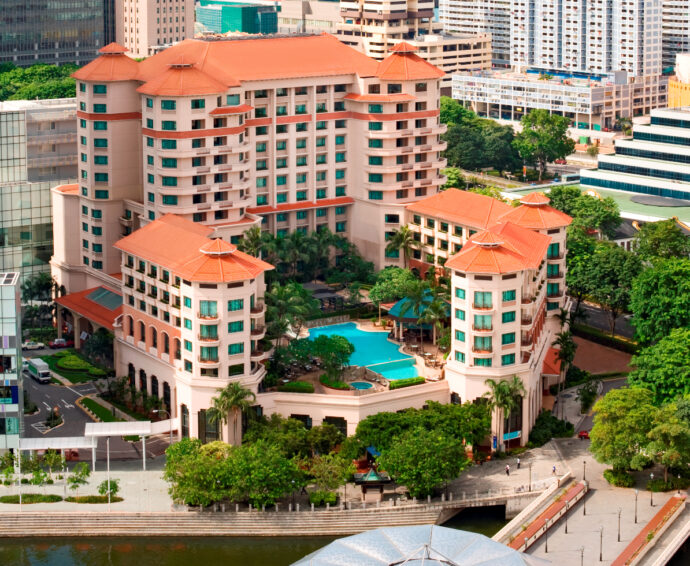 Swissotel Merchant Court Singapore will deflag and leave the Accor network. The owners of the hotel have chosen Paradox Hotel Group to manage it. It will be called Paradox Singapore Merchant Court at Clarke Quay in April 2022 according to the Paradox website.
The 476-room Paradox Singapore Merchant Court at Clarke Quay is located in the heart of Clarke Quay by the Singapore River and minutes from the Central Business District. The hotel's colonial architecture offers breathtaking views as well as energy and a perfect base for sampling gourmet goodies on offer in its gem packed neighbourhood.
The award-winning Ellenborough Market Café stays with the new brand offering a fusion of Peranakan and International cuisine. Hopefully, the popular Durian Pengat from the buffet spread stays. Blue Potato is set amidst a lush landscape next to an outdoor free-form swimming pool where you can enjoy an outdoor dinner.
Other facilities here include a pool area with water slides, a children's pool and an outdoor jacuzzi, spa and a well-equipped gym. A 680 sqm column-free ballroom and seven meeting rooms are available for events, weddings, meetings and other social events.
"Singapore is a melting pot of culture and history, and offers the most distinctive culinary delights, attracting leisure and business travelers alike. Whilst preserving the unique character of our hotel, we are committed to showcasing the best in authentic hospitality – which is particularly important as international travel begins to open up. We are excited to be part of the Paradox family and are confident that this will elevate the upscale, unique experience that we can offer, echoing the culture and vibrancy of our city. Our team looks forward to welcoming our guests to our hotel for a delightful and memorable stay."

Rainer Tenius, General Manager of Paradox Singapore Merchant Court at Clarke Quay
TA Global Berhad, the property arm of TA Global Berhad, announced on 21 March 2022 the launch of its highly anticipated Paradox collection of hotels and resorts. Paradox Hotel Group is a Canadian-born boutique hospitality brand inspired by the tastes and desires of new generation of travellers. The Paradox brand is set to stand out of the traditional hospitality norms through a series of quirky, cultured and highly experiential offerings, capturing the true spirit of each city where a Paradox hotel is located.
Paradox Hotel Vancouver will be the first Paradox-branded hotel in Canada under the Paradox Hotel Group umbrella when it opens April 2022. Joining the Paradox portfolio include independently branded properties Summit Lodge Boutique Hotel and Aava Hotel in Whistler. Paradox hotels in global locations include Paradox Resort & Residences in Karon Beach Phuket, and Paradox Hotel Merchant Court at Clarke Quay in Singapore.
Tapping into its 20-year experience as a global hotelier and developer of some of the most exclusive properties across North America, Australia and Southeast Asia, TAG has plans to steadily expand Paradox's international presence in the next decade, launching new boutique lifestyle hotels and resorts in taste-making destinations around the globe. Future openings include Kuala Lumpur and Malacca.
Edited 1 April 2022