Thailand officially reopens to international travellers from 1 November 2021. Fully vaccinated travellers from 63 countries can now visit Thailand without quarantine.
Thailand Opens Up to Visitors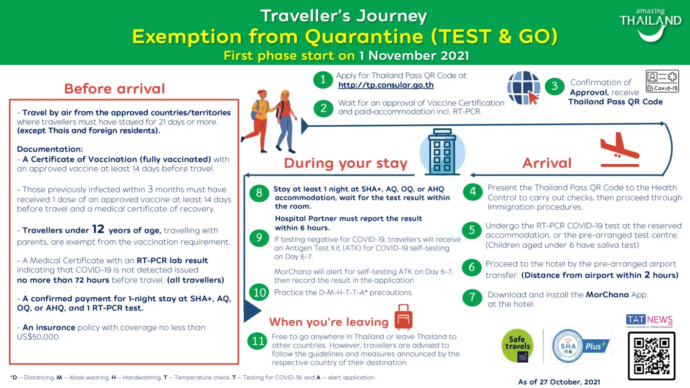 List of 63 Countries Exempted from Quarantine
Australia
Austria
Bahrain
Belgium
Bhutan
Brunei Darussalam
Bulgaria
Cambodia
Canada
Chile
China
Croatia
Cyprus
Czech Republic
Denmark
Estonia
Finland
France
Germany
Greece
Hungary
Iceland
India
Indonesia
Ireland
Israel
Italy
Japan
Kuwait
Laos
Latvia
Lithuania
Luxembourg
Malaysia
Maldives
Malta
Mongolia
Myanmar
Nepal
Netherlands
New Zealand
Norway
Oman
Philippines
Poland
Portugal
Qatar
Romania
Saudi Arabia
Singapore
Slovak Republic
SloveniaA Certificate of Vaccination
Sri Lanka
South Korea
Spain
Sweden
Switzerland
United Arab Emirates
United Kingdom
United States
Vietnam
Hong Kong
Taiwan
Prepare the Required Documents
You will be required to bring along the following documents
Certificate of Vaccination with an approved vaccine at least 14 days before travelling to prove that you are fully vaccinated.
If you have been infected within 3 months, you must have received 1 dose of an approved vaccine at least 14 days before travelling.
Travellers under 12 years old, travelling with parents or guardians are exempt from the vaccination requirement.
A medical certificate with an RT-PCR lab result indicating that COVID-19 is not detected issued no more than 72 hours before travelling for all travellers.
A confirmed payment for a 1-night stay at SHA+, AQ, OQ, or AHQ accommodation and 1 RT-PCR Test.
An insurance policy with coverage no less than US$50,000
Apply for a Thailand Pass
Register for a Thailand Pass and upload the required document along with the valid visa/re-entry permit if required and allow three to 5 working days for the approval process. Wait for the approval of the Vaccine Certification and paid accommodation, including the RT-PCR test. Confirm the approval and receive a Thailand Pass QR code of COE.
During Your Stay
Wait for the test result within your hotel room. If you test negative for COVID-19, you will receive an Antigen Test Kit (ATK) for COVID-19 self-testing on Day 6 to 7. You will get an alert for the self ATK testing on Day 6 to 7. Record the result in the MorChana application. Practice Distancing, Mask Wearing, Handwashing, Temperature Check, Testing for COVID-19 and Alert Application during your stay.
When you are Leaving Thailand
You are free to go anywhere in Thailand or leave Thailand to other countries. But please follow the guidelines and measures announced by the respective province or country of your destination.
Arrival in Thailand
Present your Thailand Pass QR code or COE to the Health Control to carry out checks, then proceed through immigration procedures. Undergo the RT-PCR COVID-19 test at the reserved accommodation, or the pre-arranged test centre. Children under six years old will have a saliva test. Proceed to the hotel by pre-arranged airport transfer. Download and install the MorChana application at the hotel.
Thailand's Royal Palaces Reopen to Visitors on 1 November 2021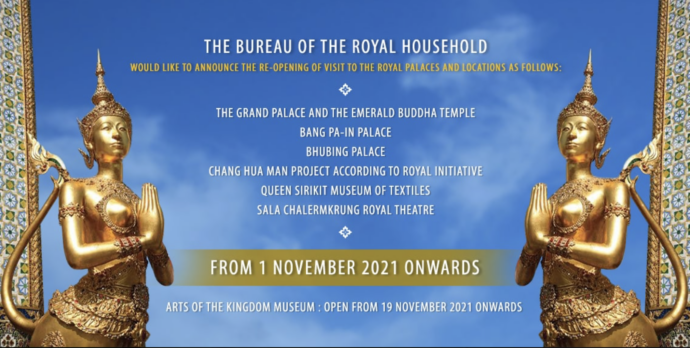 The Bureau of the Royal Household has reopened the Grand Palace and the Temple of the Emerald Buddha, along with other royal palaces and locations from 1 November 2021. Tourists can visit Bangkok's most famous attraction, the Grand Palace and the Temple of the Emerald Buddha.
The Grand Palace complex, within the Temple of the Emerald Buddha or Wat Phra Kaeo is located, was temporarily closed due to the COVID-19 pandemic. Health and safety measures are in place at both venues to help ensure the safety of visitors and staff. Visitors have to wear face masks at all times. Body temperature will be screened upon entry. There are hand washing facilities and you have to register on the Thai Chana application. Social distancing will be observed at service points in the complex. Common contact surfaces will be cleaned and disinfected every 20 minutes. Medical professionals will also be on standby in the case of emergencies or when first aid is needed.
The Grand Palace complex is open daily from 8.30 am to 3.30 pm. The entry fee is THB500 per person. Purchase tickets at online at least 24 hours in advance.
Meanwhile, other royal palaces and locations that will also reopen from 1 November, 2021, are:
Bang Pa-In Palace in Ayutthaya;
Bhubing Palace in Chiang Mai;
Chang Hua Man Royal Project in Phetchaburi;
Queen Sirikit Museum of Textiles in the Grand Palace complex in Bangkok;
Sala Chalermkrung Royal Theatre in Bangkok.
The Arts of the Kingdom Museum in Ayutthaya will reopen on 19 November, 2021.
ACCOR Launches "For The Love of Amazing Thailand" Campaign
Accor has launched its "For the Love of Amazing Thailand" campaign with savings of up to 30% at over 70 hotels and resorts across the Land of Smiles. The largest hotel operator in Thailand has hotels and resorts across 14 destinations.
Accor has Sofitel, SO/, MGallery, Mövenpick, Pullman, Swissôtel, Grand Mercure, Mercure, Novotel, ibis and ibis Style brands in Thailand.

In Bangkok, Sofitel Bangkok Sukhumvit welcomes travellers with traditional Thai hospitality that blends with chic French flair for a truly "Magnifique" experience. Novotel Bangkok Sukhumvit 20 offers modern rooms, and a prime location to the renowned Em District – home to some of the best shopping in the city. The hotel's rooftop bar, Sky On 20, offers one of the best locations to admire the twinkling lights of the Bangkok skyline, rivalled by the popular Hi-So rooftop bar of SO/ Bangkok – one of the most vibrant and design-orientated hotels of the capital.
If you are visiting Hua Hin, Mövenpick Asara Resort & Spa Hua Hin offers a truly idyllic natural setting with the low-rise resort offering a selection of villas and suites amongst verdant gardens and reflective lagoons. Those seeking a playful atmosphere with vibrant events calendar need look no further than SO/ Hua Hin with its imaginative suites, unparalleled restaurants and a wide array of activities.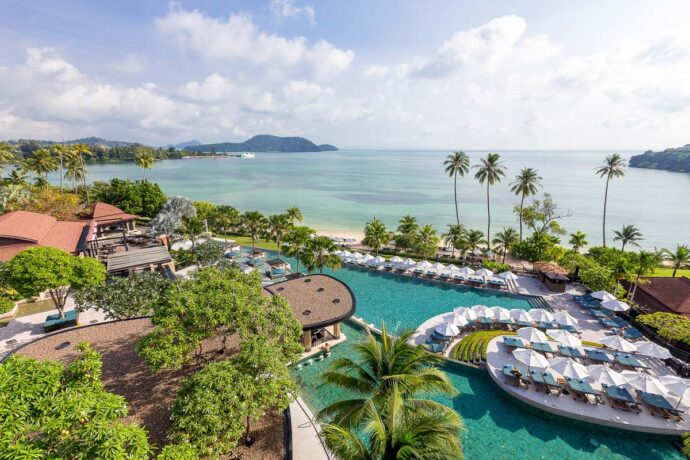 And when you are in Phuket, stay at some of the unique Accor properties. Pullman Phuket Panwa Beach Resort is nestled in the pristine and peaceful Panwa Beach. Pullman Phuket Arcadia Naithon Beach is located in the secret little paradise of Naithon Beach. A few hours away, the scenic resort town of Khao Lak is a destination to consider for a tranquil tropical retreat. Pullman Khao Lak Resort is an energizing destination to immerse into the vibrant Southern culture, while the newly opened Grand Mercure Khao Lak Bangsak will transport guests to the traditional Thai riverside villages. Krabi offers a romantic ambiance with its beautiful karst landscape. The colonial elegance Sofitel Krabi Phokeethra Golf & Spa Resort enjoys a prime setting amidst the jungle, overlooking limestone cliffs and the sea.
Chiang Mai is a historic city with tasty local food and a creative coffee culture. The city has a hipster, laid-back vibe. Set on a scenic valley slope with views over rice and tea terraces, Veranda High Resort Chiang Mai – MGallery is a perfect setting for nature lovers. Located at the heart of the city, Novotel Chiangmai Nimman Journeyhub is ideal for those who want to explore the town.
Mango Tree Surawong Offers New Tasting Menu in Bangkok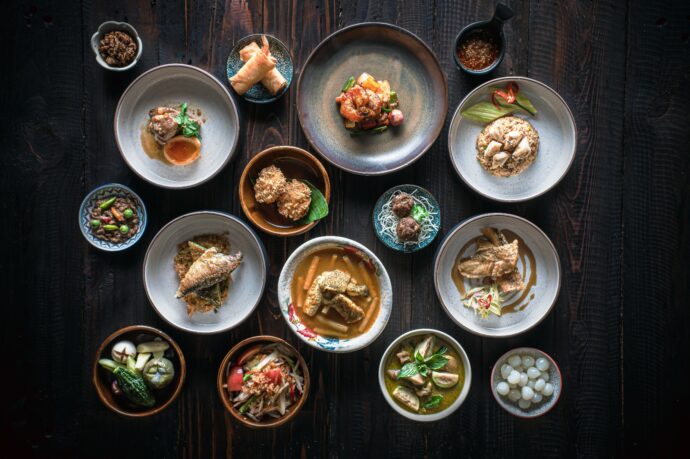 Mango Tree Worldwide is inviting guests and local residents in Bangkok to discover the rich heritage of Thai cuisine with its exclusive new Tasting Menu at Mango Tree Surawong. This tasting menu is inspire by the life and journey of the company's CEO & Chairman, Khun Pitaya Phanphensophon, whose family history is deeply ingrained in Thailand's culinary culture.
Mango Tree Surawong is located in Bangkok's heritage district. The new three course Tasting Menu is available for both lunch and dinner. It showcases some of the most memorable menu items crafted at the group's restaurants over the last 32 years. Recipes have been passed down from generation to generation. The concept is deeply personal to Khun Pitaya whose father Khun Srichai opened the first COCA restaurant in Surawong in 1957.
The Tasting Menu is priced at THB330 during lunch from 12 pm to 2.30 pm or THB580 for dinner from 4 pm to 8 pm.
Anantara Spa Launches first Cannabis Infused Treatment Menu in Thailand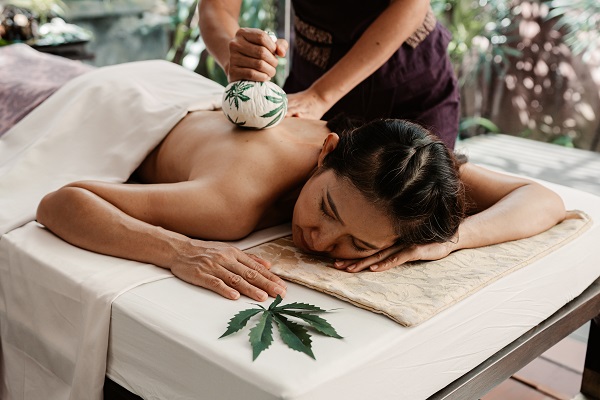 Anantara Spa recently announced a blissful addition to its treatment menu. It has launched cannabis infused spa treatments which coincides with the decriminalisation of certain elements of the cannabis plant. It is harnessing its restorative and anti-inflammatory compounds to bring the traditional healting properties of cannabis into modern wellness practices.
Restful Slumber Journey is the perfect anitdote to long haul flights. It features a cannabis infused aromatherapy massage, cannabis salt infused foot bath and a relaxing cup of CBD infused tea. And after a day of sightseeing or adventure, the Cannabis Stress-Release Journey unfurls tense muscle knots using a cannabis herbal compress ball, or Luk Pra Kob as it has been known in Thailand for centuries. Pamper yourself from top to toe with the Head to Toe Calming Journey. It combines a blissful scalp massage with foot reflexology to melt away tension and leave guests walking on air.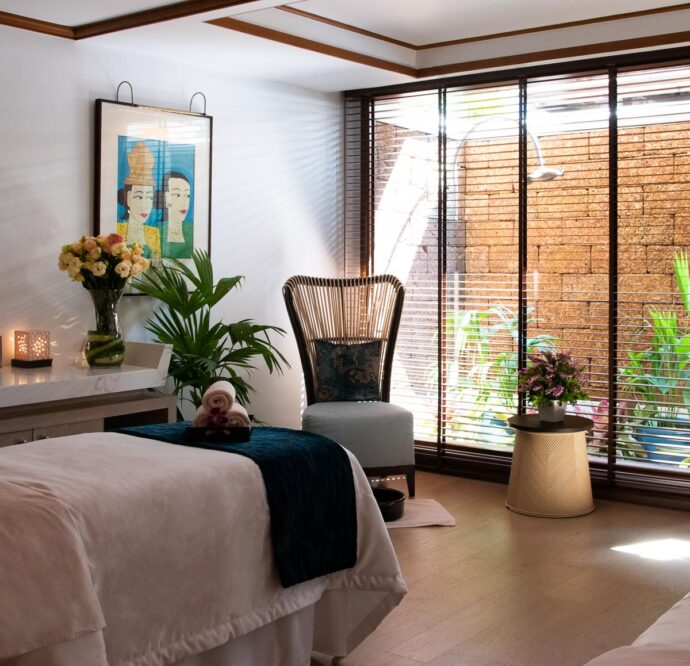 These treatments are available at Anantara Spas across Thailand including Anantara Siam Bangkok Hotel, Anantara Riverside Bangkok Resort, Anantara Chiang Mai Hotel and Anantara Bophut Koh Samui Resort.
Santiburi Koh Samui Invites International Travellers to Rediscover Samui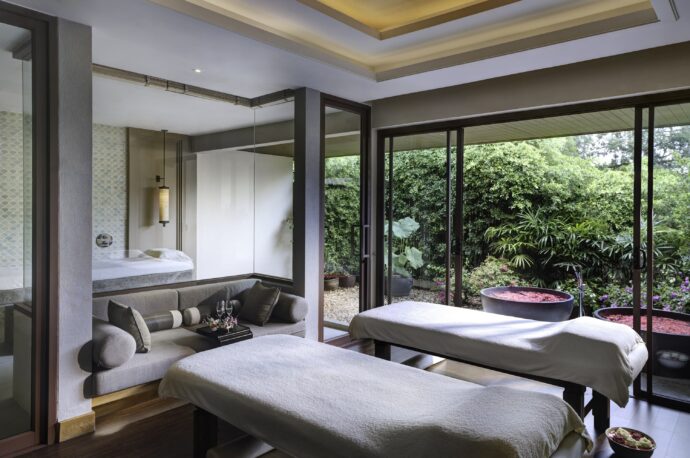 Santiburi Koh Samui has launched "Rediscover Samui" a new promotion with plenty of added extras incorporated into Lèn Be Well, its intuitive programme of activities and experiences for couples and families. Leisure seekers can choose from five distinct programmes. Adventure, Relax, Romance, Culture and Family blends serene spa treatments, immersive activities and delectable dining.
Rediscover Samui features complimemtary use of the tennis courts, non motorised water sports equipment and the high-tech fitness centre. Complimentary shuttle bus services transport goflers to the 18-hole championship course at Santiburi Samui Country Club. Up to two children get to enjoy the Panya & Yim's Junior Camp while shareing a room free-of-charge with their parents.
Enjoy a bountiful breakfast, elegant afternoon tea and freshly-cut tropical fruit every day of their stay. There is also early 9am check-in and late 4pm check-out so you can maximise yoru precious time on this idyllic island.
The longer you spend in Koh Samui, the mor rewarding your vacation becomes. Stay three nights or more and enjoy free roundtrip airport transfers. Stay five nights or more and be treated to roundtrip airport transfers and one dinner. And for those who stay seven nights enjoy the same benefits as well as a soothing 60-minute therapy at Lèn Spa.
Santiburi Koh Samui has achieved the TAT's Amazing Thailand Safety & Health Administration Plus (SHA+) certificate. 100% of staff members have been vaccinated against COVID-19. It upholds the highest standards of health and safety. Eco-conscious guests can also rest assured that their vacation is not detrimental to the environment; Santiburi Koh Samui has achieved the Green Hotel Award's 'Gold Level', as certified by the Thai government's Department of Environmental Quality Promotion and Ministry of Natural Resources & Environment. This makes it only resort on Koh Samui to received Gold Level recognition, out of more than 100 applicants.

Rates for the Rediscover Samui promotion start from just THB 5,413 per room per night! To learn more and to book your stay visit santiburisamui.com/offers.
Relax at these Hilton Group Properties in Thailand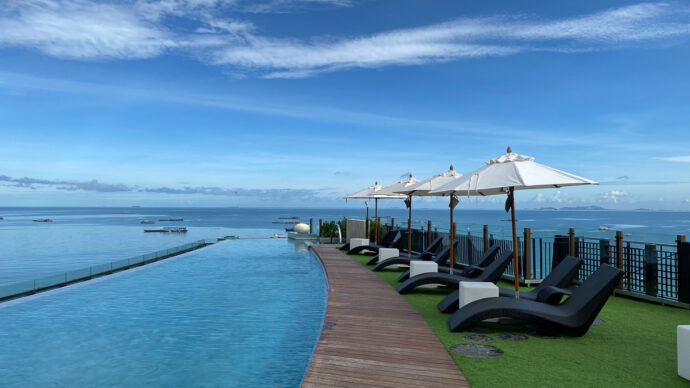 Hilton Pattaya is centrally located along the city's famed beachfront, celebrates the completion of its year-long restoration project. The 304-room property has been completely transformed, boasting a new look that was inspired by beachside experiences, the sea and joy of sailing. The warm interior design allows couples to bask in abundant sunlight, sea breeze and scenic views from every room's floor to ceiling window and private balcony. The hotel's signature Infinity Pool has been greatly enhanced with the extension of the sundeck area, allowing guests to enjoy a panoramic view of Pattaya Bay from atop its 18.5-metre long walkway extension. Other areas such as EDGE restaurant and the executive lounge have been redesigned for elevated guest experiences.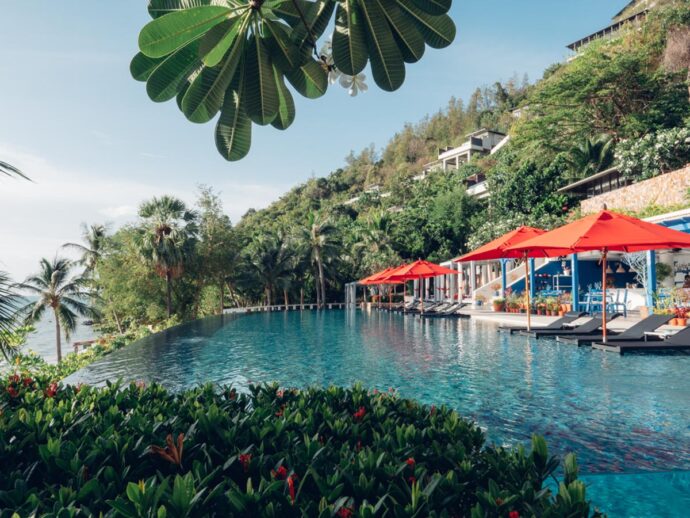 Commanding panoramic views of the Gulf of Thailand, Conrad Koh Samui has introduced mindful dining concepts, inspiring new venues, and enhancements to its well-loved culinary experiences. Foodies can now enjoy the best sunset from Aow Thai Beach at the brand new Seakret, indulging in tropical cocktails and snacks in Thai-inspired surroundings. Travelers who appreciate sustainable gourmet treats can enjoy a farm to table experience at Botanikka Eco-Café and explore the resort's hydroponics system, where organic herbs and vegetables are produced for the resort's culinary needs. Guests can also kick back at Zest restaurant's newly renovated terrace for a heightened al fresco experience, as well as Mediterranean flavours at Azure Bar and Grill, and an indulgent private chef experience at the Pier and Beach Promenade.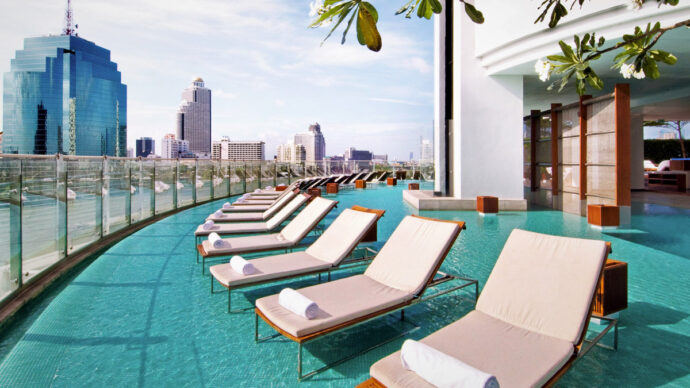 Enhancing the appeal of this well-loved riverfront sanctuary, Millennium Hilton Bangkok has rejuvenated all its guest rooms, as well as the hotel's all-day-dining restaurant, Flow, The Beach infinity pool relaxation space, state-of-the-art Ballroom and public spaces, all inspired by the natural elements of the majestic Chao Phraya River and its vibrant surrounding landscape. An established culinary destination, epicureans will delight in Flow's new exclusive private dining room, Cheese Library and Dessert Theatre as well as an all-weather, outdoor terrace set to elevate the alfresco riverside dining experience. Guests can take advantage of the Thai capital's new Gold Line mass transit system for easy access to local attractions.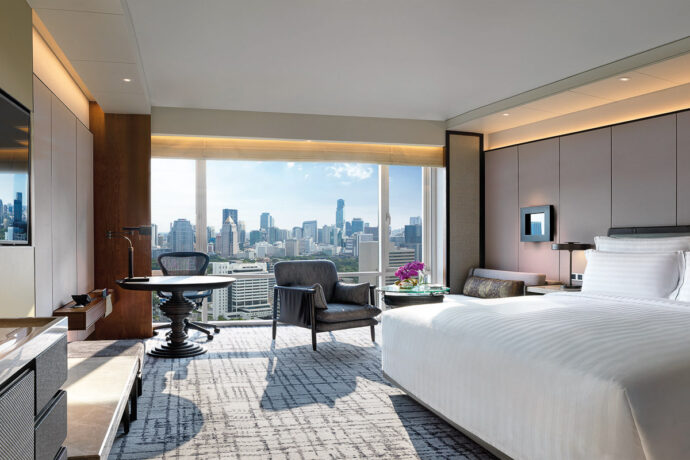 A distinctive landmark in the Thai capital's alluring city skyline, Conrad Bangkok serves as a strategic urban sanctuary for weekend getaways with the family. Conveniently located near key retail, entertainment and tourist attractions, the hotel's refurbished lobby invokes the vision of an elegant outline of a Thai temple and pagoda for an immediate sense of arrival to the Land of Smiles. After an extensive rejuvenation, its sophisticated executive lounge now brings to life the brand's renowned intuitive service and facilities. Families can enjoy the refreshed Premium rooms and suites, featuring enhanced contemporary luxury and innovative technology, such as smart lighting and immersive acoustics and a full digital TV signal with IPTV technology to ensure a restful stay after a day out enjoying the hustle and bustle of city life. To complete the sensory journey, a diverse collection of culinary concepts is available to satiate the tastebuds while the "7th Heaven", featuring an entire level is dedicated to wellness indulgence.
From 2019 to 2020, the iconic waterfront landmark Hilton Hua Hin Resort and Spa embarked on a remarkable renovation, revitalizing almost every element of the resort with the intention of delivering elevated guest experiences and exceptional travel memories.  Guests can now enjoy Hua Hin's biggest executive lounge offering unobstructed pool and ocean views, a stylish Deca Coffee Lounge serving bite-sized snacks and drinks. The little ones will be entertained throughout the day at the ocean-themed Kids Club, the largest at a resort in Hua Hin. In addition to completely reimagined public spaces, 155 guest rooms now present a refreshed, contemporary look decorated with Thai influence. Each newly renovated room offers a big balcony for guests to enjoy unobstructed views of the Bay of Thailand from the comfort of their personal domain.