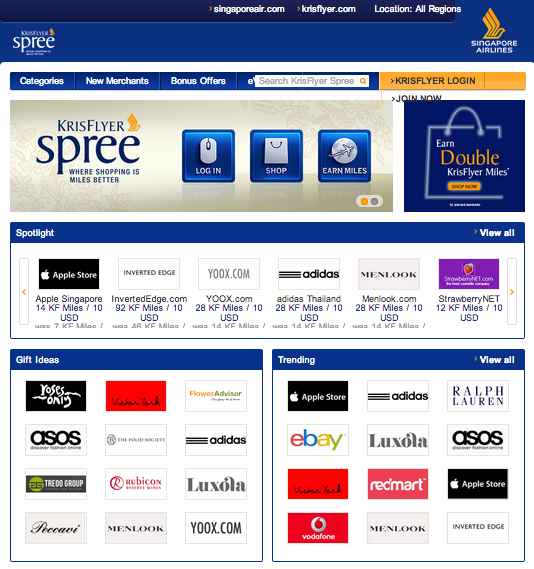 Singapore Airlines launches Krisflyer Spree online shopping mall allowing KrisFlyer and PPS Club members more ways to earn frequent flyer miles.
Now you can fly, stay, charge on any of the Singapore Airlines Cobrand Cards issued in Singapore, Australia, Hong Kong, Japan, Indonesia, Malaysia, Taiwan and the United Arab Emirates, call, book, drive and shop to earn KrisFlyer miles.  Earn KrisFlyer miles when flying on Singapore Airlines, SilkAir and other Star Alliance partners as well as non Star Alliance partners including Air India, TAM, Virgin America. Virgin Atlantic, Virgin Australia and US Airways. You can earn up to 300% of the miles when flying on Singapore Airlines Suites.
This new online shopping mall offers clothing, accessories, electronics, food and beverage items, toys, beauty and cosmetic products and others with the incentive to earn KrisFlyer miles which can be redeemed or flights and upgrades or mixed with cash to pay for flights on www.singaporeair.com.
More than 2,000 global brands and merchants are participating in Krisflyer Spree including Adidas, Apple, Bloomingdale's, eBay, Gap and Marks & Spencer.
Visit www.krisflyerspree.com to check out the merchants and products. After logging into your KrisFlyer account, you will be directed to the merchant's website where you can complete the purchase.  Miles awarded are differ by merchants.
Earn double miles when shopping online with Adidas, Apple, Inverted Edge, Luxola, Menlook and Yoox as part of the site launch. Exclusive perks at selected merchants are offered for PPS Club members.