Singapore residents above 18 years old can enter a lucky draw to win a trip for two to the Swan Valley and Perth, including flights, two nights in the Swan Valley at The Vines Resort, two nights in Perth at InterContinental Perth City Centre and a selection of Swan Valley vouchers and gift cards to redeem for meals, tours and private tastings, valued at A$5,000. Just register your details at www.swanvalley.com.au/sg. The winner will be announced on Friday, April 28, 2023 after a draw by the City of Swan.
The Swan Valley is only a 25-minute car ride from Perth. It is Western Australia's oldest wine region and the second oldest in Australia. It is home to almost 50 wineries, 12 breweries and cideries, and 10 distilleries. It is home to award-winning restaurants with passionate, innovative chefs, showcasing the best WA produce, including Sandalford Wines, Wild Swan at Mandoon Estate and Old Young's Kitchen.
We last visited Swan Valley in 2015. Check out article here.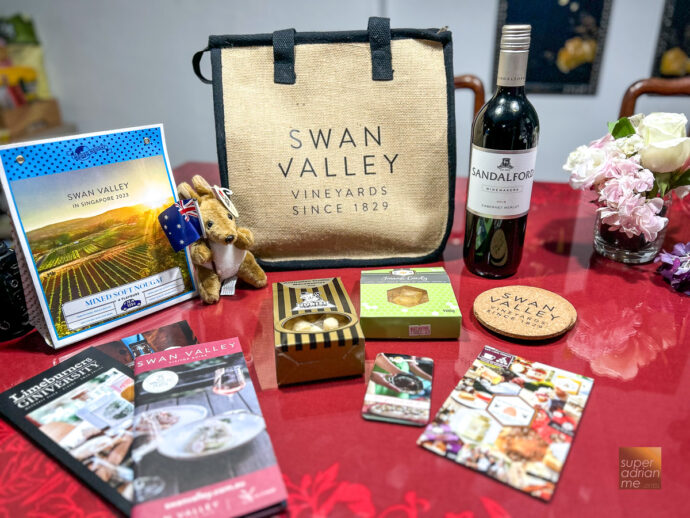 The Swan Valley in Singapore 2023 event for trade and media on 30 March showcases the region's produce, goods, wines, spirits, cider and beer, and places to visit in the city.
The event features spirits from Old Young's Distillery, wines from Nikola Estate, Mondo Nougat, authentic bush tucker with Dale Tibrook Experiences, crunchy Autumn Crisp grapes amongst others. Bailey Brewing Co, Sandalford Wines, The House of Honey, Morish Nuts, John Kosovich Wines, Limeburners & Giniversity in the Valley, Funk Cider, Pasta in the Valley and The Vines Resort will also be represented at the event.
City of Swan Chief Executive Officer Stephen Cain said an event such as The Swan Valley in Singapore 2023 underpinned the City's continued support for tourism businesses, and was more important than ever in the competitive travel marketplace.