Getting to Halong Bay may not be as direct as I would have liked it. I had to fly in from Singapore on Tigerair to Hanoi Noi Bai Airport before journeying on to Halong Bay in a van for almost four hours. But the entire journey that could I have got me to Tokyo in that time was all worth it after I saw what Halong Bay had to offer during my three-night stay this month.
Tigerair operates a daily flight between Singapore and Hanoi. The short three-hour 20-minute flight was made enjoyable with prepaid breakfast onboard as well as a newly launched short stories book I brought with me.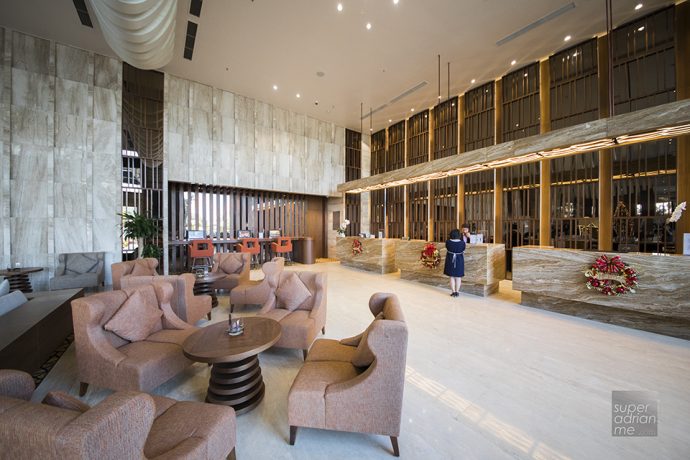 Halong Bay's first international chain five-star hotel opened in June this year marking Wyndham Hotel Group's entry into Vietnam. Construction of the hotel took four years to complete and is owned by Ha Long Star Service and Tourist Joint Stock Company. The hotel expects to be fully operational by early next year, making available all its room inventory as well as opening up the Mediterranean and Japanese restaurant. The hotel is popular amongst the Vietnamese locale, Taiwanese, Chinese and Koreans.
Wyndham Legend Halong joins 14 other newly opened hotels by the Wyndham Hotel Group in South East Asia and Pacific Rim contributing to a total of 2,336 rooms. The Ramada Hotel Niigata in Japan also opened this year by being the first Ramada hotel in Japan. The Wyndham Grand Phuket Kalim Bay, Wyndham's second mixed-use property for Asia, will be opening before the end of the year with 214 rooms including 152 pool villas.
Wyndham Legend Halong Rooms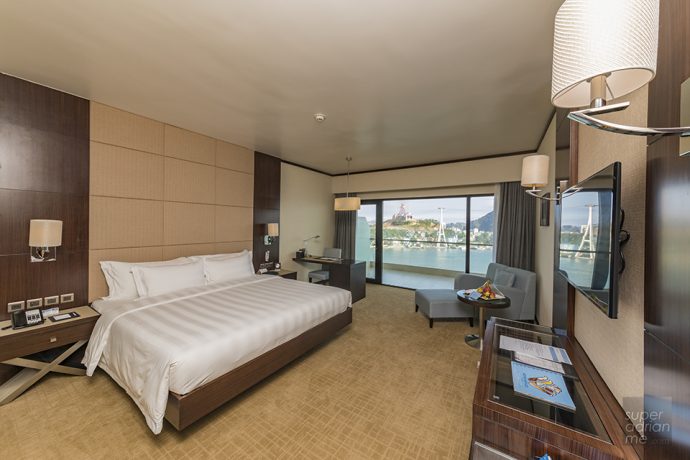 The 217 rooms here are rather spacious. Starting from 33sqm are the entry-level room – Superior King and Twin. The Superior Family rooms feature one king bed and one bunk bed at 40sqm. The Deluxe King/Twin bedroom measures 42sqm. Junior Suite King bedrooms located on the two corners of each level measure 60sqm while the Executive Suite King bedroom measures 90sqm. The Grand Suite King bedroom is 95sqm big and the two Penthouse Suites located on level 21 are the biggest rooms available at 750sqm. Today only three of the eight-room categories are available, with the remaining five to be available by end 2016.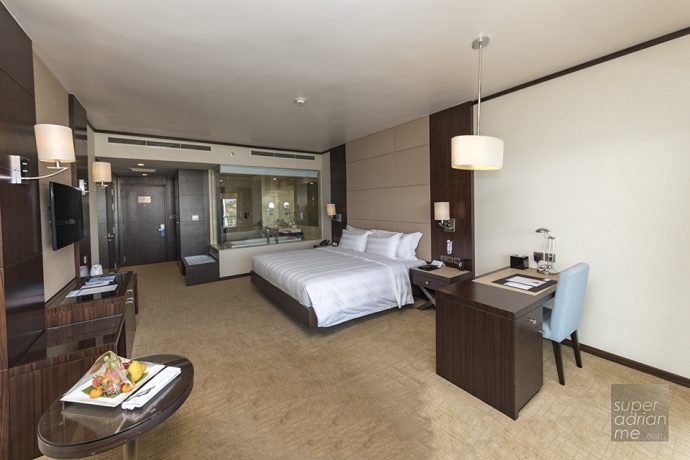 I stayed in one of the Deluxe King Rooms (Room 1901) with a view of the bay. It was always a joy stepping out in the balcony just to catch some fresh air and the amazing view.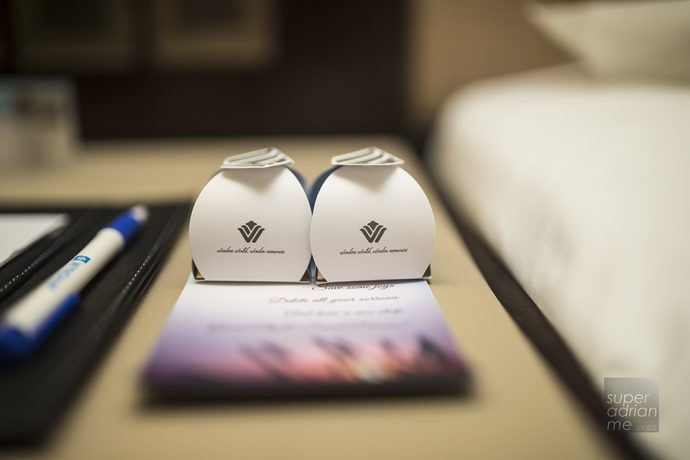 Club Rooms are located on level 18 where the Club Lounge is located. Guests staying in Executive Deluxe and Suites get access to the Club Lounge where they can relax in a private space and enjoy breakfast from 6am to 11am or afternoon tea from 3 to 6pm daily. The hotel is also offering non-Club Room guests access to the Club Lounge by upgrading at a fee while staying at the hotel. Club Lounge privileges include in-room welcome amenities, welcome drink upon arrival, complimentary private breakfast from 6am to 11am, complimentary newspaper and magazine at the Club Lounge, complimentary use of computer for an hour, complimentary high-speed wireless internet access, 1 x complimentary laundry item per day except for dry cleaning, complimentary early check-in and check-out subject to availability. An invitation letter is placed in every room, so be careful when you read this letter. It is not an indication of the privileges that come with your room but an invitation to upgrade for a fee.
The Bathroom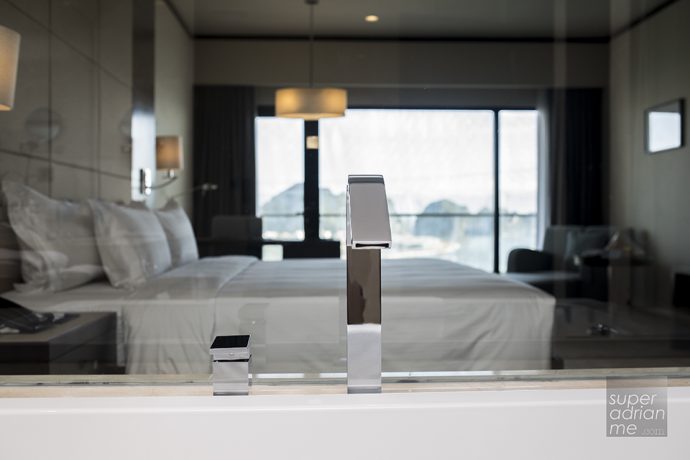 The bathroom is spacious with a separate shower area and a fabulous bathtub. The bathroom overlooks the bedroom and view outside and you have the option of lowering the curtains for more privacy. Whilst shower amenities are provided, you'll have to bring your own bath salts or one of those fun to use Lush bath bombs along if you are thinking of soaking in a hot bath especially during the cold wintery weather at this time of the year. Of all trips, I didn't bring along my bottle of Panpuri Leading Light Precious Wood Bath and Body Massage Oil.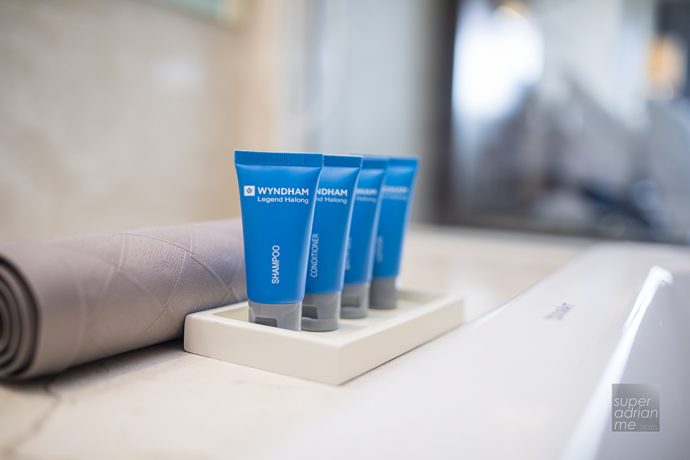 Shower amenities provided include shampoo, conditioner, body wash and body lotion as expected from any five-star hotel. The separate shower area features a rain shower as well as a handheld showerhead.
Instead of a hand bar soap, liquid hand wash is provided at the basin.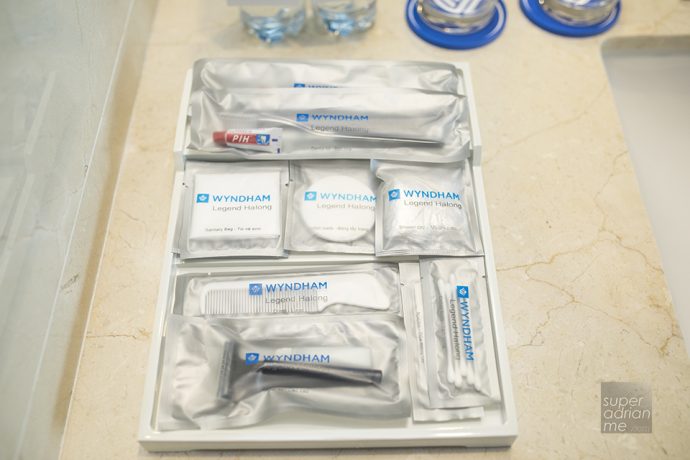 And should you forget to bring your essentials, let's just say, Wyndham Legend Halong is rather generous on this front. But do note that bedroom slippers are not provided complimentary. There is a fee of around VND274,000 for a pair which I found rather unusual for a hotel to charge.
Level Two & Three – Meeting Rooms and Ballroom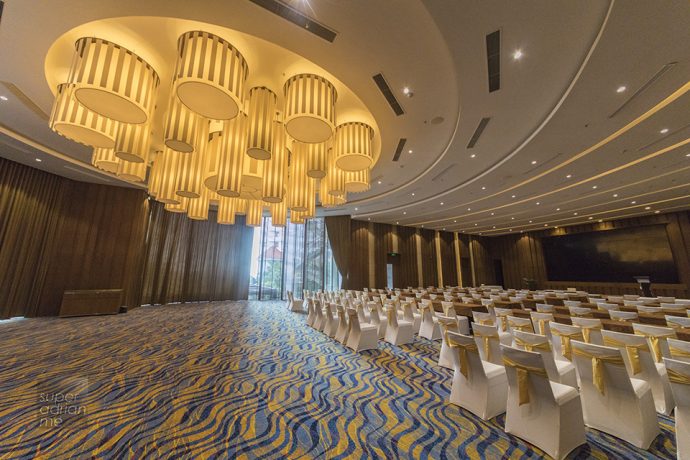 You could hold your next conference or company offsite here. The Diamond Ballrooms on level two or the Panorama Function Rooms and the Ruby and Sapphire boardrooms on level three can accommodate any type of meeting or banquet. I was as impressed as the lights in the Diamond ballroom as I was with the chandelier in the Blue Bay restaurant on level one. Combining Diamond Ballroom One and Two will accommodate up to 550 in a classroom style, 1,160 in a theatre style and 790 in a Banquet style.
Level Four – Gym and Pool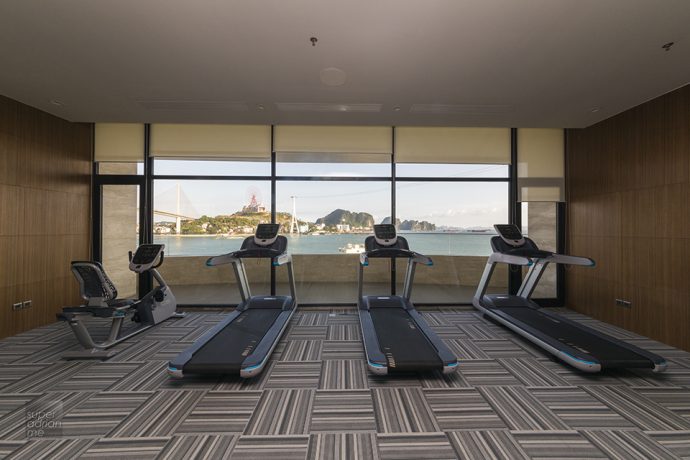 Head over to level four and enjoy a workout in the Gym which operates from 6am to 9pm daily. Located on the same floor is the outdoor swimming pool and a Kid's Club.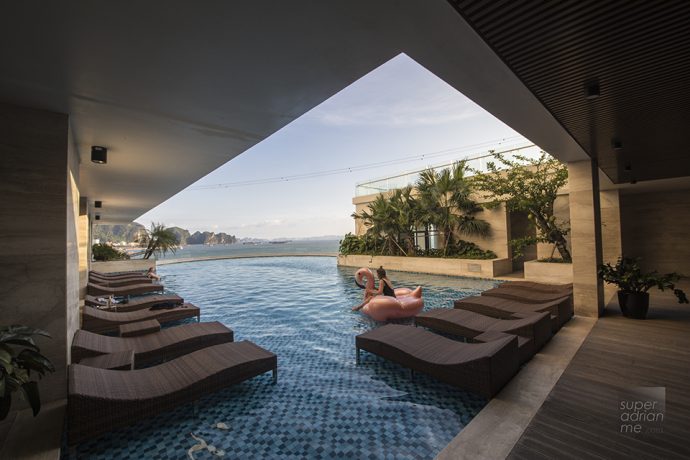 The pool is open from 7am to 8pm daily. Take a dip here and enjoy breathtaking views of Halong Bay. That's if it is not too cold. The pool is not heated.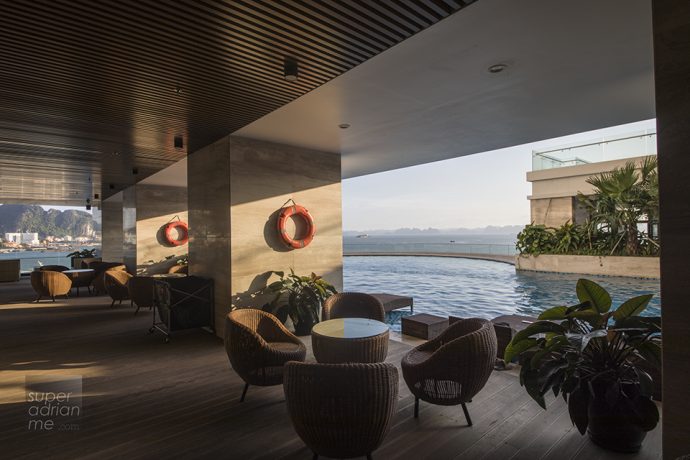 There are also sheltered areas if you prefer to just sit down and enjoy a tipple or two from the pool bar. Great to enjoy a good book here or just chat with friends where you can enjoy fresh air.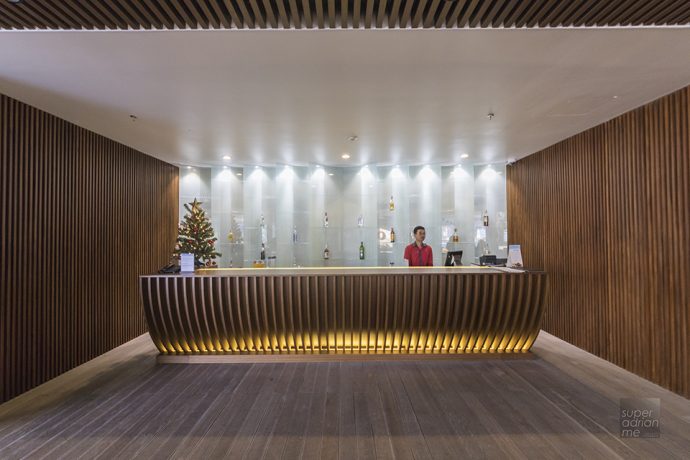 The Pool Bar doesn't close too late. We headed over to get a drink after dinner and they were already closed so we headed down to Vivino Bar on level one instead.
Dining at Wyndham Legend Halong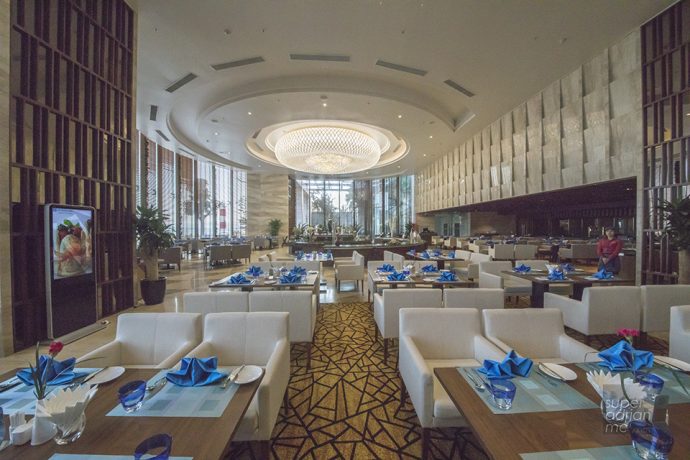 The Blue Bay Restaurant on level one offers all-day Vietnamese and International cuisine dining. Enjoy the buffet breakfast with a rather impressive spread from 6am.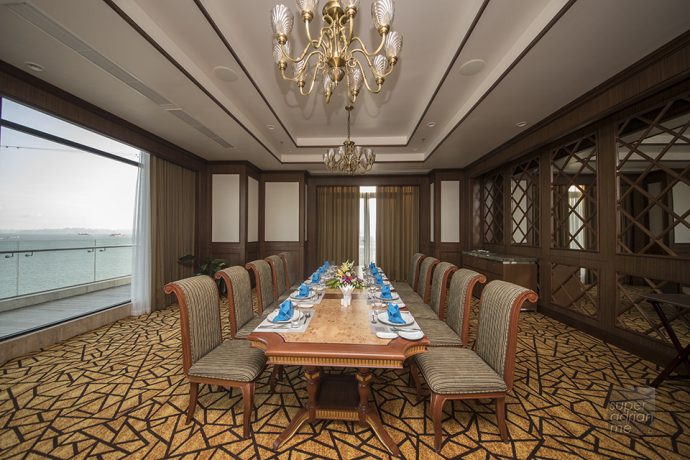 De Medici, on level five, will offer French and Italian cuisine indoors and alfresco when it opens. There is also a private room where you can dine in privacy be it for a family dinner or business meal. The private room has access to the balcony area where you can enjoy views of the bay and smoking areas for smokers.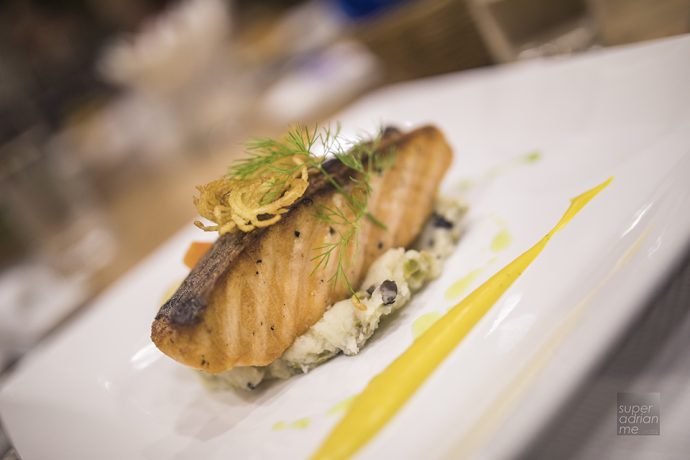 We were entertained to dinner on both nights and given a chance to taste the menu.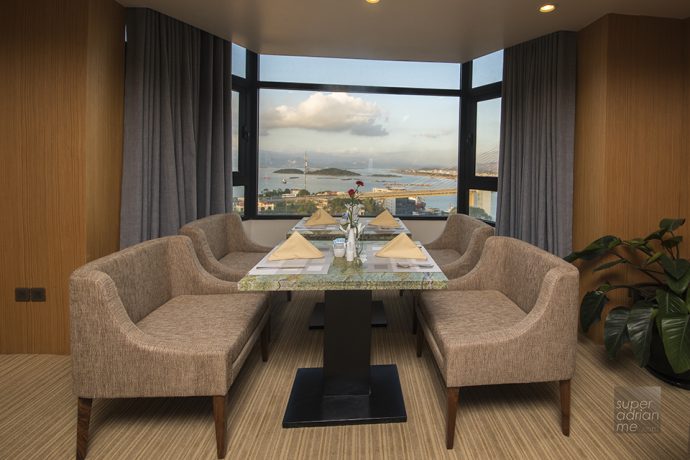 The Club Lounge offers a private space for club and suite guests. Whilst only a limited number of seats are by the window, the space is cosy. Enjoy pastries and tea or coffee at afternoon tea daily.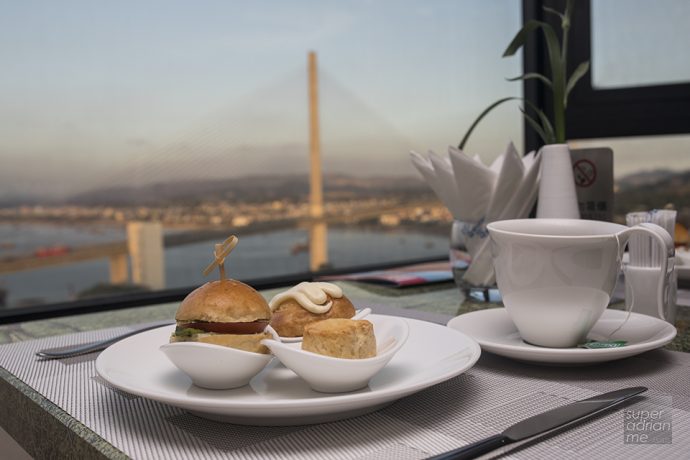 Sakura will be offering Japanese dining offering seafood in a sushi bar and a traditional setting. This restaurant will be opening soon.
The Views From Wyndham Legend Halong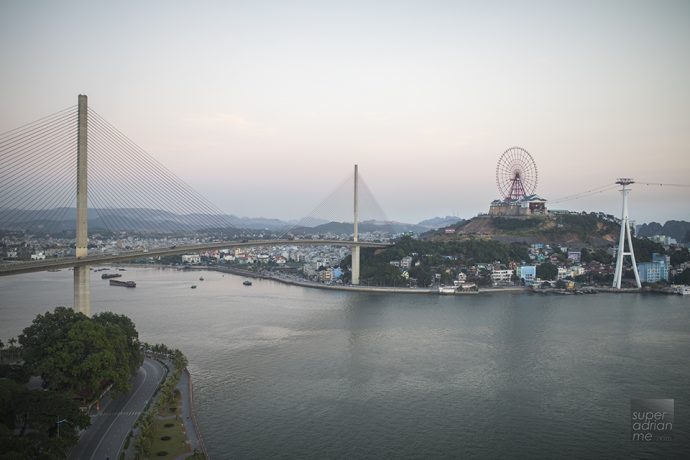 Bai Chay coast is bustling with boats, big ships and tankers during the day while people commute across the cable-stayed Bai Chay Bridge between Hồng Gai with Bãi Cháy.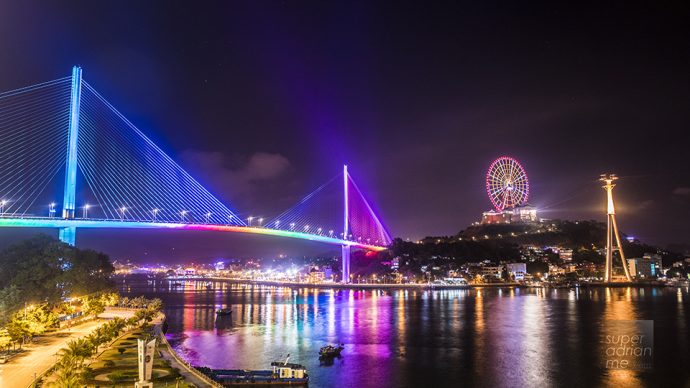 The impressive Sun Wheel is located atop Ba Deo mountain at almost 250m above sea level. There are 64 cabins which can carry 384 passengers or 1,200 passengers each hour. It was constructed by Japanese company Sanoyas Hishino Meisho and features tens of thousands of LED lights. It is definitely a sight to behold.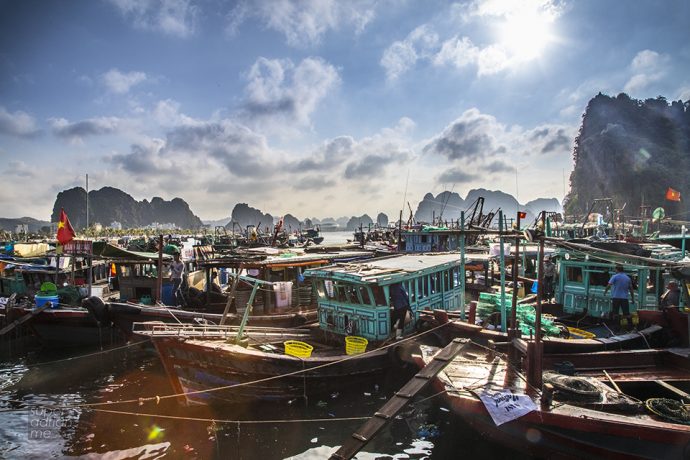 Along the road are many food and drink outlets including Hong Hanh which offers authentic Vietnamese cuisine. Walk down further and you get to the night market after walking past the Sun World Theme Park as well as the Cable Car and Sun Wheel station. Directly opposite the hotel is where you can get access to the Halong Princess Cruise for island hopping excursions or the larger cruise ships such as the Silversea Silver Shadow and Genting Dream cruiseliners that docked when I was there.
The three-night stay was sponsored by Wyndham Legend Halong.