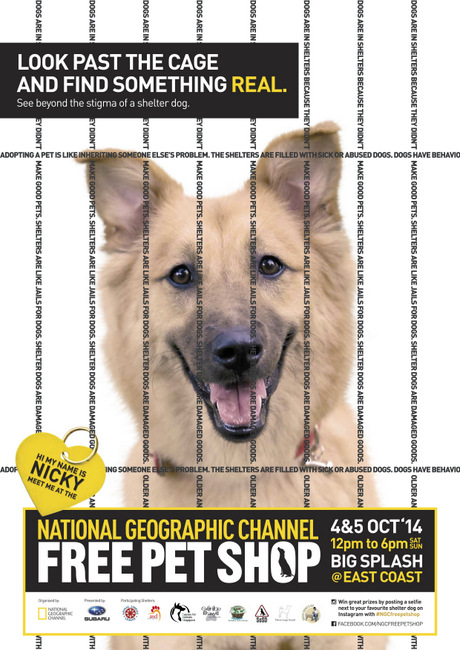 The National Geographic Channel Free Pet Shop dog-adoption drive is back for the third year with more dogs. Held at Big Splash at East Coast Park on 4 and 5 October 12 to 6pm, you can expect more activities, partners and no-kill shelters involved.
More than 100 dogs will be up for adoption with fringe activities and workshops. This year the National Geographic Channel continues to champion dog adoption together with eight shelters including three new ones – Causes for Animals Singapore, Three Legs Good and Uncle Khoe's.
Subaru, presenting sponsor of NGC Free Pet Shop 2014 promises a spectacle of Singapore's Largest Doggy Dish where doggies can beat the heat and take a dip. For the first time since the debut of NGC Free Pet Shop, Agri-Food & Veterinary Authority of Singapore (AVA) will be expanding its public education efforts by spreading the message of 'A Pet Is For Life' on ground. Get valuable lessons and tips on Responsible Pet Ownership.
Get your instagram photos printed at the Subaru Photo Printing Station and bring back fabulous memories this weekend.
Visit facebook.com/NGCFreePetShop for more information.