This year, Aesop launches Maps of Light Gift Kits, six gift kits, as part of its annual tradition. These six Maps of Light Gift kits are themed around greek mythology and six of eighty-eight 'modern' constellations recognised in 1922 by the International Astronomical Union – Auriga, Cepheus, Perseus, Andromeda, Delphinus and Cassiopeia.
The kits' theme is symbolic of our connections with one another – alluding not only to our sharing of the night, depending on the hemisphere we live in, but also the human 'constellations' we form through our relationships.
The range varies from a set of Geranium Leaf Body Care formulations, a sumptuous Hand and Body Care quartet, and a trio of full-sized products from the anti-oxidant Parsley Seed Skin Care range. Priced between S$90 and S$235, the gift kits are presented in practical, reusable tin boxes and are a perfect Christmas gifting option this year for the discerning individual. They are available on the Aesop website and in store.
Auriga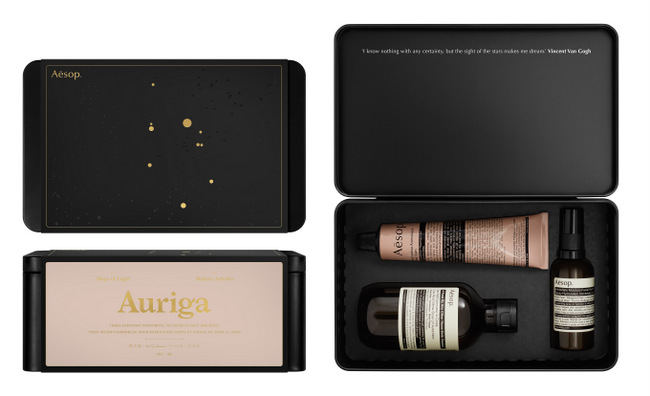 Three everyday favourites to refresh face and body are priced at S$90. Contents include:
200ml A Rose By Any Other Name body cleanser
75ml Resurrection Aromatique hand balm
60ml Immediate Moisture Facial Hydrosol
Cepheus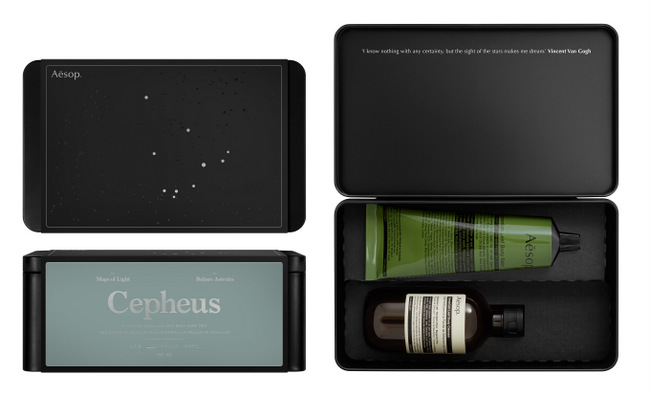 This kit contains the Geranium Leaf Body Care trio and is priced at S$115. This kit contains:
200ml Geranium Leaf body cleanser
120ml Geranium Leaf body balm
170ml Geranium Leaf body scrub
Perseus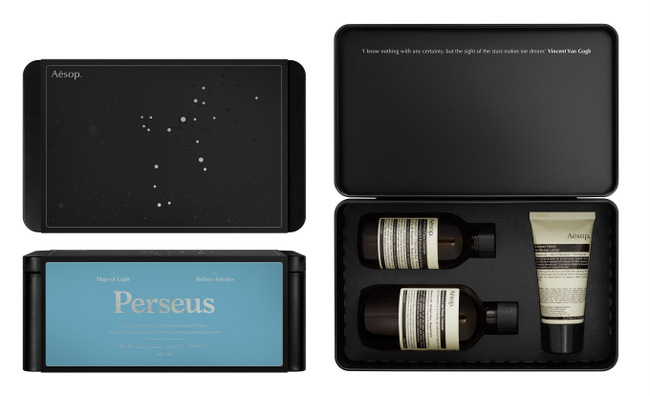 This suit is perfect for the Well-Kempt men. Priced at S$121. This set contains:
100ml Fabulous face cleanser
60ml Moroccan Neroli Post-Shave Lotion
200ml Geranium Leaf body cleanser
Andromeda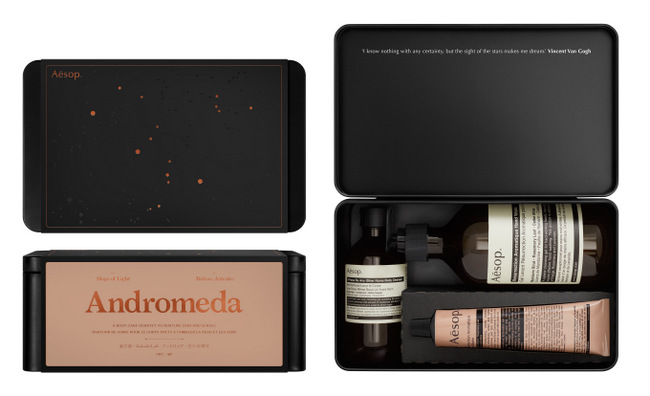 This aromatic body care quartet to nurture skin and senses is priced at S$155. This set contains:
500ml Resurrection Aromatique hand wash
75ml Resurrection Aromatique hand balm
200ml A Rose By Any Other Name body cleanser
120ml Rind Concentrate body balm
Delphinus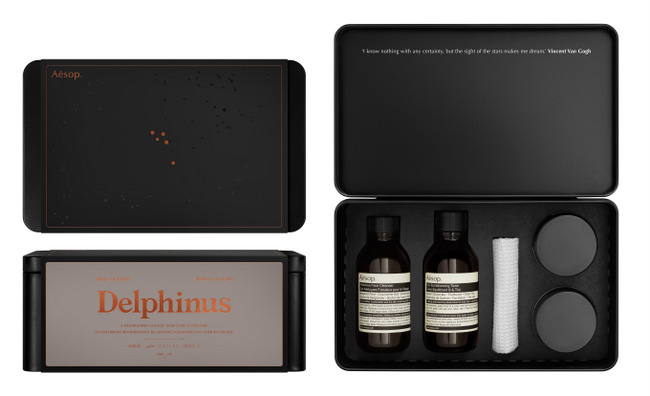 This nourishing classic skin care foursome is priced at S$180. This set contains:
100ml Fabulous face cleanser
100ml B & Tea balancing toner
60ml Camellia Nut facial hydrating cream
60ml Primrose Facial Cleansing Masque
Face Cloth
Cassiopeia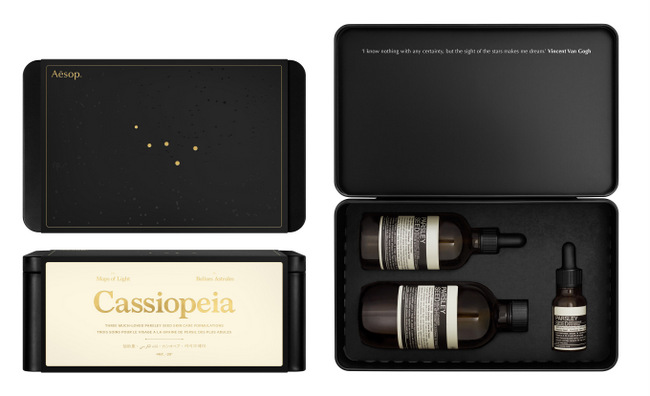 Three much loved Parsley Seed skin care formulations is priced at S$235. The Cassiopeia gift set contains:
200ml Parsley Seed facial cleanser
100ml Parsley Seed anti-oxidant serum
15ml Parsley Seed anti-oxidant eye serum