Jem launches a first-of-its-kind rewards programme –
JemX rewards
, to provide an integrated mobile platform to earn and use rewards on-the-go. The JemX rewards is launched with the Jem mobile app which was developed to provide a seamless shopping experience at Jem. Jem points are awarded based on a customer's nett spend, in addition to discounts, rewards and other offers by retailers and credit card companies.
JemX Rewards Highlights
The Jem mobile app offers convenience on the go. What makes the app stand out is its integrative system which offers instant updates (at participating Jem retailers). The JemX Rewards run on iPhone and Android phones. Jem shoppers can download the app for free on the Apple app store or Google Play. When Jem shoppers shop at participating retailers, they can immediately earn and use rewards points at the point of transaction.  Every dollar spent translates into 1 Jem point earned, which can be convert into (e)vouchers.
Another highlight of the app is its in-mall navigation feature which allows users to navigate their way around the mall seamlessly. The navigation feature best routes and access points which works like a concierge at your fingertips! The Jem app also features a car locator service, e-concierge and what's new page for the latest updates on promotions and events. To allow shoppers to fully enjoy the experience, the mall has implemented free WIFI service throughout the mall.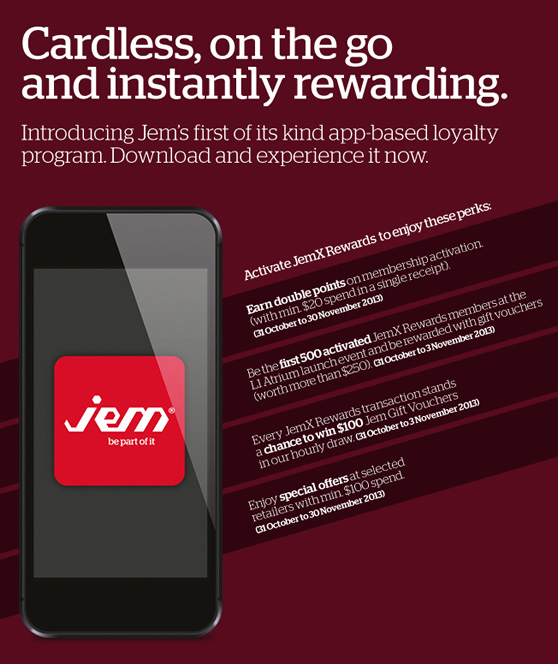 Registration
Download the Jem app for free on the Apple store or Google play. Launch and sign into the Jem app. Select JemX Rewards and register with your particulars. Activate your JemX Rewards account at the Concierge Desk (at Level 1 or 3) with your original receipt indicating a minimum $20 spend from any retailer at Jem.
Earning Points
At participating retailers, shoppers making payment will have to enter the purchase amount, payment mode and issuing bank if credit card is chosen as the payment mode. If paper voucher is used, input the value of vouchers as well. Once details have been keyed in, shoppers will have to present transaction details to the cashier for verification.
The cashier will generate a QR code to scan in order to approve the transaction. Once the transaction is completed, the cashier will stamp the receipt to indicate that the JemX rewards points have been issued. Shoppers can go to 'Transactions' page to check recent JemX Rewards activities.
Shoppers who want to redeem rewards from non-participating retailers can bring their receipts to the mall's concierge for processing. As of date, at least half of Jem's retailers have participated in the above programme.
Convert JemX points into rewards?
Launch Jem app and go to JemX Rewards. Go to 'Catelogue'. Tap on 'Redeem' for the desired rewards. Go to 'Wallet' to view rewards redeemed. Select 'use' and present to cashier at the point of transaction to redeem rewards. Go to 'transactions' to view rewards history.
Christmas Special
Spend a minimum of S$50 and stand a chance to win a Mazda 2 Hatchback worth S$50,000 and be one of the lucky six to win $500 worth of Jem Gift Vouchers each week; spend S$80 to redeem a limited edition Christmas mug or Famous Amos Cookies (50gm) voucher. Plus, redeem complimentary Jem Gift Wrapper if you are the first 500 shoppers to spend S$50!
To bring in the festive cheer, live musical performances comprising a capella groups, kid's orchestra, saxophonist recitals and string quartet ensembles will be held at Jem on 7, 8, 14, 15, 20-25 Dec 2013.