Christmas is a season of warmth and sweetness. Where family and friends get together while Christians celebrate the birth of Jesus Christ. Whatever the reason you enjoy the year-end festivities, it is usually a sweet time of the year. You have probably also seen the Christmas light-up on Orchard Road.
Cakes for Christmas
Four Seasons Hotel Singapore Snow Man Cake
Four Seasons Hotel Singapore introduces a Snowman Pinata Christmas Cake this year. This Christmas Cake sports a bright red scarf with a matching Christmas Hat. Have a smashing time around the table with Blueberry Compote and Lemon Curd sandwiched between layers of classic Vanilla Sponge and Chantilly Cream.
Availability: S$148 for 1.3kg. Available until 25 December 2022.
How to Order: Call +65 6831 7253, email [email protected] or visit https://bit.ly/FSGourmet2Go
Da Paolo Gastronomia
Da Paolo Gastronomia presents a cornucopia of gourmet festive delights available for takeaway and delivery. The Dark Chocolate Pistachio Wreath (S$24.90) is a mix coated with bittersweet dark chocolate and Sicilian pistachios, topped with cranberries, hazelnuts, and more pistachios. Or get the new Italian and Christmas-inspired cookies at S$38 per tin. There are three great and rich log cakes to choose from – the Salted Caramel Macadamia Log Cake (S$78 for 1kg), a Pistachio Raspberry Log Cake (S$95 for 900g), and the Flourless Chocolate Log Cake (S$68 for 800g). My favourite of the three was the Flourless Chocolate Log Cake which is made with Valrhona chocolate and covered in a dark chocolate ganache. Excite the young ones with soft and lightly spiced Gingerbread Cookies (S$6.90).
Availability: Available until 31 December 2022 for self pick-up from any Da Paolo Gastronomia Outlets at Cluny Court, Raffles City, VivoCity, Raffles Holland V, The Shoppes at Marina Bay Sands, Paragon and Six Battery Road and delivery until 4 January 2023. Make orders three days in advance before 12pm.
How to Order: Visit the online gourmet grocery shop at https://gastronomia-foodtoorder.dapaolo.com.sg
Enchanted Wonders of Christmas at Shangri-La Singapore
Explore the Enchanted Wonders of Christmas at the Shangri-La Singapore with a variety of Christmas cakes, Christmas classics, chocolate and cookies or gifts for the little ones. Festive Treats include the All-time favourite Grandma Chocolate Log Cake (S$75), White Forest Log Cake (S$85), Triple Nutty Crunch Log Cake (S$85), Santa's Belt Cake (S$98), Rudolph Cake (S$128) or Mini Santa Hat. Cakes are 1kg each.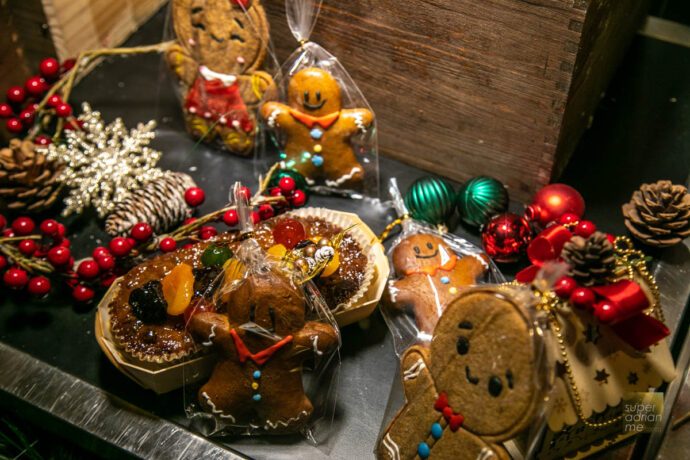 Availability: Available until 26 December 2022 for self pick-up at the Festive Counter at the hotel's lobby. Allow 3 working days for processing of orders.
How to Order: Click here to order chocolate and cookies. Click here to order Log Cakes .
KOMA Christmas Log
This KOMA Yuzu Berries Log Cake (S$78++) makes a great gift to loved ones this festive period. This creamy delight is a visual treat as well. This log cake is made with white chocolate yuzu mousse, berries jam and crunchy praline.
Otherwise, enjoy a 5-course Christmas lunch and dinner at KOMA Singapore from 24 to 26 December 2022 at S$398++ for two and enjoy the Yuzu Berries Log Cake for dessert.
Availability: Available until 28 December 2022 for both dine-in and take-away at KOMA Singapore.
How to Order: Call KOMA's hotline at +65 6688 8690 or place your order direct at the restaurant.
El Dorado 5 Years Old Rum Christmas Fruit Cake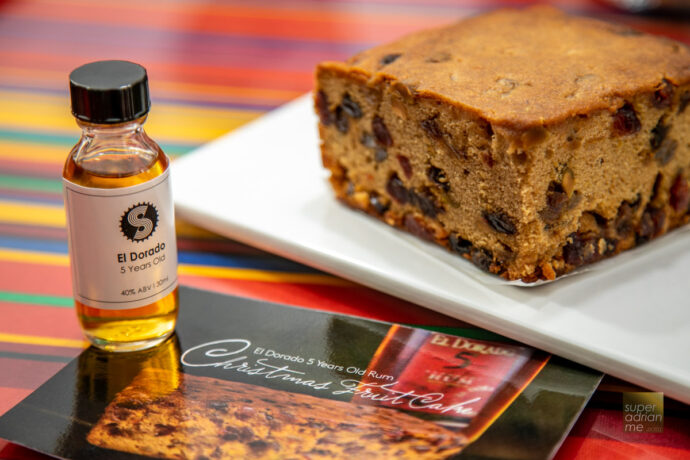 SPUN Spirits has partnered home baker Basuki's Bakery to launch the El Dorado 5 Years Old Rum Christmas Fruit Cake. The margarine-free cake is made with premium Dutch butter, dried fruits and spices without added preservatives. El Dorado 5 Years Old Rum is infused for at least two weeks to help moisten and extend the shelf-life of the cake. The rum offers vanilla and fruit notes as well as enhances the butterscotch creaminess.
The collaboration will see 10% of sales of these fruit cakes donated to Ray of Hope, a crowdfunding charity registered in Singapore where 100% of the proceeds go to verified needy individuals.
The 8.8 inch fruit cakes weigh approximately 1.7 kg and cost S$110 each or the 0.8kg 8×4 inch fruit cakes costs S$60. Order the 8×8 inch fruit cake and El Dorado 5 YO Bottle bundle at S$180. All prices nett.
How to Order: Click here to order.
Conrad Centennial Singapore's Matcha Yuzu and Red Bean Yule Log
This year Conrad Centennial Singapore features a series of log cakes such as the Bitter Sweet Chocolate Yule Log, a genoise cake with the signature Royal Chocolate Ganache, Cassie Yule Log, Matcha Yuzu and Red Bean Yule Log.
Availability: Available until 31 December 2022.
How to Order: Visit  www.connoisseur.sg/festive-gifting/, contact the Festive team at +65 6432 7486 / 7489 or email [email protected]
Luna Christmas Tree Cake
LUNA's Triple Chocolate Christmas Tree Cake ($82) is adorably shaped like a three tiered Christmas tree. The cake has 3 distinct layers, each composed using a different type of chocolate – dark chocolate mousse, sweet caramel milk chocolate mousse and yogurt and cream cheese white chocolate.
Don't miss out on LUNA's Sweet Celebrations Christmas Set ($39), a box of four exquisite pastries specially designed for the festive season! The set features the Apricot Pear Bauble, Orange Cherry Pistachio, Hazelnut Paris-Brest and Coffee Chestnut Tart.
Availability: Available for collection and delivery until 31 December 2022.
How to Order: Place your orders online via https://luna.sg/. Delivery and self-pick-up at LUNA @ Amoy Street are available.
Chin Mei Chin
Chin Mei Chin Bakery offers a comforting Kaya Log Cake (S$26), giving it a festive take of their signature Kaya Swiss Roll. It is coated with more pandan buttercream, shredded coconut and ornaments for a festive touch. Order the Christmas Fruit Cake Slice (6 for S$24). It is jam-packed with a mix of raisins, cranberries, candied peel and nuts and baked with a hint of brandy and Christmas spices. The 7-inch Whole Christmas Fruit Cake is also available at S$44.
How to Order: Order from https://chinmeechinbakery.cococart.co
Breadtalk
BreadTalk spreads the cheer and add to the festivities with its 'Rockin' into Christmas range of yuletide log cakes, DIY Gingerbread Cookies, adorable buns and donuts. A variety of cakes are available this Christmas. There is the Choco Hazelnut Hut at S$55.80 per cake or S$7.20 per slice; or the Cookies & Cream Log at S$55.80 per cake or S$7.20 per slice; the Mango Passion Log at S$52.80 per cake or S$6.90 per slice; and the Christmas Dark Forest Gateau at S$48.80 per cake.
The Ginger Yuletide is available exclusively on BreadTalk's E-store at S$72.80 per cake. The cake is made with homemade ginger orange marmalade, ginger orange chocolate mousse, caramel sauce, chocolate chiffon, and a crisp royaltine base.
The Mr Frosty fluffy snowman-shaped white chocolate-coated bun is stuffed with a rich and silky-smooth cream cheese custard tempered with a fruity tang of a lip-smacking wild blueberry filling and finished with a cute strawberry sour tape candy scarf to keep him cool during the winter season. Retails at S$2.80.
Have some fun with three DIY sets – Christmas Tree, Rocking Horse or Gingerbread Cookies retailing at S$10 each.
Availability: Available until 25 December 2022.
How to Order: Visit BreadTalk outlets islandwide or online at www.breadtalk.com.sg/shop
A PrimaDéli Christmas
PrimaDéli, Singapore's first Halal bakery franchise, offers "A Starry Christmas" collection with rich truffle chocolate yule log cakes to hazelnut cream-filled sponge cake. The Santa's Magical Fireplace (S$98 for 1kg) cake is made with vanilla sponge, layered with vanilla fresh cream and crushed cookies filling. A twist to the classic milk and cookies combo. The Santa's Cottage (S$58 for 1kg) is a must-have centrepiece at every dining table. Smooth, velvety hazelnut cream filling is delicately sandwiched between layers of moist chocolate sponge.
And if you prefer the traditional log cakes, PrimaDéli offers the Truffle Yule Log and Blackforest Yule Log. Available in two sizes. S$46.30 for 500g and S$57.80 for 1kg.
PrimaDéli's Santa Cookies are priced at S$2.90 each. Great for the young ones.
Availability: Available until 25 December 2022.
How to Order: Visit PrimaDéli outlets islandwide
Chocolates for Christmas
Godiva Chocolate Gift Sets
GODIVA's 2022 Holiday Collection features a new product line-up and new packaging. Perfect for spreading joy are the limited-edition Holiday Chocolate Gift Box, exquisite Holiday Chocolate Luxury Box, adorable Holiday Chocolate Bear Gift Box and Holiday Star Tin G Cubes for the young-at-heart, as well as pretty Holiday Novelty with G Cube Truffle and Holiday Stocking Tin Keepsake Carré for the 2-in-1 gift that doubles up as a Christmas tree ornament!
Elegant options are the Delight Chocolate Hat box ($185), Deluxe Hamper ($259), Allure Chocolate Hamper ($369), Blissful Chocolate Hamper ($549) and Glamour Chocolate Hamper ($989).
Availability: Available until 25 December 2022.
How to Order: Visit GODIVA outlets at Bugis Junction, Raffles City, Suntec City and Takashimaya Shopping Centre and online at https://godiva.com.sg. Enjoy 15% off when purchasing in stores, while stocks last.
Kakkow x Compendium Pralines

Kakkow Artisanal Chocolate Bonbons by Masterchef Singapore Winner, Derek Cheong and Compedium Spirits showcase a limited edition box of alcohol-infused Bonbons to cheer on the season of gifting.
Available for a limited time and in limited quantities, the Kakkow x Compendium Spirits Box will feature 4 new Bonbon flavours that are infused with spirits from Compendium Spirit's collection including Green Curry, Mont Blanc, Jerusalem Artichoke and Tokyo Banana (S$40 for a box of 12 bon bons). An option with pairing that comes with a set of 100ml bottled spirits (Ondeh Ondeh Soju, Kopi-O Liqueur, Rachelle's Fireball Mead and Dark Rum) is also available (S$80).
How to Order: Order from kakkow.com.sg
A Janice Wong Type of Christmas
Janice Wong's Limited Edition Christmas Collection Bon Bon Box sets make the perfect gift this festive season. Exclusive Christmas flavours this year include Pine Nut, Peppermint, Gingerbread Caramel & Bergamot. Available in four different box sizes of 5 (S$26+), 9 (S$39+), 16 (S$65+) and 25 (S$98+). Not forgetting the Singapore Signature Series, or Classic Flavours, there's something for everyone.
The Expression Series Pure Imagination Bean to Bar Chocolate are available in flavours of 49% Laksa Leaf Lemongrass Milk Chocolate, 52% Coconut Curry Milk Chocolate, 70% Chai Dark Chocolate, 70% Smoked Dark Chocolate and 59% Gingerflower Dark Milk Chocolate. Each bar it sold for S$14. The Christmas specials are 70% Gingerbread Spice and 68% Peppermint.
Check out the brochure for other delights.

How to Order: Get them at Janice Wong Paragon, Pure Imagination Great World and Janice Wong at I12 Katong.