TikTok launches the Digital Literacy Edition of TikTok Wellness Hub, as part of its ongoing commitment to empower users to leverage the available in-app safety features to protect themselves and others online. Centring around mental wellness and cyber wellness, the one-stop portal allows users to access helplines to various non-profit organisations. The TikTok community also shares personal live experiences and recovery journeys. It equips minors online by providing guidelines on how users can take informed and preventative responses to guard themselves against potentially dangerous online challenges.
Over time, the hub will continue to be an evergreen repository of information. It will continue to be updated with new educational information to tackle new digital issues as they evolve.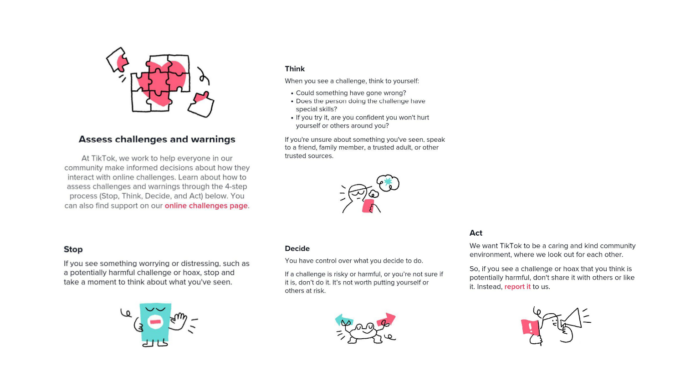 TikTok has strengthened its policies against dangerous acts and challenges to help prevent such content from spreading online. TikTok has collaborated with online safety experts and developed four steps to encourage users to #thinkb4youdo when they access content online. Stop, think, decide and act. Users will automatically be directed to these steps if they search for keywords related to potentially dangerous trends.
Look out for new engaging content. 'Watch Out' prompts users to think about the consequences of creating content that could bring harm, be exploited by others, or perpetuate unhealthy habits through scenario-based learning features. This section will also teach users how to best respond to such content, as well as how to report them to TikTok to keep the community safe. Minor safety quizzes will allow users to test their knowledge of TikTok's Community Guidelines and keep the platform a positive space for all.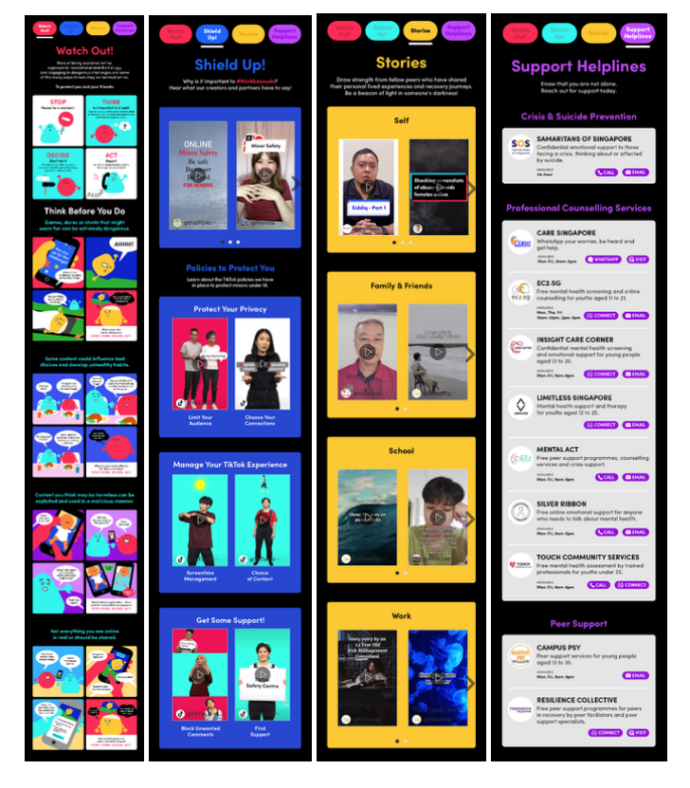 Learn digital safety tips and better understand TikTok's Community Guidelines from a series of education videos created with local TikTok creators in the 'Shield Up' section. These creators include We Kay Poh , Zoe Chu, and Jeanette Qhek.
"Creating safe spaces online has always been a big part of our continuous efforts to protect our community's wellbeing. This means providing our users with the freedom to express their creativity and authentic selves, whilst ensuring that they are well-equipped with the right tools and resources to navigate these evolving digital plains safely. TikTok will continue to work closely with the government and non-profit organisations to raise awareness of digital safety. This includes doubling down on our educational efforts through initiatives like the Digital Literacy Edition of the Hub to make resources more accessible, engaging, and useful for young people."

Ms. Teresa Tan, Head of Public Policy at TikTok Southeast Asia and Singapore