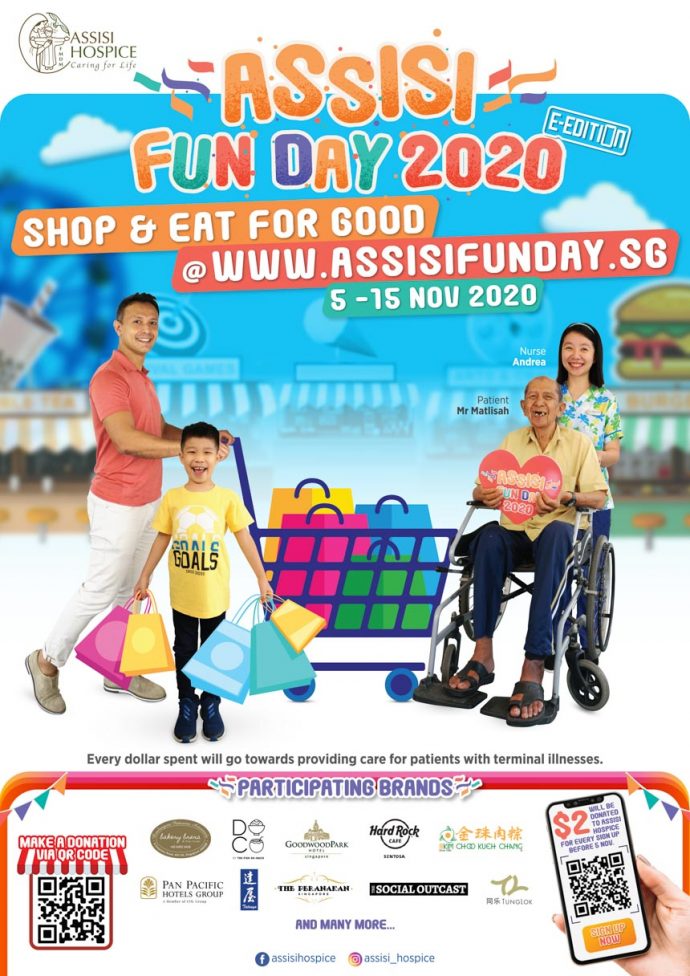 Assisi Hospice has launched the e-edition of its annual fundraising event – Assisi Fun Day so you can continue to shop and eat for good. The event spans 11 days across 2 weekends from 5 to 15 November 2020.
Purchase food from renowned F&B brands at www.assisifunday.sg and all proceeds from e-stall sales will go towards providing care and comfort for patients with terminal illnesses and their families.
You can also make a direct donation at https://friends.assisihospice.org.sg/AssisiDMS/Giving/AFD.htm
Highlights of Shop & Eat for Good
Original Legendary Burger from Hard Rock Cafe Sentosa
Heat & Serve BBQ Pork Bun and other dim sum by Tung Lok
Artisan ice cream from Annette Tuk Tuk Singapore
Donburi bowls from DOCO by The Fish Sh-nack
Chinese delicacies from Si Chuan Dou Hua Restaurant
Soon Kueh from One Kueh at Time
Pau from Teochew Handmade Pau
Edible Forest Grow Kit from Root Farm
Artisan breads and pastries from Bakery Brera
Also catch shows for good such as the competitive eater Zermatt Neo takes on Otah Bun Challenge, Quick tuna and otah puffs and egg tarts by Assisi Hospice Chairman Anita Fam, eye make-up as well as how to cook authentic Burmese food by Assisi nurses.
Assisi Hospice provides palliative care for patients of any race, faith and financial position as well as families that preserve their dignity and quality of life. The team of specialist doctors, nurses and allied health and pastoral care professionals care for these patients with life-limiting illnesses across the continuum of Home Care, Inpatient and Day Care. The six-storey purpose-built hospice features 85 Inpatient beds, including specialised wards for Dementia Palliative Care and Paediatric Palliative Care and a Day Care Centre. The hospice is located next to Mount Alvernia Hospital at 832 Thomson Road, and was founded in 1969 by the Sisters of the Franciscan Missionaries of the Divine Motherhood (FMDM).