Dandelion at Gardens by the Bay's Supertree Grove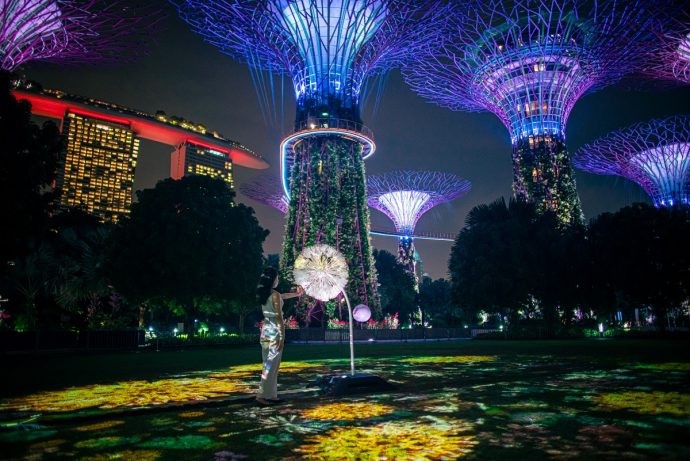 Happening from today 9 to 15 November 2020, the Gardens by the Bay's Supertree Grove plays host to Dandelion, a 2m tall interactive installation that allows people in Singapore and Japan to interact with each other via dandelion fluffs.
"Blow" at the dandelion of the installation, dandelion fluffs will travel virtually to Dandelion installations at Tokyo Tower and Shibuya's Miyashita Park in Japan and bloom into peonies there. Likewise, if someone in Japan 'blows' at the Dandelion installation there, dandelion fluffs from Japan will bloom into Sakuras in Singapore. You need to scan a QR Code and point your smartphone at the dandelion structure to 'blow' at it.
Dandelion is a collaboration between Gardens by the Bay and Tokyo-based creative company NAKED, as part of the latter's Breath / Bless Project that was conceptualised by NAKED Founder, the artist Ryotaru Muramatsu. It is an expression of peace in difficult times and a collective monument of mankind's solidarity and unity with one another.
Admission to the installation is free and a maximum of five people is allowed to approach the installation at any one time. The installation is open from 7pm to 10pm.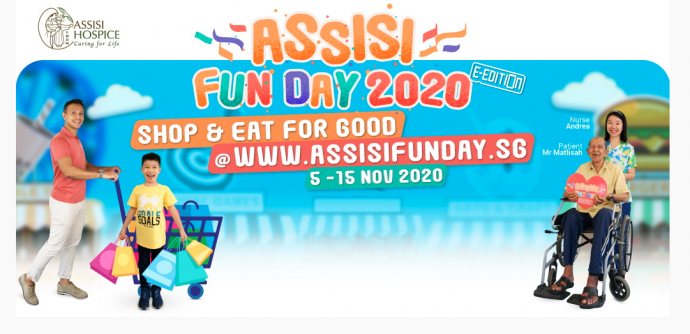 Assisi Hospice has launched the e-edition of its annual fundraising event – Assisi Fun Day so you can continue to shop and eat for good. The event spans 11 days across 2 weekends from 5 to 15 November 2020.
Purchase food from renowned F&B brands at www.assisifunday.sg and all proceeds from e-stall sales will go towards providing care and comfort for patients with terminal illnesses and their families.
You can also make a direct donation at https://friends.assisihospice.org.sg/AssisiDMS/Giving/AFD.htm
Highlights of Shop & Eat for Good
Original Legendary Burger from Hard Rock Cafe Sentosa
Heat & Serve BBQ Pork Bun and other dim sums by Tung Lok
Artisan ice cream from Annette Tuk Tuk Singapore
Donburi bowls from DOCO by The Fish Sh-nack
Chinese delicacies from Si Chuan Dou Hua Restaurant
Soon Kueh from One Kueh at Time
Pau from Teochew Handmade Pau
Edible Forest Grow Kit from Root Farm
Artisan breads and pastries from Bakery Brera
Virtual Deepavali Istana Open House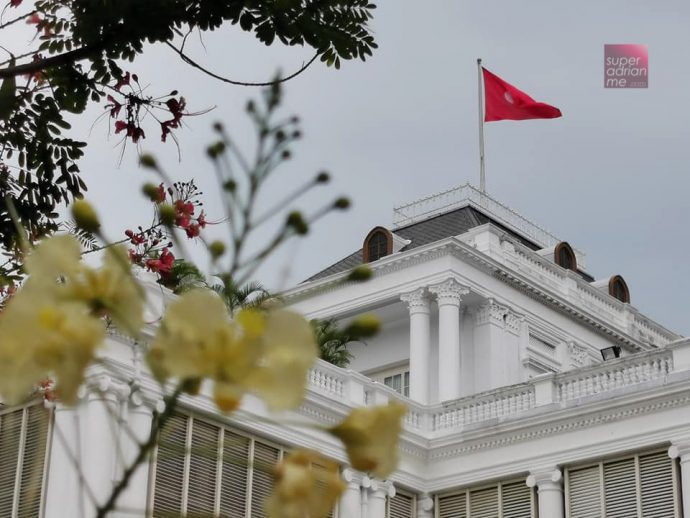 President Halimah Yacob will be hosting the Virtual Deepavali Istana Open House at 4 pm on 14 November 2020 on Facebook Live. There will be a virtual 'live' guided tour of the Istana Main Building led by an Istana Volunteer Guide. You will also get to visit the State Room, Reception Room and Banquet Hall, where state functions are held. Mock-ups of these State events will be presented as part of the tour.
Students from Admiralty Primary School will be performing a festive dance while a local performing group Team Fusion will be singing. There will be virtual presentations of animals by Wildlife Reserves Singapore. Take part in an online quiz at the end of the tour about the Istana via Kahoot.
Wan Qing CultureFest 2020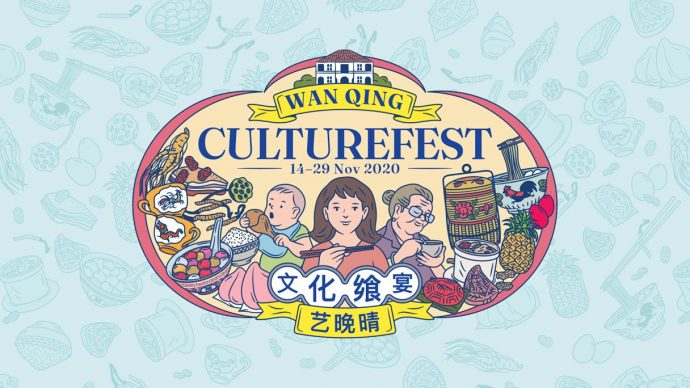 This year, Wan Qing CultureFest 2020 will be a digital edition happening from 14 to 29 November 2020.
This year's edition of the annual festival organised by the Sun Yat Sen Nanyang Memorial Hall celebrates the significance and symbolism of food in Chinese culture throughout the various stages of life. Discover the customary practices that take place during a newborn's first month celebrations, superstitions that support the pursuit of academic excellence or the rituals behind wedding betrothals.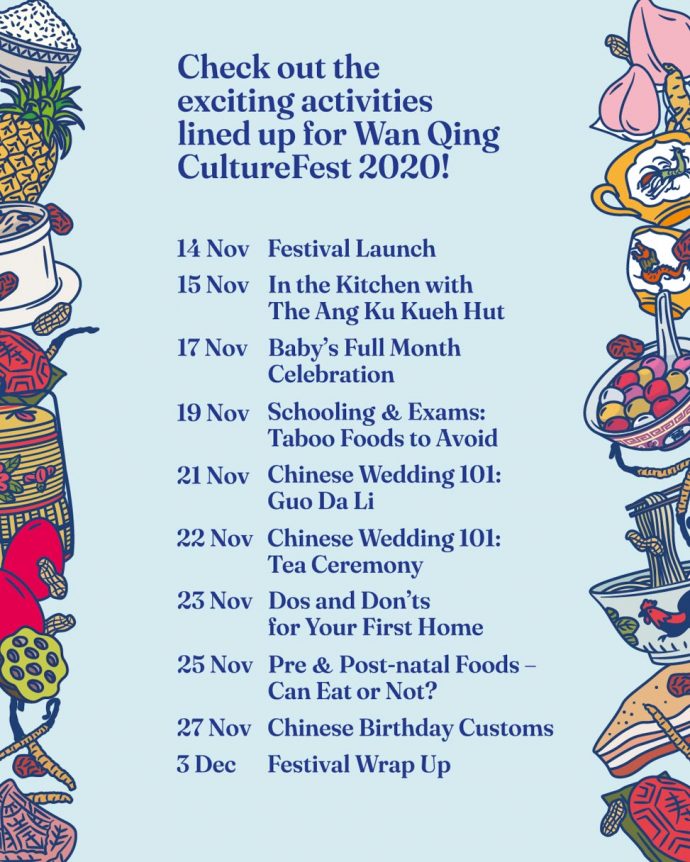 The festival will be narrated by three digital mascots as they traverse through the three key chapters in life – childhood, adulthood and the golden years.
Learn to make ang ku kueh or prepare Guo Da Li (betrothal gifts) and conduct a wedding tea ceremony or join in an interactive 'live' Q&A session with a traditional Chinese medicine physician and dietician on the dos and don'ts of pre and post-natal foods and other activities.
Japan Rail Cafe! – The Japan Rail Fair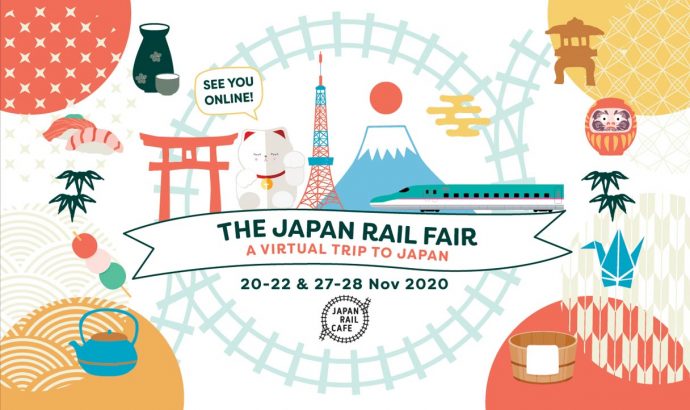 The Japan Rail Cafe! Takes you on a virtual trip to Japan with The Japan Rail Fair from 20 to 22 and 27 to 28 November 2020. The event takes place online via jrtimes.sg/tjrf2020 and its Facebook Page on five days over two weekends.
The Japan Rail Fair will bring all on a virtual trip to the popular destination, complete with experiential live programs that include food and alcohol delivery! All ticketed programs can also be attended for free without food and beverage add-ons.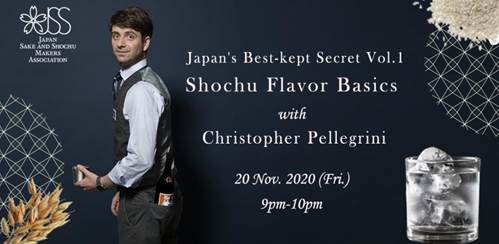 Japan's Best-Kept Secret Volume 1 – Shochu Flavour Basics is held from 9 pm-10 pm on 20 November and ticketed via Zoom, S$40 per person, includes delivery. This first-ever online shochu workshop organised by the Japan Sake & Shochu Makers Association (JSS) conducted by certified Shochu sommelier, Christopher Pellegrini, a leading expert on Shochu and awamori, is accompanied by sampling sets delivered in advance for Singapore-based attendees! Japan's Best-Kept Secret Volume 2 – Awamori and Shochu Flavour Basics will take place on 21 November, Saturday, 7 m to 8 pm at S$45 per person, including delivery.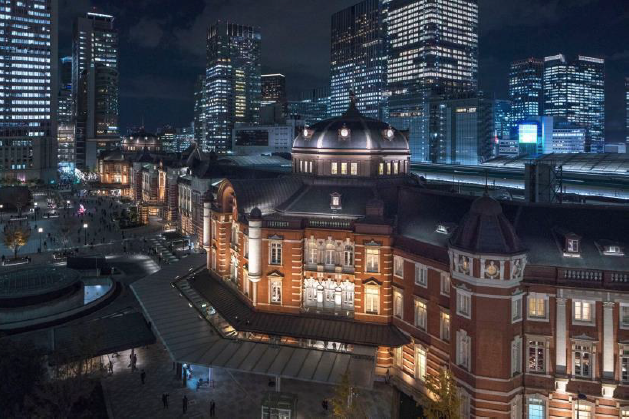 Go on a Tokyo Station: The "0 km" trip from 3 to 4 pm via Facebook Live on 21 November 2020. This virtual "0 km" trip will start from Tokyo Station, where all Shinkansen lines originate! One is invited to hop onboard and be fully immersed in Japan's unique "rail travel culture" at one of the most important stations in Japan: from omiyage-shopping in Gransta Tokyo, an ekiben introduction by JAPAN RAIL CAFE TOKYO, and a tour into the majestic Tokyo Station Hotel, a member of Small Luxury Hotels of the World. Special guest, Ghib Ojisan, will be introducing some yummy Tokyo Station souvenirs as well!
Japan Railway Group works with various prefectural governments as well as travel partners and is supported by Visit Japan Now – Japan National Tourism Organisation (JNTO) Singapore Office. Speak with travel experts from the Online Travel Booth and plan your next trip.
Updates are available on its microsite and Facebook Event Page, and tickets available via https://tjrf-2020.peatix.com/.
LASALLE College of the Arts' first Digital Music Festival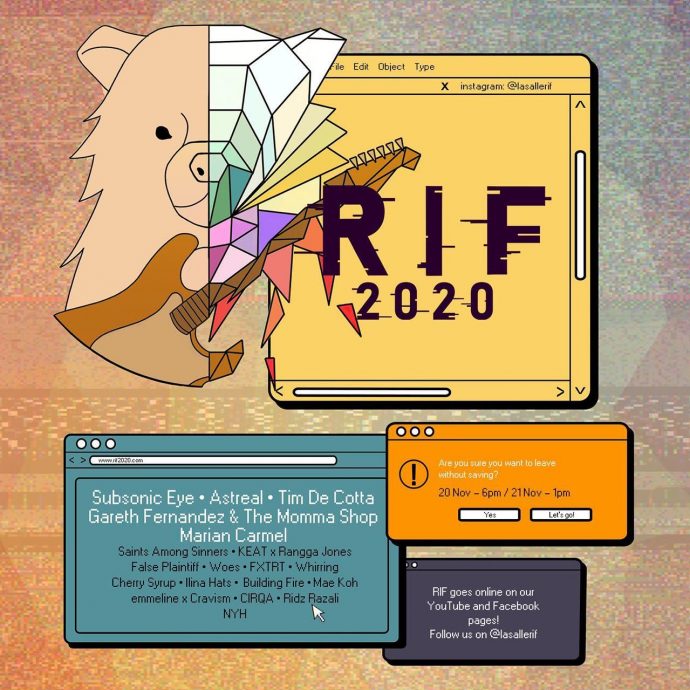 The Rock & Indie Festival returns with its fourth edition on 20-21 November 2020 at LASALLE College of the Arts with its first-ever digital format. The festival will broadcast 19 local acts over Facebook and YouTube.
Oddle Feast @ Dempsey Hill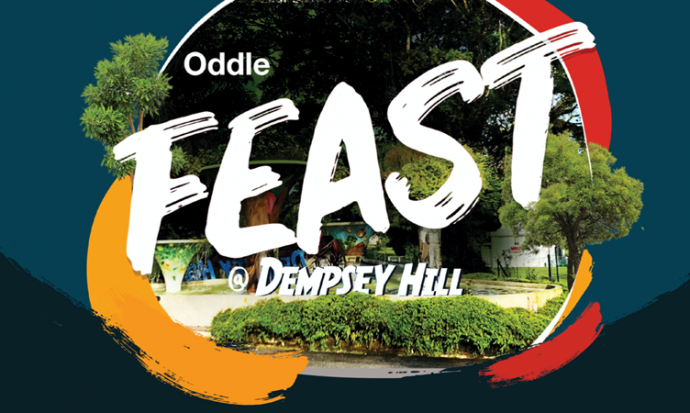 Oddle Eats debuts the Oddle Feast at The Dempsey Project on 20 November 2020 with three sessions from 4 pm to 6 pm for Happy Hour and 6 pm to 8 pm and 8 pm to 10 pm.
Oddle Feast is an initiative launched by Oddle Eats in collaboration with the newly launched restaurant The Dempsey Project at 9 Dempsey Road, to present food lovers with some of the island's most renowned restaurants all in one location. The first edition launches on 20 November with susbequent editions recurring one Friday every month featuring a different, specially curated line-up of highly-rated restaurants each time.
Each restaurant presents up to three menu items – a combination of signature dishes and new creations including the debut of an Oddle Feast exclusive, available only during the event and subsequently for online delivery via Oddle Eats.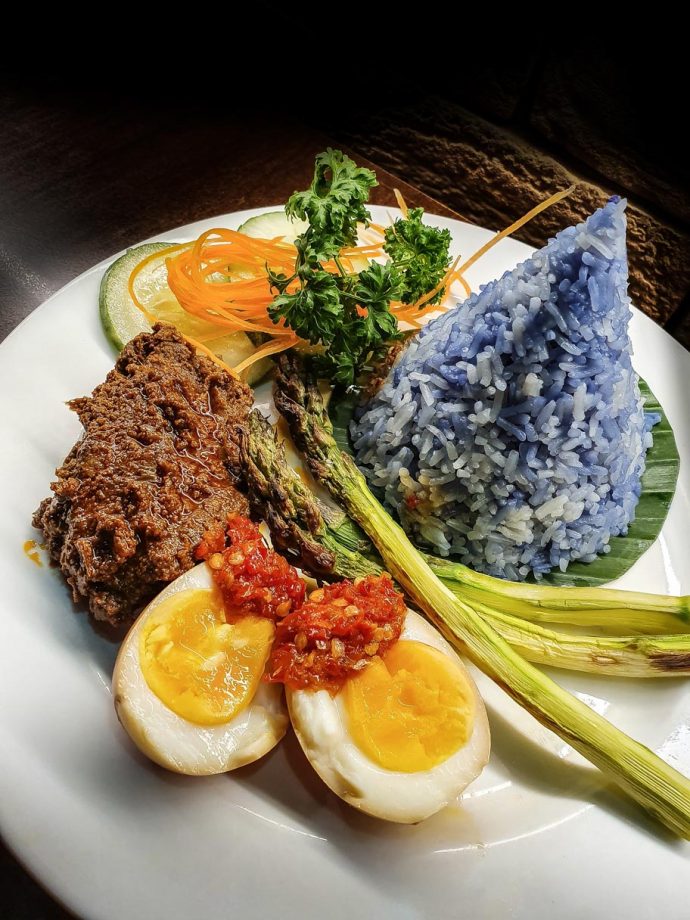 The first edition of Oddle Feast will include celebrated zichar restaurant Keng Eng Kee Seafood, Penang street food paradise Penang Culture, the go-to for classic authentic Indonesian cuisine Pagi Sore, renowned Singaporean stalwart White Restaurant, and Phat Fingers – the new restaurant from TiffinLabs, which presents a modern take on Korean fried chicken and burgers.
| | | |
| --- | --- | --- |
| Happy Hour Pricing | Single Ticket S$20 | Entry and S$20 worth of meal vouchers |
| | Combo Ticket S$30 | Entry and S$30 worth of meal vouchers and a drink |
| Regular Pricing | Single Ticket S$30 | Entry and S$30 worth of meal vouchers |
| | Combo Ticket S$40 | Entry, S$40 worth of meal vouchers and a drink |
Sharing plates are priced at S$20 and small plates are priced at S$10.
To make a reservation and find out more about participating restaurants and exclusive dishes, please visit https://feast.oddle.me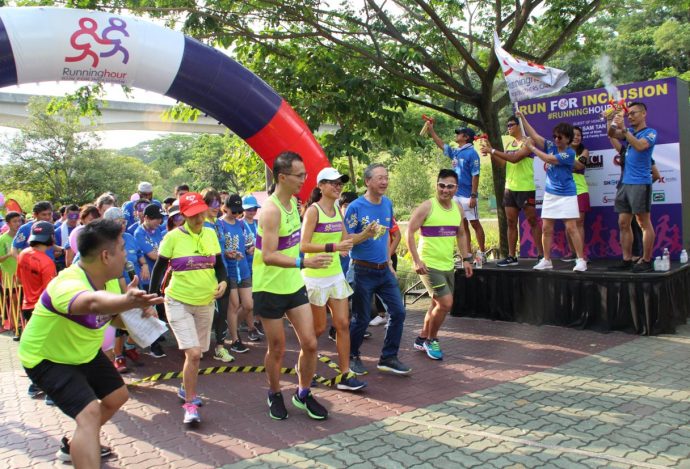 The annual Run For Inclusion 2020 returns on 28 November 2020 from from 7.00 pm to 8.00 pm for the sixth consecutive year. The national running event promotes the well-being and integration of Persons with Special Needs where participants run alongside runners with special needs including the hearing, intellectual, physically and visually-challenged.
The event venue will be shared on the official website Runninghour Co-Operative Limited by 16 November 2020.
Run for Inclusion 2020 categories include running & walking for 0 to 10km and cycling for 0 to 20km. Participants can choose to either take part in the run physically onsite or virtually online. Those participating in the Virtual Edition can complete their distance between 28 November and 11 December 2020.
The participation fee of S$35 for People With Special Needs is waived. Participants will be required to upload a proof of their attempted distance and race upon completion of their race to Just Run Lah's website.
To sign up for Run For Inclusion 2020, visit https://runninghour.com. Registration closes 28 November 2020.
The Great Guinness Grill Out Is Back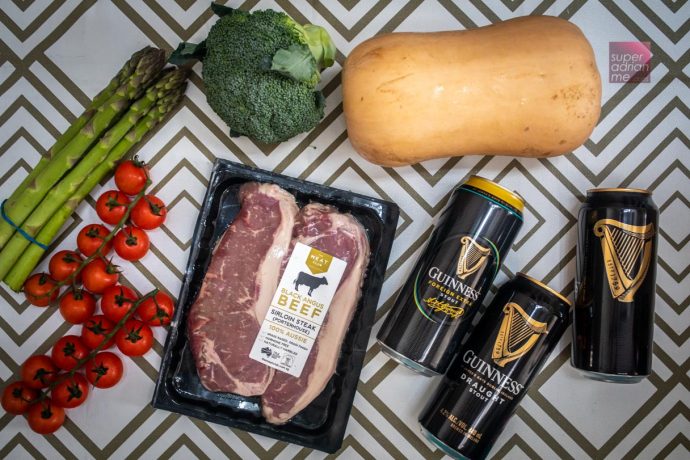 The annual Guinness Great Grill Out returns in November with a twist this year. Guinness has worked with partners and collaborators to bring The Great Grill Out closer to you by encouraging you to Grill In.
Join Chef Shen Tan of Ownselfmakechef for the ultimate cook-along from 14 November as she shares amazing Guinness-inspired recipes. We recently had Chef Shen Tan's Thank-Goodness It's Seafood series. Read about that here.
Learn the principles of food styling with 29 year-old professional photographer and food & props stylist CR Tan from 21 November. At 'Grill for the Gram', CR will demonstrate how to get your dish looking amazing for Instagram.
Pick the Right Cut from 28 November with Bobby from East Side Butchers. Learn the essential tips and trick on choosing different cuts that are great for grilling and learn the difference between breeds and grain vs grass-fed beef.
Check here for more details.
Singapore Cocktail Festival 2020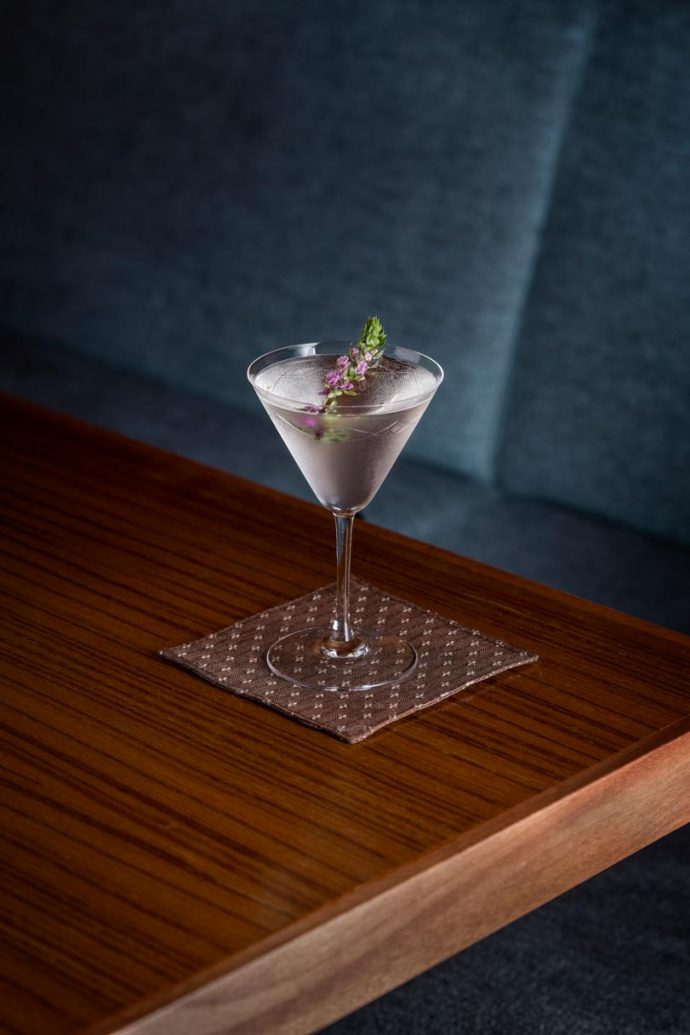 Singapore Cocktail Festival 2020 returns with a two-month line up spanning November and December 2020.
21 bars around the city are involved in the SGCF City Takeover for the month of November. Each bar shares a signature cocktail that is inspired by the neighbourhood including Orchard, Bugis, Beach Road, City Hall and Gillman Barracks. Participating bars include 28 HongKong Street, Ah Sam Cold Drink Stall, Anti:dote, Barbary Coast, Bar Stories, Employees Only, Fat Prince, Gibson, Hopscotch, Jekyll & Hyde, Live Twice, Native, No Sleep Club, Nutmeg & Clove, Manhattan, MO Bar, Origin Bar & Grill, Potato Head, Skai Bar, Tess Bar & Kitchen and The Old Man Singapore.
These craft cocktails are priced at S$18++ each. Register for the free Festival wristbands at www.singaporecocktailfestival.com otherwise the cocktail will be priced at S$25++ each.
If you prefer to drink at home, then check out SGCF on Wheels these two months. The same cocktails offered by participating bars of the SGCF Takeover will be available from the SGCF online store, with the exception of No Sleep Club and The Old Man Singapore. Each cocktail costs S$18 and comes with a can of Perrier and a S$10 delivery fee unless your order is S$100 or more. Three 300ml Hendrick's Gin Celebration Bottled Cocktails are also available for purchase at S$50 inclusive of delivery but a minimum of 30 bottles is required. To enjoy S$5 off their purchases with a minimum spend of $50, shoppers can register on the website www.singaporecocktailfestival.com, select from a list of bottled cocktails and enter a discount code when they check out on their shopping cart.