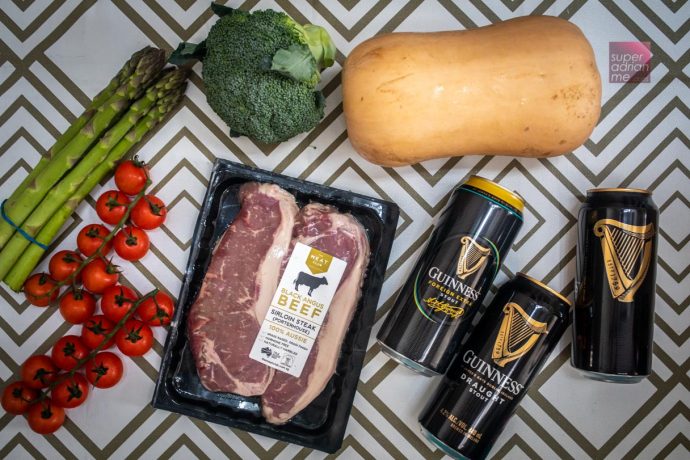 The annual Guinness Great Grill Out returns in November with a twist this year. Guinness has worked with partners and collaborators to bring The Great Grill Out closer to you by encouraging you to Grill In.
Join Chef Shen Tan of Ownselfmakechef for the ultimate cook-along from 14 November as she shares amazing Guinness-inspired recipes. We recently had Chef Shen Tan's Thank-Goodness It's Seafood series. Read about that here.
Learn the principles of food styling with 29 year-old professional photographer and food & props stylist CR Tan from 21 November. At 'Grill for the Gram', CR will demonstrate how to get your dish looking amazing for Instagram.
Pick the Right Cut from 28 November with Bobby from East Side Butchers. Learn the essential tips and trick on choosing different cuts that are great for grilling and learn the difference between breeds and grain vs grass-fed beef.
Harry's South Beach
11 and 12 November 2020
Harry's South beach will be serving the sizzling Guinness mala popcorn chicken, paired with their signature Harry's Jazz Burger.

Menu highlights:
• 1x Guinness platter with Guinness mala
popcorn chicken
• 1x Harry's Jazz (Wagyu Beef) burger
• 4x Guinness pints
• 2x Guinness gift pack
S$110++ per combo for 2
Kult Yard x Sidecar
14 and 15 November 2020
Kult Yard and premium butcher
Sidecar have come together to curate a platter featuring Guinness Beef Pies alongside Sidecar's handcrafted
sausages and other grills.

Menu highlights:
• 10x pints of Guinness draught (2 per person)
– 2x Guinness gift packs
• 1x Grilled Platter consisting of slow Roasted Pulled Lamb, Sidecar Handcrafted Sausages. Cajun BBQ Chicken, Guinness Beef Pies, Coleslaw and Brioche Bun
S$325 nett for 5
Hopscotch
28 and 29 November 2020

Hopscotch will feature the
Guinness-infused Crackling Hog Trots and Beef Cheek Bourguignon on their menu.

• 4x pints of Guinness draught
• 2x Guinness gift packs
• Crackling Hog Trots (Sizzling pork trotters spiced rub, and basted with Guinness molasses)
• Guinness Beef Cheek Bourguignon (Slow braised beef cheeks with Guinness and port reduction, herbs de provence, onions, carrots and potatoes)
• Black Garlic Mash (Hand mashed potatoes with black garlic)
• Aglio Olio (Linguine sauteed with olive oil, garlic and dried red chilli flakes)
S$88++ per combo for 2
Guinness brings back their Spicy Sausage Experience for the third year in a row in collaboration with each partner outlet. Test your personal spice limits, task your friend to an eating competition or place a friendly bet on who you think will be the ultimate spice champion.
Visit get.Guinness.com for more details.