Catch Singapore's Youngest Magic Duo with Playing the Hand by Daren & Jerry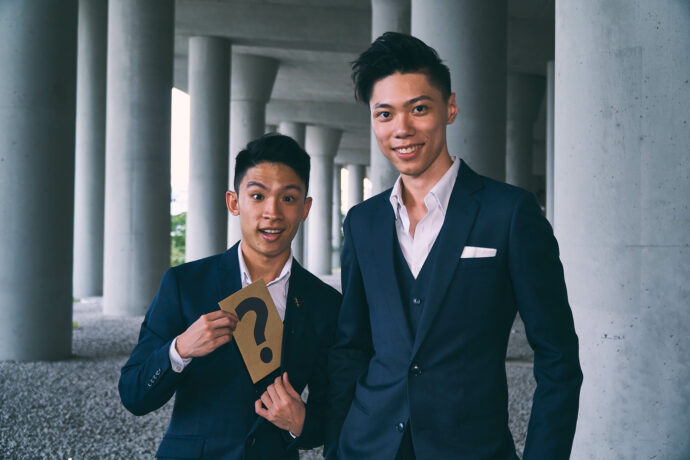 Join Singapore's youngest magician duo Darren Tien and Jerryl Tan in Playing the Hand by Darren & Jerryl, a never-before-seen live virtual theatrical magic show that is part of Flipside, presented by Esplanade – Theatres on the Bay is an interactive magic experience. It will screen online via ZOOM on weekends between 6 August and 15 August 2021 at 4 pm and 8 pm.
The duo explores themes of self through a humorous narrative interwoven with personal stories, enthralling illusions and masterful sleights of hand. There will also be audience participation. We are pretty sure you would have as much fun as we did.
The show is written by Darren & Jerryl, directed by veteran playwright-performer Dwayne Lau and produced by Esplanade – Theatres on the bay. The interaction-driven experience will also have audiences share their own anecdotes, plus become their own curators of wonders as they create moments of miracles live, along with the cheery pair. Tickets are limited to 30 per seating to maximize the engagement of the performance.
Tickets for "Playing the Hand by Darren & Jerryl" are available for purchase at S$30 via SISTC at www.sistic.com.sg/events/zlhand0821 or Esplanade at www.esplanade.com/playingthehand.
Dine at The All-New Feastival until 14 August 2021 as part of #SAVEFNBSG movement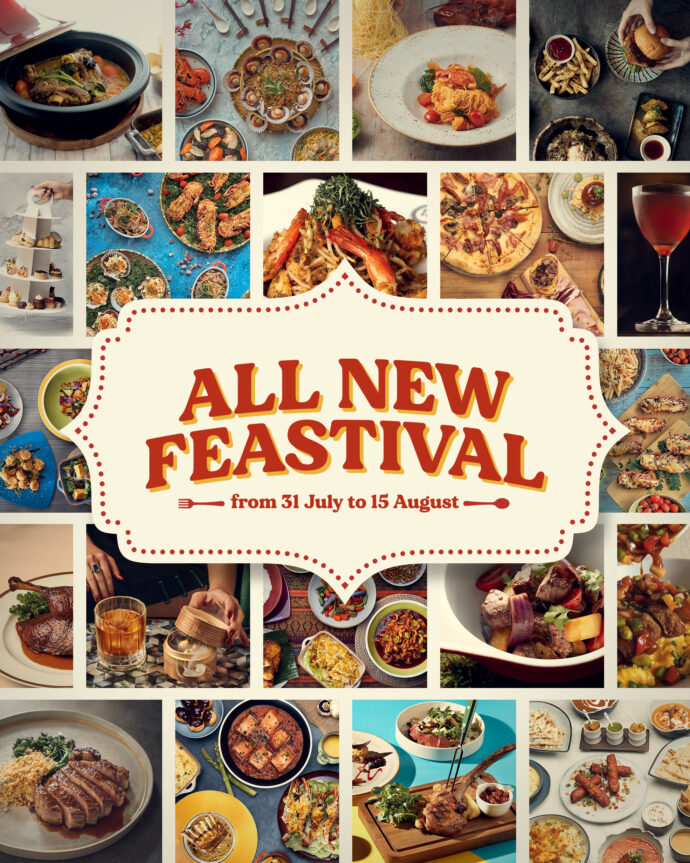 The All-New Feastival was launched on 31 July and will go on till 15 August 2021. 28 of Singapore's best restaurants and bars in Singapore present innovative new dishes and menus to excite consumers to order and indulge at home. While the government just announced today that from 10 August 2021, vaccinated individuals can dine in restaurants in groups of 5 from 10 August 2021, some of you may still prefer to dine in the comfort of home for some days.
This delivery programme is supported by Chope, which is the exclusive ordering and delivery platform for All New Feastival.
Participating restaurants and bars include Akira Back Singapore, ATLAS, Beats Bites & Cocktails, Brasserie Les Saveurs, BTM Mussels & Bar, Butcher's Block, CANCHITA Peruvian Cuisine, Cheek Bistro, Colony, COOP, The Halia at Singapore Botanic Gardens, Harry's – Boat Quay, JEN Singapore Orchardgateway by Shangri-La, JEN
Tanglin Singapore, L'Entrecôte The Steak & Fries Bistro, Miss Vanda by Labyrinth, National Kitchen by Violet Oon Singapore, Open Farm Community, Prego, Super Firangi, Tiffin Room, 藝 yì by Jereme Leung, The Bravery, The Lounge at Riviera, The Old Man Singapore, Madame Fan, Yan Ting, and W Singapore – Sentosa Cove.
All items are available for order on Chope.
Brass Lion Distillery Gives Out over 1000 Free Cocktails to Celebrate SG56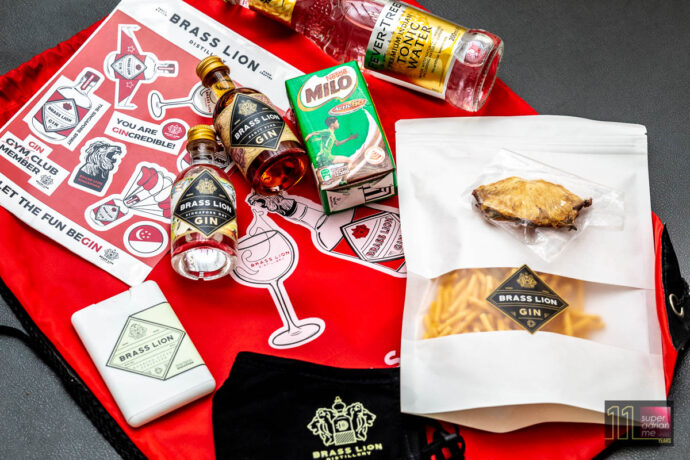 Brass Lion is giving away over 1,000 complimentary cocktails from 19 August to 30 September 2021 as the distillery celebrates Singapore's 56th birthday. 18 of Singapore's bars and food outlets will each feature a Brass Lion cocktail and 56 cocktails will be given out at each outlet. A coupon code is given out to the public for completing a mini-game at qrd.by/drinks_on_us. Present the coupon to the bartender at the corresponding participating bar to redeem your free cocktail.
The campaign was originally planned to run for the whole month of August. But P2HA happened and F&B had to close. To mitigate this, the collaboration has been extended to run from when venues are allowed to re-open until the end of September, to allow guests more time to redeem and to stagger out redemption at the venues.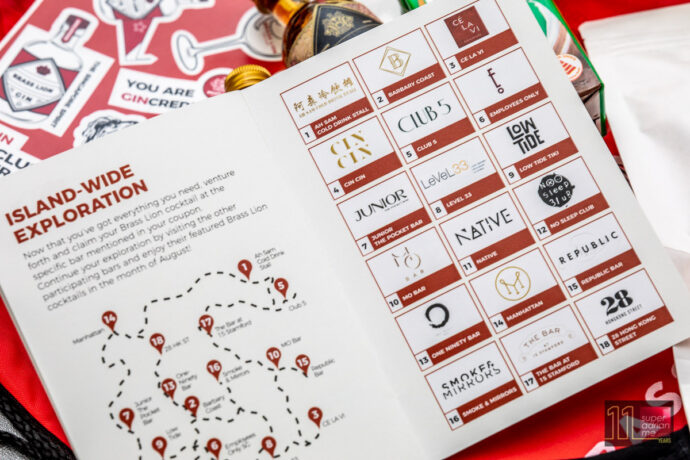 Participating venues include 28 Hong Kong Street, Ah Sam Cold Drink Stall, Barbary Coast, Republic Bar, Ce La Vi, Cin Cin, Club 5, Employees Only Sg, Junior the Pocket Bar, LeVeL 33, Low Tide, MO Bar, Native, No Sleep Club, One-Ninety Bar, Manhattan, Smoke and Mirrors and The Bar at 15 Stamford.
Venue
Bartender
Cocktail Name
Cocktail Recipe
Cocktail Garnish
28 HongKong Street
Chris Saw
Saturn
The Singapore Dry Gin, Falernum, Lemon Juice, Passionfruit Syrup, Almond Orgeat, Orange Bitters
Lime & Cherry Flag, Mint Sprig
Ah Sam Cold Drink Stall
Alvin
Orh-Haw
The Singapore Dry Gin, Hawthorn Syrup,
House Barley Water, Prosecco
Hawthorn flake
Barbary Coast
Celia Schoonraad
Basil Smash & Tonic
Brass Lion Singapore Dry Gin, Lime, East Imperial Burma Tonic, Basil
Basil Frond
CE LA VI
Andrew Hyman
Winter Sun
The Singapore Dry Gin, Aperol, Winter Melon Tea, Citric Acid Solution, Salted Spice Plum Syrup
Pasar Black Plum Slice
Cin Cin Bar
Raja Ras Ilyasa
Ice Kacang
Red Bean Singapore Dry Gin, Rose Syrup, Pandan Syrup, Gula Melaka Syrup
Grass Jelly, Nata de Coco, Corn with Evaporated & Condensed Milk
Club 5
Jun Han
Little Red Dot
The Singapore Dry Gin, Pale Ale Reduction Syrup, Lime Juice, Dom Benedictine, Orange Peel, Galangal Slice, Pineapple Foam
Dehydrated Pineapple Pulps, Amarena cherry
Employees Only Singapore
Alexa
GTGT
The Singapore Dry Gin, House Strawberry Pandan syrup, Lemon juice, tonic
Strawberry Slice
Junior the Pocket Bar
Hazel
Khipu Sling
The Singapore Dry Gin, Dry Curaçao, Fresh Lime Juice, House Chicha Morada
Candied Orange
LeVeL33
Fai
Give me a Break!
The Singapore Dry Gin, Pink Grapefruit Juice, House Pomelo Marmalade, Gingerbeer Espuma
Dehydrated grapefruit, House Pomelo Marmalade
Low Tide
Joseph Haywood
LTGT
The Singapore Dry Gin, Ginger Flower Tonic Syrup, Lime Juice, Soda

Ginger flower/Lime Leaf
Manhattan Bar
Sophia Kang
Lion City
The Singapore Dry Gin, Pineapple Rum, House Cherry Brandy, Pierre Ferrand Dry Curacao, Grenadine, Dom Benedictine, Yuzu Bitters
Fresh Cherry
MO Bar
Anna Princena
Thunder
Peanut butter fat-washed Singapore Dry Gin, Thunder Cordial, Glutinous Rice Foam
Matcha Powder on top and Ikan bilis on the side
Native
Yong Wei
Smoked Longan
The Singapore Dry Gin, Smoked Longan distillate, Chaff Mead, Chrysanthemum Cordial, Whey
Calamansi Jelly
No Sleep Club
Juan Yi Jun
Pear & Parsley
Nashi Pear Skin Singapore Dry Gin, Preserved Lemon & Cardamom Oleo, Parsley Soda
Compressed Pear and flat-leaf Parsley
One Ninety Bar
Gabriel Carlos
Lady McNeice
The Singapore Dry Gin, Lime Juice, Strawberry and Roselle Shrub, Grapefruit Bitters, Egg White, London Essence Pineapple Soda
Dehydrated Strawberry Powder
Republic Bar
Martin Villareal
Mythical Beast
The Singapore Dry Gin, Dry Sherry, Port City Syrup, Citric Acid, Bitters

*Port City Syrup is made from toasted barley, cascara and cinnamon
Feather Cracker


(Made with parmesan)
Smoke & Mirrors
Wee Siong
Equilibrium
The Singapore Dry Gin infused with Coffee, Cointreau, D.O.M, Lime Juice, Pineapple Juice, Grenadine Syrup, Milk Tea
Dehydrated Pineapple
The Bar at 15 Stamford
Timothy Aw
Assam Colada
The Singapore Dry gin, House Coconut Liqueur, House Assam Syrup, Lime juice, Pineapple juice
Dehydrated pineapple
1-Group's 5th Edition of Wine Lust Journey Returns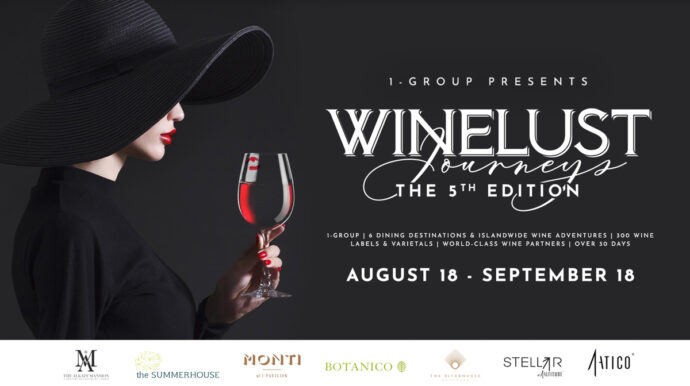 The fifth edition of the annual Wine Lust returns from 19 August 2021 to 18 September 2021. The festival of food and wine is presented by 1-Group. It celebrates the best of wine through dining experiences that include bottomless brunches, wine pairing dinners, sundown picnics, rooftop happy hours, insightful masterclasses, and weekend wine retail pop-ups.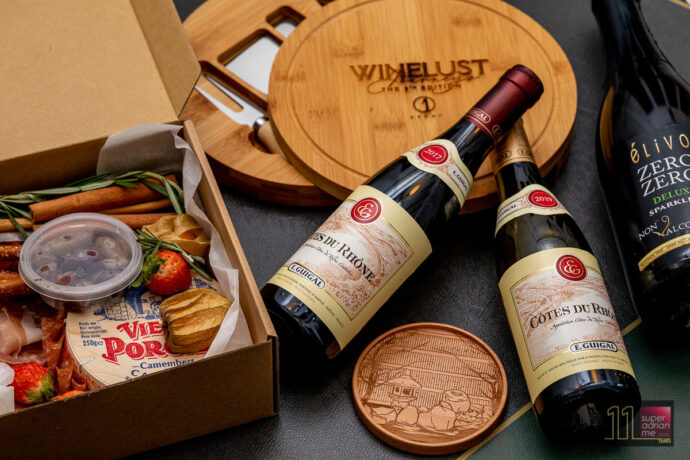 There will be 24 different dining and retail events across nine of 1-Group's dining destinations including the newly opened 1-Atico, 1-Altitude, Alkaff Mansion, Monti, The Riverhouse and others. The programme will feature wineries such as Omina Romara, Amelia Park, Chateau la Rose Bellevue, Chateau du Retout, Kressmann and Frankland Estate. Check out the calendar of events.
Reservations and tickets for all Wine Lust events are on www.winelust.sg.
GudSht Celebrates Singapore Spirit with 4 New Cocktails till end August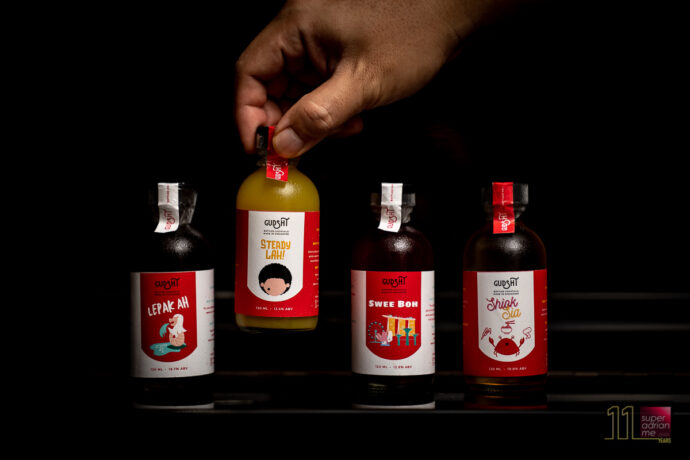 GudSht has launched 4 new limited-edition cocktails to celebrate Singapore's 56th birthday. These cocktails are inspired by national icons including hawker centres, the Merlion, Phua Chu Kang and Marina Bay Sands. These are Shiok Sia, a cocktail that pays tribute to Singapore's hawker culture and food; Lepak Ah, an ode to the symbolic majesty that is the Merlion; Steady Lah, a nod to our national treasure Phua Chu Kang, internationally famous for his catchy tunes that have helped our efforts against both the original SARS and now Covid-19; and Swee Boh, a rich, opulent concoction inspired by the iconic Marina Bay Sands.
| Cocktail | ABV | Description |
| --- | --- | --- |
| Lepak Ah | 18.7% | Designed for a chill weekend picnic at Sentosa with a view of the Merlion, Lepak Ah is made of Jim Beam White, Midori, Amaretto, and Cranberry Juice. Exuding scents of liquorice and nuts, this deceptively simple formula is the perfect companion for a lazy Saturday afternoon. Enjoy responsibly – with an ABV of 18.7%, you might find yourself going from lepak to mabuk if you're not careful! Best served on the rocks in a tall glass. |
| Shiok Sia | 10% | "Shiok sia!" The quintessential Singaporean expression for sheer enjoyment or pleasure, often used in exclamation when tucking into your favourite dishes. GudSht's take on this classic expression is no different, having created a refreshing, delectable cocktail made from Haku Vodka, Chrysanthemum Tea, Wolfberry Syrup, Rose Syrup, and Lime Juice. With whiffs of a floral bouquet and a gentle sweetness, Shiok Sia goes down like a delicate perfumed kiss at a mild 10% ABV. Best served chilled in a rock glass alongside your favourite hawker centre indulgences. Sedap! |
| Steady Lah | 13.4% | Don't play play! GudSht's nod to Phua Chu Kang, one of Singapore's most-loved television characters, Steady Lah is a full-bodied vodka-based cocktail made of Haku Vodka, Amaretto, Midori, Orange Juice, Peach Bitters, and Plum Bitters. Not to be underestimated, Steady Lah is a well-balanced cocktail with an ABV of 13.4%, despite its fruity aroma and notes of citrus. Best served on ice and with an orange slice in a rock glass. |
| Swee Boh | 12.8% | GudSht's Swee Boh pays homage to the now world-famous Marina Bay Sands, an absolute marvel in both engineering and design, with all the trappings of affluence and wealth. In other words, this is a cocktail that wouldn't look out of place on an episode of Crazy Rich Asians. Made of Sauza Silver Tequila, Red Sangria, Lime Juice, Grand Marnier, and Agave Syrup, Swee Boh is a rich (pun intended), full-bodied concoction that combines the sharp punch of tequila with the elegance and smoothness of a good sangria, washed down with a zesty blend of Grand Marnier, lime juice, and agave syrup. Best served on ice and with a lime peel in a wine glass, and an excellent companion for a stay-home evening |
Get the GudSht limited edition National Day cocktails on GudSht's online store at S$15 for the 120 ml bottle size or S$28 for the 300ml. They are also available as part of the GudSht's National Day Bundle at S$46 for a set of all 4 cocktails in the 120ml bottle size, and S$96 for a set of 4 in the 300ml size. Available on Deliveroo, GrabMart and Oddle as well.
Go for a TOGOSG56 Ride Until 21 August 2021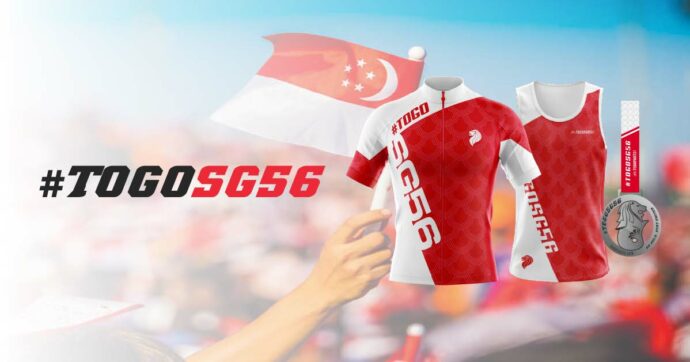 togoparts.com, a virtual sports platform, has organised #TOGOSG56 Virtual National Day Challenge 2021 with the support of the National Cycling Federation. It hopes to achieve 560,000 km before 21 August 2021 to celebrate Singapore's 56th birthday. You can be part of the celebration. Registration is open till 17 August 2021 at 11.59 pm and it is free of charge. The challenge has already started on 23 July 2021 and ends 22 August at 11.59 pm.
Participate in Singapore's inter-district outdoor cycling leader board or team up with friends by either joining an existing team or creating your own. You can register under your district and clock in your distance to see LIVE results on the inter-district leadership board. You need to connect your TOGOPARTS account to the Strava App to record your rides or runs.
This year, togoparts.com has created a series of 20different achievements ranging from Easy, Intermediate and Difficult to Insane! Designed with the National Day Celebrations in mind, each of the achievement's badges unlocked will appear on the participants' profile alongside their name on the Leaderboard.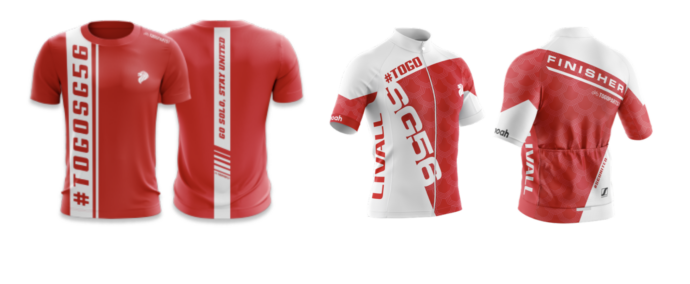 Exclusive event jerseys, tees, finisher pins, and medals are available to purchase upon completing the achievements.
| | Price | Pin | Finisher Medal | Finisher Singlet | Finisher Jersey | Cyclodarity Tee |
| --- | --- | --- | --- | --- | --- | --- |
| Package 1 | S$12.60 | ✓ | ✓ | | | |
| Package 2 | S$42.60 | ✓ | ✓ | ✓ | | |
| Package 3 | S$56 | ✓ | ✓ | | ✓ | |
| Package 4 | S$78 | ✓ | ✓ | ✓ | ✓ | |
| Package 5 | S$21.90 | | | | | ✓ |
Enjoy a 5% off any goodie bundle when you enter the promo code ADRIAN56. This promo code is valid till 17 August 2021 at 11.59 pm. Register at https://www.togoparts.com/challenges/registration/togosg56.
Attend the Virtual J&T Fashion Week Show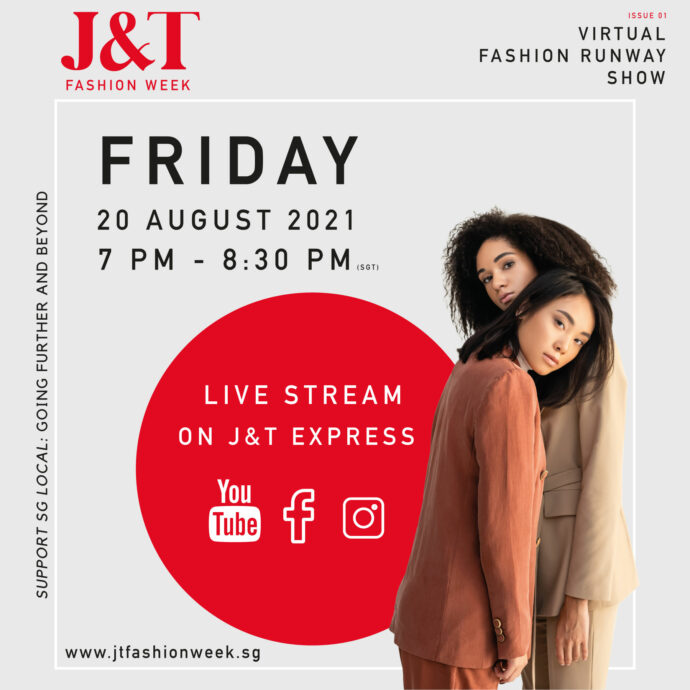 J&T Express, an e-commerce logistics provider, announced its inaugural J&T Fashion Week in Singapore happening from 18 to 22 August 2021. Themed 'Support SG Local: Going Further and Beyond', the digital fashion week is part of J&T Express' ongoing efforts to support homegrown retail and fashion brands that have been affected by the global pandemic.
20 homegrown brands such as MDS Collections and Saturday Club will be featured. Since it is digital, you can enjoy front-row access during the five-day event. Look out for QR codes during the fashion show live stream on 20 August 2021 from 7 to 8.30 pm Singapore time via J&T Express' YouTube, Facebook, and Instagram. Scan them and you can shop directly. Enjoy access to exclusive promotions and discounts of up to 90% from participating brands via the official microsite. Participate in exciting giveaways through J&T Express' official Facebook and Instagram pages.
LampPost and Temasek Polytechnic's fashion graduates showcasing their unique designs at the virtual fashion show. J&T Express will also be supporting the delivery of LampPost's latest charity pack initiative together with Bread Talk, to help raise funds for Singapore's Community Chest. J&T Express' local clients that have also come on board as supporting partners of the event include Tasty Snack and SK Jewellery.
At-Sunrice GlobalChef Academy Gourmet Bundle and High Tea Takeout Set till 31 August 2021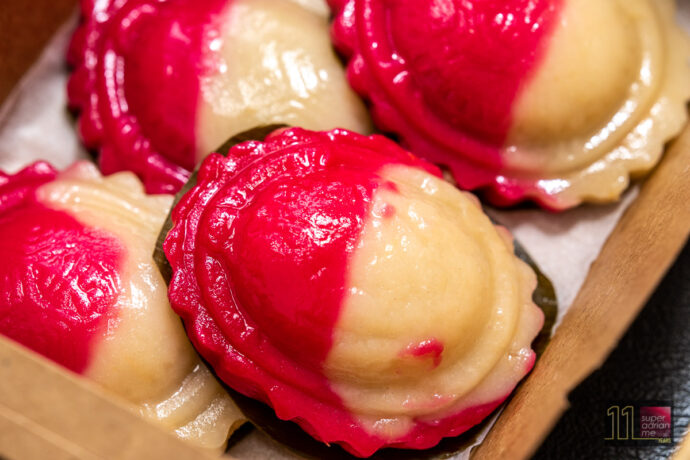 At-Sunrice GlobalChef Academy pays tribute to Singapore with a takeout gourmet Harmonious Bundle to be enjoyed at home until 31 August 2021. The bundle is priced at S$86.40 and comes with
Padang Beef Rendang with Turmeric Rice (serves 2 to 3 persons)
Kashmiri Lamb Shank with Basmati Pilaf Rice (serves 2 to 3 persons)
Hong Kong Lap Mei Fan (serves 2 to 3 persons)
Complimentary WellSpent© Ang Ku Kueh (5 pcs)
We highly recommend the Kashmiri Lamb Shank. Soft tender meat that is full of flavours and easy to heat up paired well with Basmati Pilaf Rice and pickled vegetables. The WellSpent Ang Ku Kueh is a twist to the traditional Ang Ku Kueh. It is made with Moromi, a by-product from soy sauce production and spent (sidestreams) from jackfruit seeds filling for the sweet and savoury taste.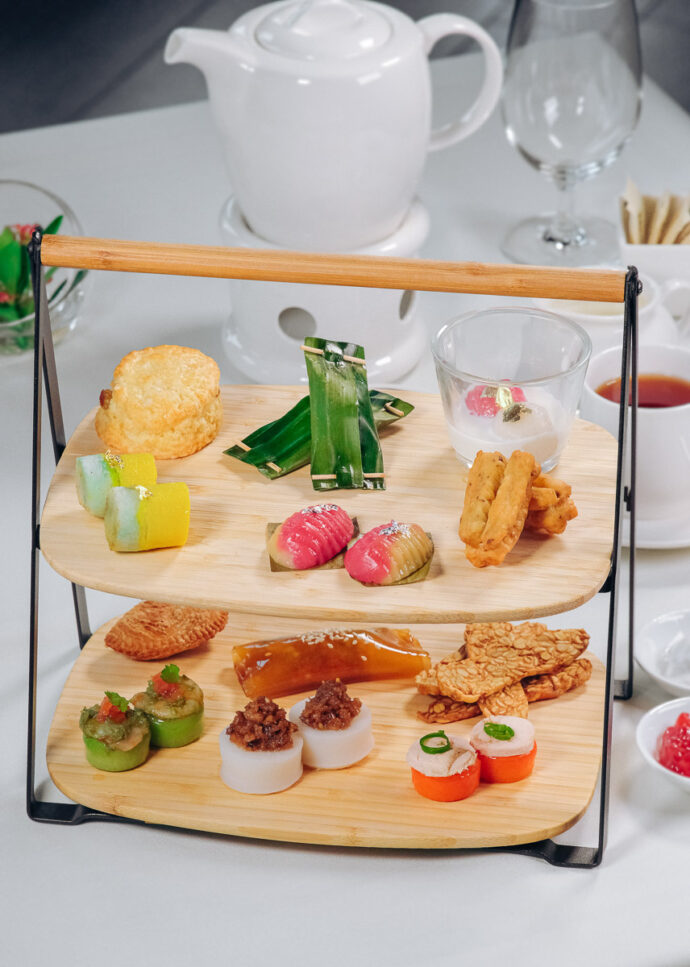 If you prefer to have high tea instead, the WellSpent High Tea set is priced at S$38 for one portion of S$68 for two. You can purchase a wooden high tea stand to elevate your dining experience at home. The WellSpent High Tea Menu comes with the following:
Singapore's Heritage Favourites
Chicken Rice with Slow-cooked Chicken and Ginger Garlic Mormoi
Coconut Residue Nasi Lemak with Prawn in Tangy Mango Sauce and Mala Sambal
Snacks
Okara Chickpea Tempeh
Epok Epok with Spent Jackfruit Filling and Sweet Sauce & Chilli
Dim Sum
Moromi Essence Rice Roll with traditional condiments
Chwee Kueh with ExCoo Sauce and Pickled Okara Radish
Sweets
Okara Kueh Jagung
Okara Tangyuan
Moromi Youtiao
Ang Ku Kueh
Jackfruit Kueh Salat
Spent Tea Scone
To order the Harmonious Bundle and WellSpent© High Tea, visit https://takeout.at-sunrice.edu.sg or email [email protected] for more information. Islandwide delivery is available or self-collection at At-Sunrice GlobalChef Academy (28 Tai Seng Street, Level 5).
S$20 for YUN NANS' Hot Favourites Walk-In Takeaways
YUN NANS is offering S$20 for nine of its hot favourite signature dishes for walk-in takeaways from 2 August 2012. The signature Steam Pot Chicken Soup, Grilled Seabass with Lemongrass, Poached Pork Collar with Pickled Chillis in a slightly spicy sourish broth are three of my favourites that are included in the nine signatures available at S$20 each.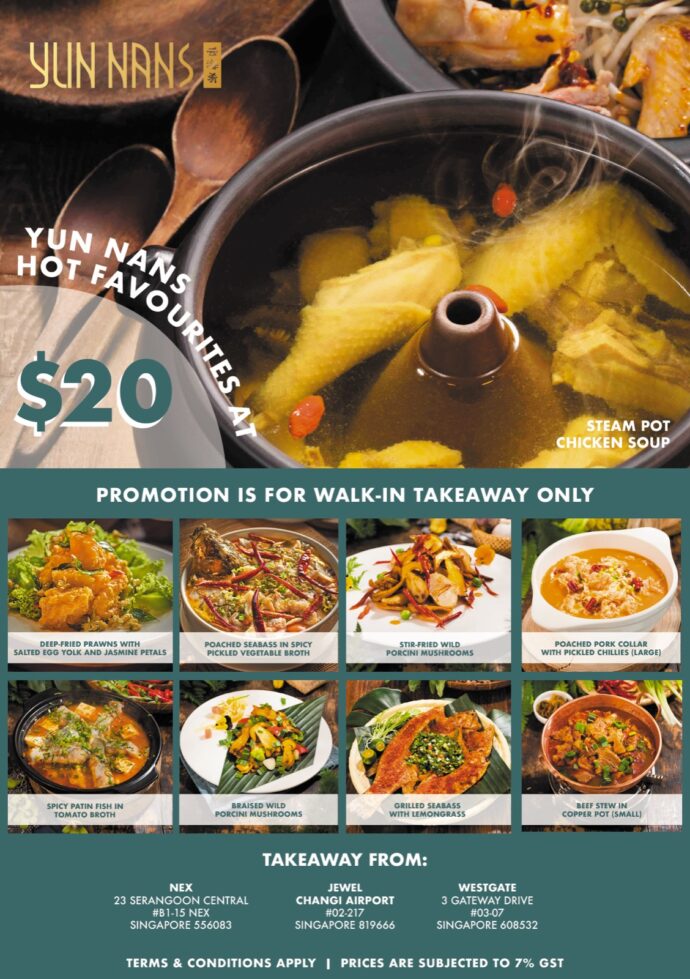 YUN NANS outlets are located at #02-217 Jewel Changi Airport, #03-07 Westgate, and B1-15 NEX. YUN NANS is also offering an additional S$7 off with a minimum spend of S$70 paid with Citibank cards on Oddle. Limited redemptions only.
There are also exclusive sets on Oddle for single pax and families up to 10 pax. They are quite value-for-money. I know because I ordered a set for my dad's birthday lunch last month. I ordered a YUN NANS Family Set Menu for six, and an additional Crispy Duck with Dried Chilli and Poached Seabass in Spicy Pickled Vegetable Broth and paid S$246.60. There was so much food we even had leftovers for dinner.
Kam's Roast Platter for S$56 to Celebrate SG56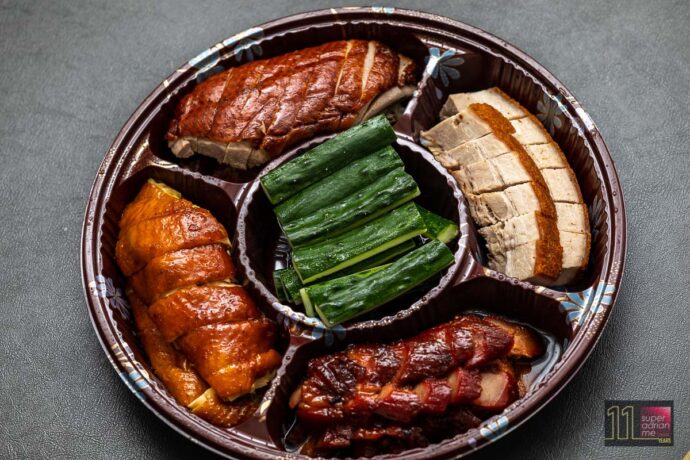 Kam's Roast celebrates Singapore's 56th birthday by offering its Roast Meats platter for S$56 (usual price S$78+). That's more than 20% off for 1/4 roast duck, 1/4 soya chicken, crispy roast pork, BBQ Char Siu and a very piquant marinate cucumber. The platter is good for 4 people. You can add on rice and noodles to complete the order.
Order yours while stocks last and for a limited time from kamsroast.oddle.me.
For a more substantial meal, the Kam's Roast Value Set menu for four is an option. It is now priced at S$96.80 instead of the usual S$133. That comes with half a Kam's Roast signature roast duck, regular Toro char siu, regular Crispy Roast Pork, Regular poached Kai Lan, 2 soup of the day, 4 steam white rice and 4 red bean peel soup with orange peel.
Kam's Roast is also offering a 15% early bird discount when you order mooncakes before 12 August for pick up and delivery from 13 August 2021.
Gift Friends and Family the Eat-Drink-Wash Care Pack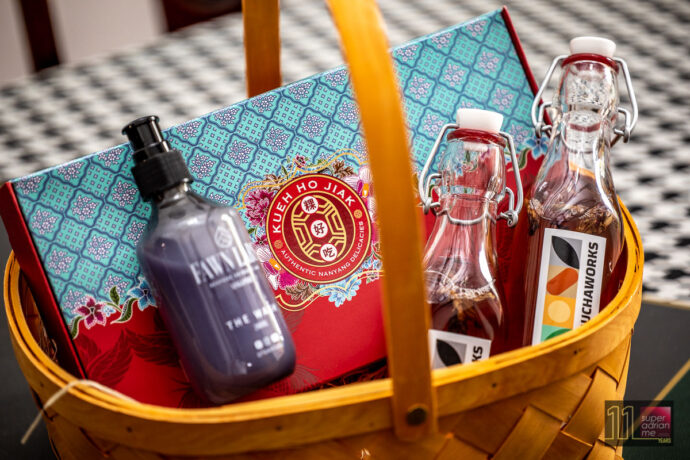 Three female led brands Kueh Ho Jiak, Kombucha Works and Fawn Labs have joined forces to offer this Eat-Drink-Wash basket of goodies to celebrate Singapore's 56th birthday. This makes a great care pack for friends and family.
The basket of delicious heart-shaped Butterfly Blue Pea Sago Kueh by Kueh Ho Jiak; Butterfly Blue Pea, Lemongrass & Pandan flavoured Kombucha by Kombucha Works and Butterfly Blue Pea, Lemongrass & Pandan Hand & Body Wash by Fawn Labs come in a picnic basket. The kueh is best consumed within two days.
This is priced at S$56 plus S$10 for islandwide delivery. Available while stocks last till 31 August 2021.
Visit www.kuehhojiak.com to order.
Check out TripAdvisor's Traveller's Choice best Restaurants in Singapore
Why not enjoy August by trying out the recently named Tripadvisor's Traveller's Choice top 10 fine-dining restaurants in Singapore. The title of Singapore's number 1 Fine Dining Restaurant goes to the one Michelin star Summer Pavilion at The Ritz-Carlton Millenia Singapore, which is also ranked number 4 in Asia and 24 in the world.
Travellers' Choice Top 10 Fine-dining Restaurants in Singapore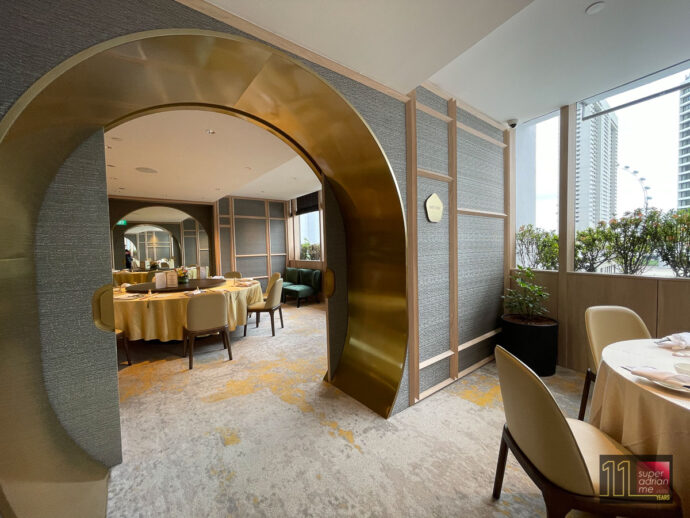 New this year in a Picture-Perfect Restaurants category that celebrates those places that have a serious wow factor, not just for the food but the restaurant setting as well. Peach Blossoms at the PARKROYAL COLLECTION Marina Bay has made it to the World List coming in at Number 13. Enjoy views of the iconic Marina Bay with natural light streaming in through the windows.
The 2021 Best of the Best Restaurants Awards are calculated based on the quality and quantity of traveler reviews and ratings for restaurants on Tripadvisor collected from January 1, 2020 – April 30, 2021, specific to each award subcategory, as well as an additional editorial process. For more details on Tripadvisor's awards policy, see here.