Looks like I can ease my itch for the year-end AFA a lot easier this year. Bushiroad Inc. has announced an impressive line-up of events and guests appearances for the inaugural CharaExpo 2015. Not surprisingly, I have yet to contain my fangirl-ish excitement from seeing KANAME, Idolmaster and Touken Ranbu Online on the list. Oh wait, have I mentioned that Good Smile Company will, along with familiar names like La Tendo and Toycoin, will also be holding booths there to help expand my nendoroid army?
The floor will be split into three zones; Exhibition, Creator and Entertainment zones. The Exhibition zone will be packed full of exclusive merchandises from Bushiroad Inc, Good Smile Company, Aniplex Inc., VisualArts and Kotobukiya. Banpresto will also be there to satisfy all our Ichiban Kuji needs! (Please, please bring over the Idolmaster Cinderella Girls and Kan-Colle sets.)
The Creator Zone is where you will find me stocking up on Doujin and artbooks. It will have a Creators' Corner dedicated to both individual artists and circles, including Collateral Damage Studios and everyone's favourite "pun" of a plushie, Blue Bird from Daiyaku. It is also fans' chance to meet character designer and director Akio Watanabe (The World Only God Knows, Bakemonogatari), mecha designer Masami Obari (Animation director of Gundam Build Fighters Try) and, even, Mel Kishida of Atelier series fame will be making an appearance.
Maon Kurosaki sings the theme song for Grisaia no Kajitsu, Setsuna no Kajitsu:
Sheesh, I am starting to feel the stress just from these two areas. My wallet, no, my entire bank account is going to empty before I even reach the
Entertainment Zone
. Thankfully,
Maon Kurosaki
(Tokyo Ravens, Grisaia no Kajitsu),
Mashiro Ayano
(Fate/Stay Night, Gunslinger Stratos) and
Ayaka Kitazawa
(Little Busters! ~Refrain~) will be there to ease my guilt with their sweet vocals!
The event will also be debuting convention "firsts" including the much-anticipated Cos☆Stage! This is time for Cosplayers to shine and win an exciting all-expenses paid invitation to Cosplay Collection Night at Tokyo Game Show 2015. To participate, just submit three of your best cosplay photographs portraying different characters. The top 10 will be invited to a final selection round for the event on June 20th for a two minute performance in-character on stage.
And, for the first time ever, the New Japan Pro-Wrestlers (NJPW) will be holding an exhibition in Singapore on both days of the expo. Aired on one of the biggest TV channels in Japan, TV Asahi, NJPW is the second largest wrestling promotion in the world (right behind WWE). Fans will be able to catch stars such as Hiroshi Tanahasi, Jushin Thunder Liger and Gedo in action! While I am not a die-hard NJPW fan, I am definitely making a stop at the huge wrestling ring to catch a glimpse of Hiroshi (just because he reminds me a little of Tiger & Bunny).
Last but not least, Bushiroad's annual tournament series, the Bushiroad Spring Fest will be held at the expo and will feature a 600-seat card game area for both new and veteran players. Those wanting in on the action can check out the winning decks from previous tournament winners on the Cardfight Vanguard website for a winning edge right now!
CharaExpo 2015 will be held from 20 to 21 June 2015 in Singapore EXPO Hall 7. Tickets are available online via Peatix at S$6 (early-bird special) and S$8 on site. More information on the schedule, maps and guests appearances can be found on their website.
About the Writer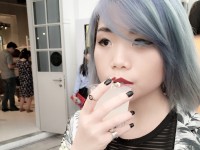 Jessica is a young lady of many obsessions. She gets herself into everything ranging from the latest in the monochrome fashion world (she only wears black, and sometimes, white) to convincing the masses that Community is the best TV series ever made.
Currently, she enjoys looking like Sailor Mercury had a baby with Wednesday Addams.