Hello From The Wild Side 2.0 – Virtual Experience
Wildlife Reserves Singapore brings back Hello From The Wild Side for a second season from 22 May to 31 December 2021. Added to this programme is a newly curated Zoo Explained! This live 20-minute virtual experience is a unique way to discover the big personalities of the animal family such as the Singapore Zoo's rhino baby and stars of Animal Friends Show. Also meet the people behind the scenes to learn about animal behaviour and training, animal rehabilitation and wildlife nutrition. They also share their passion for wildlife with you. Meet the playful Emperor Tamarins from River Safari and their keeper Ken for the first session on 22 May 2021. Wildlife Reserves Singapore has made this affordable for participants. You pay only S$10 for each session.
Programme
Description
When

Emperor Tamarins

Meet the playful Emperor Tamarins from River Safari and their dedicated keeper, Ken. Like all primates, Emperor Tamarins are intelligent and inquisitive animals. Finding new activities to keep them physically and mentally strong is a never-ending challenge, as Ken will tell you in this session. Learn more about the natural habitats where they live in and join in their feeding and enrichment activities.
22 May, Saturday (10am)

25 June, Friday (10am)

Animal Behaviour & Training

Ever wondered how animals are trained here? Meet Natalie and Hanna, our animal trainers from the Animal Friends Show at Singapore Zoo! In this session, they will show you all the skills needed to bring out the best in our group of domesticated animals such as parrots, cats and dogs! These skills can be applied for your own pets too.
19 June, Saturday (10am)

30 July, Friday (10am)

Baby Rhinoceros

Meet Wildife Reserves SIngapore's newest addition to the rhino family (who was born in
March this year), and his dedicated keeper Indah. Find out how she
cares for him and the antics he has been up to!
24 July, Saturday (10am)

27 August, Friday (10am)

Changi Chapel & Museum
Changi Chapel & Museum has reopened on 19 May 2021. It has been closed since 2018 for a major redevelopment to enhance the museum's infrastructure and content. 37 artefacts are donations and community loans from families of the internees. They are amongst the 114 artefacts showcased across eight galleries.
Artefacts such as a never-before-seen 400-page diary, a dinner menu, a toothbrush fashioned from scratch are amongst artefacts that will shed light on the personal stories of prisoners of war and civilians interned win Changi prison camp during the Japanese Occupation. 82 of these artefacts and objects are on display for the first time. A projection show sets the context of CCM's narrative with an introduction of the key milestones over the three-and-a-half year Japanese Occupation. Step into a re-created Changi Gaoi cell where internees were housed and get a sense of the cramped living confines of the internees.
Galleries
Showcase

Changi Fortress

Introduces the history of Changi, which in the 19th century
was largely covered by mangrove swamps and rainforests. In the 1920s, this quiet idyll began to change as the British started to construct batteries and barracks to protect Singapore from attack.

Fallen Fortress

The fall of Singapore as well as the fate that soldiers and civilians alike faced in the aftermath.

The Interned

Approximately 48,000 soldiers and civilians were marched to Changi, which
was converted into a vast prison camp. This section spotlights the stories of the men, women, and children who were interned in Changi.

Life as POW

The day-to-day lives of those imprisoned in Changi are introduced in this section, along with remnants of the actual Changi Gaol.

Resilience in Adversity

A glimpse into both the hardships that the internees faced as well as how they responded to their situation.

Creativity in Adversity

Creative expression was deeply important to the internees, who found ways to write, draw, read, craft, play sports, and even stage concerts and plays. This section showcases their creative works.

Liberation

Japan surrendered on 15 August 1945, bringing an end to the three and a half
years of the Japanese Occupation of Singapore. This section captures the internees' feelings about their liberation as well as what happened immediately after the war.

Legacies

The legacy of Changi prison camp continues to live on in the present day. In
this concluding section, visitors can look up the names and stories of the internees, and view some artefacts that were produced to remember how they had survived the internment.
To celebrate this reopening, visitors enjoy free admission till 30 May 2021. Pre-book your admission by time slots for up to 2 people 7 days in advance for better crowd regulation and to reduce waiting time.
The museum is open 9.30 am to 5.30 pm from Tuesdays to Sundays and closed every Monday except Public Holidays. Last admission is at 5 pm. Free guided tours are available by pre-registration up to a maximum of 8 people during normal circumstances.
Singapore Citizens & PRs
Free admission for Singapore Citizens and Permanent Residents when scanning Pink or Blue NRIC for entry
Tourists & Foreign Residents
Standard Adult – S$8
Concession – S$5 for seniors 60 and above, students and special access.
Family Package – S$24 for a family of 5 with maximum 3 adults.
Paid parking lots for cars and motorcycles are limited with no public parking available in the vicinity.
Singapore Chinese Cultural Centre Cultural Extravaganza 2021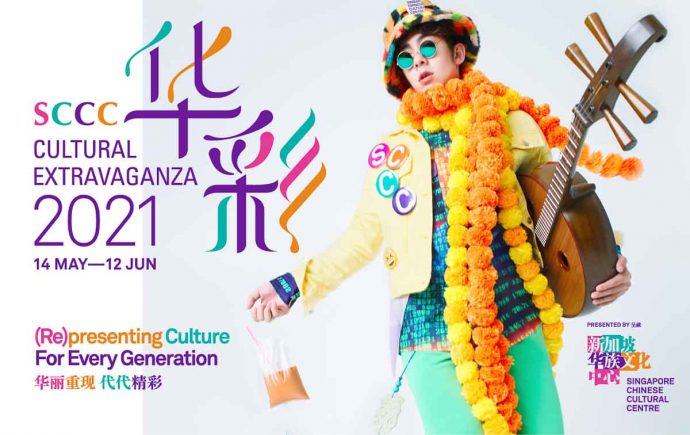 Cultural Extravaganza by Singapore Chinese Cultural Centre returns with a hybrid format including ticketed on-ground events, online streams and pay-as-you-wish activities until 12 June 2021. This annual month-long extravaganza is packed with programmes to keep you busy. Join in the FanTEAstic online carnival throughout the extravaganza. It showcases the creative and multicultural aspects of tea culture in Singapore from past to present. Learn more about tea and its importance and significance, cultural significance and how it has evolved over the years. Take part in fun quizzes and games and check out online tutorials on making your own bubble tea, Wuyi Rock Oolong Tea appreciation and more. Over 15 local tea and tea ware brands will be participating. Enjoy discounts from 15% to 25% and special bundles.
Other highlights include a Sing Lang 2021 concert that will be live-streamed for free on MeWatch on 12 June at 8pm. First Fleet by Nine Years Theatre won the Production of the Year award at The Straits Times Life Theatres Awards 2020. Watch this Mandarin production by getting a S$15 ticket from SISTIC anytime before 29 May 2021. Jazz It Up! features local singers Joanna Dong, Tay Kewei, Marcus Lee together with Jeremy Monteiro and Jazz Association Symphony Orchestra. It will be held at SCCC Level 9 Auditorium on 5 & 6 June 2021 at 7.30 pm or online at SISTIC Live on 6 June 2021 at 7.30 pm.
As all physical events do not exceed 100 people, pre-event testing would not be required. Check out the full calendar of events for more details.
Singapore HeritageFest 2021
Singapore HeritageFest 2021 is in its third week and ends 30 May 2021. This 18th edition has a refreshed, hybrid format to uncover lesser-known aspects of Singapore's history. SHF 2021 commemorates significant healthcare and food heritage milestones – the 200th anniversary of Singapore General Hospital, the nation's first hospital, and the inscription of our Hawker Culture on UNESCO's Representative List of the Intangible Cultural Heritage of Humanity – through a line-up of offerings that includes virtual tours, talks, photo essays and video documentaries. These programmes will reveal the stories behind the medical buildings of our past, delve into the history and benefits of Eastern healing practices such as traditional Chinese medicine and Ayurveda, introduce participants to foods of different cultures, and more.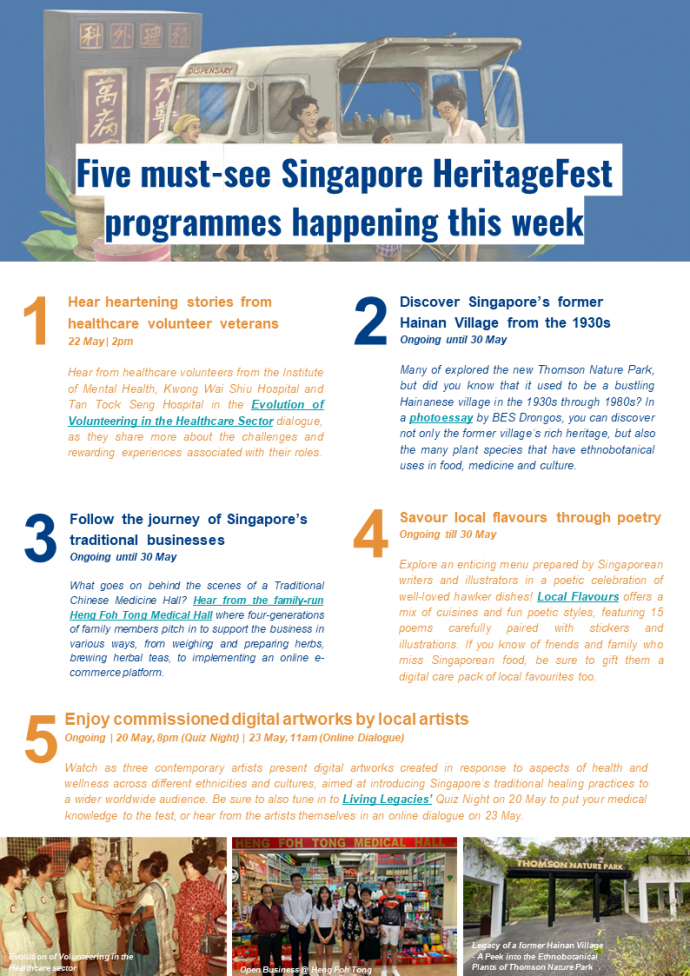 I am quite excited to learn about Soy Sauce Across Asia: Tradition, Taste and Technology which will be held online on Facebook Live on 27 May 2021 at 7pm. Learn more about the Eurasian Association or read about our last visit there. On 30 May 2021, learn about the Scents, Senses and Sensibilities – A Javanese Approach to Wellness by the Malay Heritage Centre.
Hybrid Children's Biennale at National Gallery Singapore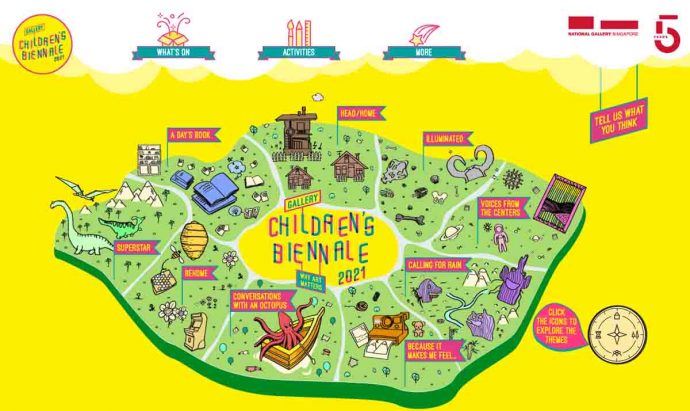 Gallery Children's Biennale returns 22 May 2021 with the Biennale's online experience. The online experience for Gallery Children's Biennale will be available from 22 May 2021 to December 2022 at childrensbiennale.com. The on-site installations for Gallery Children's Biennale will be available from 4 September 2021 to December 2022 at National Gallery Singapore.
This year's theme "Why Art Matters" and will take place on-site and online. It will feature nine commissioned artworks by local and international artists. The Gallery Children's Biennale seeks to empower children to navigate the changing times with empathy and confidence through playful and interactive art experiences that explore topics relevant to the times such as Home, Diversity, Time and Environment.
9 renowned artists and art groups featured in this year's Biennale include Dinh Q Lê (Vietnam), husband-and-wife duo Isabel and Alfredo Aquilizan (Philippines/Australia), Jeremy Sharma (Singapore), Joyce Ho (Taiwan), Khvay Samnang (Cambodia), Nandita Mukand (Singapore/India), Nona Garcia (Philippines), Sandra Lee (Singapore), and Speak Cryptic X ADDADDADD (Singapore).
The Gallery has partnered Groninger Museum in the Netherlands to launch the first Dutch KinderBiennale in June 2021. This follows its successful partnership with Staatliche Kunstsammlungen Dresden (SKD) in organising Europe's first Children's Biennale in 2018.
Virtual Magic – Theatre Show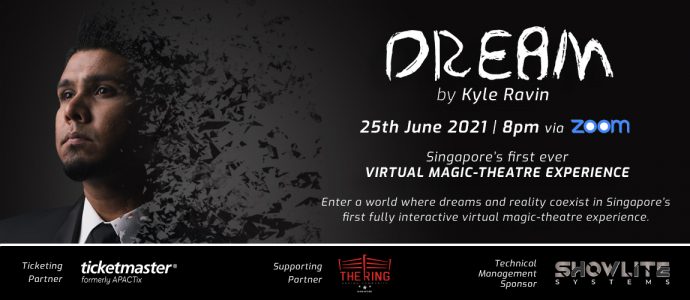 Dream, Singapore's first fully-interactive virtual magic-theatre experience will be live-streamed on Zoom on 25 June 2021. Dream is a virtual magic experience where dreams and reality coexist where illusionist, Kyle, wakes from his sleep to find his computer on, and him being watched. He realizes that in this woken state, he is able to manipulate reality to blur the lines of what's truly attainable.
Tickets are sold at S$29 for the Dream Show and Workshop respectively. A bundle of both the show and workshop can be also purchased at S$50. A free e-book, LEARN MAGIC NOW (contains over 40 tricks) worth S$24.90 with every purchase of the Magic Workshop on 27th June 2021. More information available here: https://ticketmaster.sg/activity/detail/21_dream
ArtScience Museum Virtual Realms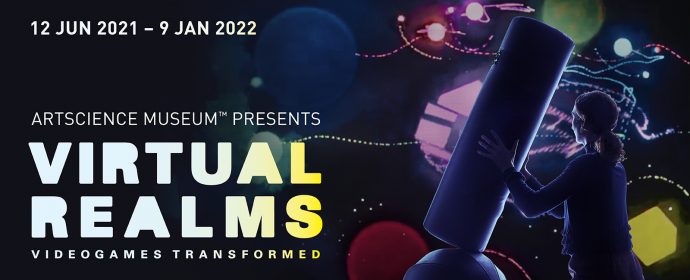 Virtual Realms: Videogames Transformed takes centre stage at ArtScience Museum from 12 June 2021 to 9 January 2022. Celebrated Japanese videogame designer, Tetsua Mizuguchi co-curated the multi-sensorial exhibition that re-iamgines video games as a 21st century artform.
The game developers at the center of the exhibition are KOJIMA PRODUCTIONS (makers of the hit game DEATH STRANDING), Enhance (Tetsuya Mizuguchi and team behind Rez Infinite and Tetris Effect), thatgamecompany (authors of the meditative games Sky: Children of the Light and Journey), Tequila Works (the studio that made Deadlight and RiME), Media Molecule (creators of LittleBigPlanet and Dreams) and David OReilly (artist and creator of the games Everything and Mountain). They have partnered with media artists and design studios, Rhizomatiks, FIELD.IO, The Mill, Marshmallow Laser Feast, onedotzero and The Workers to make six new commissions that transport videogames from the screen into the galleries. 
Each of the six new commissions is a kaleidoscopic realm driven by a unique theme. The themes of the six virtual realms are: SYNESTHESIA, UNITY, CONNECTION, PLAY, NARRATIVE, EVERYTHING 
SYNESTHESIA 
Rezonance, 2021
 
By Enhance (game developer) and Rhizomatiks (media designer 
The first realm of the exhibition looks at synesthesia – a neurological phenomenon in which the boundaries between the senses are blurred and where sounds can be 'seen' and visuals can be 'heard' or 'felt'. 
Tetsuya Mizuguchi has explored the potential of synesthesia since his 2001 game, Rez. Unique among videogame designers, this interest has led to some of the most critically acclaimed titles in the medium, Rez Infinite (2016) and Tetris Effect (2018). Acclaimed Japanese artistic research collective, Rhizomatiks created the Tokyo segment of Olympics' closing ceremony in Rio De Janeiro in 2016. They also made the world's first live streamed 360º virtual reality performance for singer, Björk. 

Mizuguchi's experiments with synesthesia have been expanded into a large-scale format, resulting in the new installation, Rezonance (2021). Upon entering the SYNESTHESIA realm, visitors will be part of the pulsing rhythmic beat and become a 'traveller' on the Rezonance journey. It allows visitors to encounter this sensorial state as a shared experience. Using light, sound and technology developed specifically for this exhibition, Enhance and Rhizomatiks have created an unexpected synesthetic encounter, which will transport visitors to other worlds and dimensions. 
UNITY 
Together: the distance between (us), 2021 

By thatgamecompany (game developer) and FIELD.IO (media designer) 

In the UNITY realm, the dreamlike world of thatgamecompany's Sky: Children of the Light (2019) has been transformed into an immersive spatial environment. As one moves beneath the circular light-sculpture, music and audio fragments from the game, Sky, are triggered and a choreography of light sequences unfolds. 

Working with creative studio FIELD.IO, thatgamecompany presents Together: the distance between (us) (2021), an immersive experience where visitors become players in an all-encompassing generative instrument. Visitors will explore the relationship between movement, light and sound as their presence and participation influence the composition of the space. 
CONNECTION 
WALL, 2021 

By KOJIMA PRODUCTIONS (game developer) and The Mill (media designer) 

Tokyo-based videogame developer KOJIMA PRODUCTIONS, has partnered with the global production studio, The Mill to create, WALL (2021). The Mill is best known for their stunning digital effects and immersive, interactive experiences across the advertising, marketing and film industries. 

The key theme of human connection in KOJIMA PRODUCTIONS' latest game, DEATH STRANDING (2019), has been reimagined for the WALL experience. With a soundscape inspired by DEATH STRANDING, visitors will be transported into an unfamiliar environment where a wall is the only channel of connection to two opposing worlds – one alive with biological cells and the other flowing with galactic energy particles. 

As visitors approach the wall, the cells and cosmic particles will respond to their presence, dividing and clustering with one's movement. The mesmerising patterns that form will offer hints of communication between different spaces and time. Whilst technology can isolate us, WALL demonstrates its potential to create connections in ways that were never previously possible. 

PLAY 
Dream Shaping, 2021 

By Media Molecule (game developer) and Marshmallow Laser Feast (media designer) 
The realm of PLAY celebrates the joyful and performative sensibilities that videogames inspire in us, their players. It takes the form of a giant play-space where visitors experiment in both the physical and virtual worlds. Equipped with tracking helmets and a selection of oversized soft geometric forms, participants become part of an improvised performance while other curious visitors look on. 

Media Molecule's vast digital toolset, Dreams (2020) empowers makers to build and share their creations, be it games, music, art or animation. Based on Dreams, the installation Dream Shaping (2021) invites visitors to work together to create and manipulate their custom experience. Marshmallow Laser Feast's acclaimed artistic work, which experiments with making the digital 'tactile', further enhanced the installation, resulting in a uniquely playful experience. 
NARRATIVE 
Book of Sand, 2021 

By Tequila Works (game developer) and The Workers (media designer) 
The NARRATIVE realm showcases the power of videogames to tell stories and create new forms of fiction. The commission, Book of Sand (2021) invites visitors to step into the mysterious Mediterranean world from RiME (2017). 

Inspired by the novella, Book of Sand (1975) by Jorge Luis Borges, the installation explores the notion of an infinite story that has neither "any beginning or end". Visitors are to follow the lead of the spotlights by stepping into the light to trigger changes on the screen, such as the crumbling of statues or shifting night into day. Depending on the choices made and the collaborations between players, each rendition of the narrative will differ. 
EVERYTHING 

Eye, 2021 

By David OReilly (game developer) and onedotzero (media designer) 
This realm is inspired by Irish artist David OReilly's game, Everything (2017), that celebrates the capacity of videogames to generate expansive universes and gives shape to the infinite potential of our imagination. Everything is a meditative and reflective world conveying the Buddhist concept of inter-connectedness. 

Working with onedotzero, OReilly created Eye (2021), a unique interactive environment controlled by visitors, where forms of life self-organise into kaleidoscopic patterns. Eye takes visitors on a visual journey through time, from the Big Bang to the end of the universe. Visitors can direct elements of the video using large interactive controllers, or lounge on soft spongy seating, listening to the synchronised soundtrack from the London Symphony Orchestra and bathing in the psychedelic wonder of the space. 
Tickets can be purchased at Marina Bay Sands Box website from 31 may 2021.
Category
Standard
(S$)
Singapore
Resident
(S$)
Adult
19
16
Concession
14
12
Family Package (2 kids & 2 adults)
54
45