The Great Singapore Sale (GSS) only gets better this year especially when you pay with your MasterCard. Be ahead with the latest fashion trends, get exclusive discounts & deals from local and Asian designer labels at Haji Lane and FutureFashionNow.com.  Accessorise with big and bold jewellery from Charlotte (Ehinger-Schwarz 1876) and get up to 40% off or get $100 off when you purchase the Purple Gold jewellery from Lee Hwa.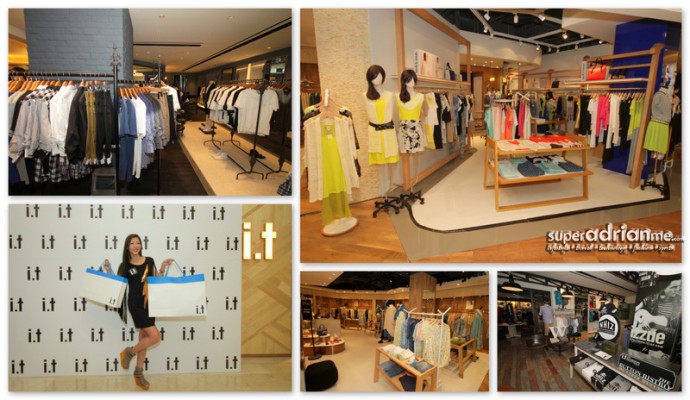 Hong Kong's multi label fashion house i.t Store opens 20 June 2013 at 11am carrying nine avant-garde new-to-Singapore street fashion brands targeting young adults 20 to 35 year old – izzue, b + a b, 5cm, tout a coup, fingercroxx, Venilla suite, as known as de base, mysty woman and Pageboy. Celebrate the opening of i.t Store's first Southeast Asian flagship store, you will receive a S$30 i.t voucher when you spend S$150 nett or more in a single receipt.  The first 200 MasterCard cardholders who spend a minimum of S$150 nett will also receive a limited edition gift.  This MasterCard exclusive is valid from 20 to 30 June 2013.
Don't just pamper yourself, it is time to style up your house with chic home decors from Francfranc with 15% off the bill or doll up the kids with additional discounts from Petit Bateau.
Rest, Relax and Win
Make sure you visit the MasterCard Oasis at Raffles City just outside Robinsons when you spend S$50 or more on your MasterCard card.  At the Oasis, you get to enjoy complimentary chilled drinks and sweet treats, flip through magazines as well as a complimentary foot massage. Not only do you get to recharge, you can also recharge your mobile devices.    The MasterCard Oasis is open from daily from 11am to 9pm till 30 June 2013.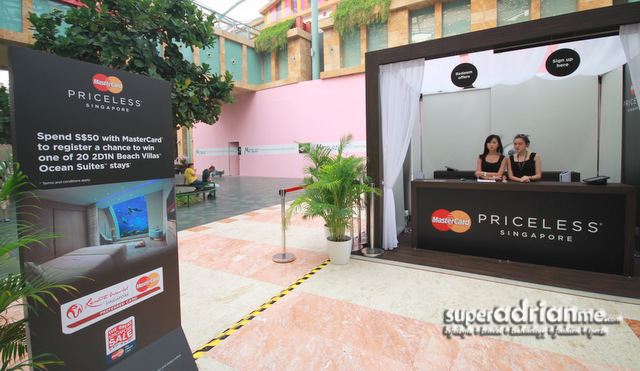 Spend S$50 or more in a single receipt at participating Resorts World Sentosa outlets with your MasterCard card and register at the Priceless Singapore booth at Forum B1 with your receipt to redeem an instant prize (while stocks last) and a chance to participate in the lucky draw to win one of twenty 2D1N Beach Villas Ocean Suites stays.   Prizes for the instant redemption include S$25 cash vouchers and other gifts.
For more information, visit the Priceless Great Singapore Sale MasterCard Trails website at http://www.pricelesssingapore.com/gss
Fashion & Style
| | | | | |
| --- | --- | --- | --- | --- |
| Brand | MasterCard GSS Deals | Location | Reservation | Deal Code |
| A.Testoni | • Free gift with a minimum nett purchase of S$1,000 in a single receipt | The Shoppes at Marina Bay Sands #B1-141 | | |
| Abiste | • 10% off all purchases | • Raffles Hotel Arcade #01-24• Royal Plaza on Scotts Level 1 | | |
| Adolfo Dominguez | 10% off regular-priced items with a minimum spend of S$400 in a single transaction | • Paragon Shopping Centre #02-37 | | |
| anySIS | • 10% off regular-priced items | Wheelock Place #B1-05 | | |
| BCBGMAXAZRIA | 10% off regular-priced items with a minimum spend of S$400 in a single transaction | • ION Orchard #B1-28• Paragon #02-10/11 | | |
| Ben Sherman | 10% off regular-priced items with a minimum spend of S$150 in a single transaction | • Paragon Shopping Centre #03-48• VivoCity #01-24:• Tangs Orchard #04-00 | | |
| CYC The Custom Shop | • Receive a complimentary custom-made men's or ladies' shirt with a minimum spend of S$800 on custom-made shirts, trousers and/or skirts | • Raffles Hotel Arcade #02-12• Palais Renaissance #B1-06• Republic Plaza II #01-21 | | |
| Dip Drops | • 10% off regular-priced items | • [email protected] #03-09/10• Tampines 1 #01-22/23/24• Takashimaya Shopping Centre Level 3• Wisma Atria, Isetan Orchard Level 1 | | |
| Dorothy Perkins | • Priority booking forDorothy Perkins Style Advisor*(only at Raffles City and Great World City)• 10% off regular-priced items with a minimum spend of S$80 in a single transaction | • Raffles City #02-39• Great World City #01-39• Plaza Singapura #01-28• Wisma Atria #01-27/28• Causeway Point #02-31• Tampines One #01-33• Junction 8 #01-25: | For appointments, please callRaffles City Store at (65) 6339 5996 or Great World City Store at (65) 6735 5657 | Please quote "MasterCardPC" upon booking your appointment. |
| Dreamz House | • Receive 10% off and redeem a free mystery gift with a minimum spend of S$60 in a single receipt | 16A Haji Lane, Level 2 | | • Please quote "PricelessDreamz" at point of payment. |
| DSQUARED | Enjoy a complimentary styling experience at Dsquared2 | ION Orchard #01-24 | | |
| Dulcetfig | • 10% off storewide on regular-priced items | 41 Haji Lane | | • Please quote "DulcetfigPriceless" at point of payment. |
| Flamingo Shoppe | • Receive 10% off and redeem a free mystery gift with a minimum spend of S$60 in a single receipt | 16A Haji Lane, Level 2 | | • Please quote "Priceless Flamingo" at point of payment. |
| Forever 21 | • Receive an exclusive Forever 21 handbag holder with a minimum spend of S$69 in a single transaction | • [email protected] Level 1 to Level 3• Orchard Exchange #B1-01 to 35• VivoCity #01-71 | | |
| Future Fashion Now | • Free delivery for all purchases made in Singapore | | Visit www.futurefashionnow.com or call (65) 6299 9733 for more information | |
| Grammah | • 15% off with every S$80 nett spend in a single receipt | 66 Haji Lane | | |
| Green Poppies | • 10% off with a minimum spend of S$100 on regular-priced items only | 11 Haji Lane | | • Please quote "MasterCard Priceless" at point of payment. |
| Headline Storep | • 20% off total bill with a minimum spend of S$120 on regular-priced items | 61 Haji Lane, Level 2 | | • Please quote "MasterCard Priceless" at point of payment. |
| i.t Store | • Receive a S$30 i.t voucher when you spend S$150 nett or more in a single receipt | 03-15, Wisma Atria | | |
| iCB | • 10% off regular-priced items | • Shaw House, Isetan Scotts Level 2• Wisma Atria, Isetan Orchard Level 2 | | |
| J.Press | • 10% off regular-priced items | Shaw House, Isetan Scotts Level 3 | | |
| Joe Tham | • 10% off storewide on regular-priced items | 48 Haji Lane #01-01 | | • Please quote "Priceless Joe" at point of payment. |
| K.I.N | • 15% off storewide (except periodicals, stationery and consignment items) | 51 Haji Lane | | • Please quote "Priceless K.I.N" at point of payment. |
|  [email protected] | • 15% off storewide (except periodicals, stationery and consignment items) | 181 Orchard Road, Orchard Central#02-16/17/18/19 | | • Please quote "PricelessKIN" at point of payment. |
| KAREN MILLEN (Wing Tai) | • Exclusive styling appointment with Karen Millen stylist*(only at ION Orchard)• 10% off regular-priced items with a minimum spend of S$400 in a single transaction | • ION Orchard #B1-15A• Paragon #02-35• Tangs Orchard #02-00 | For appointments, please call (65) 6509 3797 | * Please quote "MasterCardPC" upon booking your appointment. |
| LANA MARKS | Enjoy a complimentary professional bag spa service which includes pickup and delivery of your LANA MARKS bag.(Only for World & World Elite MasterCard Cardholders) | The Shoppes at Marina Bay Sands #01-41/42 | | |
| M.C.L by Matthew Campbell Laurenza | • Additional 5% off on top of Great Singapore Sale promotion | Paragon Shopping Centre #02-K2 | | |
| MaZZario by Mimi | • Additional 10% off the purchase of 2 regular-priced items in a single receipt | • The CentrePoint #02-25• Wheelock Place #03-06 | | |
| MaZZario by Mimi | • Free accessory with a minimum spend of S$200 in a single receipt (while stocks last) | • The CentrePoint #02-25• Wheelock Place #03-06 | | |
| MaZZario by Mimi | • 15% off with a minimum spend of S$500, for the purchase of two regular priced items in a single receipt | • The CentrePoint #02-25• Wheelock Place #03-06 | | |
| Miss Selfridge | 10% off regular-priced items with a minimum spend of S$150 in a single transaction | • Paragon Shopping Centre #03-48A/49 • Wisma Atria #01-25/26• Bugis Junction #01-18• VivoCity #01-66 | | |
| Modparade | • 15% off at Modparade Boutique with a mininmum spend of S$80 in a single receipt | 68 Haji Lane | | |
| Mother and Child Project | • Additional 10% off purchases with a minimum spend of S$200 in a single receipt• GSS 20TH ANNIVERSARY OFFER: Receive a MasterCard® Debit Card worth S$20 when you charge more than S$200 to your MasterCard card! (while stocks last) | 9 Raffles Boulevard,  Millenia Walk #01-50 | | |
| Mother and Child Project | • With every spend of S$500 in a single receipt, receive:(a) An exclusive styling appointment with our in-house designer, and(b) A voucher from Mother and Child Project (worth S$100) for the special price of S$80 | 9 Raffles Boulevard,  Millenia Walk #01-50 | | |
| Nuance-Watson | • Receive a S$25 voucher with a minimum spend of S$450 in a single receipt at all Perfumes and Cosmetics Stores in Changi AirportValid from 31 May to 28 July 2013• Receive a S$25 voucher and complimentary 6-pc gift set with a minimum spend of S$450 on SK-II products• Receive an additional gift with every purchase of 1 bottle of NEW SK-II Beauty Essence (50ml) | | For full terms and conditions, visit http://www. nuancewatson.com.sg/highlights.php. | |
| Petit Bateau | • Additional 5% off final bill with a minimum spend of S$120 | • Paragon Shopping Centre #05-37• Tanglin Mall #02-31• VivoCity #02-73 | | |
| Reebonz.com | • 5% off online purchases | | Log on to www.Reebonz.com to register for an account. | • Please quote "sgmaster5" upon check out of shopping cart. |
| Reebonz.com | • Receive 50 shopping credits every two months• 5% off online purchases(Only for World & World Elite MasterCard Cardholders) | | Log on to www.Reebonz.com to register for an account. | • Please quote "sgmaster5" upon check out of shopping cart. |
| Reebonz SPACE | • Additional 5% off all purchases plus receive 30 shopping creditsOpening Hours:Monday – Friday: 12pm to 8pm | 24 Raffles Place, Clifford Centre #07-07 | Visit www.reebonzspace.com for more details. | |
| Rosebullet | • 10% off regular-priced items | • Wheelock Place #B2-06• Wisma Atria, Isetan Orchard Level 2 | | |
| SaSa | • Receive S$10 off plus a complimentary La Colline S$20 product voucher with a minimum spend of S$200 in a single receipt | Promotion is available at SaSa stores in Singapore only. | | |
| Sup | • 10% off all regular-priced items(not applicable to New Balance Sneakers) | 34 Haji Lane | | • Please quote "Priceless Sup" at point of payment. |
| Threadbare & Squirrel | • 10% off storewide with a minimum spend of S$250 | 660 North Bridge Road | | • Please quote "MasterCard Priceless" at point ofpayment. |
| Topman | • 10% off regular-priced items with a minimum spend of S$80 in a single transaction | • ION Orchard #B3-02• Knightsbridge L2 #01-05/06• Raffles City #02-39• Tampines One #01-25/26/27• VivoCity #01-72 | | |
| Topshop | • Priority booking for TopshopPersonal Shopping*(only at ION Orchard, Knightsbridge and VivoCity)• 10% off regular-priced items with a minimum spend of S$80 in a single transaction | • ION Orchard #B2-01• Knightsbridge B1 & L1 #01-05/06• Raffles City #02-39• Tampines One #02-16• VivoCity #01-72 | For appointments, please call (65) 6733 4608 | * Please quote "MasterCardPC" upon booking your appointment. |
| Victor York | • Receive 20% off on shirts (selected range of Turkish shirting fabrics) with a minimum spend of S$1,200• Receive 20% off on suits (selected range of Italian fabrics) with a minimum spend of S$2,400• Receive 20% off on John Spencer shoes (U.P. S$600) | 40B Boat Quay, Singapore  049829 | | • Please quote "MasterCard" at point of payment. |
| Victoria Jomo | • 10% off regular-priced items | 9 Haji Lane | • Please quote "PricelessVictoria" at point of payment. | |
| Victoria Jomo Designer | • 10% off regular-priced items | 47 Haji Lane | • Please quote "PricelessVictoriaDesigner" at pointof payment. | |
| Wallis | • 10% off regular-priced items with a minimum spend of S$150 in a single transaction | • Paragon Shopping Centre #03-46 | | |
| WAREHOUSE | • Exclusive styling appointment with Warehouse Stylist*(only at ION Orchard)• 10% off regular-priced items with a minimum spend of S$150 in a single transaction | • ION Orchard #B1-15• Raffles City #02-34• VivoCity #01-72• Tangs Orchard #02-00 | For appointments, please call (65) 6884 6035 | * Please quote "MasterCardPC" upon booking your appointment. |
Jewelry & Watch
| | | | | |
| --- | --- | --- | --- | --- |
| Brand | MasterCard GSS Deals | Location | Reservation | Deal Code |
| Azimuth Watch Co. Pte Ltd | • Receive a S$250 voucher for every S$1,000 Azimuth watch purchased | The Shoppes at Marina Bay Sands #B1-87 | | • Please quote "MasterCard Priceless" at point ofpayment. |
|  Charlotte (Ehinger-Schwarz 1876) | • Up to 40% off on selected jewelry | • Wisma Atria #01-04• Suntec City #01-367 | | |
| CITIGEMS | • Additional 8% off storewide | All CITIGEMS retail outlets islandwide. | | |
| Damiani | • Enjoy exclusive private viewings by appointment• Receive complimentary jewelry cleaning | Scotts Square #01-10 | For appointments, please call (65) 6604 7217 | |
| DeFRED Jewellers |  30% off on selected designs | Mandarin Gallery #01-03 | | |
| E'Collezione | • Purchase Icelink 6 Time Zone Senator at S$5,440 or the Snyper Chronograph at S$12,096 | Mandarin Gallery #01-14A | | |
| Flower Diamond Boutique | • Receive an exclusive complimentary bag hook and jewellery cleaning cloth with every purchase | Takashimaya Shopping Centre #03-02 | | |
| Golden Watch Gold & Jewellery | • Purchase Venhonia Fine Gold Panda Collection at a special price of S$2,688 (U.P. S$2,980) | People's Park Complex #01-79B/79C | | |
| Goldheart | • Additional 10% savings on gem-set jewellery | • International Building #01-38• VivoCity #01-79• Bugis Junction #01-23• Marina Square Shopping Centre #02-279 | | |
| Goldheart Jewel Atria and Goldheart Jewel Galleria | • Additional 10% savings on gem-set jewellery | • ION Orchard #B2-65• Plaza Singapura #01-30• [email protected] #02-42 | | |
| Larry Jewelry | • 20% off regular gemset jewelry | • ION Orchard #03-04• Paragon Shopping Centre #01-21 | | |
| Lee Hwa Jewellery | • S$100 off Purple Gold™ jewellery | • Bugis Junction #01-19• ION Orchard #B2-58• Marina Square #02-300• Wisma Atria #02-06/07 | | |
| Li-Hong Jade Concept | • Receive a Li-Hong Jade S$50 voucher with a minimum spend of S$1,000 in a single receipt• Receive a complimentary Mandarin Orange Bag with every S$200 nett spendTourist Exclusive• 10% off your purchases on presentation of your passport or identification | 133 New Bridge Road, Chinatown Point #02-22 | | • Please quote "MasterCardPriceless" at point of payment. |
| On Cheong  Jewellery | • 15% off on all regular-priced items | 251 South Bridge Road Singapore 058800239/241 New Bridge Road Singapore 059438 | | |
| On Cheong  Jewellery | Create a unique piece of jewellery* with leading designers | 251 South Bridge Road Singapore 058800239/241 New Bridge Road Singapore 059438 | For appointments, please call (65) 6223 4788 | Please quote "Priceless Design" upon point of appointment. |
| Purple Gold™ | • Additional S$100 off Purple Gold™ jewellery including sale items | All Lee Hwa Jewellery (except Changi Terminal 2) and Goldheart Jewelry boutiques | | |
| Reactor Watch | • 10% off regular-priced items | 68 Orchard Road, Plaza Singapura #04-20 | | • Please quote "Priceless Reactor" at point of payment. |
| RISIS | • Up to 50% off selected jewellery collections | • The Centrepoint #01-40• Suntec City Mall #01-084• The Shoppes at Marina Bay Sands #B2-244• Changi Airport Terminal 3 #02-56• Takashimaya B2• Tangs B1• Tangs Vivocity Level 2 | | |
| RISIS | • Free delivery in Singapore with a minimum spend of S$500 in a single receipt | • The Centrepoint #01-40 • Suntec City Mall #01-084 • The Shoppes at Marina Bay Sands #B2-244 | | |
| The Diamond Atelier | • S$100 off Purple Gold™ jewellery | • The CentrePoint #01-19/20• VivoCity #01-193 | | |
Home & Decor
| | | | | |
| --- | --- | --- | --- | --- |
| Brand | MasterCard GSS Deals | Location | Reservation | Deal Code |
| Francfranc | • 15% off all purchases | • VivoCity #02-41/42• JCube #02-27 | | |
Terms and Conditions apply