La Clique, the Olivier award-winning show, has finally made its debut at the Sands Expo & Convention Centre at Marina Bay Sands from 22 September to 7 November 2021. The show had to be shifted a few times due to Covid-19 heightened-alert measures this year. This is also Marina Bay Sands' first theatrical performance that features an international cast since Singapore's Circuit Breaker in April last year.
The show has been seen by audiences in Adelaide, Brighton, Edinburgh, Melbourne, Montreal, New York and Sydney. Sliding Doors Entertainment has collaborated with Unusual Entertainment and Marina Bay Sands to bring the show to Singapore.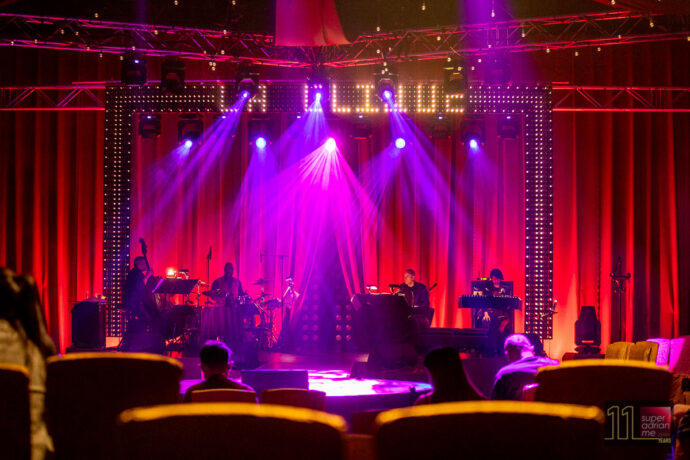 We were delighted to be able to watch a theatre performance after so long. Whilie seating arrangements were in pairs with social distancing, and intermingling is an absolute no-no, we made do with the new norm of attending a performance. Each show accomodates up to 250 guests and drinking and eating during the show is not allowed. The show is approximately 90 minutes and there is no intermission.
A small stage no longert than 3 metres wide was set up in Hall C of the Sands Expo and Convention Centre on level one of Marina Bay Sands with seats arrange in a semi-circle around the stage and a small runway. You will experience a blend of circus, comedy and contemporary cabaret variety with music performed live by the four-piece La Clique Palais Orkestra.
The line-up of acts include roller-skating duo The Skating Willers, jaw-dropping acrobat Oscar Kaufmann as the celebrated "Bath Boy" and professional Hula Hoop artist and entertainer Lisa Lottie.
Sword swallower and fire breather Heather Holliday will make your jaw drop as she swallows swords including a light tube that illuminates her throat.
World renowed cabaret artist, songwriter and performance artist Bernie Dieter emcees the show and entertains guests as the "undisputed Queen of punk cabaret". You will love her and her antics!
Tickets are priced from S$98 to S$188. Click here to purchase tickets. To purchase tickets for shows on Fri 8pm and Sun 4.30pm, please visit Klook.
La Clique Show & Dine Package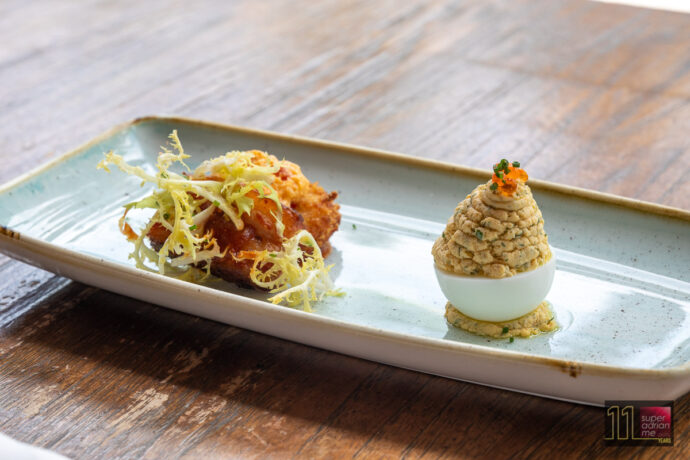 Show and Dine packages also available at Yardbird, CUT by Wolfgang Puck, Mott 32 and DB Bistro from S$133 per person.
We dined at Yardbird Southern Table & Bar. The menu here features an appetiser a choice of a main and a dessert. The Deviled Egg & Bacon appetiser was excellent. Dill & chive filled egg is topped with smoked trout roe. This is accompanied with a fried green tomato, pork belly, tomato jam, frisee and lemon vinaigrette. For the main, we picked the lunch set special over the grilled mango & butter lettuce salad. The two pieces of Lewellyn's fried chicken were crispy on the outside and tender on the inside. Still piping hot with each bite, the fried chicken also came with chilled spiced watermelon and a fresh buttermilk biscuit.
We each had a Grandma's Key Lime Pie which had an excellent caramelised biscuit crust as well as a Banana Split Brownie Sundae that came with toasted marshmallow fluff, salted caramel sauce and American Whiskey ice cream.
Click here to book.
La Clique Stay and Show Package
Why not have a full experience? Book a night at the Marina Bay Sands and enjoy the show from S$620.68, inclusive of GST and charges. Book by 2 November 2021 for stays between 28 September and 7 November 2021. With the package, you will get a night's stay, 2 Category 2 tickets to La Clique, entry to SkyPark Observation Deck and guaranteed access to the Infinity Pool.
Click here to book.